Honey Stinger Cracker Bar with Protein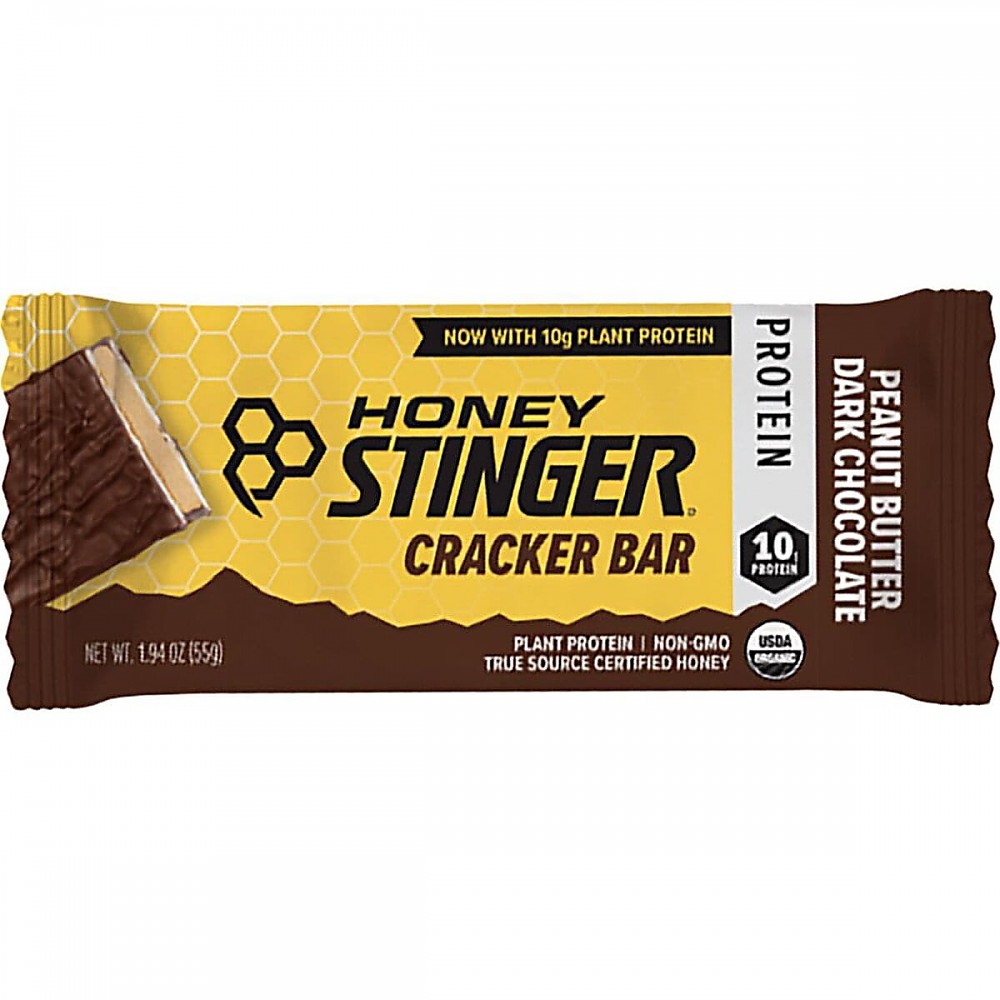 Honey Stinger's Cracker Bars are among my favorite bars for ski trips, hiking, and outdoor snacking. Available in two tasty flavors—Peanut Butter Dark Chocolate and Peanut Butter Milk Chocolate—they're made with organic sea salt multigrain crackers sandwiching a layer of organic peanut butter, sweetened with organic honey, and covered in organic milk or dark chocolate. All together it's a crunchy, sweet and salty combo that I find a welcome alternative to the typical dense energy bars available.
Pros
Delicious...yum
Good crunch
Organic ingredients
10 grams of plant protein
Doesn't freeze solid in winter, like some bars
Packs a lot of calories in one bar (280-290)—this may also be a con
Cons
Prone to crumbs and breaking
Drier than other bars (have some water on hand)
Only two-ish flavors (chocolate-peanut butter and chocolate-peanut butter)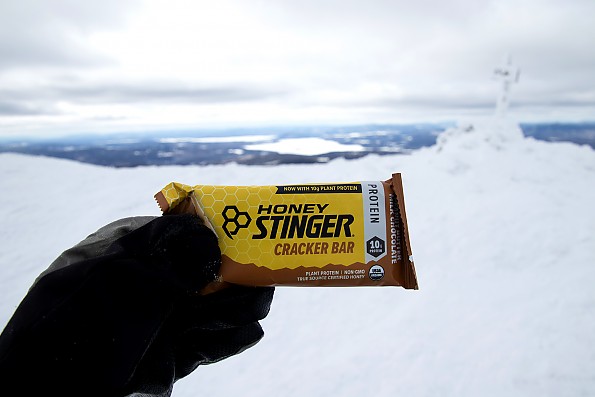 What's a Cracker Bar?
The Honey Stinger Cracker Bar with protein is an organic, sweet and salty bar in classic peanut butter-chocolate flavor. The thin crackers inside give it a snappy, crisp texture and make for a different—and delicious—taste experience. Instead of biting into a dense brick of a bar, this feels like a lighter bar with its crunch and layers. This also means it doesn't freeze into a solid brick in winter, so I often keep one in a ski pants pocket.
That said, at 280-290 calories per bar, one Cracker Bar still has just as many calories or more as many other bars. For comparison, Clif bars have around 250 calories each. Whether this is a pro or con, depends on whether you want calories packed into a single bar or are counting calories. Just know what you're getting.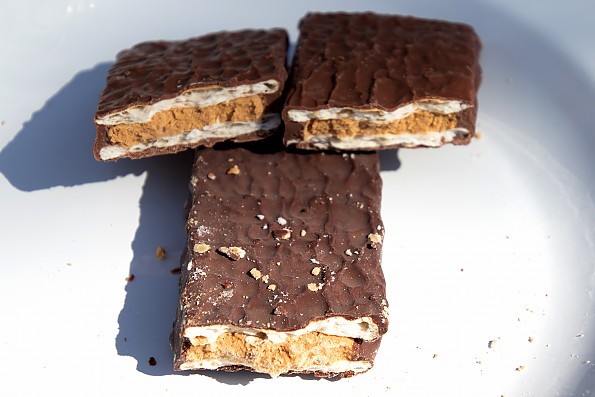 Nutrition Info
The Cracker Bars are made with organic, non-gmo ingredients, are kosher, and contain 10 grams of plant-based protein from peanut butter and pea protein. Here's the nutritional rundown for the dark and milk chocolate bars.
Serving: 1 bar / 55g

Calories: 280 (dark) / 290 (milk)

Fat: 16g (6g saturated fat)

Sodium: 210mg (dark) / 230 mg (milk)

Total Carbs: 27g

Dietary Fiber: 3g (dark) / 2g (milk)

Total Sugars: 11g (dark) / 13g (milk)

Protein: 10g
For marginally less sugars, sodium, and calories, I'll likely stick with the dark chocolate Cracker Bars in the future, especially as I don't notice a big taste difference between the two.
Since this is a Honey Stinger offering, the bars are sweetened with honey, in this case True Source Certified Honey. I hadn't seen that designation before, so looked it up. This is a third party verification/certification that the honey is truly organic and is in full compliance with U.S. and international trade laws. You can learn more about True Source Honey here, but here's the overview: "The True Source Honey organization is a group of honey companies and importers who are committed to legal, transparent and ethical sourcing of honey. True Source Honey supports and promotes the authenticity of high-quality honey and the well-being of the bees who produce it."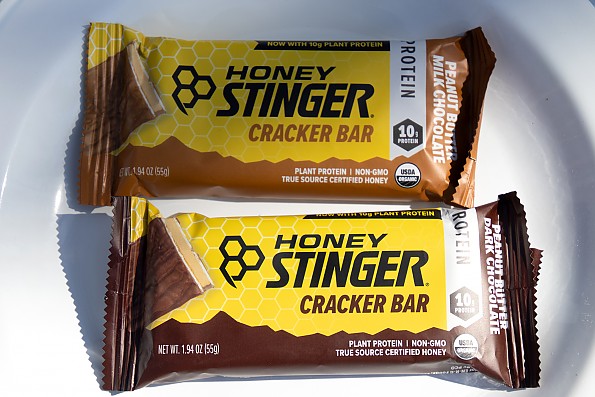 When to Eat Cracker Bars
When you're hungry!
But seriously, with 10 grams of plant protein, Honey Stinger classifies this as a recovery bar. This is understandable due to its higher protein content. However, I still consider these Cracker Bars a general energy bar suitable for use during outdoor activities.
I've eaten them on the go skiing and hiking many times, with no digestive issues. For running and other highly aerobic times, Honey Stinger offers gels, chews, and waffles better suited.
So don't get hung up on the bars' recovery label. Throw some in your pack or pocket. These are good whenever you want to try them.
Nitpicks
Overall I really like the Honey Stinger Cracker Bars. They are one of two brands I've reached for first all winter long (I'll be reviewing that other bar soon).
There are a few nitpicks, but none of them keep me from eating or purchasing more Cracker Bars.
They're made with thin crackers, so they can break in your pocket or pack or when you bite into one. You'll also 

likely

 

have

 some crumbs because...well you're eating crackers. That said, I've carried a bar in my ski pants thigh pocket for days before eating it with minimal breakage.

The crackers with a peanut butter layer in between make them a bit dry to eat. Have some water handy so you're not scraping 

peanut

 butter off the roof of your mouth.

They come in two flavors—peanut butter dark chocolate and peanut butter milk chocolate. Like many people I am a fan of the classic peanut-butter-chocolate flavor combo, and these don't disappoint. However, I don't find a huge difference in taste between the milk and dark chocolate. They're obviously different in color and somewhat

 in taste, but it's a minor difference. My daughter, who prefers milk chocolate, doesn't even seem to notice or care if she eats a dark chocolate bar instead. So, both are good. But if you want some variety in your bars, you'll only get two similar flavors here.
Protein Bar or Protein Bar?
Here's a potential point of confusion. While these Cracker Bars contain protein for recovery, Honey Stinger also offer separate Protein Bars for recovery. All have 10 grams of protein, while the Protein Bars have fewer calories than the Cracker Bars (180-200 versus 290 per bar). They're two different bars though. Got it?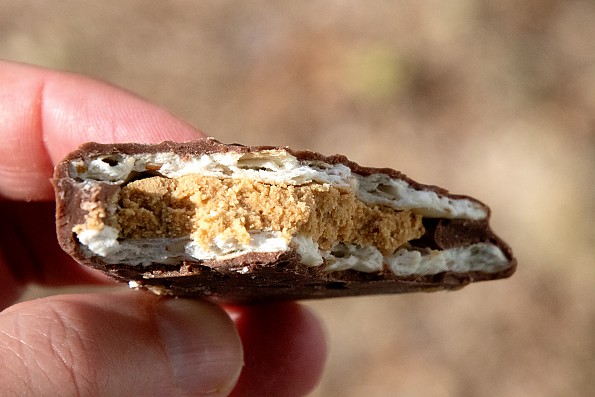 Sum Up
To sum it up, the Honey Stinger Cracker Bars taste good and offer a welcome change in taste and texture from many of the energy and outdoor bars available. You won't get many flavor choices, so you better like chocolate and peanut butter. I do, and the flavors are yummy. My kids will grab and eat these often for skiing or trail work, so they can be hard to keep in stock in our house. I had to buy another batch just to finish this review.
I recommend the Cracker Bars for hiking, backpacking, skiing, camping, trail crew work, and all sorts of outdoor activities. You also can eat them after hard efforts as a recovery bar, thanks to their 10 grams of protein. Just have some water on hand and be prepared for a few crumbs. They're one of two brands of bars I tend to reach for first, and I keep some stashed in my ski pack or pockets all winter.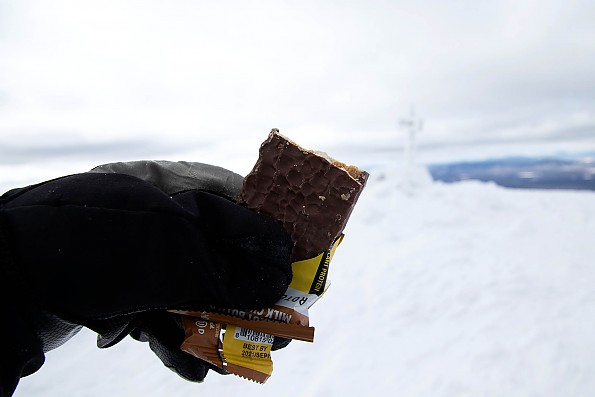 ****
Honey Stinger Nutrition Labels: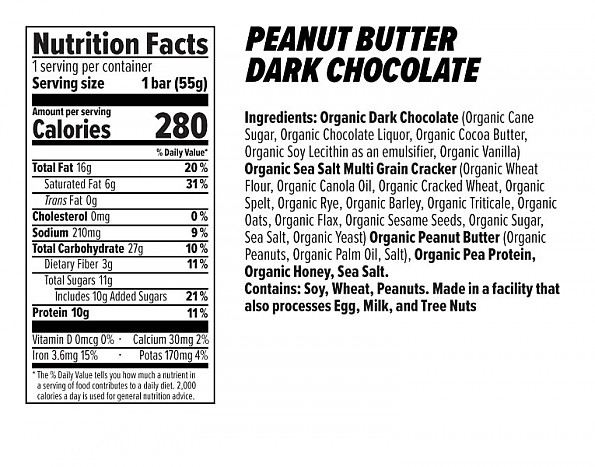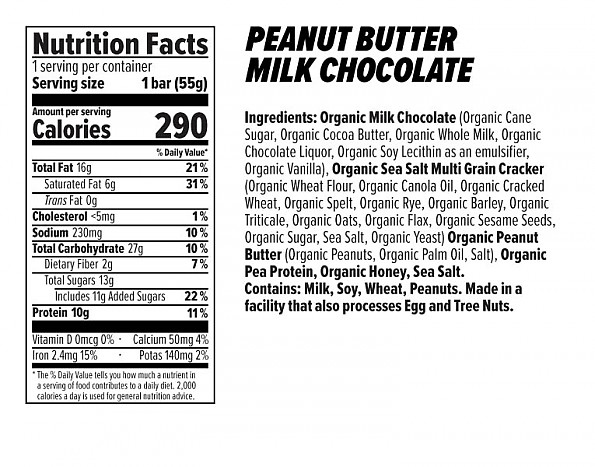 Experience
I've purchased, eaten, and sampled many, many outdoor energy and recovery bars over the years from generic granola bars to products from Clif, Luna, ProBar, Kind, Scratch, Kate's Real Food (spoiler, this is another favorite), R.E.D.D., RxBar, Bonk Breaker, Larabar, and loads of others.
Source: received for testing via the Trailspace Review Corps (I've bought numerous Cracker Bars and also been given some sample bars from Honey Stinger)

Your Review
Where to Buy
Help support this site by making your next gear purchase through one of the links above. Click a link, buy what you need, and the seller will contribute a portion of the purchase price to support Trailspace's independent gear reviews.
You May Like
Specs
| | |
| --- | --- |
| Price | Historic Range: $2.75-$30.97 |