Huel Bar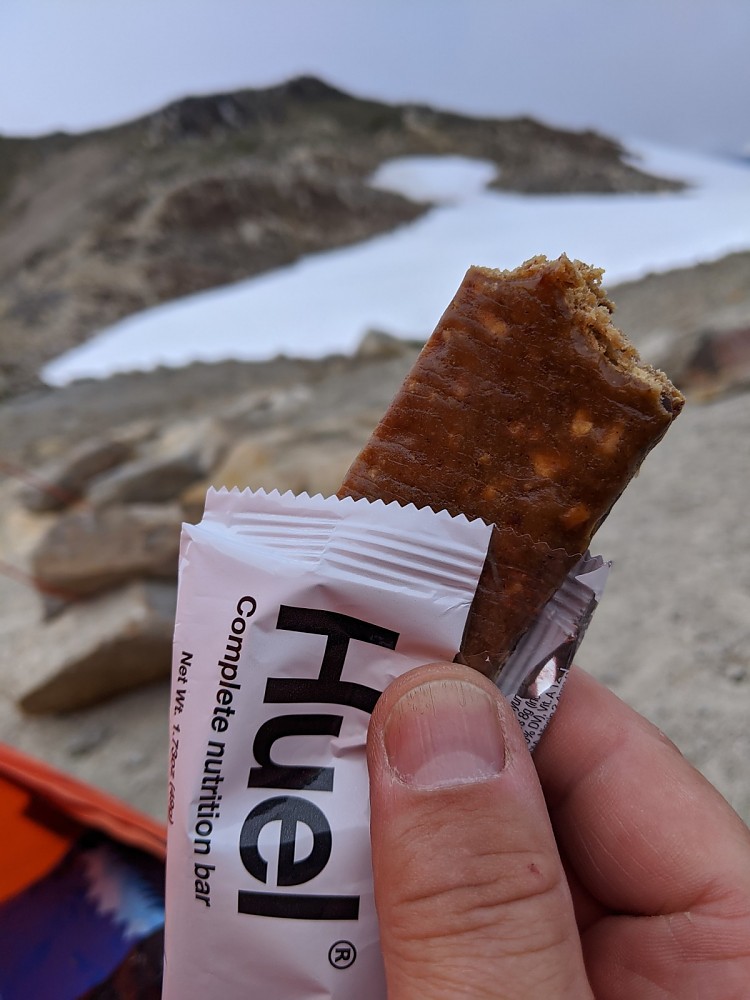 Complete nutrition at your fingertips. Nutritious, durable food that can either supplement your meals or completely replace them. I ate more than 40 of these bars during the test so I've learned a little bit about them!
Pros
Smash-proof
Will not melt
Complete nutrition
Compact
Remain edible long-term
Subscription service available
Vegan
Lactose free
Soy free
GMO free
Plant based, sustainable
Cons
Texture is plain
Difficult to eat when cold
About: "Simply put, Huel is food, with just the right amount of protein, essential fats, carbohydrates, vitamins, and minerals to fuel your day without weighing you down. Better yet, Huel is vegan, lactose-free, soy-free, GMO-free, and approved by a team of Registered Dietitians. We also offer gluten-free options."
I like the idea of being able to get complete nutrition without a lot of work. If you are the type of person who eats to live and not the opposite this may be a product you can really get behind.
With the complete Huel product line you can easily get yourself the exact amount of calories you want to achieve your fitness or weight loss goals. For example, the bars I tested were 200 kcal each, so even a math idiot like me can easily calculate how many I should eat to maintain or lose weight. Their other products include drinks and powders with optional flavor boosts to add a little variety to your nutrition system.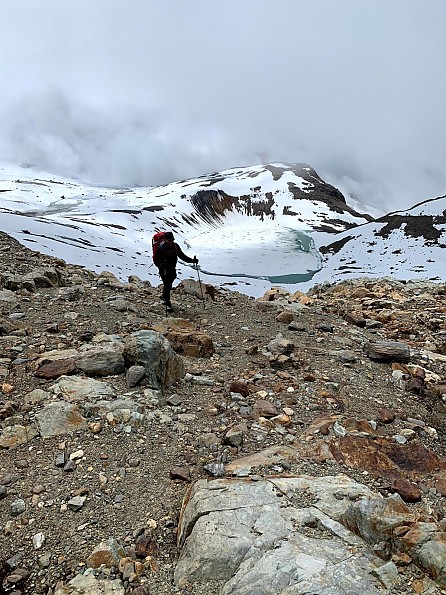 Have you ever been so busy that you just wanted to be able to have your food in a compact, durable package so you could eat on the go without fussing with cooking, watching your macros or shopping? Do you see food as fuel and nothing more? Do you crave food options that offer complete nutrition in an easy format that is consistent, day in and day out that could travel with you literally anywhere? Wish you had something in your desk drawer at work to eat that wouldn't spoil and would actually be healthy?
If so Huel has your back. Sign up online and Huel will send you pretty decent powdered drinks and bars for a pretty good price compared to other foods. Order once or subscribe and they'll keep sending it until you tell them to stop so you don't have to fuss with re-ordering. In theory, you wouldn't ever need to eat anything else ever. 
Imagine that. You wouldn't need an oven, blender, toaster, microwave, waffle iron, refrigerator, freezer, dishes, knives, coffee pot, forks or any of that stuff.  Just a shaker bottle, a water source and a place to rinse them out and you can live on shakes and bars for as long as you want. Talk about the perfect idea for someone trying to live on the cheap!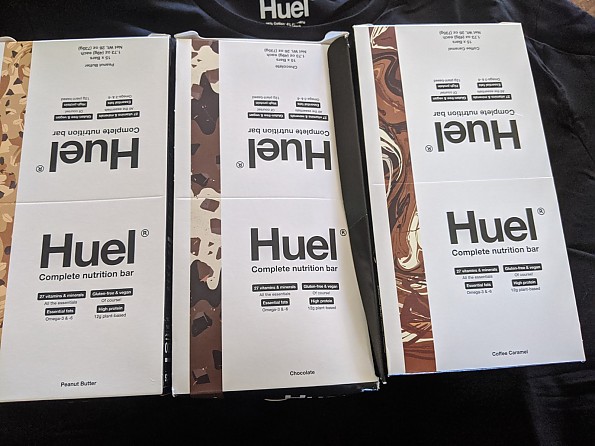 Packaging: Pretty basic wrappers. They come in boxes of 15. If there were a way to make them compostable I'd be stoked, but otherwise the wrappers were functional and unremarkable. 
Customer Support: WOW! Huel gives you tons of information and ideas about how to best use their products to achieve your goals. I was blown away with the informative pamphlet that came with the bars and the website has additional info to help you make the switch to Huel.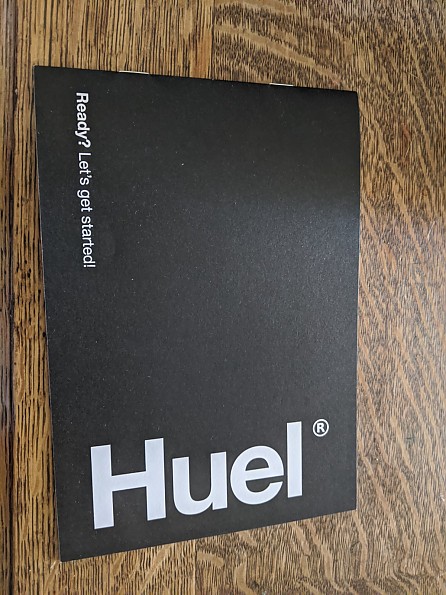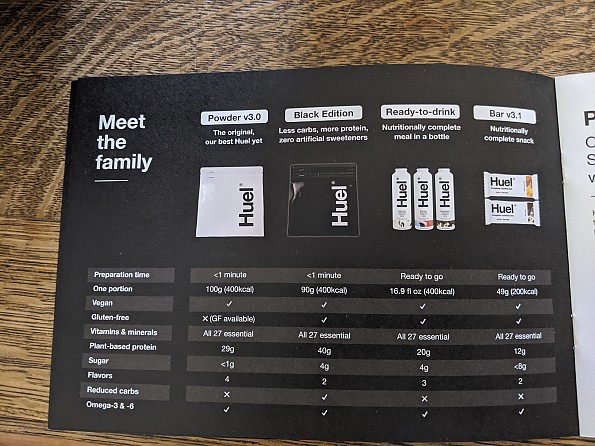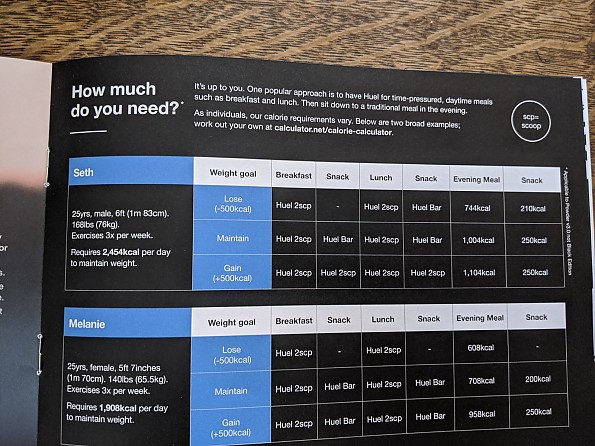 My test only involved bars, but Huel also has drink powders as well as powders that favor protein over other nutrients if you are bodybuilding. Huel sends your first order with a really nice t-shirt made of stretchy, wicking material. The shirt is pretty cool and is definitely something I'd wear.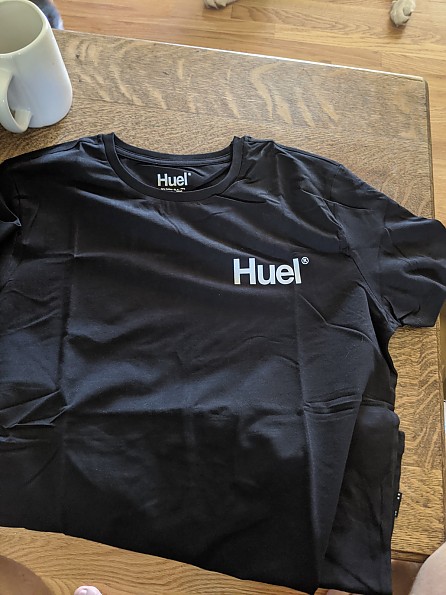 Flavors: My test included three of the six flavors of bars Huel offers. I tested chocolate, peanut butter, and coffee caramel. Other flavor offerings include salted caramel, raspberry/white chocolate, and chocolate orange. Apparently the coffee caramel one contains no actual caffeine. After three or so, the coffee-caramel, chocolate, and peanut butter all tasted the same
Testing Conditions: I tested these three different ways; the first test was taking a few on day hikes and an overnight backpacking trip with the kids. During these trips I ate Huel bars occasionally.
In my second test, I tried to eat nothing but Huel bars for a day to try the idea of relying on them for my complete nutrition. Huel usually recommends their products for breakfast snacks and lunch and eating a real food meal for dinner. To give them a real test I ate them exclusively for an entire day with a couple days on either end of ramping up and down for the test. I ate maybe five on each of the days before and after the test and ten or twelve on the test day. 
The final thing I did was take some on mountaineering trips to Glacier Peak and Mount Adams, both in the 10,000+ range in elevation. During these trips I ate 4-6 Huel bars daily. 
Results: On occasional hikes I'd gladly add Huel bars to my pack for their healthy nutrition, simplicity, durability, and decent taste. This is where I enjoyed them best. I could see myself maintaining a stock of a few dozen in the gear room forever just for this purpose. Two or three per day is nice and very doable. They give you 200 kcal of energy in a very handy, digestible format.
Personally, eating them exclusively for a day was really hard work. My personality is not the type that enjoys the same food or food type for long periods. I feel like I need and enjoy my mix of vegetables, fruit, whole grains, nuts, meat, cheese and beer. I could probably transition to Huel all day, every day if I were living small with no facilities while traveling but it wouldn't be fun. This is just me though and many people crave the consistency of the same food daily; if it weren't so, Huel wouldn't exist.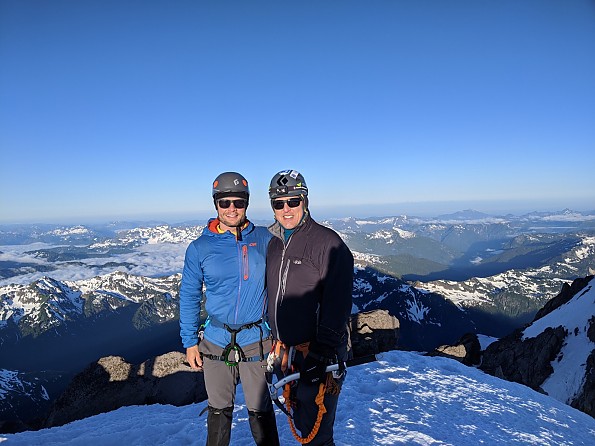 Mountaineering with Huel after having eaten so many of them already was not fun. By the last day on Mount Adams I was tossing them at my son (an infantryman in the Army) who thought they were fantastic, but he's been eating at the DFAC for the last six months so…ya. He gobbled them up like candy. Forty-five Huel bars in a short period was too much for me.  When I emptied my pack after Glacier Peak and Mount Adams there were Huel bars remaining.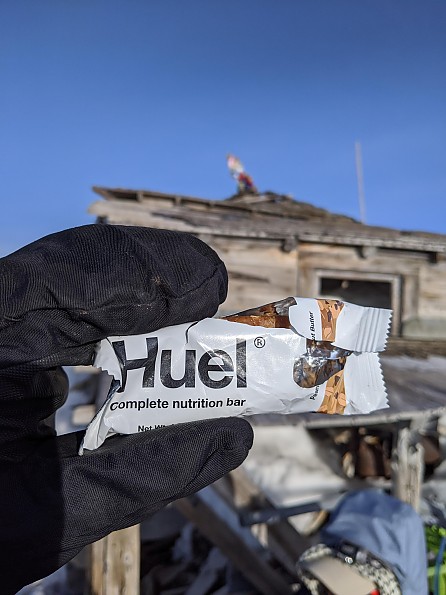 Cold/Heat Resistance: Huel bars get a little droopy in the heat but remain palatable. It's in cold where things get interesting. While climbing in temps below 40 degrees F or so, my Huel bars got tough to chew. Below freezing they required warming in a pocket before I could rip a bite off of one. Again, this isn't a deal-breaker (unless you wear dentures), it just means that in the cold you have to keep them near your body in a pocket or something if you want to eat them.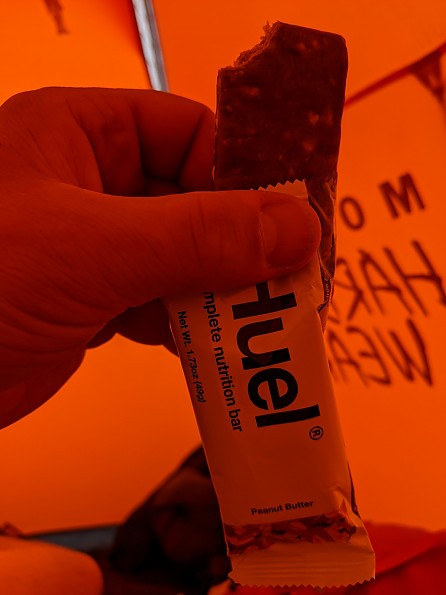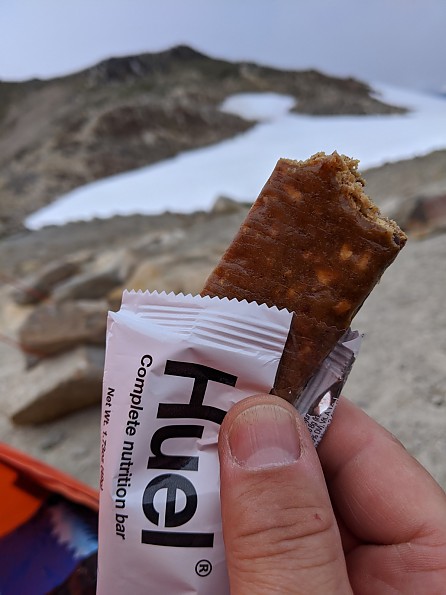 Taste: The first ten or so Huel bars I had were pretty good. I especially liked the coffee caramel flavor. Eventually though, after eating a dozen or so my palate couldn't really differentiate between them and they all tasted about the same. I can't explain why, but they were REALLY good at first and after eating them for a while they were good but not as fantastic as when I first tried them. I'd say better than Cliff bars, WAY better than Powerbars, but not as good as Kind bars.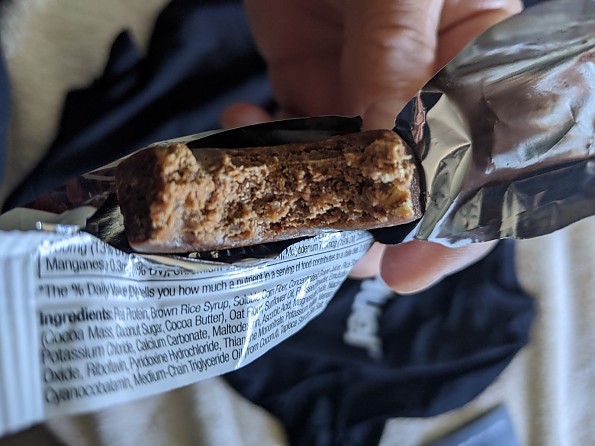 Satiety: Did they make me feel full? Yes. I'd say that the Huel bar does a good job of satisfying general hunger. The satisfaction from Huel is general though and doesn't really scratch that itch you get when, for example, you want some popcorn or cheese or something. I wouldn't call them heavy, but I don't know if they'd be light enough to eat while running.
Prep Time: You just unwrap it and eat. What could be easier? I HATE cooking in the back country so it fits my faster, less fuel/no stove mentality perfectly. 
Texture: Some Huel bars have chocolate chunks or chips in them but they are mainly just an extruded bar with a malty, protein-bar texture that with a few crispy chunks here and there. They aren't as satisfying to eat as something nutty, savory, or creamy. It's like they took everything and blended it and pressed it into a bar with a few chocolate or peanut butter chips added. Does this make them bad? Not necessarily, it just makes eating them a little on the non-exciting, monotonous side.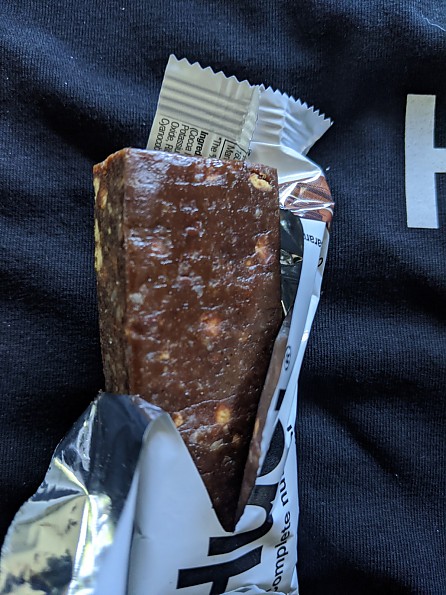 Packaging: Pretty basic mylar wrappers. If there were a way to make them compostable I'd be stoked, but otherwise the wrappers were functional and unremarkable. 
Nutrition: I'm no dietitian but Huel has several on staff. Huel has a macro split of 36:25:24:5 (Carbs, Protein, Fat, Fiber) and all 27 essential vitamins and minerals. I'll give you the facts and let you decide: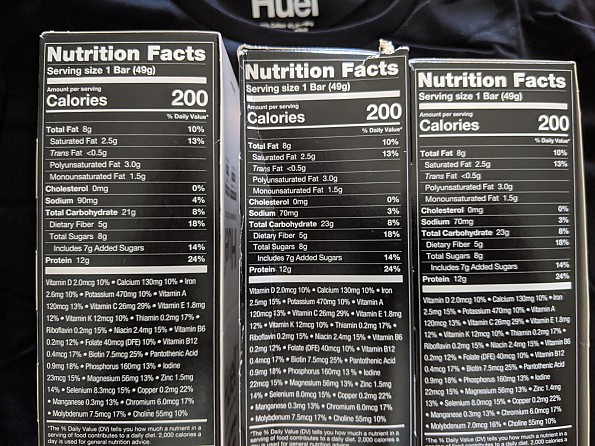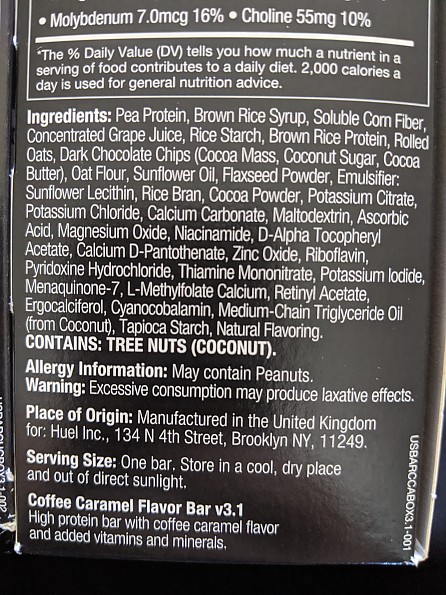 Digestion: My body loved them! My stomach and lower digestive tract were happy with me when I was gobbling Huel bars like it was my job, which it kinda was! Not to be gross but my bowel movements were predictable and simple to manage, no angry gut rebellion like what happened when I tried to go keto or vegan (ya, I tried it for a fat minute, I've never told anyone though, shhhhh).  They didn't make me overly gassy and my belly was pretty happy. Granted, my belly is usually pretty happy unless I try to kill it with too many legumes or alcohol but Huel bars caused no harm, so that's a win!
Energy: I never felt lethargic or tired on Huel bars and I didn't feel overly jittery or antsy on them either. I'd say that my energy levels while eating Huel was the same as when I eat a balanced diet, which is exactly what Huel claims to be so it makes sense.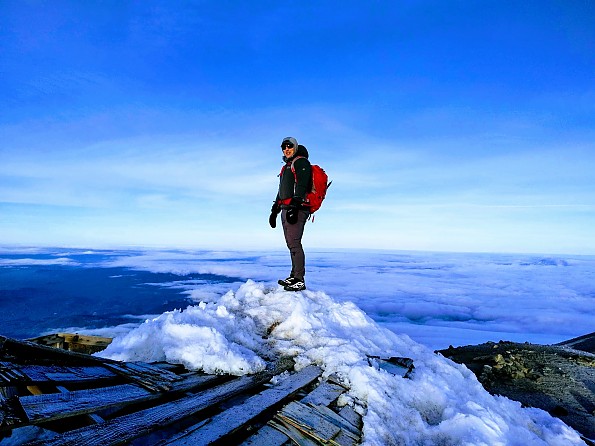 Durability: Huel bars shine in this category. They achieve their goal of giving you food anyplace with flying colors. Whereas granola bars crumble to smithereens in a backpack and chocolate bars melt into inedible goo, Huel bars withstand heat and smashing extremely well. Freeze them and they may even stop bullets. Not once, after eating 45-ish Huel bars did I have one that was destroyed and not in its original bar shape when I unwrapped it. The warm ones were a tad droopy and the cold ones were tough but they always remained bars.
Who needs Huel bars: I think that EVERYONE needs at least one box of these in their house. They are just too convenient, durable, and nutritious to pass on. Whether you can transition to them as complete meal replacement will depend on you. If you lived in a van you could eat Huel and you'd need so much fewer possessions that Huel might be a REALLY good way to live small. My son might receive a few boxes of them to toss in his pack for when he goes into the field to augment the MREs they feed him. 

Did I look forward to eating Huel bars? Not after the initial honeymoon period. I never ended up dreading them either. They're just a good, edible product that will sustain you with balanced nutrition pretty much anywhere.  
Experience
I'm a full-time dad and part time mountaineer and backpacker.
Source: received for testing via the Trailspace Review Corps (Samples for testing and review provided by Huel)

Your Review
Where to Buy
Help support this site by making your next gear purchase through one of the links above. Click a link, buy what you need, and the seller will contribute a portion of the purchase price to support Trailspace's independent gear reviews.
You May Like
Specs
| | |
| --- | --- |
| Calories | 200kcal per bar |
| Protein | 12g of high-quality plant-based protein |
| Other | vegan, lactose-free, soy-free, gluten-free, low-GI, GMO-free |