Hummingbird Hammocks Pelican SilPoly Rain Tarp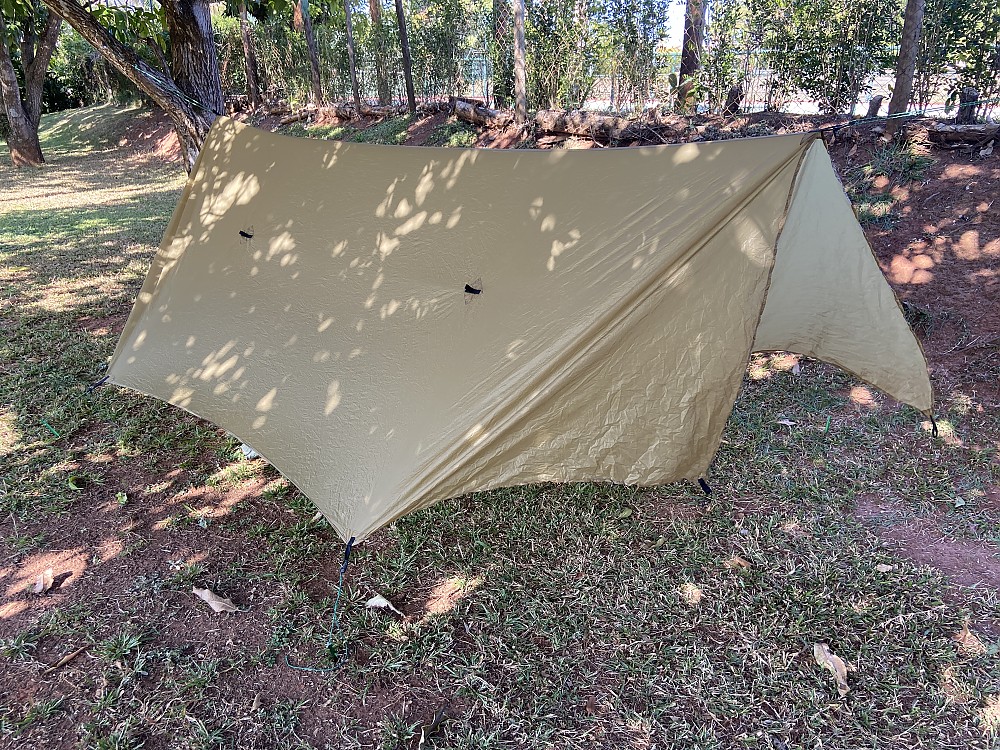 A rather large yet relatively lightweight (and definitely expensive) winter-style rain tarp from the purveyors of some of the finest minimalist hammocks around. The Pelican is a house-style SilPoly tarp, with lots of space and some clever features to reduce weight and increase functionality. It doesn't come seam-sealed at the ridgeline, but at least Hummingbird provides a tube of sealant.
Pros
Very spacious
Doors seal from wind and rain
Ample protection
Lightweight
Compact
Waterproof
Hydrophobic
Well made
Cons
Expensive
Requires ridgeline seam-sealing
Limited color choice
Introduction
Hummingbird  is known for its minimalist hammocks made with certified parachute fabric and manufacturing standards. But they also have other outdoor items on offer: a couple of tarps, a pillow, an underquilt, and an inflatable sleeping pad designed for hammocks. 
I appreciate when a manufacturer develops stuff to address their own needs and standards. This philosophy is deeply ingrained in the culture of outdoor, and lots of top brands were born out from this tradition, which is awesome.
Autumn was starting here, and I wanted a tarp with doors. I've been eyeing a DCF tarp for some time, mostly to drop weight. But after spending a weekend using a friend's Dyneema hex tarp recently, I found it too noisy, even with little wind.
I love DCF, and could live with the noise. But realized I can save a lot more weight for the same price going with a DCF ZPacks backpack instead. I did a research, and the Pelican stood out for it's large size and low weight. I've been using other Hummingbird gear with success, so I decided to try their big shelter option.
After a couple dozen nights under it, here's what I can report.
Specs and features
Except for the price, the Pelican follows the Hummingbird tradition: top quality materials and manufacturing, and some clever design to achieve low weight, small size, reliable performance and long-lasting durability. Like the hemmed borders, which increase resistance without adding weight.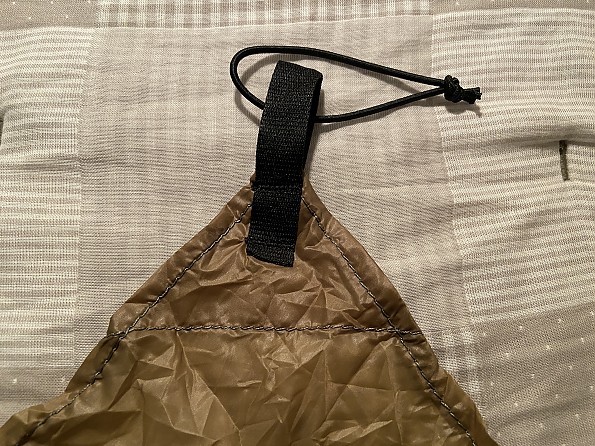 The Pelican is made from 0.9 SilPoly fabric. It's incredibly thin and lightweight, nice to the touch. Hummingbird tarps come in brown and olive only, at least for now. Mine's coyote, doesn't blend with the vegetation as well as the olive green, but it's nice and I wanted something different from my other tarps for a change.  
It's a winter-type, palace-size monster of a tarp. Length is 11.4ft (137 inches / 348cm). Width is more standard but still comfortable at 112in (284 cm). Weight is 12.8 oz (363g, advertised), very respectable considering the generous dimensions. Mine came at 351g on the scale, but reached 365g after seam-sealing the ridgeline with the provided tent sealant.
Camping palace
It's hex-shaped when pitched, and both sides have doors. Each side panel has two pull-outs. It's impossible to feel cramped or unprotected inside the Pelican. The ridgeline tie-outs have clever plastic quick-wraps to make adjusting fast and uncomplicated. Eight reinforced tie-outs (four are on the doors) with double-stitch webbing round it out. The stitched stuff sack makes it impossible to lose.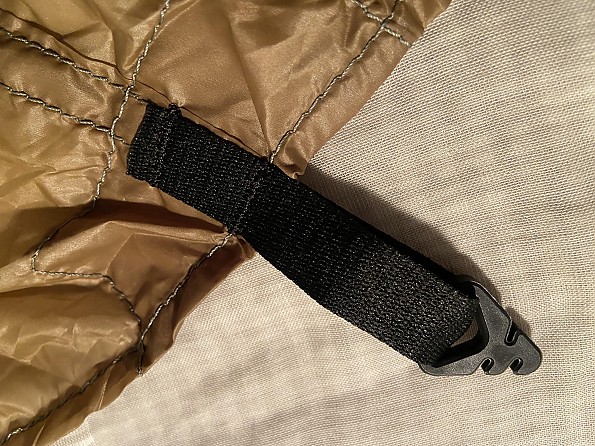 The side panels have two pull-out points each. I prefer a more basic pitch without a hundred lines zigzagging everywhere, so I've never really used the pull-outs, in this or any other tarp I've owned. It's nice to have the option, though. If the weather sucks and I'm staying on camp and under the tarp for a couple of days, these could come handy for extra roominess.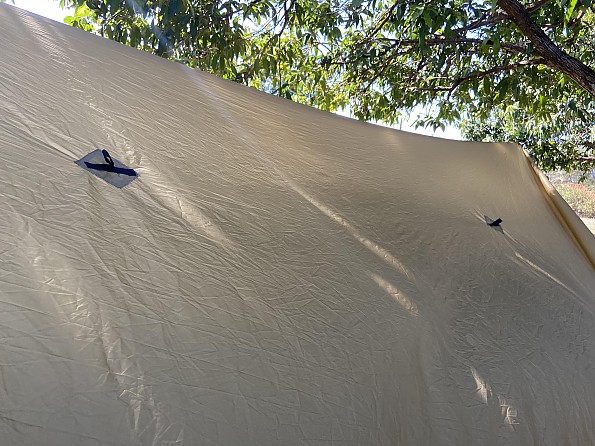 SilPoly presents some advantages over SilNylon.
It's very hydrophobic, meaning it won't stretch nor absorb water. It's very slippery indeed, and moisture won't stick to the sides. It'll stay taut once correctly pitched, but gusts will shake the fabric enough that water will really go off.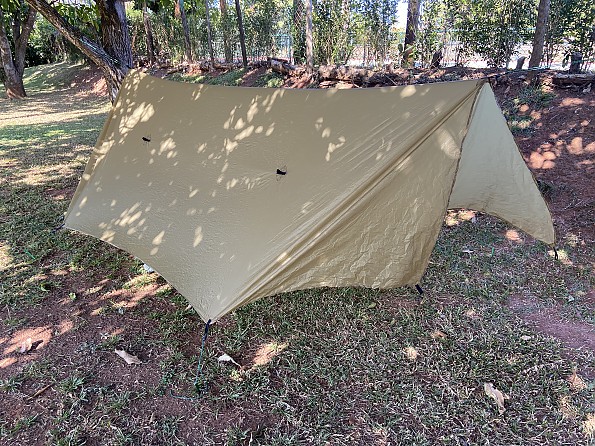 It won't sag even after a couple of rainy days. As noted above, low weight and small packing size are other much-welcomed pluses over other more common fabrics. I love not having to fold it like other traps I own, makes unpacking and leaving much faster and easier.
The fabric is very, very thin, almost see-through against the light. It makes one wonder if it will work to keep rain and wind out, and above all, resist strong winds. It does both with aplomb, I might say. It's not as resistant as 1.1 SilPoly or other ripstop fabrics, though, and requires some care and attention. Be careful with branches, fruits, or other stuff falling if you park under trees. It's easy to clean bird poop and tree sap, I usually wipe it lightly before taking down and that's enough.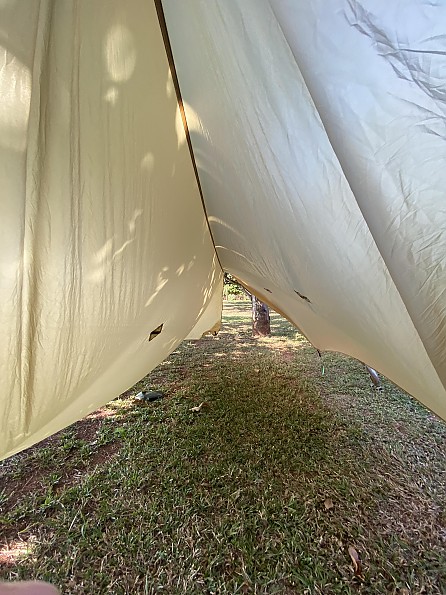 The doors keep wind and rain out even in the strongest storms. I've had a huge storm one day with serious water falling for the entire night, and stayed dry, warm and cozy inside all the time. The next day it dried out pretty quickly after the sun came out and a light beware was blowing. 
Great for cold weather. 
Palace-style tarps like the Pelican are awesome for cold weather camping and backpacking. The extra length and especially the doors work great to keep water from ever reaching inside, and block wind to a much greater degree than even square but open tarps. I can't report on snow, though. 
Having doors also increases privacy considerably, which is good when campground is busy. Winter tarps like the Pelican aren't as common around here, so I've had campers and backpackers coming to see it and ask about the feature. Some thought it was another kind of tent, even. 
It's possible to keep the doors open or use a more open pitch configuration during summer to increase ventilation. It's large yet lightweight, so it can be used all year round just as well. That's the beauty of tarps in general IMHO.
If price is no obstacle, though, having different tarps for summer and winter can be a good strategy to save weight. The Heron is even lighter and more compact for hot weather camping, the perfect size to protect from rain while allowing better airflow. But the Pelican will hold its own in any context IMHO. 
Ridgeline seam must be sealed.
Hummingbird doesn't seam-seal the ridgeline on their tarps. I applied the sealant before taking it to my first trip outdoors, because I didn't want to test the stitching to hold water in case of rain in the middle of a cold night.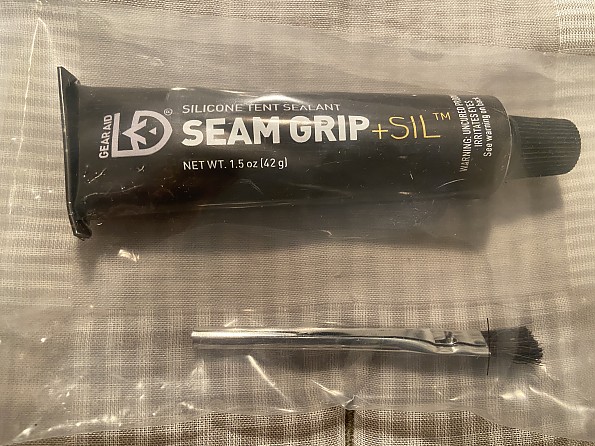 Other cottage manufacturers also have this policy but I honestly never understood the rationale. I have no problem doing it myself, and actually dig doing this kind of stuff and messing with gear myself. But at this price, I think it should come sealed from factory, even with Hummingbird being nice enough to provide a tube of sealant and a brush. 
Conclusion
The Pelican is a great, albeit expensive, palace tarp made from one of the most advanced fabrics one can get at the moment. It's not super-high tech nor as lightweight as Dyneema, but also comes at half the cost. It's comparable to similar offers from the likes of Dutch and others, and at similar weight as well. 
It's very water-resistant, you're sure to stay protected from rain even in the worst weather, especially at this ridgeline hlenght. It won't stretch when wet because it doesn't absorb water as SilNyon, which is another plus. Just shake it and water goes off.
The doors provide extra protection from wind, and also extra privacy. When it's time to pack, just stuff it into the stitched stuff sack and presto.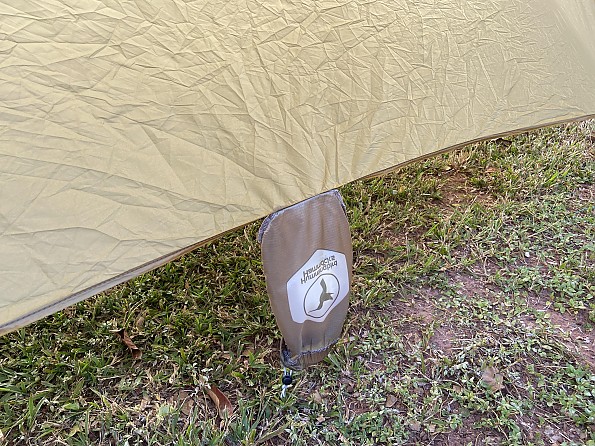 Experience
I'll update this review once I have more mileage on the Pelican, to report on mid- and long-term durability. I've been using Hummingbird gear for many years without issues, just normal wear. I expect it to last for a while, especially considering it's not a cheap tarp! For now, I'm really enjoying the large size, low weight, and small packing, and also the ample protection from weather and extra privacy it provides.
Source: bought it new
Price Paid: US$ 180 + shipping and importing fees

Your Review
Where to Buy
Help support this site by making your next gear purchase through one of the links above. Click a link, buy what you need, and the seller will contribute a portion of the purchase price to support Trailspace's independent gear reviews.
You May Like
Specs
Price
MSRP: $179.95
Reviewers Paid: $180.00

Weight
12.8 oz / 363 g

Length
137 in / 348 cm

Width
112 in / 284 cm

Material
0.9 oz Membrane SilPoly

Origin
Made in the USA

Recently on Trailspace