Hydro Flask 40 oz Wide Mouth


A super durable, insulated water bottle that carries 40 fluid ounces (1.18L). When weight is a concern (i.e. long backpacking trips), I don't take this along, but otherwise, it is with me wherever I go.
Pros
Durable
Lid loop makes it easy to carry
Large volume
Wide mouth makes the bottle easy to clean
Can be used as a rolling pin...seriously!
Cons
Lid is a little tricky to clean
Lid can be difficult to unscrew for those with smaller hands
Big base—doesn't easily fit into standard bottle pockets
Conditions:
I've owned the Hydro Flask 40oz. Wide Mouth bottle for a year, using it to carry water for hiking trips, paddling trips, to the climbing gym, camping, and on road trips.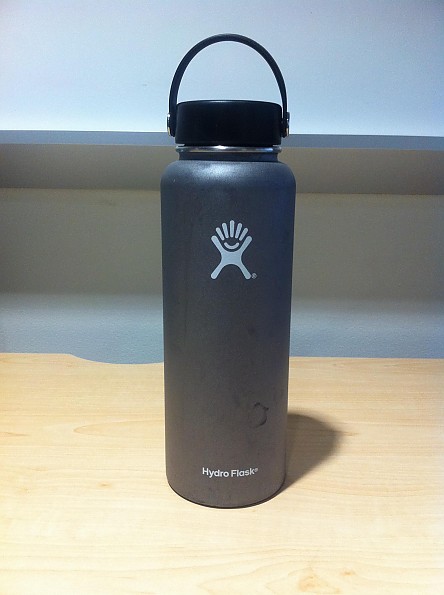 Construction and Durability:
The Hydro Flask 40oz Wide Mouth is a beast of a bottle. It's made to last a lifetime (hence the lifetime warranty). It would take the force of an entire army to break the bottle. Okay, maybe that's slight hyperbole, but I've used and abused the bottle and it shows very little sign of wear other than a few scuffs. 
Size:
Carrying 40oz (1.18L) of liquid, the bottle is pretty big. It measures about 10.5 inches tall and 3.5 inches wide (26.7cm and 8.9cm, respectively), which means it does not easily fit into some standard water bottle places like my car's vehicle cupholders or my work bags water bottle side pocket.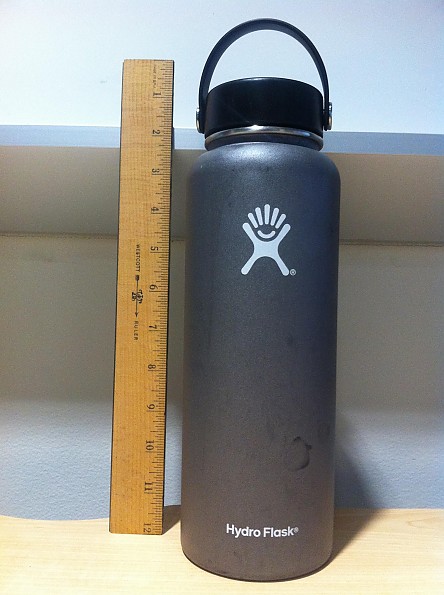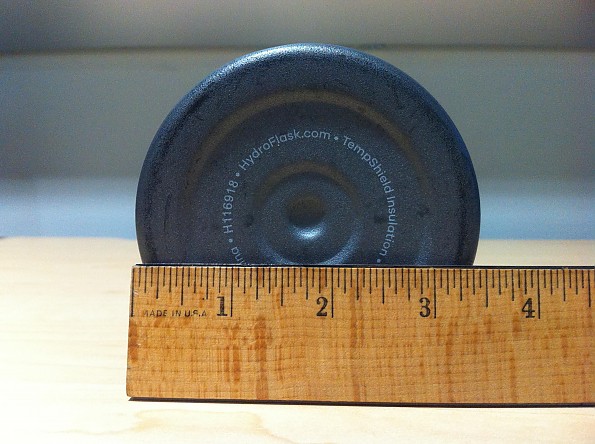 The bottle is just a smidge too big to close the zipper of the bottle pocket on this bag. It does however, fit fine in most stretchy side pockets. 
Weight:
Combined, the bottle (empty) and lid weigh 1.18 lbs (535.8g). Due to its weight, it does not go with me on longer hiking trips where I have to be more weight-conscious. Other than that, it typically goes with me due to its durability and large volume.
Insulation:
Hydro Flask's TempShield double-walled insulation does an exceptional job at the two things I care about most in an insulated water bottle; 1) no condensation build-up and 2) keeping water cold during the summer heat. I've had ice stay it in nearly all day while at the beach and on the trail. I have not and do not plan to put any non-water liquids in this bottle, so I haven't tested how well it keeps liquids warm.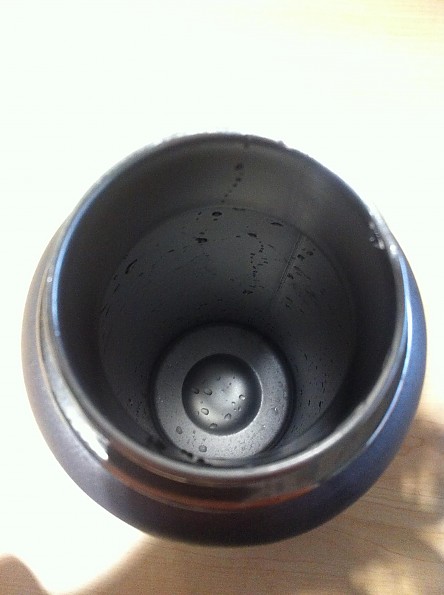 Lid:
The lid has its positives and negatives.
On the positive side, it has never leaked even a drop of water. Its tight seal is very reliable, so much so that I often toss it into the same bag I take to work with my computer in it and don't worry at all about leaking. I can not say the same for many other bottles I've had over the years. Additionally, the lid loop is very strong, making it easy to use for carrying, clipping onto a bag, and for using as leverage when twisting the lid on/off the bottle.
On the negative side, due to its recessed threading and silicone ring, the lid is a little tricky to clean thoroughly. A bristled brush typically does the trick, but this needs to be done regularly. The other drawback of the lid is, because of its width (i.e. widemouth), those with smaller hands can find it difficult to unscrew. My wife complains about this all the time. I remind her that it's my bottle anyways (she has a standard-sized-mouth Hydro Flask) and therefore, I see it as a security measure for her not stealing my water. Joking aside, my pre-teen nieces and nephews also had a hard time opening it while camping last summer.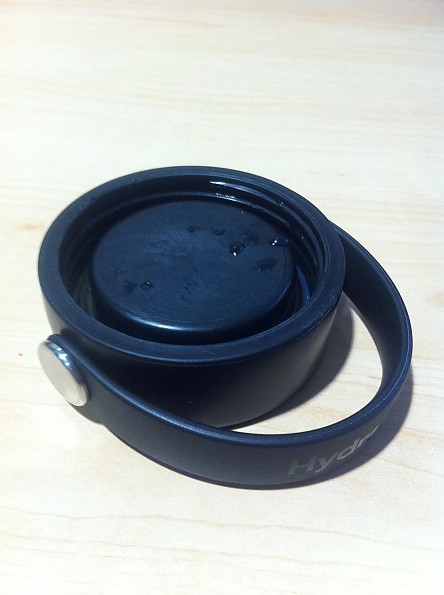 Recommendation:
I'd recommend the Hydro Flask 40oz Wide Mouth bottle to those who are looking for a durable, large volume bottle that won't leak and won't sweat out condensation. It's best for the casual adventurer who wants durability instead of the ultralight backpacker who wants to shed weight.
Update (09March2020):
I've found an unexpected, yet totally awesome use for this bottle. It is big enough to be a legitimate rolling pin. Our kitchen rolling pin recently broke and I forgot to buy a new one. I was in a pinch and saw the bottle sitting on the counter. Dusted it with a little flour and rolled out my pizza dough with ease! One more reason to love this bottle.
Experience
I've been camping and hiking in one way or another since I was a wee little kiddo. I've also been drinking water since I was a wee little kiddo (otherwise I'd be dead). When camping, hiking, hunting, or biking, I typically take water with me, usually in a bottle, but sometimes in a hydration bladder.
Source: bought it new
Price Paid: $20 USD (End-of-season sale)

HYDRO FLASK Wide Mouth Water Bottle, 40 oz.
Pros
It is awesome!
Stays cold for a long time
Sturdy
Cons
Doesn't fit in cupholders
This is my favorite Hydro Flask bottle. It is awesome. It is a double walled stainless steel with a vacuum between the two walls so it insulates really well. It has the standard wide mouth and cap. Water and ice in it will last all day, no matter how hot it is. 
I find that if I put too much ice in it, that becomes a problem because when I open it hours later, it will still be full of ice. That is especially a problem with this larger size — there will just be a big lump of ice in the bottle. It is really nice after being out on a hot day to be able to have ice water when I get back to the car. I often take this with me on day hikes or to the beach and it so nice to have ice water or other cold beverages, that I don't mind the extra weight from the double walls.
It is too wide to fit in cupholders, but if it wasn't too wide, it would have to be even taller. I also find that it will sometimes fall out of back pack pockets too when I lean over, due to the height.
It is pretty sturdy.  It took a bad fall onto a concrete floor and there is only a small dent.
It is so wonderful to fill it with ice water to take it to the beach and have ice water while in the sun on a hot day.  The same with road trips — get a super size drink at a stop, drink a little and put the rest in the bottle and have it cold all day.   (That's why Michael Bloomberg is an idiot.) 
Great for adult beverages, too. Go to a concert or fireworks in the park, where bringing adult beverages is discouraged, and nobody looks twice at the water bottle and it will hold over 3 adult beverages.
After a couple years, I did get a little odor coming from by the seal on the cap, which was remedied by soaking overnight in a bleach solution. 
 
Resting at home:

With the 18 oz wide mouth and the 21 oz narrow mouth: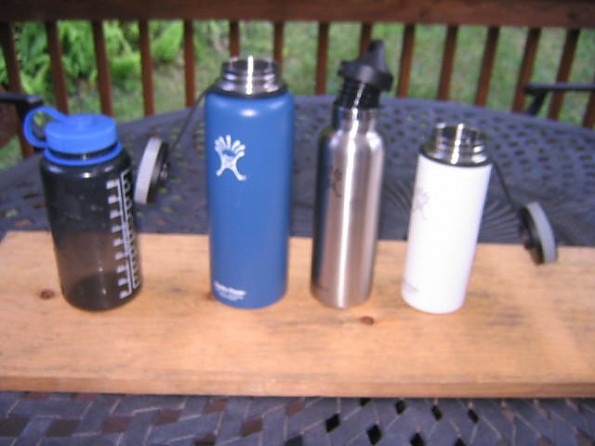 Source: bought it new
Price Paid: $40

As advertised! Best thermos I've used yet.
Pros
Retains heat/cold really long time
Doesn't sweat
Thermos Very Durable
Cons
Caps are plastic - can break
I love dual purpose items as we only family camp/ hike some. The rest of the time we're at soccer, or at the beach, or fishing, or ... !
This thermos is a big favorite of mine and it really does work well. I was just commenting on a review about the Starbucks Via Ready Brew coffee and it got me thinking about the Hydro Flask. Whether I'm camping or out at the soccer fields or in a boat somewhere, this thermos keeps my coffee piping hot throughout the day.
And, for the beach, these wide mouth thermos' do really well with a frozen drink of your choice. Margarita, bushwacker, you name it — works great and keeps the beverage frozen. And, they don't sweat.
If there is a weak point, it would be the caps. But, to be honest, I haven't had any issues. They tighten real well with no leaking but if you drop it, it could split. The thermos themselves have a lifetime warranty, though.
Source: bought it new
Price Paid: $30

Easily worth the purchase if you like to stay hydrated at home or work. It's a bit heavy for any kind of outdoor activity, but perfect to leave in the car for a nice cold or hot treat once you are back!
Pros
Heavy duty
Can change lids
Plenty of colors
Cons
Doesn't fit in cupholder
Too heavy
I originally thought it was going to be too large, however, it's turned into my main water bottle during the day. It's easy to stay hydrated and Hydro Flask always stays cold or hot well longer than I anticipated.
I have the grey color and it looks sharp! I've dropped it in a parking lot and just has the smallest ding on the outside; it was easy to cover with a silver sharpie.
Source: received it as a personal gift

It looks great!
Pros
Great stay cold power
Great stay hot power
Cons
Slipperier than a booger on a water slide
This container is built to last forever, and looks fantastic. It keeps fluids fantastically warm, or cold.
Now, the worst part of all, you can't hold it. I'm serious. This 40 oz., gorgeous bottle, appears to be powder coated on its outside finish. Have you ever tried to pick up, and hold, a full 40 oz. bottle that has a finish as slippery as a booger on a water slide? You can't, but I dare you to give it a try.
Why Hydro didn't provide a porous outer shell, for a human hand to grip onto I'll never know. As soon as you pick it up it will side out of your hands falling wherever. Go for a Nalgene bottle instead of a $42.95 Hydro Flask. 
Source: bought it new
Price Paid: $42.95

Your Review
Where to Buy
Help support this site by making your next gear purchase through one of the links above. Click a link, buy what you need, and the seller will contribute a portion of the purchase price to support Trailspace's independent gear reviews.
You May Like
Specs
Price
Current Retail: $28.02-$49.99
Historic Range: $4.95-$59.95
Reviewers Paid: $20.00-$42.95

Recently on Trailspace