Hyperlite Mountain Gear Dyneema 2400 Ice Pack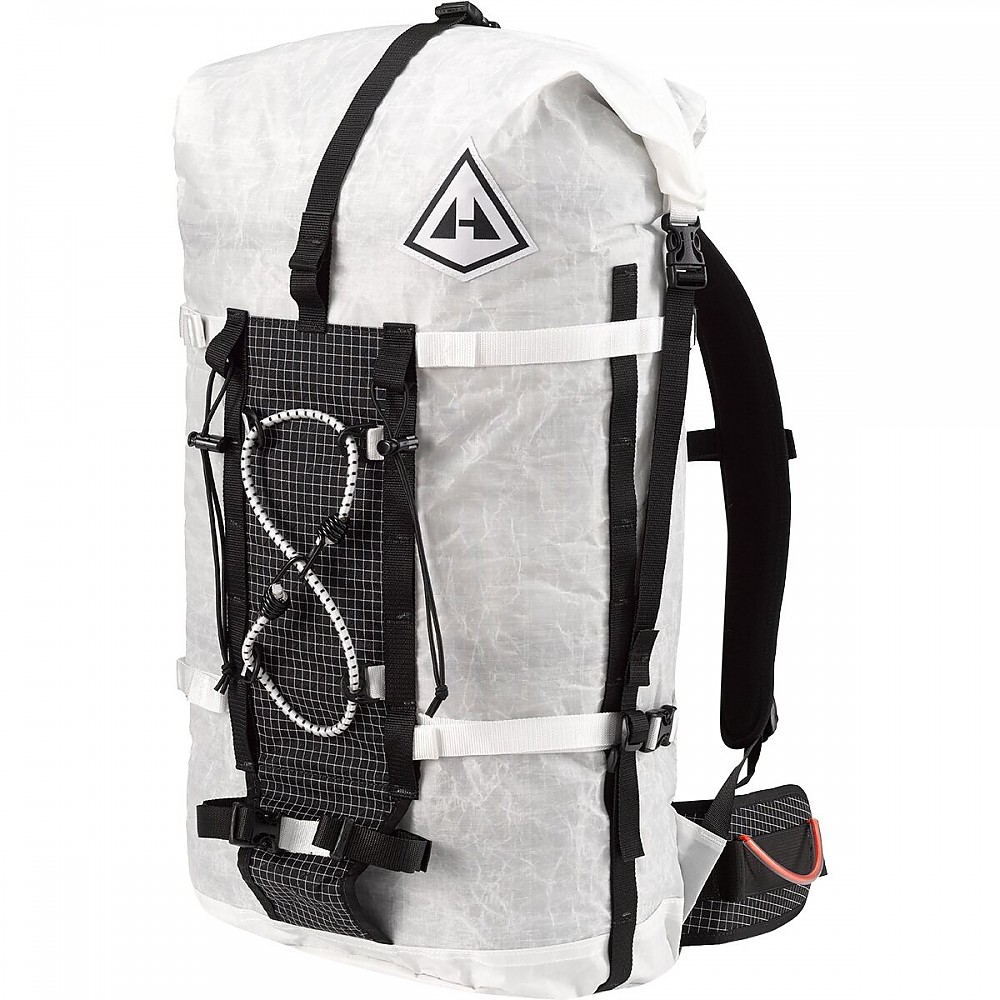 The Hyperlite Mountain Gear (HMG) Ice Pack Dyneema is a 40L pack designed specifically with ice climbers in mind. Made light without sacrificing durability, the woven Dyneema exterior laminated to the Cuben Fiber provides the perfect balance of weight to strength. Whether loaded up with 40 lbs of climbing gear or compressed down to hold just your puffy and water bottle, the Ice pack excels.

The pack is best for alpine day climbing, ultralight overnight trips, or winter hut-to-hut hiking. The highlights for me are the woven Dyneema fabric (nothing short of incredible), the tool carry, and the weather protection. My main gripe is the lack of an accessable bivy pad and I'd love to see the crampon carry re-worked.
Pros
Durability
Tool carry
Waterproof
Compression
Colour
Cons
No removable bivy pad
Crampon bungee
Odd plastic at base of the hip-belt
The price is gonna sting
No tab to open roll-top
A dedicated ice climbing pack must, above all else, be two things-
Made with a highly durable material, both punctures and abrasions are highly likely. I can't think of a sport (at least none that I participate in) that takes more abuse than an ice pack. Two ice tools, crampons, 8 ice screws, and often a file—you might as well strap a bunch of scissors to your pack.

Provide a solid way of carrying your tools while allowing easy access. Tool loops were rightfully retired a long time ago and improvements have been made.
So let's start by addressing those two things.
First of all, the pack material. I made this video for the Dyneema Summit Pack review I did, to give an idea of the type of abrasion resistance we are talking about.
If you are unfamiliar with Dyneema, and its unmatched benefits as a pack fabric here is some quick info:
Abrasion resistance better than 1080D Cordura

UV resistant

Doesn't lose its technical integrity when folded or crinkled.

Resistant to most chemicals

Floats on water and hydrophobic

Fire resistant and self-extinguishing

Can withstand an extreme range of temperatures
On a weight-for-weight basis Dyneema is 15 times stronger than steel and 40% stronger than Kevlar. The majority of its uses are far more life dependent: armoured vests, boat moorings, surgical cables and orthopedic sutures. Or possibly the most bad, errrhhmmm, behind (this is a family-friendly review) backpack material made today.
When laminated to the Cuben Fiber interior that HMG usually uses, you get all those benefits plus the lightweight waterproofness of the CF and eliminate CF's only real weakness, abrasion resistance. It's a blissful combination that competes with the likes of PB and J, beer and a campfire, Batman and Robin. All great on their own, but when put together they are unstoppable.
To address the second point, the Ice Pack uses a sleeve for the head of the tool, a buckle to ensure it can't wiggle out, and a loop of shock cord for the handle. Easy in, easy out, and no bouncing around. Should you need it the sleeve can actually fit multiple heads so you could bring two climbing specific axes and a general mountaineering axe, not sure why you'd need that many tools, but you can. 
FIT
Everything about the fit is spot on. For reference I am 6 foot, 170 lbs with a 20 inch torso. My pack is a medium torso length and medium belt. Normally HMG recommends the medium torso length to be between 17 to 19 inches, but I prefer a tighter fit and have been happy with the size I chose.
The waist-belt is a one size fits all, which in my best estimate would cover anywhere in between a 26" and a 38" waist. I am a 31-inch waist and I fall right in the middle, lots of room to tighten it down, or if I'm wearing a lot of layers, room to grow.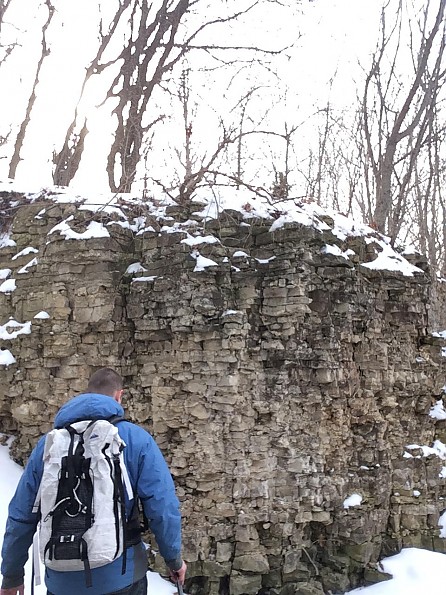 The pack rides comfortably above a harness while still wrapping the hips nicely. It comes to about shoulder height on me, which doesn't interfere with a helmet when looking up. The shoulder straps are contoured to allow a full range of motion without restriction.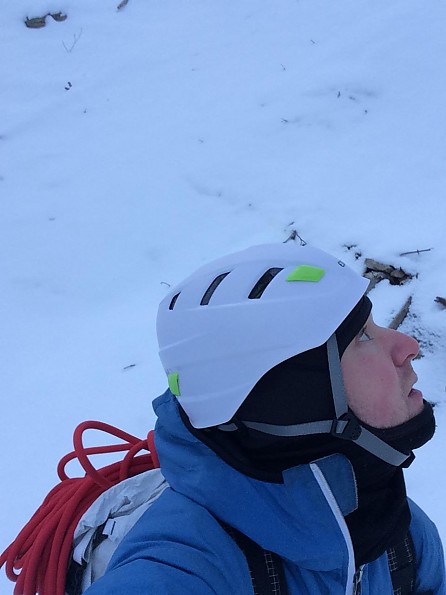 The load capacity is listed as 20-40lbs and I'd put that as a reasonable range, if not a little conservative. Obviously you can strip many components off the pack and have it comfortable below 20 lbs easily, but with two stays and a well-designed hip-belt I'd wager a small bet that it would be comfortable in excess of 40 lbs, probably up to around 45.
I've never carried that much in it, so take this as a light estimate. In fact I'd guess I'd be difficult to cram that much into a 40L pack to make it weigh that much. Maybe if you're the pack mule who has the extra beers hidden in their pack…Most I've carried is 35 lbs.
Organization and Accessibility
For a pack designed specifically for ice climbing "Accessibility" means something a little different then in a standard backpacking pack. I don't want a bunch of small pockets. I don't want a lot of interior access, dividers or zippers. These are all places for snow, ice or water to enter the pack. They are also the point most likely to fail.
What I do want to access? Ice tools, rope, and crampons need to be easy to get on and off, as well as, to a lesser degree, my puffy, water snacks, rack, and extra gloves. Let's address those first main three…
Ice Tools
As a said earlier the tool carry is perfect, well, easily made perfect. The top bungee cord used to stabilize the handle is excessively sized. Probably not going to bug 99% of the people, but it bugged me. It took five seconds to cut off some cord and re-tie a knot.
There is a pick sleeve, which is generously sized, but doesn't seem oversized, even on headless tools, like the Nomics. If you have an aggressively curved shaft tool, something like the Ergo, it can significantly cut into the space you have available for your crampons.
I don't own the Ergos, but tried attaching them on the pack in a store once, and they would force you to find a creative way to carry your 'pons, or just throw them inside the pack. The sleeve works equally as well on simple straight shafted Piolets.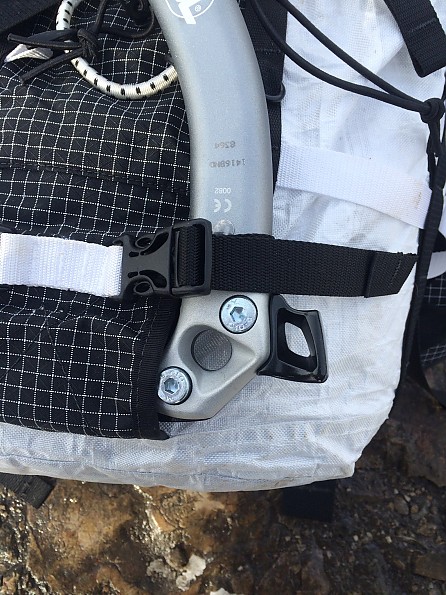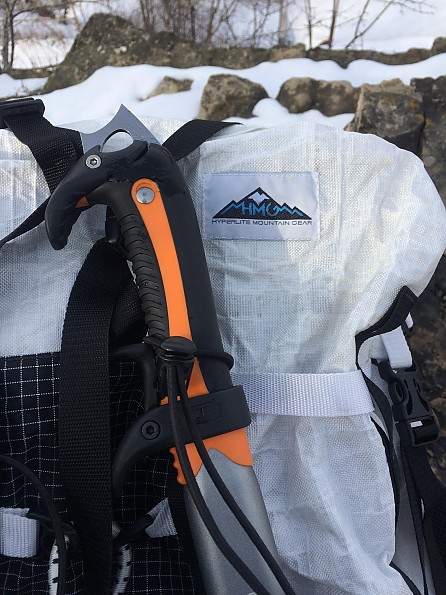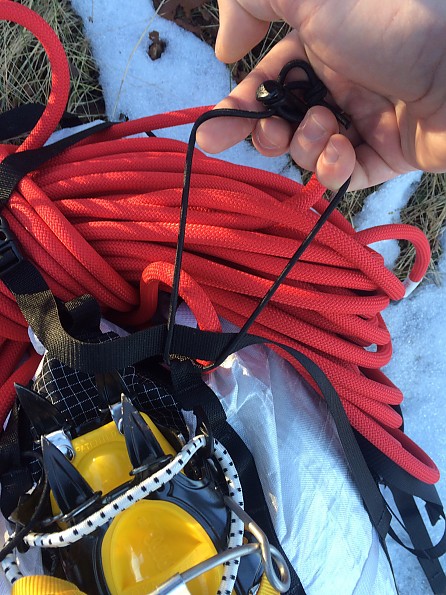 (Size of the bungee to hold the ax handle)


Crampons
The crampon carry bungee is less than ideal. It's got a very Home Depot feel to it. Again, cut it off and use webbing with a fast release buckle. Probably around the same weight, if not less, and easier to access. I haven't done this yet, but likely will in the near future. In the meantime I've just been storing them inside the pack.
Also, it seems a little odd to have a Dyneema X-Grid patch here. I've ripped a small hole in it, not sure how, or when, most likely I sat down with my pack on and leaned against something and the crampons punctured a little hole.
The grid has done its job, the hole hasn't gotten bigger, but why have it in the first place? Companies add it to re-enforce high wear areas on a pack, but when the whole pack is made with a woven Dyneema what are you worried about? The patch is actually the weak point. Small rant, my apologies.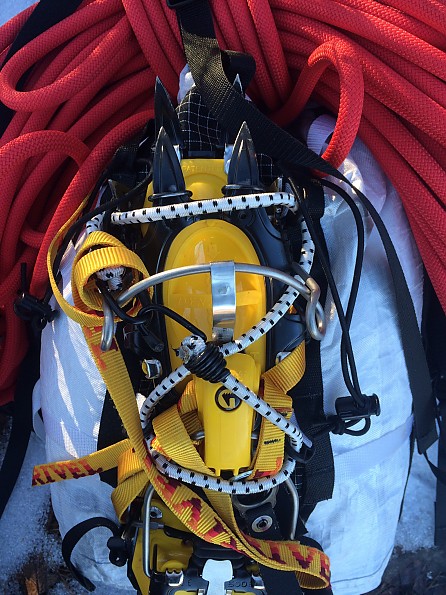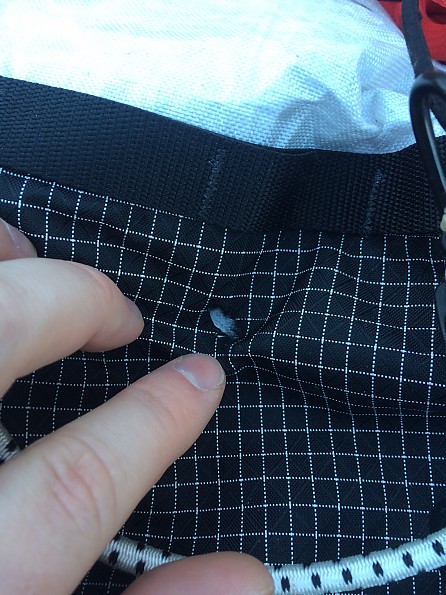 (Small tear, hasn't gotten any bigger)
Rope
There is a Y shaped compression strap that runs along the top. It is, bar none, the best way to carry a rope securely on the outside of the pack that I've tried. When using an alpine coil on your rope you can situate the middle knot right in between the compression strap and it can't fall off the either side. This strap also helps, as a makeshift "load lifter", as there are none.
Other
You have the option of gear loops or pockets (an extra ten dollars) on the hip belt. I opted for the loops, mostly because the pockets would get in the way when climbing (I'm assuming, I've never tried them), but never use the loops either. Again, I may cut them off, as I prefer to rack on my harness, but they aren't really detrimental as is. The only thing they get occasionally used for is a quick place to store my ax, and that's only for a short period—crossing a creek, getting a quick drink—they are never there long.
I love that there is a small Cuben Fiber pocket that measures 8 by 8 inches on the interior. It's on the top, against your back, so it is easy to access any valuables, small items easily. I usually stick my keys, wallet, cell phone, a knife, headlamp, and lip balm in there with room to spare.
If you have the bag overstuffed this pocket can become almost unusable though as it can become tough to access.
One thing I'm still very torn about is the top hook and loop on the roll top closure. The Summit doesn't have it, the Ice Pack does. I haven't noticed any additional weather protection on the Ice as compared to the Summit, and I've probably had the Summit out in worse weather. It also makes it very difficult to open the pack without removing your gloves. If you've got mittens on you might as well throw in the towel, you're fighting a losing battle. If it just had a small tab to grab onto it would be a lot easier to open….but it doesn't.
Small trick that's worked for me: if you are not using the small interior pocket, flip it up and it will sit in between the two sides, not allowing them to stick together. You can still roll the top down and I just bring a small Cuben sack to keep the little things organized.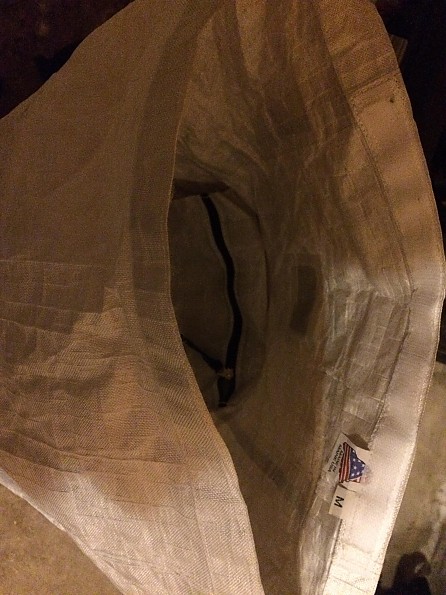 (Hook and loop runs about three quarters of the roll-top closure)
There is also a ski modification option for an extra twenty five dollars. If you've ever seen me ski then you'd know why I declined this extra. Picture the guy that skis through the fence into the parking lot, or a drunk guy, or a toddler learning to walk, or all three….that's me trying to ski.
The white colour of the pack makes things really easy to locate within the pack, it lets a lot of light through.
Capacity
The capacity is right on for anything in and out within a day. The 2400 is about 40L so once you start needing gear for overnight it becomes a game of carefully selecting what isn't needed. Winter sleeping bags, especially, take up a large portion on the interior, even when in a stuff sack. I've gotten around this before by using my -7°C bag, instead of my -18°C, and supplemented with my clothing. Not ideal, especially when crawling into a down bag wearing sweaty, greasy clothing, but I've done it.
The weight-to-space ratio is insane (33.5oz/40L or .83ozs per L), you have to hold the pack to appreciate how light it is. It can be made even lighter too as the two contoured stays and hip belt are both removable.
I love the stays, they add a lot of comfort and are well designed so those have never come out, but the belt is probably 50/50. Don't get me wrong, it's a nice belt, wraps the hips well and adds comfort on long approaches, but I don't find it necessary if you've got a lighter load. Anything under or around 20 lbs and you can ditch it.
You could definitely lose the stays too at that weight, but I'm a bit of a sissy. I'd love to see more of HMG's pack offered in the woven Dyneema, for the small increase in weight the 3400 (55L) size would be more appropriate for multi-day trips.

(Removable stays and tab to hang hydration bladder)
Having such a good carry system for the crampons, ice tools, and rope, make all the interior space useable for your puffy, rack, food, and water.
COMPRESSION
Lots of ways to compress the pack: two straps on each side as well as a Y top strap, and the roll top closure. The pack is equally at home carrying 40 liters as it is carrying 20.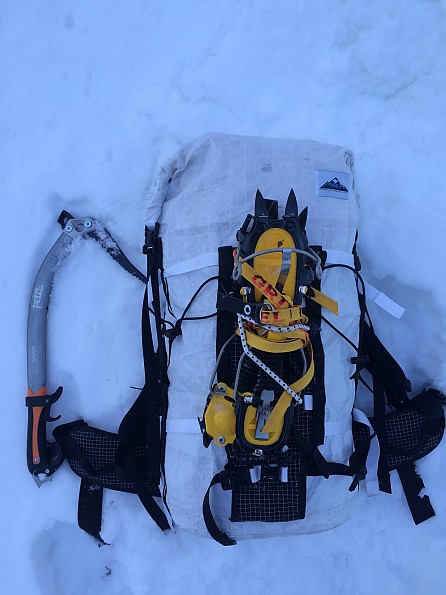 (Fully loaded, axe for size comparison)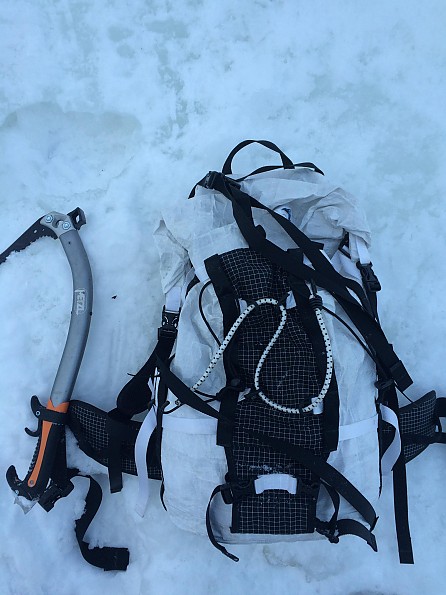 (And near empty and compressed)
There are also a variety of combinations to fine tune the weight by removing the features you don't need.
The hip-belt, padding on the hip-belt and the stays are all removable, so some combination of those three will fit any weight carrying need. The claimed weight of the pack is 34.1 oz (2.13 lbs). Mine weighs slightly less at 33.5 oz (for a medium torso and medium belt) and that's before I did any modifications. It is broken up like this…
Pack bag only: 1 lb 8.2 oz

Stays (combined): 3.9 oz

Hip-belt: 5.15 oz

Hip-belt padding: 0.25 oz
FEATURES, CONSTRUCTION AND DURABILITY
I've talked about some of the design features above in the organization header, and the Dyneema fabric in the intro. Couple of other quick info for you to consider when purchasing…
Weather Protection
Cuben Fiber (now being called Dyneema Composite fabrics, or something slick like that) is FOR ME, functionally waterproof. I know HMG recommends having stuff in dry bags within the pack. They have to, to cover their own butts.
I'd love to see the storm that lets water inside this pack. Between the roll-top closure and the Cuben Fiber you're well protected in anything short of an extended deluge. When I first received the pack I had a winter backpacking trip planned so I decided to take it along. Without doing much research on how waterproof the pack was previous to the trip, I decided to test it myself.
Turns out, with a little research (after I got back of course, 'cause I'm not smart enough to do the research before I leave for a trip), the bottom seam is the only one that's not sealed (wish I had known that before tossing it in a lake). Still very impressive that you could dunk the pack multiple times and end up with only a tiny amount of water inside.
Any rainstorm and definitely and snow, hail, or ice stands little to no chance of entering the pack. Have the redundancy in place if you'd like, but I haven't felt the need for stuff sacks within the pack.
Quality
My pack also showed up with this weird extra little bit hanging off it. My best guess is that it's some of the laminate of the Cuben Fiber, but I found it weird that it was not trimmed up prior to leaving the HMG shop, especially given the incredible workmanship elsewhere on the pack. It ripped off easily without damaging anywhere else and has had no noticeable effect on performance.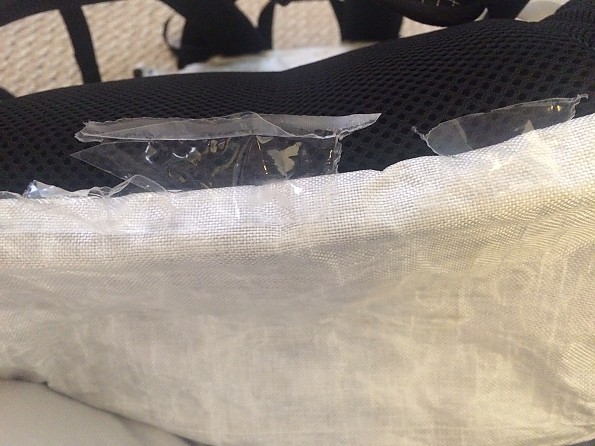 Bivy Pad
Why, on God's green earth, is this not removable!? Having a removable bivy pad allows you to organize gear on it, stand on it when belaying, sit and eat a snack or put your boots on, or get through a cold night. A zipper access, a Velcro access, I don't care, just let me at it…..please.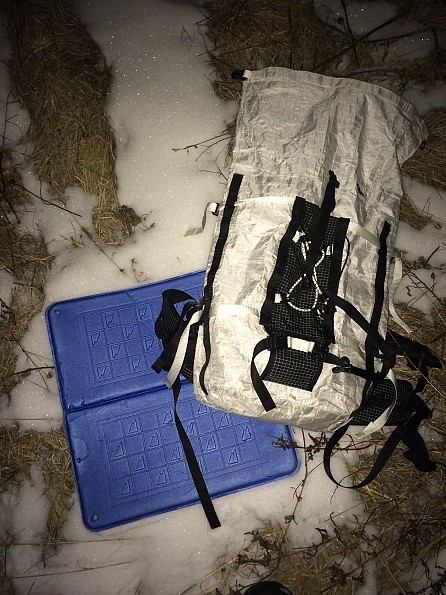 (I now have to stick a blue foam pad inside!)
Made in America
All HMG packs are all made in Biddeford, Maine. Support local economy, reduce emissions and keep America great! Something like that, right? I don't know. I'm Canadian, don't hold it against me. Kidding aside, it allows HMG to keep a keen eye on quality control and although I haven't had to use it, I would hope, customer service as well.
CONCLUSION
Ultimately you must decide if a $500 pack is for you. If you are one who immediately scoffs at the price, then you aren't in their target audience to begin with. If a sub-two pound, indestructible, dialed in alpine climbing, heirloom pack is what you're searching for, I think this is worth your consideration.
In the end I think the market for this type of pack is decided by one characteristic–durability. You can buy the exact same Ice Pack from HMG, same feature set and all, for $300 cheaper, in a Cuben Fiber version. One problem. Cuben Fiber and woven Dyneema aren't in the same league for abrasion resistance. How much does that matter? All depends on your priorities.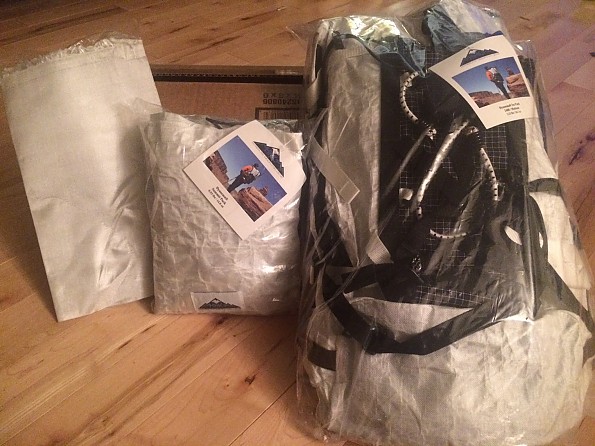 (Package from HMG for testing. L-R: Fabric swatch, Summit Pack and Ice Pack)
Conditions and Testing
I received this pack to test on Oct 20, 2015, and as of today, Mar 6, 2016, it has been used for over 35 days. Ice season came very late to the Northeast, which gave me ample time to test the versatility of the pack, by using it for everything from ice climbing to rock climbing, backpacking, commuting, and mountaineering.
I feel I've gotten a pretty good idea of both where it excels and its limitations. I've carried up to 35 lbs of ice gear and compressed it down to comfortably carry 10 lbs when climbing. It has got some stains, mostly on the bottom, and a small tear in the crampon patch.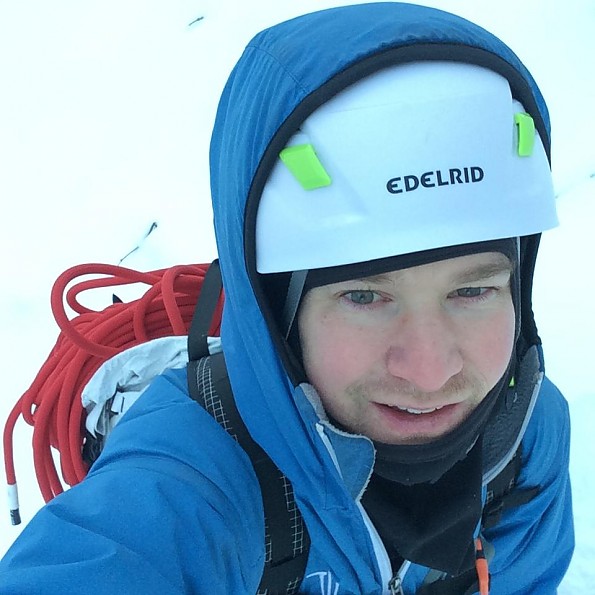 *My thanks to both Trailspace and Hyperlite Mountain Gear for the opportunity to test the Dyneema Ice Pack.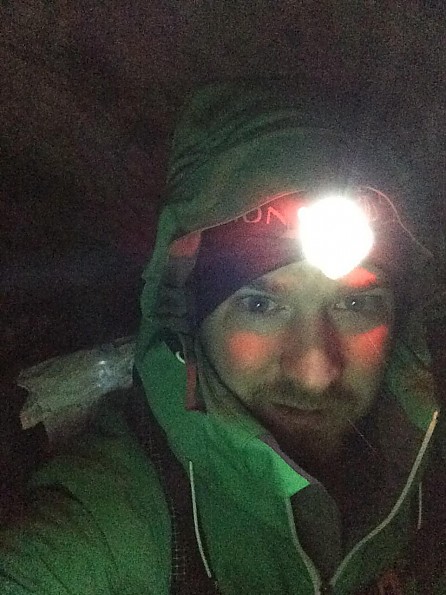 Source: received for testing via the Trailspace Review Corps (Sample provided by Hyperlite Mountain Gear for testing and review)

Your Review
Where to Buy
Help support this site by making your next gear purchase through one of the links above. Click a link, buy what you need, and the seller will contribute a portion of the purchase price to support Trailspace's independent gear reviews.
You May Like
Specs
Price
MSRP: $500.00
Current Retail: $358.95
Historic Range: $358.95-$500.00

Weight
2.13 lb / 34.1 oz / 966 g

Volume
2400 cu in / 40 L

Load capacity
20 – 40 lbs

Pack Materials
Woven Dyneema/Cuben Fiber Hybrid

Crampon Patch Materials
Spectra Hardline

Top Circumference
37.5 in / 95.3 cm

Bottom Circumference
33.5 in / 85.1 cm

Height (fully unrolled)
30 in / 72.6 cm

Back Width
10.5 in / 26.7 cm

Recently on Trailspace