Ibex Indie Hoodie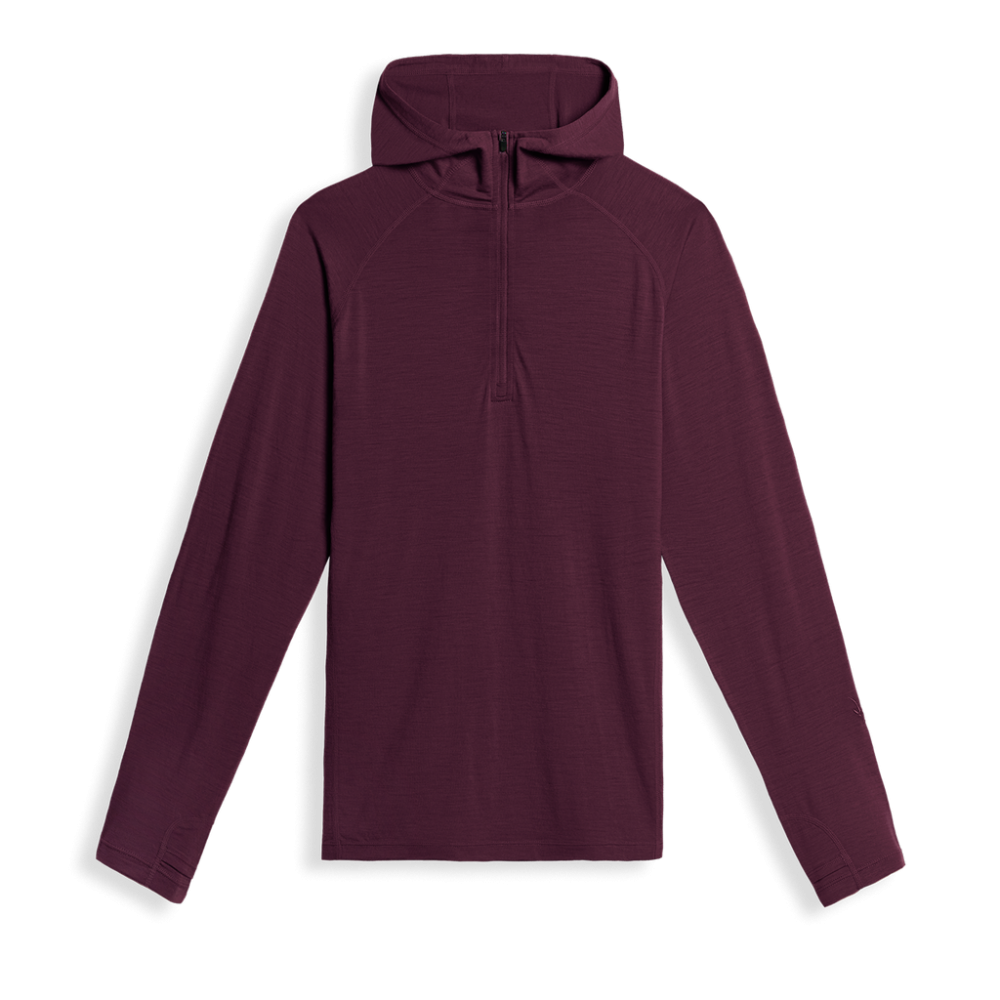 A lightweight layering piece with a versatile and expansive temperature range...easily one of my favorite pieces of clothing...and a reliable companion on my many adventures.
Pros
Comfort range
Design
Construction
Quality
Ibex Hooded Indie
In my closet things are basically settled and calm in the base-layer and shell regions...in these areas of my closet everyone knows their place...Pax Romana...and I hardly give a second thought to what piece is going with me when the time comes to pack and go.
The mid-layer region however is much less settled...it is where the action is...it does not take a lot to make the team (I easily have more layering pieces than any other)...but the starting line-up is a competitive free-for-all...a crucible of fire where articles of clothing are laid-waste to and never heard from again. From this cauldron of death a few pieces have emerged as frequent champions...the Ibex Hooded Indie is one of those rare pieces.
Wool v. Synthetic
Okay...I'll come out and say it...the odds were stacked against this top from the beginning...living and playing in a wet and humid environment...I think wool is over-rated except for its use in socks and gloves. Wool absorbs significantly more moisture (adding to its already heavier weight) and takes twice as long as synthetics to dry.
If you don't want to take my word for it...here is a surprisingly rigorous test which basically concludes with findings similar to my own experiences: http://www.backpackinglight.com/cgi-bin/backpackinglight/comfort_moisture_transport_wool_synthetic_clothing.html#.UnmSTCcoHLE ...so in drier climates where the difference in drying times is .5 hour vs. 1 hour the other properties of wool are more appealing...but when the difference is 5 hours compared to 10 hours...those of us in humid and wet climates quickly lose interest.
Sure wool is slightly more comfortable while wet (it also has a scientifically unquantifiable "comfy" quality which pleases me)...but dry synthetics are much better than wet wool...and for long durations in humid and wet environments wool is simply overwhelmed.
Thermo-Regulating Powerhouse
More than anything...what makes the Indie a star in my view is without question its thermo-regulating capacities. As a sometimes shell sometimes mid-layer piece the true strength of the Ibex Hooded Indie is on full display. Through carefully balancing tried-and-true features (long-sleeves + fitted hood + zip-neck) with a large helping of minimalism (no pockets + hybridization) the Indie is easily one of the most comfortable pieces of clothing I have ever worn over an impressive range of temperatures and conditions...for which it has caught the covetous eye of trail-companions on more than one occasion (also girlfriends will try to claim it...so NEVER clean it!).
I find that when wearing this piece I tend to wear it longer than any other mid-layer piece in my closet...and have on many occasions wore it comfortably over a base-layer all day...needing only to flip the hood...pull up or down the sleeves...or play with the zipper to get just the right amount of warmth and ventilation...all without the hassle of stopping to dig into my bag and shuffling layers.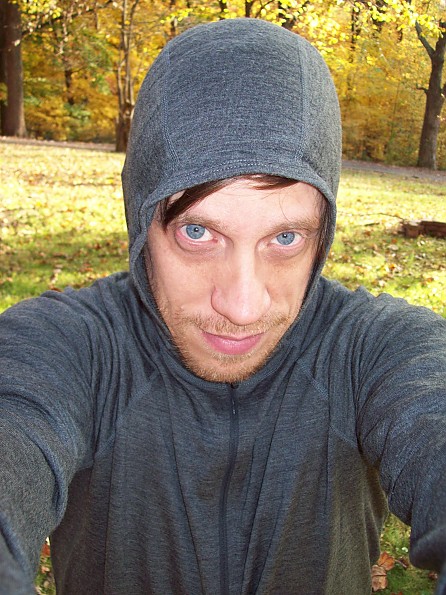 The Hood
The hood is so wonderfully done I though it worthy of its own paragraph...in addition to the many cozy nights it has given me...it also provides critical warmth and ventilation with a simple flip forward and back...I don't need to stop...and there is no fussing about with stowing a hat (or losing it!)...just flip and go!
Part of the hood's success is owed to its complex three-piece construction instead of the simple two piece construction you find in lesser hoods. This 3-piece construction in combination with the elasticized seam around the face provides a snug fit for layering and also helmet wearing (if you wear helmets)...and as a bonus it provides that much desired "scuba" look which is really hot right now! The hood of the Indie is easily the most functional 2-3 ounces in my pack.
Thumb-Loops

I'll be honest with you...I think thumb-loops are over-rated for backpacking...in all my years being outdoors I have never once had the thought "I wish I had some thumb-loops"...but I can see how others would appreciate them...if nothing else they ensure longer sleeves which I care very much about (which might be why I have never found a need for thumb-loops).
I suppose that thumb-loops could help keep the sleeve inside your gloves...or if you forgot gloves it could make keeping your sleeves from sliding down easier...but I use trekking poles and have always found it easy to hold my sleeve between my palm and the trekking pole handle. With all that said...the construction of the thumb-loops on the Indie is top notch...with a tight double zig-zag stitch that both reinforces while providing ample stretch (though one should stretch wool with caution...as it seems stretching wool repeatedly creates weakness and failures).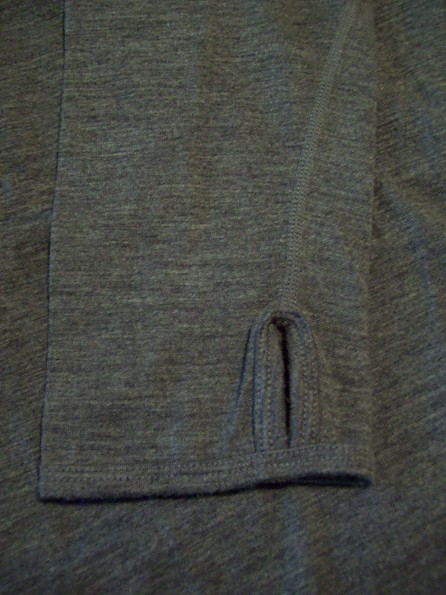 Flat-Stitching
Flat-stitching is used throughout the garment...with only traditional hems on the hood + sleeves + bottom of the piece. More importantly...at least as far as I am concerned...is that the shoulders use a more complicated construction which eliminates the seam that runs across the shoulders in pieces that are less well designed and constructed. For those who would consider wearing this for a heavier base-layer piece this is surely an important aspect...but it might seem like a rather insignificant aspect when used as a mid-layer piece.
However...wool is thick...so a traditional seam would be thick...and I wear this mid-layer piece for long periods of time in cool and windy weather (one of the primary reasons I think so highly of it)...so I believe a thick seam running across my shoulders under the constant (though small) shifting of my pack would have long ago been the end of this piece...or at least relegated it to less spectacular auxiliary duties.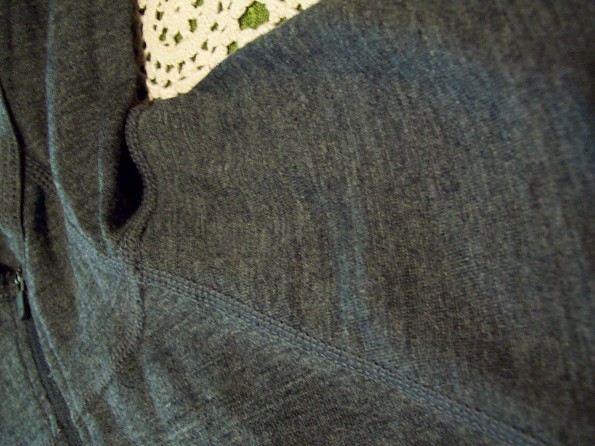 Draw-Backs
To prevent any premature excitement over this piece...I should warn you of the serious draw-backs...however few they might be.
First...Merino wool is terribly expensive...and Ibex does not seem to be concerned with those folks with more modest budgets...so while I believe you will easily pay less per hour of use for this piece than you might another...the initial cost is a little staggering. If you are of limited financial means...but you would really like to get this piece...do as I do and play the eBay or Amazon game to ensure the best price...though you might be forced to purchase strange shades of purple + yellow + pink (as if those colors weren't bad enough!)...you can sometimes save 30-50 dollars for accepting a poor color choice.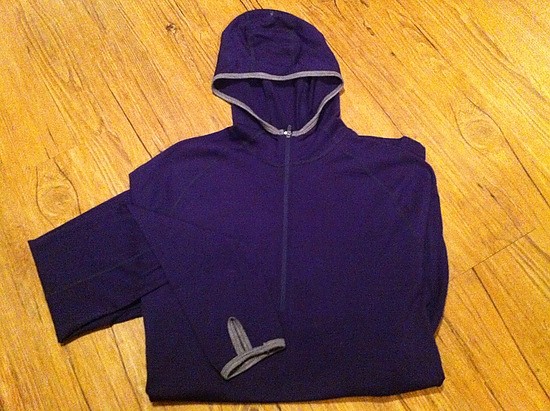 Second...I'm one of those people that finds wool intolerably itchy against my skin...so even if I lived in a drier climate I couldn't wear this piece as a base-layer. Still...despite it having a somewhat limited use for me because I cannot use it as a base-layer...I find it is still one of my most worn pieces of clothing..so if you do enjoy the feel of wool against your skin...you may never have a reason to take this piece off!
To conclude with the draw-backs...I will once again mention that wool both absorbs significantly more moisture than synthetics and takes twice as long to dry...and this is a factor that I think one should take very seriously...for those of us who live and play in humid and wet environments...wool cannot only be more uncomfortable and heavier...when the temperature drops it can be the difference between danger cold and uncomfortable cold.
Summary
To summarize...the Ibex Indie is not perfect...but I do believe it is a great example of what we should be able to expect from manufacturers in terms of quality + design + construction. As I have said...I find I wear this piece frequently when outdoors...in all but the hottest and coldest months it can be found in my pack or on my back...and even on some of the coldest days I have found it fills a much needed void. As long as you protect it from friends and romantic partners you'll find that you can come to rely on this piece as a trusted companion for many miles on the trail.
Additional Details:
Weight: 300g (X-Large)
I have a 44" chest...the Indie fits snug with just enough room to layer over a lightweight polyester base-layer...it is a perfect fit in an area (mid-layer) that is hard to do so!
Owned: 1.5 years
Climates: Guatemala (spring) + Southern Indiana and Illinois Woodland and River Valley (4 seasons)
Source: bought it new
Price Paid: $80

Warm, non-itchy, odor resistant, moisture managing—doesn't leave you dehydrated, and breathable.
Pros
As above
Can't lose your hat; hood adds a quick fix to temp regulation
Cons
Dries slower
No hood cinch but still works well
I like the cut and the thumb hole design. I've used it now for about a year of casual and adventure related wear functioning different times as all layers. Though it certainly needs a shell in any type of wind, it has performed admirably.
Simplicity at its best.
Update 28 DEC 2017
So my end review will be complete after this. I finally was able to return the Hooded Indie to REI because I had all the paperwork and tags in order and it was purchased prior to 2013. Even though this garment was a comfortable, simple, and chic looking hoody it was falling apart in several locations.
I went to Ibex with the item and they had it for almost two months explaining to me that their tailors would be able to repair everything just fine. When I finally got it back it looked like Frankenhoodie, so I stuck to my guns after initially being turned away back in 2013 when it first started fraying and got my refund!
I now have four Patagonia Men's Merino 3 Midweight Hood's still going strong. Even though they don't have quite as much cool points they are just as practical, warm, and more durable because of a higher blend of synthetic.
I've now dropped the rating from 5 to 2.5 based on its lack of ability to hold up under mostly casual usage and standard laundering within a three-year time span (2010-2013).
Source: bought it new
Price Paid: $95

Perhaps the single finest piece of outdoor gear I own.
Pros
Lightweight
Warm
Wicking
Fast drying
Comfortable
non-itching
perfect hood
doesn't stink
Cons
Doesn't wash itself
Wasn't free
I recently returned from an overnight snowshoeing trip in Colorado.  I got a very late start and was only on the trail for six hours.  As I'm out of shape from winter, I was dead tired when I finally reached my campsite.  I had been working hard the whole day.  I could feel the sweat pouring off of me, soaking me, particularly my back.  When I reached my campsite, I took off my pack and set up my tent in roughly five minutes total.  In just that short time, I had completely and totally dried out.  The hoodie was as dry as if I'd just put it on that morning.  Nothing I've ever owned dries this fast.
In all categories I can think of, the Ibex Hooded Indie performed near flawlessly.  The hood is form-fitting without being too tight.  I like to throw it on over a lightweight baseball hat for sun protection and warmth.  Just throw it off when you get too stuffy.
The arms are long, which I like.  The monkeygrip thumb holes work exceptionally well too, with or without trekking poles, with or without gloves.  The neck is just high enough when zipped up to keep me warm without choking me or getting in the way.
For me, the mark of a quality piece of outdoor gear is how little I notice it when I'm engaging in outdoor activities.  Unless I concentrate on it, I've never once noticed this shirt.
I could go on and on but you get the idea.  The only thing I can think of to improve this product would be to give it a brain and the ability to drive me around town and buy me food.
Source: received it as a personal gift

An incredibly versatile layer for the backcountry.
Pros
Warm
Breathable
Comfortable
Lightweight
I was looking for a lightweight warm layer for a backpacking night shirt, for cold morning walks, and for outdoor activities in the winter. Have been a fan of Ibex for a long time, and ran across a good deal on this, so took the bait and ordered it.
Fit is spot on... cozy without being too snug. It provides just the right level of warmth for cool evenings in the Sierra, or cold aerobic activities anytime of the year. It is warm when you need it, but plenty breathable when you're pushing your body temps. It is not bulky and layers nicely under a down piece or rain shell.  I've always thought that thumb holes were a bit silly, but found I use them on chilly mountain mornings.
So far, it has worn fairly well. My one complaint with Ibex products is, that they sometimes don't stand up well over time. But I've had this for a year or so, and it's wearing pretty well.
The only other problem I've had with it is, that the stop at the bottom of the zipper is missing, so I have to be careful not to separate it completely at the bottom. I don't think it came that way, so must have come off somewhere.
Those small nitpicks aside, it's a wonderful shirt, and one of my favorites to wear.
Source: bought it new
Price Paid: $60

Your Review
Where to Buy
Help support this site by making your next gear purchase through one of the links above. Click a link, buy what you need, and the seller will contribute a portion of the purchase price to support Trailspace's independent gear reviews.
You May Like
Specs
Men's
Price
MSRP: $170.00
Current Retail: $119.00-$170.00
Historic Range: $54.95-$170.00
Reviewers Paid: $60.00-$95.00

Material
100% Merino / 18.5 Micron / 185 gm2

Fit
Regular

Layer
First

Length
Center back 29 in / 73cm (Size L)

Women's
Price
MSRP: $170.00
Current Retail: $119.00-$170.00
Historic Range: $41.73-$170.00

Material
100% Merino / 18.5 Micron / 185 gm2

Fit
Regular

Layer
First

Length
Center back 26 in / 66cm (size M)

Recently on Trailspace