Icebreaker MerinoLOFT Helix Long Sleeve Zip Hood

The MerinoLOFT Helix Long Sleeve Zip Hood has been discontinued. It was replaced by the Icebreaker MerinoLOFT Helix Hooded Jacket.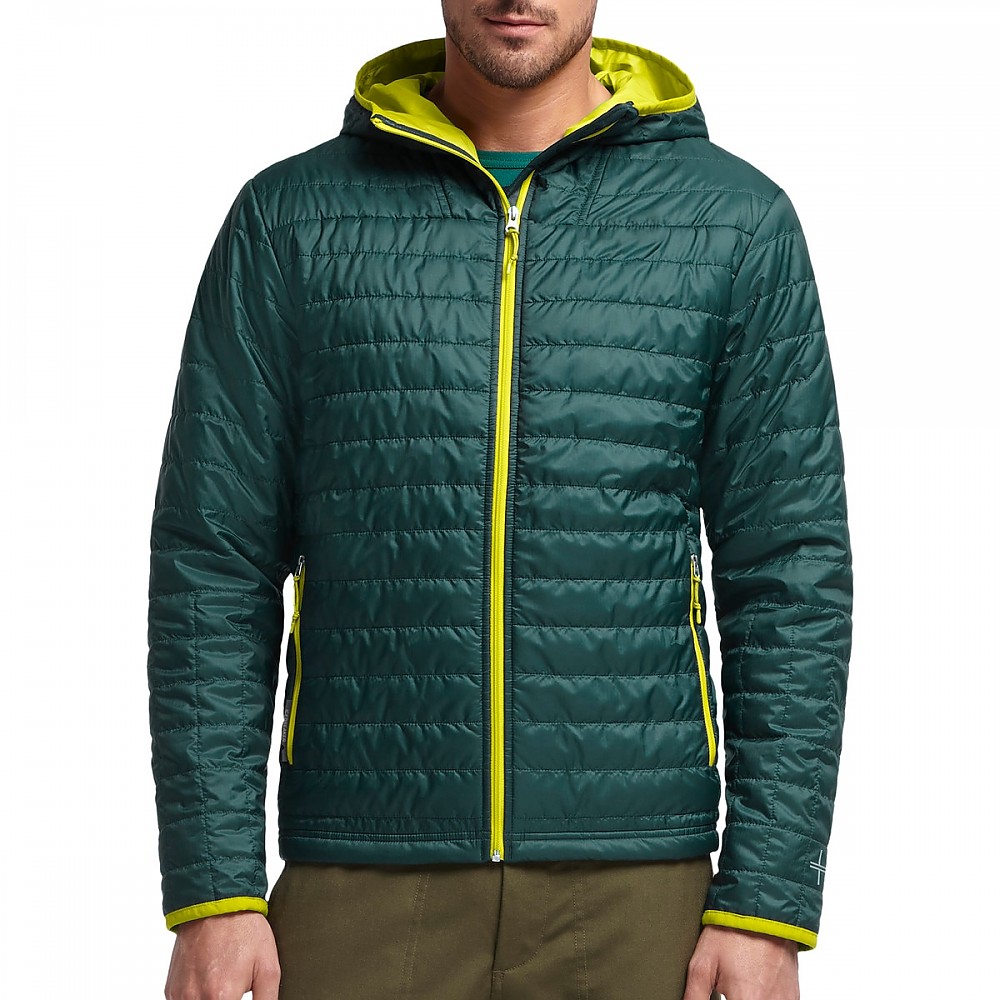 A jacket that will keep you warm as long as you keep active, and is not meant for idle time spent in camp. Ideal for daytime winter activity. Best used as an insulating mid layer to supplement water and wind-shedding outerwear, or as a standalone outer layer in milder ("shoulder season") dry conditions.

Sizing up is recommended for users wanting to layer pieces beneath this jacket without compromising their range of mobility. The simple design is well made but under thought, with an ill-fitting hood and adjustment points too small for large and/or gloved hands.
Pros
Bright color essential for hunting season hikes and hailing taxi cabs
Slim sizing does not skimp on torso or arm length
Recycled wool insulation disperses evenly without cold spots
Low-bulk insulation ideal for a mid layer that doesn't compromise mobility
Sheds light rain and snow well
Longer usage periods between washes thanks to wool insulation
Cons
May require larger-framed wearers to size up if under layering is desired
Price point disproportionate to materials, simplicity, and warmth of the jacket
No integrated or included means of packability; Bulky when packed
Ventilation options for warmer-blooded users limited to front chest zip
MerinoLOFT tents to pill and bleed over time
Not intended for sustained precipitation or wetter conditions/climates
Hood too loose at cheeks and chin, too tight on top (not helmet-friendly)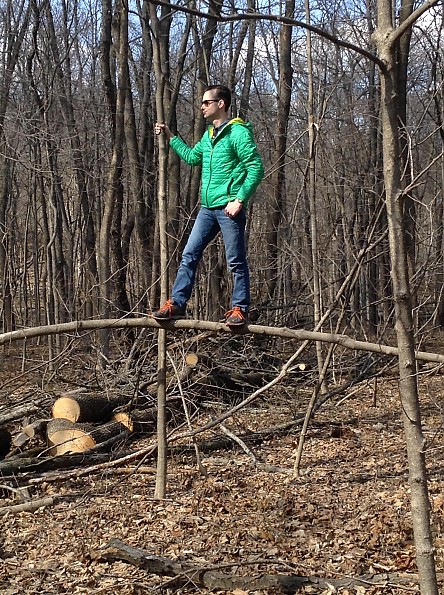 About The Tester
On weekends and in my free time, I'm an avid day hiker and overnight backpacker. During the week, I serve as the Inside Sales Coordinator for Grand Trunk (a manufacturer of hammock camping and adventure travel hard goods).
At six feet tall and 150 pounds, I've got a slim build that often straddles clothing sizes, but typically wear men's tops in a size medium. The pace at which I hike generally keeps between a leisurely 2 MPH up to a 4 MPH (post work day, "race the sunset") speed. I hike "cold," perspire very little, and with minimal "natural insulation" depend largely on the supplemental insulation of clothing to compensate. 
About The Testing
I was assigned to test the Icebreaker MerinoLOFT Men's Helix Long Sleeve Zip Hoodie and acquired it halfway through December 2014. It served as my everyday jacket since that time until present, April 2015. Apart from metropolitan use, it has been worn on day hikes (Northeastern Illinois), overnight camping trips (Central Wisconsin), and even to the 2015 Outdoor Retailer Winter Market (a puffy jacket convention onto itself).
Price and Value
With an of MSRP $284.99, it's undeniably expensive. Jackets in this range should either be made from premium materials, highly technical, or both. However, this jacket is made from "repurposed" (an industry euphemism for "scrap") materials, and is a simple design with relatively few bells and whistles, save an interior pocket for a phone/media player. While simple, the garment is made well and this jacket neither looks nor feels cheap.
Color
I like the noticeable but muted green color, "Lucky/Chartreuse/Bottle." It's a muted bright green (brighter than pastel but too dull for neon) with a yellow-lined hood, and a darker green torso lining.
While in Salt Lake City for the Outdoor Retailer 2015 Winter Market, I would always tell them to look for the "guy in the green jacket" when calling for a taxi. Without fail, the jacket always hailed the cab long before I raised my arm up. 
While practical for the city, the color also has use for hikers out during hunting season, when bright, high-visibility hues are a must.
Fit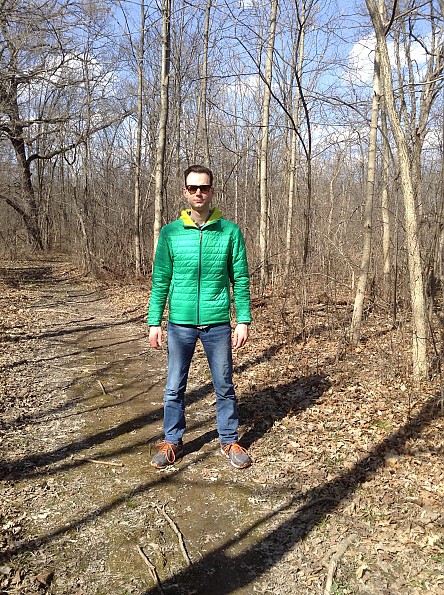 Icebreaker describes this as a "relaxed" fit jacket. Is it a relaxed fit? No. Is this upsetting? Not one bit. I'm a slim guy with broad shoulders, a small waist, a thin neck, and long arms. Finding a jacket that fits all the aforementioned is a wish I'm saving for genie's lamp.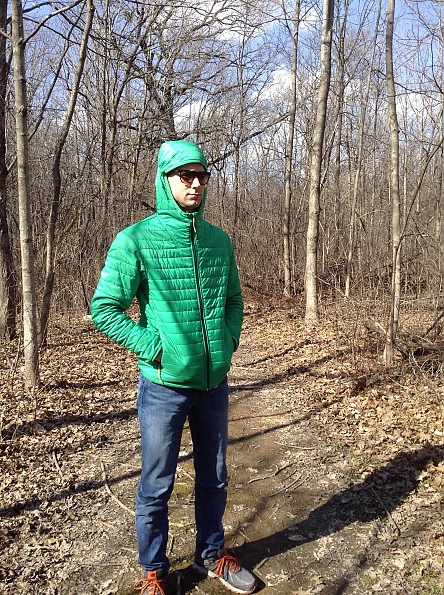 Amazingly, this jacket (mostly) fit well without requiring major adjustment as a standalone outer layer with minimal mid and/or base layers.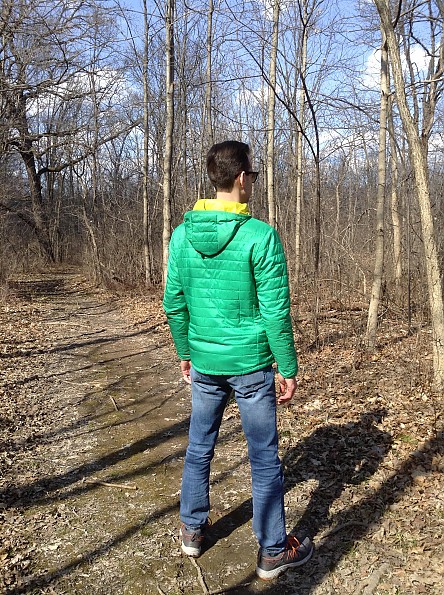 Sizing
"Icebreaker" sizing listed below comes directly from the manufacturer's size charts for men's tops in a medium size.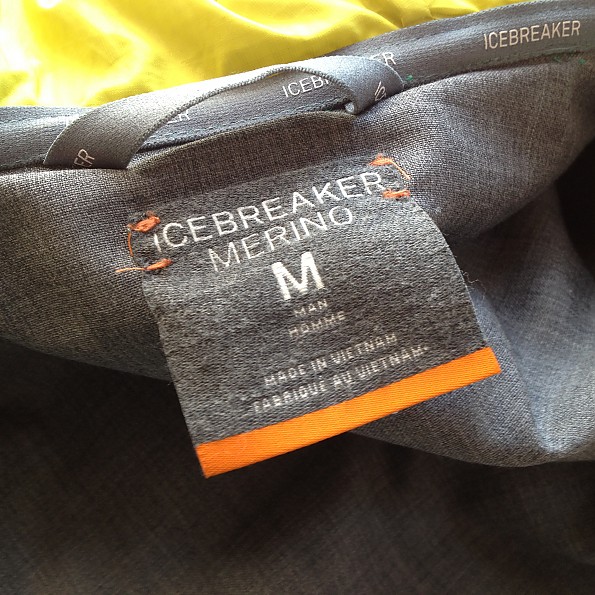 Here's a quantified look at exactly how this garment fits my body:
ICEBREAKER Chest: 38.75 in (98.50 cm)
TESTER Chest: 38.00 in (96.52 cm)


Difference of + 0.75 in (1.91 cm)

ICEBREAKER Waist: 33.25 in (84.50 cm)
TESTER Waist: 31.00 in (78.74 cm)


Difference of + 2.25 in (5.72 cm)

ICECREAKER Hip: 39.50 in (100.00 cm)
TESTER Hip: 37.50 in (95.25 cm)


Difference of + 2.00 in (5.08 cm)
The largest difference between measurements in my body and this jacket was only 2.25" (5.72 cm) in the waist. Considering that's a cinch-able problem to fix, I didn't have many complaints about the fit. Normally I max-out my cinch cords to leave myself the smallest gap possible. This jacket was able to close those gaps (thus keeping me warmer than worser-fitting jackets).
Torso Length
It wasn't a surprise the torso was long enough (my next concern would be the diameter of the waist). There weren't "stretch" panels to be found — the panel under the armpit was neither flexible vertically nor horizontally. The torso fit, only proving short when reaching my arms over my head (guess this can't come with to the festival scene and my "raising the roof" days are over).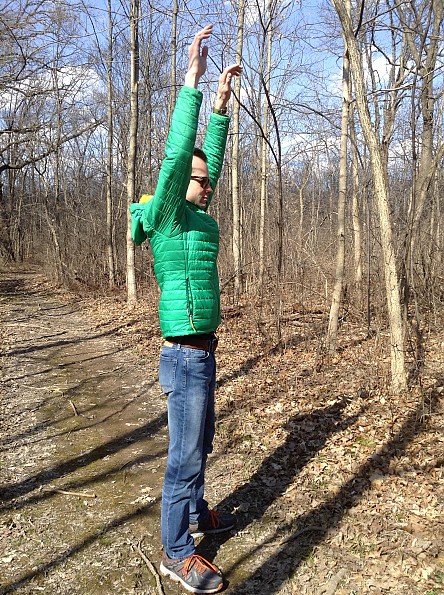 Waist
As mentioned, the "roomiest" difference in measurements was between this jacket's waist and my own. At that, a difference of only 2.25 inches.
It didn't fit without adjustment, but it wasn't a problem adjustment couldn't fix.
Stretch binding? Not that I saw. The bottom hem was static, couldn't be stretched, and could only be constricted with the cinch cords. 
The smartest design feature on this jacket is the waist hem adjustment.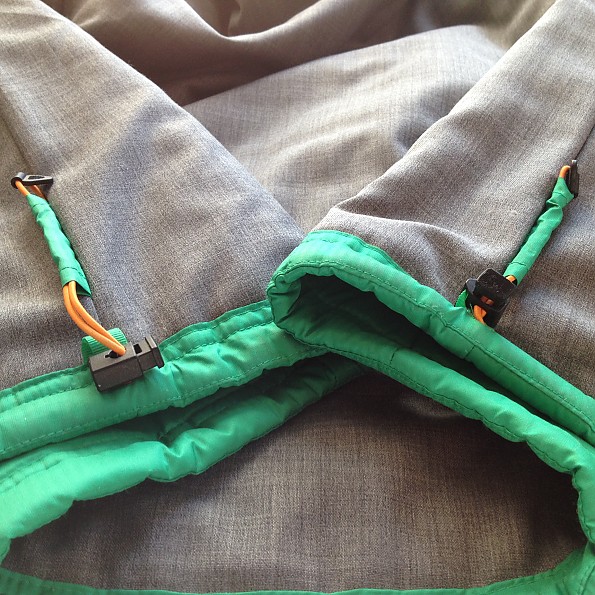 The cinch cords are adjusted with a textured cord lock. The excess cord runs up inside the jacket through an open-ended fabric channel and is held in place by a textured triangular plastic tab. To use, push down on the cord lock and pull up on the triangular tab.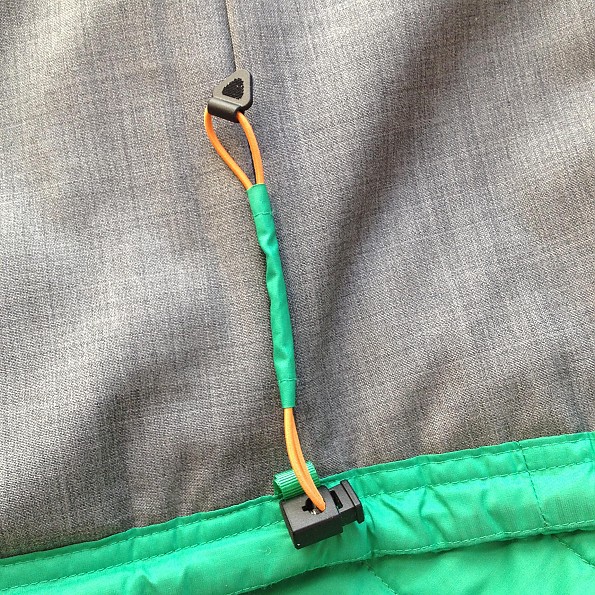 Waist hems are something I tend to adjust once (if ever again) and are seldom used after the initial re-size. If anything, the cinches were over designed, but that's generally not something I complain about. The tabs are small, so it's best to adjust these at/before the trailhead, before your gloves are on.
Arms and Sleeve Length
The sleeves fit really well — even with arms fully outstretched only a bare minimum of my wrist became exposed (which would be covered by gloves in colder conditions).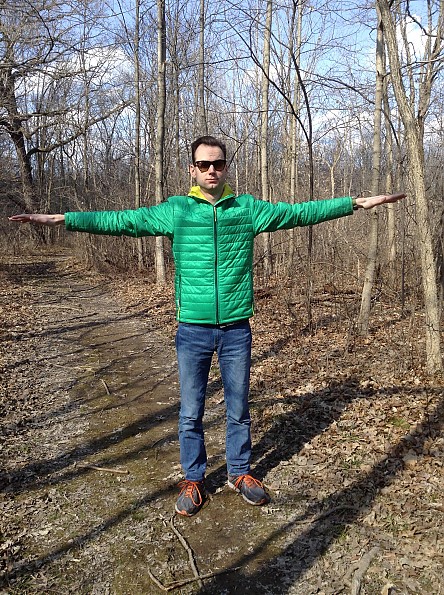 A set-in sleeve design allows a pretty wide range of arm motion (again, anything shy of "raising the roof") without exposure or constriction. It's certainly enough flexibility for trekking or ski poles for those using them.
Cuffs
Fixed and non-adjustable, with stretch binding at the hem for slight flexibility.
A concealed elastic cuff (my second favorite feature on this jacket) inside the sleeve acts as a wrist gaiter to keep wind or snow/rain from dripping inside the sleeve.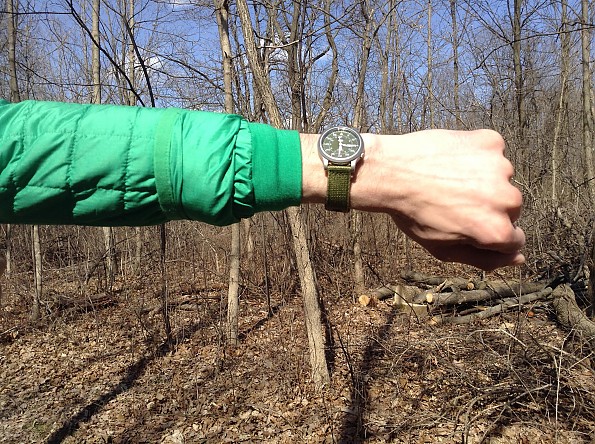 I like the self-adjusting elastic because it means one less thing to fiddle with (or fumble, if my hands are gloved).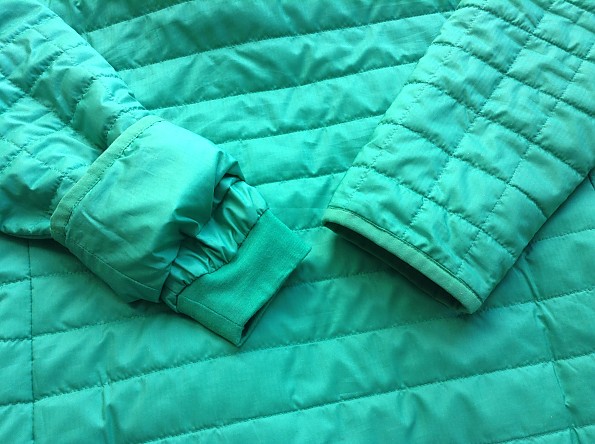 Hood
This jacket became delayed past the anticipated testing date, and they offered to let me test the same jacket without a hood. Holding my ground, I waited on the hooded jacket. In retrospect, I wish I'd have taken their offer because the hood was my single least favorite feature on this jacket.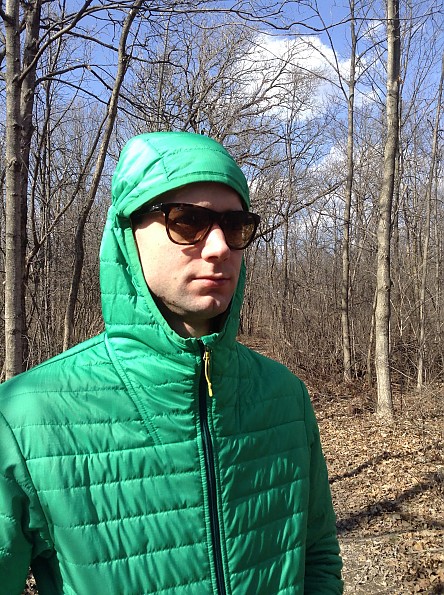 It has a poly lining (unlike the wool lining the chest interior) that sheds rain and snow better than wool would.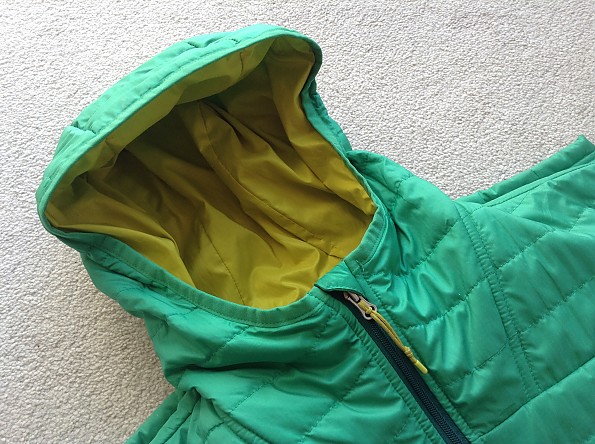 The hood does not have a traditional drawcord that traces the open front circumference.
Instead, the drawcord is on the perpendicular axis, circling the crown of the head and adjusting in the back.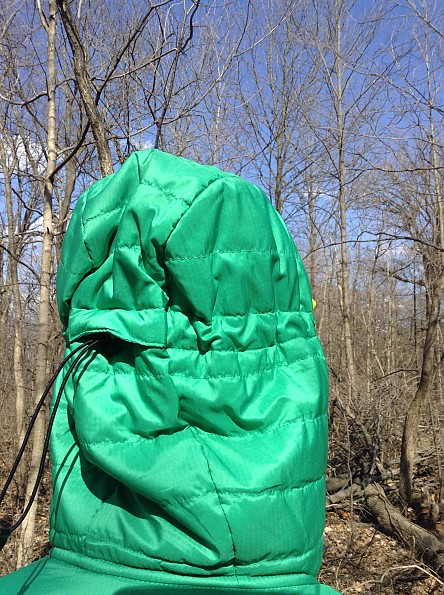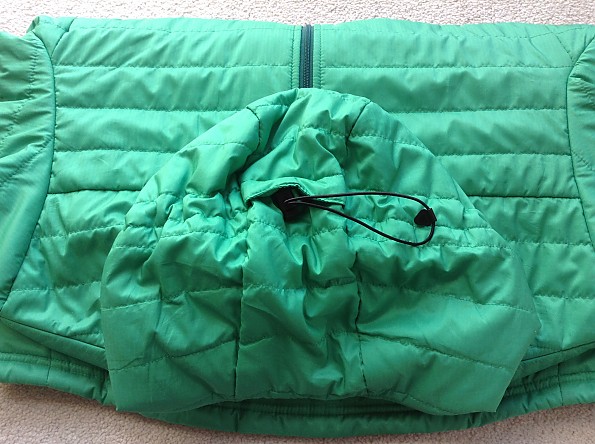 This not only encourages the hood to slip up and over the user's head, but creates gaps along the side of the face and under the chin.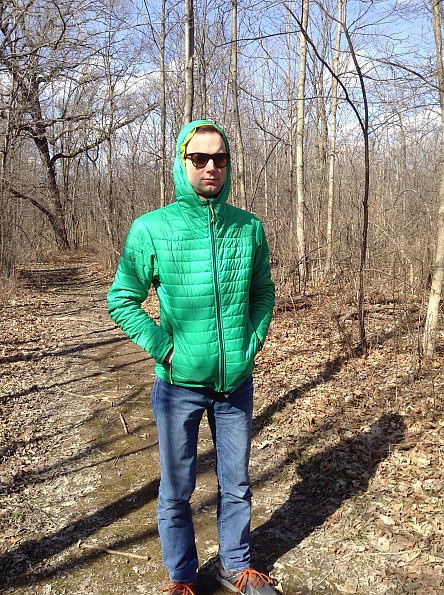 The tighter the cord is pulled, the more one's face becomes exposed. It's like a Chinese Finger Trap: the more you fight it, the worse your situation becomes.
Eventually I gave up on the hood and opted to wear a beanie — the coverage was practically the same and it didn't scoop wind in like the hood did.
Rear adjustment also means you're reaching and manipulating something you can't see, which means breaking your focus and stride to accomplish an otherwise simple task.
Even with the minimally-stretchy "stretch binding," I can't see there being enough slack in this hood to accommodate a ski or mountaineering helmet. While there isn't enough elasticity to prove feature-worth, it does have a comfier next-to-skin feel than the poly would.
Internal Storm Flap
Some jackets (mainly shells) have self-protecting front chest zips, so I understand why they call out this feature.
It runs from the waist hem all the way up the the chin, that overlaps the zipper to keep it from irritating the wearer's face.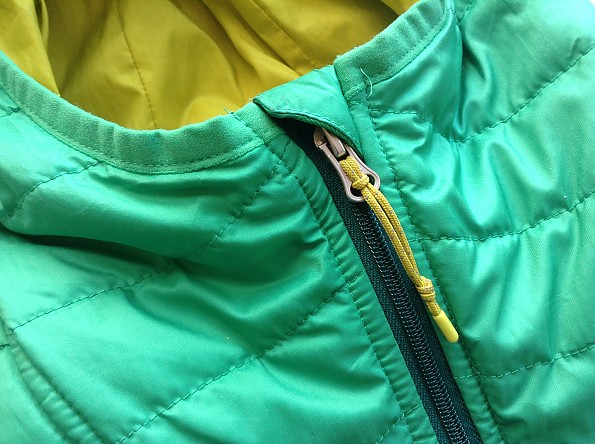 The small extension of fabric protects the area behind the zipper to seal out drafts. Not the sexiest feature, but a necessary one especially for colder-weather garments.
Zippers
The chest zip is European, with the pull on the left side (common placement for American men's jackets has the pull on the right). 
Nary a once did I have trouble opening or closing any of the zippers, nor did they ever snag.
What did surprise me was how small the zipper pulls were for a cold weather jacket, worn commonly in tandem with mittens or gloves.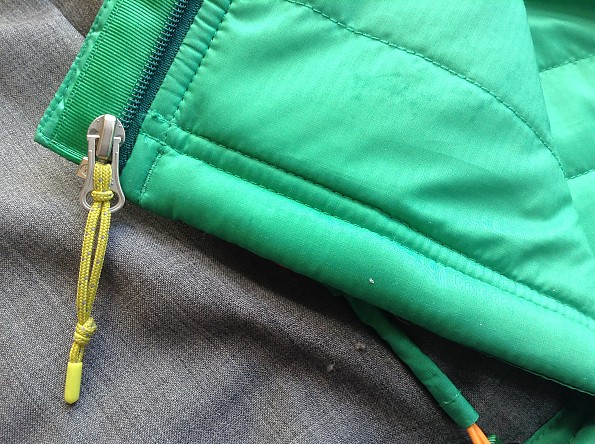 Their small size offers little surface area to grab onto — nothing more than a small and thin piece of cordage with a rubber end cap to prevent fraying. These require frequent access and should receive priority in the design, but instead, they've placed the best pulls on the hood and waist — adjustments that usually remain set and don't require readjustment. Even those are small, but at least offer a textured surface area to assist grip.
Interior and Exterior Pockets
Three pockets, total.
There are two exterior zippered "hand warmer" pockets with vertically-oriented zippers. Pretty straightforward, but it should be mentioned they're half-lined with merino, which feels nice around cold fingers.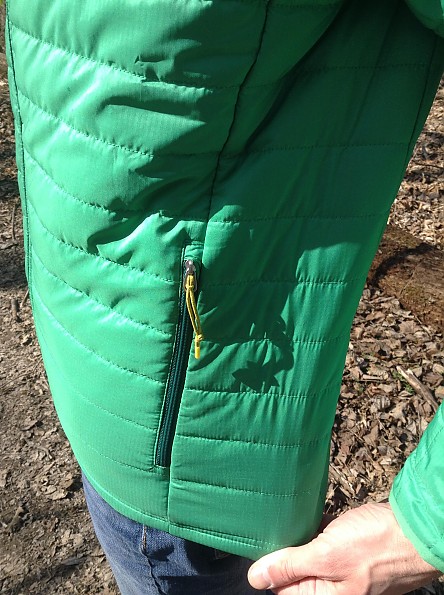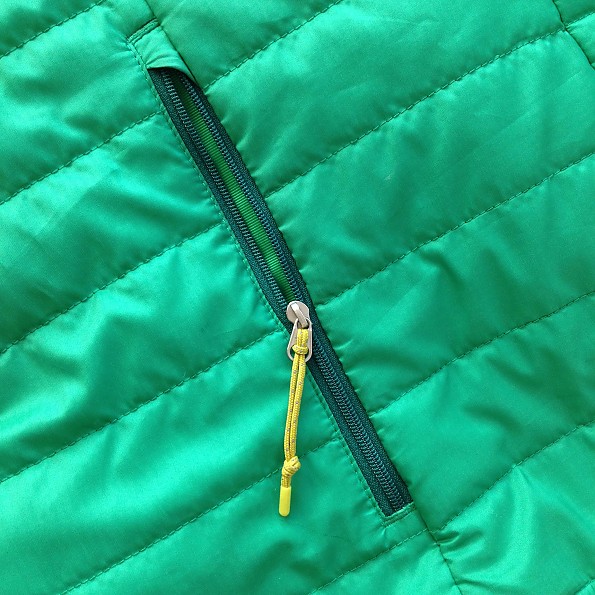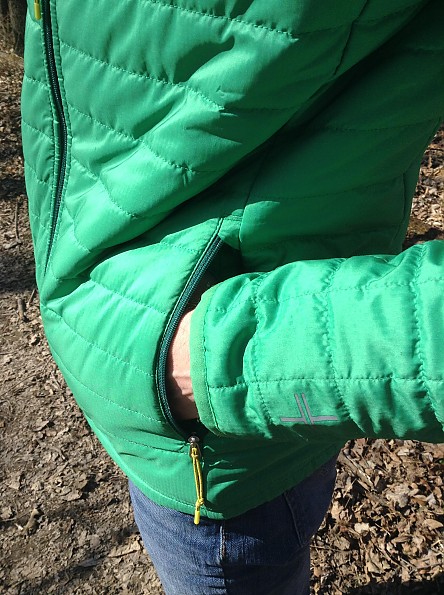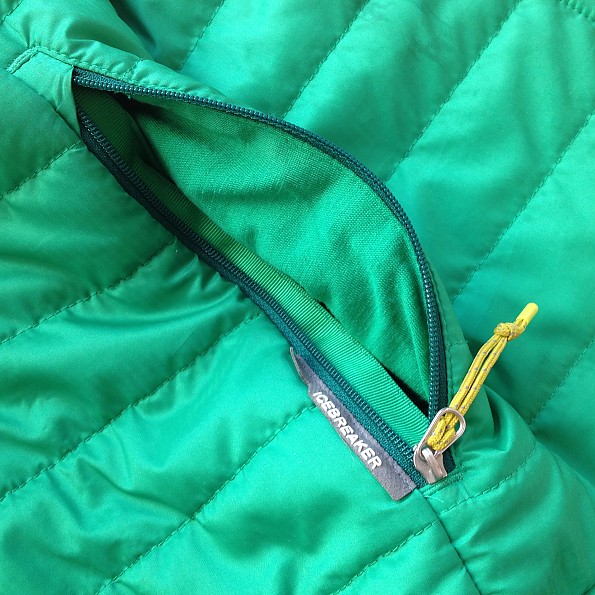 An interior, left-side breast zippered pocket is designed for a media player/headphones, with a buttonhole to feed a cord through, as well as a small grosgrain loop (inside the jacket at neckline) to guide the cord up through the collar.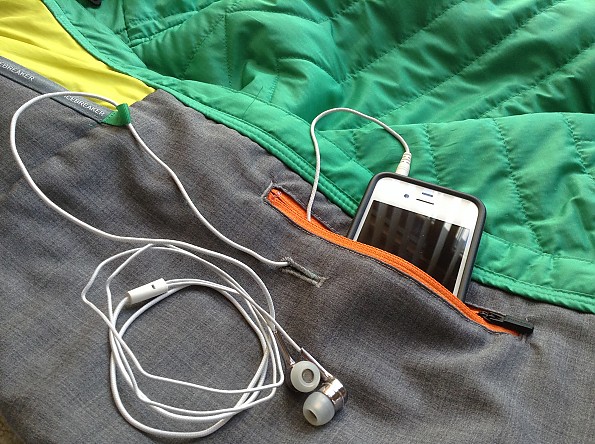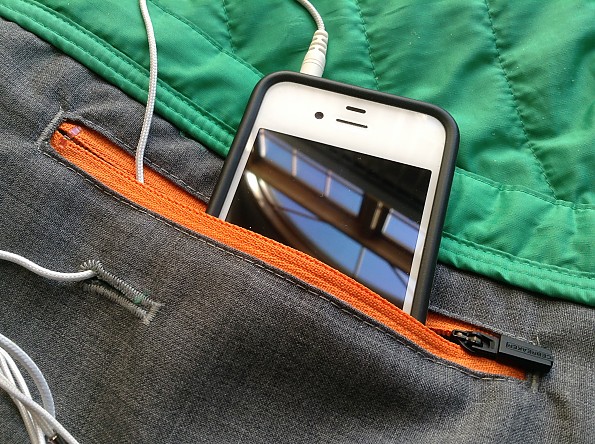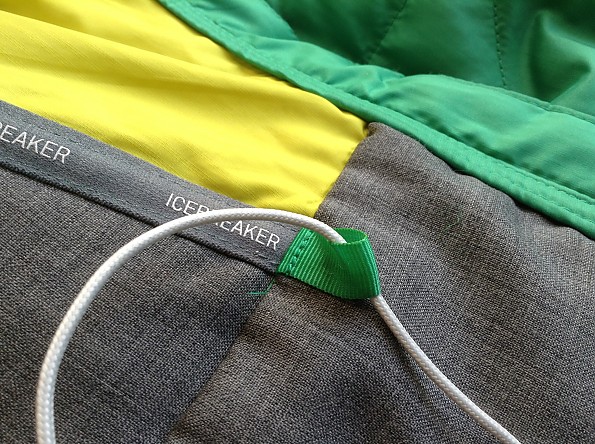 I don't own or use a media player, so this was a nice place to stash the wallet and/or phone. 
Materials and MerinoLOFT
This review is as much a commentary on the material as the garment itself.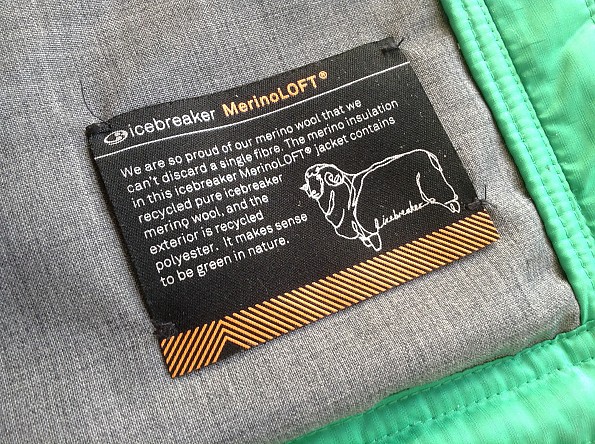 MerinoLOFT is a blend of 88% recycled Merino with 12% PLA (Polylactide). "Merino sheep" pretty much explains where merino comes from, but PLA requires a little more explanation. It is a renewable thermoplastic/polymer created from plant starches. Merino wool isn't an uncommon material but it is an uncommon insulation choice. A quality material shouldn't be wasted, and kudos to Icebreaker for letting none of it go to waste.
The body and insulation are both made from recycled materials, and the exact material breakdown is as follows:
Body: 100% Recycled Polyester

Side Panels: 39% Merino, 45% Nylon, 16% LYCRA

Insulation: 70gm Icebreaker MerinoLOFT (88% Premium Recycled Merino with 12% Polylactide)

Lining (Torso): 100% Wool Heather

Lining (Sleeves): 100% Polyester
The wool lining in the chest and hand pockets is a nice touch and is a lot cozier than the poly used for the sleeves and hood lining. It should be noted when materials are used for specific reasons in specific places, and I appreciate the thoughtfulness. 
Distribution and Redistribution of MerinoLOFT Insulation
While the design of the quilting doesn't seem to impact the warmth positively or negatively, the MerinoLOFT does keep a uniform thickness and distribution throughout the entire jacket.
I cannot tell if they use a continuous sheet of the insulation, but it feels as such. There were no thin spots lacking insulation, nor were there awkward lumps with an abundance of it.
Another side benefit to MerinoLoft is that it doesn't compress under pack straps like down would.
However, the material still bleeds like down, and even before field use, this jacket would pill and fleck small pieces of dark green wool. This hasn't proven problematic in the short term, but part of me wonders if the insulation will diminish incrementally over time.
Please note that any statements below placed within quotation marks are manufacturer's claims:
"Outstanding Loft and Minimal Bulk"
Measured, the typical amount of loft is 1/8". Far from outstanding. Trying to make a minimal bulk jacket warmer is like trying to make a shorter hammock comfier. It's a contradiction in terms. A thinner layer of insulation will proportionately decrease the bulk, however, negatively impacting the warmth. I don't agree with this claim one bit, and I'd gladly have sacrificed the packability for insulation twice as thick (especially if wearing this in winter).
Much the same, "minimal bulk" is relative. Wool automatically is going to take up more room than down or a synthetic imitation of it. It would have helped if this jacket offered the ability to self-stow and had a built-in storage, whether it be an inverted pocket or the hood. Heck, I'd have even been okay with an included stuff sack for travel. Instead, you're left to fold or stuff this thing into the remaining crevices of your pack.
On my flight to Salt Lake City, this thing barely made it into the top of my carry-on bag and certainly wasn't fitting into the tote bag "personal item" I'd carried on board. Beyond not recommending the jacket for flight, I wouldn't recommend it to backpackers. Again, daytime winter activities are my suggested usage, and no circumstance in which you're forced to carry it packed or wear it sitting idle.
If there was a stuff sack (be it attached or not) and I could justify this as a pillow, I'd say otherwise and may even be okay with the weight/bulk for travel and backpacking.
"Lightweight"
Pending use of a borrowed scale!
"Layer: Outer Layers"
Nope! I'd argue that this is a winter mid layer first, and a spring/fall outer layer second. Since sizing runs small. For me, I've a very slim frame and was just able to wear a medium-weight base layer and fleece half-zip beneath this jacket. The average-framed American male will want to size up, as the ability to layer under this jacket will increase its versatility and bring stronger justification to the higher-than-average price point.
Without sizing up, the wearer is forced to either use thinner under layers insufficient for the conditions, or add layers that will proportionately limit their range of motion and the breathability of the garment. 
As mentioned, most clothing tends to fit me loosely (thank broad shoulders and a small waist) so layering my rain shell atop this to act as a wind and vapor barrier was easy to accomplish and did not affect my mobility.
"Warm When Wet"
Because this jacket required a supplemental outer layer, I never wore it out in the snow without a shell, and can't speak to its water-resistant ability in significant precipitation.
Light rain and snow bead and brush off easily, but I'm saving a "soak-out" test for safer conditions than the Chicago winter provided. Most my hikes are solo and I didn't feel like becoming hypothermic for the sake of the review. This will be an update provided in my long-term testing updates. 
"Highly Breathable"
There aren't any integrated vents nor are there ventilation points/panels built into this jacket, so breathability boils down to the materials themselves. If breathability is defined as how much or little air can circulate through this jacket, I would say it is breathable almost to a fault, and requires a secondary shell layer to act as a wind block in cold conditions. 
"Extreme warmth, wind and weather protection"
For reference, I hike cold, and usually have to exert energy to get warm and keep warm. Rarely if ever do I sweat hiking unless I'm overdressed in warm weather. This jacket keeps me warm so long as I'm active, after which point, it requires additional layering/supplementation. I wouldn't depend on it to maintain my warmth in an overnight camp setting. 
Wind finds its way into the jacket easily, and even when there wasn't rain or snow, I found myself using this below a rain shell just to cut the wind and add another layer for insulation. 
If weather protection is largely dependent on supplemental garments, I can't quite call this jacket bombproof as a standalone, especially when the manufacturer is suggesting usage as a mid layer under a shell.
"Naturally Odor Resistant"
After using this for over three months, there's no noticeable funk, and I will fully vouch for the odor-resistant properties of the MerinoLOFT. This one's a "pass/fail" test in my book, and this jacket passes without so much as a flared nostril. Mind you, I'm hike "cold," don't perspire much, and spend the majority of my energy trying to attain warmth. 
MerinoLOFT scores some serious points for being a low-maintenance material. Generally, I only wash my clothes (I'll admit it) when either A.) they're noticeably rank, or B.) there's a stain I can't wash out by hand. The benefits of the wool fill and twofold: not only is it inherently odor-resistant, but it isn't impacted by sweat and oil the same way down is. It is a heavier material than a synthetic fill (and most certainly down), yes, but will make it many more miles down the trail before requiring a wash.
"Durable"
It's held up well, in both stain and strain: olive oil spills from business dinners, and thorny brush scrapes from bushwhacked hikes. The outer shell has a ripstop weave that contains tears and punctures within the confines of the ripstop stitching.
A thorn bush did manage to snag this jacket, and aside from leaving a small puncture hole, no further damage was done.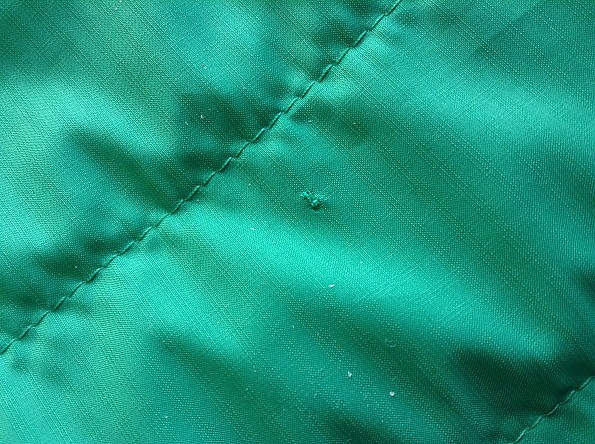 The poly shell is very durable — had I encountered that same bush wearing my Thermoball jacket, there'd be a sizable tear in it that would have required repair.
Conclusions
Claims and copywriting aside, most of my qualms lie in how this jacket is advertised, and not necessarily in its performance.
It fit well right out of the box, making it functionally and fashionably satisfying.
Paired with an outer shell, this provided a great winter system that kept warmth in and precipitation out.
Although it didn't fit gracefully, it was able to compress into my carry-on for the flight to Outdoor Retailer.
Even when the trails proved tougher than the city streets, and tore a hole into the fabric, it not only withstood the damage but didn't require an immediate repair.
With some modifications this would be a great jacket. It's made well but could be made more thoughtfully than it is now, and — much in the same vein — advertised more truthfully/accurately.
With the hood? 3/5 stars.
Without the hood? 3.5/5 stars.
Source: received for testing via the Trailspace Review Corps (Sample provided by Icebreaker for testing and review)

Your Review
Where to Buy
Help support this site by making your next gear purchase through one of the links above. Click a link, buy what you need, and the seller will contribute a portion of the purchase price to support Trailspace's independent gear reviews.
You May Like
Specs
Men's
Price
Historic Range: $59.99-$285.00

Women's
Price
Historic Range: $75.00-$285.00

Recently on Trailspace