Inov-8 Race Pro Extreme 4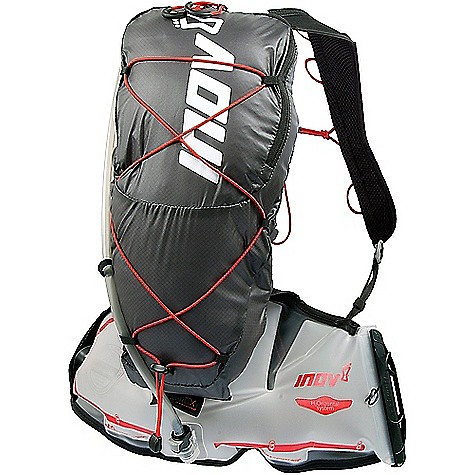 This is an ultra-lightweight hydration pack designed for trail running. I found it useful for running, as well as my many outdoor activities. The bladder is positioned low and horizontal for comfort.
Cons
Cannot remove bladder
Cleaning is difficult
Inov-8 Race Pro Extreme 4 Hydration System
This system was designed for the minimalist trail runner.  It has a sewn-in 2 liter hydration system that is positioned in the lower lumbar region for stability and comfort. The idea is to keep it from jostling around on your back while running. Empty, this system weighs in at only 6.2 oz. It's a lightweight alternative for athletes who need hydration, but would rather not carry water bottles slipped into a daypack.
Construction
My unit seems well put together. The seams are neat, and well stitched together. There was no fraying or excess fabric outside of the seams. The padding was well thought out, and looks well made. The materials seem strong and lightweight. 
Keep in mind when thinking about a typical hydration system the weight will likely be much more. This is an ultra-lightweight system and must be treated a such. This is not a bomb-proof system, but ultra light gear is not meant to be bomb-proof. It's meant to be light. Care must be taken with this system, or tears and breakage will occur. It's the price to be paid for ultra-light. 
Even though it's a featherweight at 6.2 oz, it doesn't feel flimsy or under built. I take great care of all of my ultra-light gear as a "Thank You" for being so light on those long days when ounces feel like they turn into pounds by the end of a run or hike.
The Bladder Design
The design of the bladder system seems a bit like a double edged sword. There are things I really like about it, and there are things I definitely do not like about it. One of my favorite parts of the bladder is the opening and closing system. It's a simple design that works. You fold over the end of the bladder after filling and slide a plastic piece, that is attached to the pack, over the fold to seal it. You can't lose the plastic piece as long as you don't cut the string attaching it, and you get a wide mouth for filling. It's a nice, lightweight system for getting your water on-board.
The problems with filling up the bladder seem to be the location of my faucet. My kitchen sink is often a mess of dirty dishes with food crumbs and smeared utensils. The bladder is not detachable from the system, and while I'm sure it saves weight, it causes a hygiene problem that I have yet to figure out.
While filling the bladder I inevitably manage to dip the pack, or the hip straps into the dirty dish water that's sitting in my breakfast bowl. It just seems unavoidable. It is starting to smell after a few months of getting food on it.  I've hand-washed the whole pack, but I worry that my messiness will get the better of the bladder system and it will become grossly dirty. I also don't like the feeling I get by putting wet straps across my abdomen.
The bladder is sewn into the pack at the bottom, and stretches horizontally across your lower lumbar. It's a nice feel and unobtrusive when running. Most bladder systems tend to expand into a barrel shape that pushes into your spine until you've drank a good portion of the liquid. The Inov-8 system does spread the liquid better across your lumbar and distributes the weight better than most systems on the market. 
When I received my unit, the "new plastic" taste was bad. I have yet to purchase a hydration unit that didn't taste like silly putty in my mouth. My attempts to clean it were met with me soaking the whole pack while trying to clean just the bladder. I feel it's another downside to the weight saving measure of sewing in the bladder. 
The hose is detachable though, so when I bite through the nipple and break it, I'll be able to replace it without having to replace the whole pack. The hose can be secured with the shoulder straps, and was only noticeable if I forgot to push the nipple back towards the shoulder strap after drinking.  It knocked me in the cheek if I forgot.  I've tried to secure the hose just to the hip portion of the pack, but I haven't found a spot that I like yet. I know it's possible, but I might have to sew in a loop.
The rest of the pack
The hydration system is only half of this pack's features. The pack itself feature a chest strap that is simply a string with a plastic hook on end that attaches to the opposite shoulder strap.  It works as expected, and I haven't had any problems with it. 
The unit also comes with an attached whistle that is loud enough, and of course, very lightweight. The whistle is also positional on each shoulder strap if you prefer it on the other shoulder.  Storage is at a premium, but you must remember that this is for ultra-light use. If you're an "ultra-lighter" than most likely your sporting ultra light, compact rain gear and equipment that should fit into your pack without too much trouble. Don't plan on bringing the kitchen sink though because your just not going to have room.
However, I really liked that they included a double zipper instead of a drawstring at the top. Often with ultra-light they get rid of zippers to save weight, and I'm a big fan of being able to secure my items completely. The storage rounds out with two pockets on each hip strap. They don't close, so I regulated those to very small trash items like wrappers and kleenex that I often need on those brisk fall mornings.
The shoulder straps are minimalist with no padding, but with the weight you are limited to carry with this system, I found the suspension to be quite adequate. Overall it's a nice looking pack that fit my 6'0" frame well and had lots of adjustment options.
The bottom line
The Inov-8 is listed at $169. Some might find that to be expensive for a hydration pack. I shopped on-line and couldn't find a hydration system that cost any more than this one. I also couldn't find any hydration system that was as light as this one, or had a lumbar bladder that was this well designed. 
Yes, it's expensive, but when you enter the realm of ultra-light gear you have to be prepared to pay for it. The lighter the object, the more likely it is to cost you. I don't really want to get hung up on the price though. It's pricey, but you get what you pay for.  If it's worth it to you to have the lightest, then it is worth it to you.
There are some downsides for me with this pack, and the one that really stands out is the problem with keeping it clean. I get dirty, and so does my equipment. I ran, biked, hiked, walked, and exercised with this pack. It would have been nice to be able to separate the pack from the bladder and scrub it clean without getting the padding and straps wet in the process.  
The big positive of this system is it's damn light. I have water bottles that weigh more, and you can't even feel this pack on your shoulders when you first put it on. Even with the 2 liter bladder filled, it's a pleasure to wear and disappears when I'm in "the zone".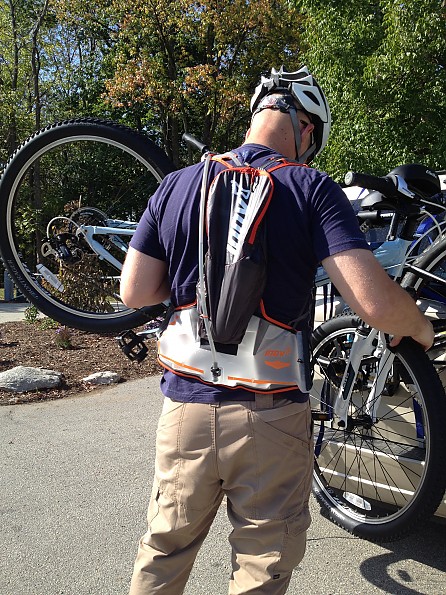 Source: received for testing via the Trailspace Review Corps (Sample provided by Inov-8 for testing and review)

Your Review
Where to Buy
Help support this site by making your next gear purchase through one of the links above. Click a link, buy what you need, and the seller will contribute a portion of the purchase price to support Trailspace's independent gear reviews.
You May Like
Specs
| | |
| --- | --- |
| Price | Historic Range: $169.95-$170.00 |
Recently on Trailspace