Inov-8 Terroc 330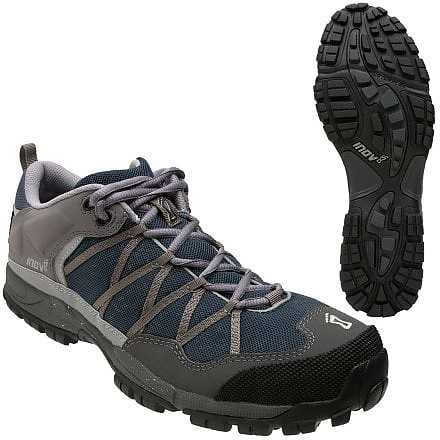 This is a great lightweight trail runner that's light on cushioning support, yet is very comfortable to wear on long-distance treks.
Pros
Comfort/fit
Mesh material
Traction
Cons
Durability/mileage (wears out quicker than comparable shoes)
I'll preface this review with an important, upfront distinction:  the manufacturer remade this shoe circa 2010.  I don't care for the newer model, and still seek out the shoes made in 2009 and earlier (it's possible to find them online, though getting scarcer). And it's very easy to distinguish the newer from the older: the newer model is a purple/orange color, while the older version is black and gray. Having cleared that up, on with the review.
I've used this shoe as my footwear of choice for several years and have logged over 1,000 miles in them. 
Fit & Comfort: Feels like slipping on a glove. I can put these on brand new, right out of the box, and go hike 20 miles.  No break-in period needed. No need to augment with a commercial insole liner, either – just wear them "as is." 
And probably the most important feature: I've never developed a blister while hiking in these shoes. Not one.  I wear Darn Tough socks which no doubt contributes to this, but the shoe has to get the bulk of the credit.It's relatively low cut and has a snug heel cup. The toe box is roomy.
Mesh Material: I like the way the mesh material allows water to drain. In fact, just the walking motion and pressure from the shoe making contact with the ground forces the water out via the mesh. This results in making it a quicker drying shoe; goes from soaking wet to damp pretty fast. Of course, the mesh also allows fine dust and particles in, so your socks may get that fine grit ground into them.
Traction: The way this shoe grips is phenomenal. It  almost has a "Spidey-grip" feel to it.  It performs great on almost any surface.
As with any shoe, this one is not perfect and perhaps the biggest drawback is its lack of  durability. These shoes really start showing their wear at around 300 miles, with maybe a lug or two having popped off by then.  Traction really starts to degrade when this happens. By 400 miles, the mesh material usually is sufficiently broken down to require retiring the shoes and starting with a new pair.
Source: bought it new
Price Paid: $49.99

Edit 6/2016: It's been ~ 6 years and I've been wearing INOV8 shoes most of that time. A lot of reviews for specific models obsolesce quickly, so I'll just say this: INOV8 makes great shoes. I've worn five different models, often in pretty tough environments, and they've held up all right.
However, the real benefit to the brand is the flexible sole, minimal heel, and lightweight. Unless I were climbing, snow hiking, or making extended scrambles in heavy scree I don't think I'd ever again wear boots or thick soled shoes. After all these years I have zero complaints.
I have used these shoes for short hikes of 1-35 miles, and in all kinds of terrain and weather conditions. While far from being an avid trail runner, I've also taken them for a spin up and down some mountain trails to see how they work as running shoes. The Terroc 330 is far-and-away the best shoe (excluding boots) that I have ever owned, and while not perfect for a number of reasons, they are as close as I could reasonably expect.
I chose to buy these shoes as an experiment. I have had a couple of severe knee injuries, and after much trial, decided that I needed to try something both less supportive (of body and psyche) and less demanding (of body). Bingo. My feet and ankles have gained a good deal of flexibility and strength while using these shoes.
Details: the sole is unusual in that the toe is almost without any padding at all, and it takes some adaptation to get used to it. Conversely, I've never owned shoes that felt like they allowed my toes to contribute to traction(!). That said, I would not use these on broken, large rock trails (e.g., High Sierras) with a heavy pack. To be fair, these are advertised as running, and not trekking shoes.
Meanwhile, the traction is nothing short of amazing on certain kinds of terrain-namely rock, mud, dirt, loose gravel, and notably on well-frozen ice. It's like having tentacles on my feet! On very wet rock, such as streams and their shores, the traction is less effective.
Arch support is usually an issue for me. These are passable though not ideal. Running on very hard flat surfaces (concrete) is a little straining, but on bedrock I've noticed very little wear or pain in my feet.
The uppers are about as supportive as a sock and the lacing system servers more to fit the shoe to the foot than to support it. Some people may not like this, but I found that the design was pretty effective in that steep descents were not typified by the disconcerting wobble I get from stiffer make/models. These are not to be worn in the wet and cold, of course.
At last, these things are surprisingly durable. I've used them for over 18 months and only now is the sole starting to peel apart. The heels have lost some stiffness, but generally, my Terroc 330's feel like they did when I bought them. The Toyotas of ultralight trail shoes.
Materials: mesh
Use: hikes of various kinds, running
Break-in Period: a week
Weight: roughly 1.5 lbs/pair
Price Paid: $80

Comfortable, light trail runner. Fits my wide feet without a problem.
Pros
Long lasting outsole
Additional rubber cap around toe
Cons
Slower to dry than expected
Fit: I have a wide foot and can wear some 8 1/2 shoes, this being one of them. Lacing is fine. I wear thin merino wool socks with these, my heel doesn't slip.
Comfort: Didn't need any breaking in, I first wore them on a 10 mile hike.  Dirt easily gets through them and a tick got through the shoe and my socks once. I would like to get gaiters at some point.
Support: My everyday shoe has no support (Soft Star Rambler) so these provide much more support than that, but I find them to work fine for me. They have a 9mm drop.
Water Resistance: None, mesh and synthetic upper. I expected them to dry quicker, though. It took most of a summer day for them to dry after walking through a stream.
Traction:  Great-Inov-8 claims that it's stickier than most rubber, but more durable than their sticky rubber. I haven't used it on ice and they work pretty well on wet rocks crossing streams.
Construction and Durability: There is very little noticeable wear on the outsole, but the upper has started to rip where the shoe bends.
Conditions: I bought these in 2012 and hiked about 100 miles in them, sometimes through streams, primarily in three season conditions. I wear them on camping trips and wore them once with thick socks in the 20s and found my feet cold due to the wind blowing through the mesh.
Source: bought it new
Price Paid: $113.42

Inov8 Terroc 330 Review
As soon as I put on the Terroc 330's, purchased online at REI, I knew I'd end up returning them. As some reviewers have mentioned happening to them as well, the side of the shoe, on my right foot only, rubbed against the bottom of my ankle bone, as if the shoe was cut too high. But because of one review where someone had the same problem and said that it went away on trail, I decided to keep the shoes and wear them out.
On my first hike of six steep miles on trail I experienced initial irritation leading to debilitating stinging pains as the shoe struck my ankle bone at each painful step. I tried to massage the top of the shoe in an attempt to soften or bend the side down, to no effect. The next day my ankle bone is sensitive even in my old shoes, which never caused me any problems, and I'll have to switch to sandals until it heals.
Even if you try these on in the store and don't feel any irritation I noticed the soles of the shoes, while sticky and grippy, also collect mud and small rocks. Otherwise I thought they were fine, lightweight shoes, but only for my left foot.
Materials: Synthetic
Use: Hiking
Weight: 29.3 ounces
Price Paid: $69

I love these shoes! They are very light and airey. They feel less cushioned than most trail runners, but I prefer this. This makes them very stable, and I have yet to roll my ankle with them. The uppers are very simple, leaving out all the flashy decorations that most shoe companies put on their shoes. The lacing is effective and lets you fine tune the fit. They are very breathable; I can feel the wind blowing through them. I would actually prefer a little less breathability. The grip is fine. I tried them on dry, wet, and sandy rock, and they have better grip than my hiking boots.
My only complaint is with the mesh uppers. I prefer a thin, solid nylon upper (but not Gore-Tex which is too hot). Here in the southern California mountains and deserts, many of our trails have fine, dusty dirt. With mesh uppers, this dirt goes right through to my socks, then to my feet and toes. After a few hours, I have all this grit on my feet, and my socks are loaded with dirt.
Materials: Nylon/mesh
Use: Dayhike
Break-in Period: 0-1 day
Weight: 1.5 lb./pair
Price Paid: $80

Perfect trail runner. I've never felt this comfortable running trails. You feel as if your foot is a part of what you're running on.
Use: trail running
Break-in Period: none
Price Paid: $85.99

Your Review
Where to Buy
Help support this site by making your next gear purchase through one of the links above. Click a link, buy what you need, and the seller will contribute a portion of the purchase price to support Trailspace's independent gear reviews.
You May Like
Specs
Men's
Price
Historic Range: $47.48-$119.95
Reviewers Paid: $49.99-$113.42

Women's
Price
Historic Range: $71.96

Recently on Trailspace