Integral Designs eVENT Rain Jacket

Integral Designs is no longer in business, and the eVENT Rain Jacket has been discontinued. If you're looking for something new, check out the best waterproof jackets for 2023.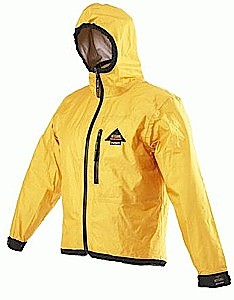 This shell is incredible. This is not a perfect shell but this is A LOT better than the other shells that I tried so far (and this mean: a lot of shells). This eVENT material DOES "breathe", it's not only a marketing approach!
To give you an idea, I use this eVENT Jacket on some nordic skiing trip with a 65 pounds backpack. I was skiing about six hours a day at high intensity. Note that there is no pit zip on the event jacket... Okay, later this year, I went ice climbing in similar weather conditions with my last shell in Gore-Tex XCR. The approach took me about 30 minutes at low intensity with a 30 pounds backpack. The pit zips were fully openned. When I got to the icefall, I removed my jacket... Okay, my point is on these two activities, guess which shell frosted the most on the inside? You guessed right, the eVENT Jacket frosted so much less than the XCR!!! HAH!, even if I was sure that I didn't sweat with the XCR jacket on, it was totally frosted!! Can you believe that?? I can't.
The eVENT Jacket is really light!! It packs very small!! Even with those specs, the Event material looks very tough. I did some bushwacking with it and I wasn't affraid at all to tear it.
The cut is for the high output activities. You can't fit more than a base layer and a fleece under it. It's not a problem since anyway, I use this jacket mostly in winter and I put my insulation jacket over my shell. The hood is well designed and really seals off around the face. A little negative point is that you can't fit a helmet under your hood. Very little negative point... The cut is short so it's best to use this jacket with a bib. There is only one pocket but it is well sized. Anyway, I always have my front pack on my backpacks so any other pockets would be useless for me.
The price is the last point I'll comment. HURRY to buy this jacket before the price goes up!!! This is the better shell you can get for a lot of activities. Integral Designs will notice it and raise the price!! HAHAHA. Honestly I can't imagine anymore to spend $600 on a jacket because it's written Gore-Tex XCR on it when I can get a BETTER shell for $200. Am I clear enough? I hope so :)
Fabric: eVENT

Your Review
You May Like