Integral Designs Salathe

Integral Designs is no longer in business, and the Salathe has been discontinued. If you're looking for something new, check out the best bivy sacks for 2023.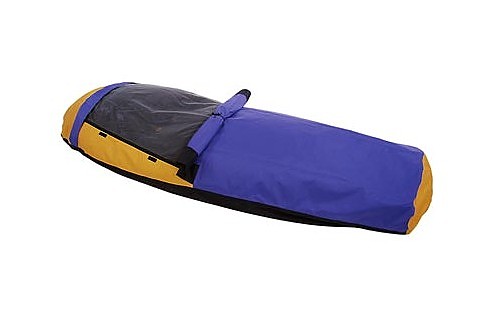 Another Good, Bad and Ugly review - for the Integral Designs Salathe Bivy Sack.
The Good
.: Size and weight. Of the two, the weight is less important - at around 1kg packed, there are 1 man tents that come in around the same. But lighter is always better than heavier, and it is certainly lightweight and compact. The small size, and the flexibility it gives, is hard to beat however. If you can find space to lie down (or even sit down) then you can bivy in the Salathe. True freedom in the hills.
.: Access. The downside to bivy bags is usually that once you are in them, then you are done for the night - no reaching out to cook or grab gear without unzipping along one chilly side. The Salathe however has 3 zippers on each size zip (which go half-way down the bag) allowing you to poke your arms out and do things while effectively "wearing" the bag. Very useful. You can also feed a rope through the zipper holes as well and remain clipped in should you need it.
.: Breathability. The top of the bag is tough Telgraltex, backed with an interesting papery material which wicks away the damp - I've found it to be highly effective, and have not yet found any moisture collecting within the body of the bag. The hood is a spacious half-dome, around 35cm high at peak, held up by a flexible hoop which so far has proven immune to being crushed into the stuff sack and straightened out again on numerous occasions. I have noticed some dampness in the hood in the mornings, but not much. Given the closer proximity of your face to the vent and the smaller volume of moisture bearing air, the bag is maybe less prone to condensation build-up than most tents.
.: Construction. The base of the bag is tough waterproof nylon, and has so far resisted my best efforts to put a hole in it. The mesh bug screen on top ties back out of the way if you don't need it. The bag comes with seams unsealed, so you need to seal them manually - they supply a tube of seam sealer, which is just about enough to do the job.
.: Internal space. I find the bag quite large enough - I'm 180cm, 77kg with (according to my wife, at least) wide-ish shoulders. My -15 degrees centigrade bag and 3/4 Therm-a-rest go in fine, and leave plenty of room for the sleeping bag to loft and for me to move around - I'm a kicky sleeper. I've found no problem stashing various pieces of kit in there with me as well.
.: Speed of setup. I use the bag as a stuffsack for my sleeping bag too - setup is literally a 10 second process that consists of taking it out of my backpack and shaking it a little before putting it down.
The Bad
.: The side zippers only go half way. While this saves on weight, it does mean that getting in and out of the bag is more of a chore than it might otherwise be. And if something slips to the bottom of the bag then you are faced with the equally unpleasant choices of diving in head-first to retrieve it, or shaking the bag out.
.: Closure. There is a bag-wide velcro strip which seals the opening between the lip of the hood and the body of the bag. This can be sealed from the inside, and has a fold-over flap which provides a small airvent, but it is not an easy closure. In the dark or with gloves on, it's not impossible but comes pretty close.
.: Non-sealed seams. Not a show-stopper, but I'd prefer to have the seams sealed at the factory rather than trust my own sealing skills, or lack thereof.
.: Generic bivy problem - getting in and out when it rains. That's what tents are for. If it rains a lot where you are, then get a tent - or at least a tarp to keep things reasonably dry.
The Ugly
.: Nothing to report. No "What were they thinking?" moments. Clearly a lot of thought has gone into this product.
Overall, the Integral Designs Salathe bivy is a great lightweight option and built to last. I'd call it a 3.5 season shelter - great for most seasons, and a good emergency shelter in winter too (certainly combined with a tarp or in a snow hole). It's certainly become my first choice in all but the worst of conditions. The hills have never felt so free.
This bivy excels at versatility. Originally designed for climbers it allows for sitting up and putting your arms out too cook or whatever. Integrated screen for bugs and/or venting.
Cons
If you're a weight weenie it's a tad heavy.
Combined with a tarp, this is a fantastic lightweight (not UL) shelter system for the backcountry. Unlike hooped designs this bivy allows you to sit up,  stick your arms out and move around to cook, look for gear or adjust the tarp. It breaths well and ads 15° to 20° warmth to the sleep system.
On one of my backcountry trips it rained snowed or hailed all but four hours we were out. On one night because of the storm we all crawled into or respective shelters for fourteen hours. Combined with a small (8x5) tarp I was warm dry and comfortable.
The guy down the hill from me was miserable in his hoop style bivy because it wouldn't allow him to sit up and/or move around. He didn't have a a tarp over either, which didn't help his situation. The next morning I stuck my arms out and cooked breakfast from underneath the tarp. 
Source: bought it new
Price Paid: about $200

this bivy performs very well in both warm and cold weather (i haven't used it in significnt amounts of snow, however). i've had NO problems with condensation, and i've found the built-in malleable wire on the hood to offer enough support to keep the bivy off of my face. it has multiple zippers on right and left sides to allow super-ventng and both arms to have complete access to the outside while you stay zipped in. it also has a sewn in bug screen that can be rolled away if you don't want to use it.
i only have two gripes: no full-length side zip (hasty exits are darned near impossible), and it's a SNUG fit if you're on a thick sleeping pad while using a thick winter bag (i was using a polarguard 0 Deg. bag w/a fleece liner on top of a MountainHardware Trailhead pad).
as for the no full side-zip, i've been told that Integral Designs does offer the Salathe with a full side zip (but it's under a diferent name). as for the amount of space, or lack thereof, try one on before you buy it.
Design: 3-4 season (maybe)
Sleeps: 1
Ease of Setup: what set-up?
Weight: 1.5-ish lbs
Price Paid: $180

Love it, Had this thing for a couple years now and I've used it in almost every conceivable location. It's been to PA and to Romania, Texas and Alaska. I'm having a tough time not taking this thing whenever I go out. If you need a bivy, this one works and works well.
Didn't like the bug screen so I cut it out.
Sleeps: 1
Ease of Setup: pretty quick
Weight: pretty light
Price Paid: can't remember

This bivy is great!!! It has really impressed me.
Design: 3-4 season bivy
Sleeps: 1
Ease of Setup: can't get any easier than getting in your sleeping bag
Weight: 2 pounds 2 ounces
Price Paid: $195

Your Review
You May Like
Specs
Price
Historic Range: $136.47-$225.00
Reviewers Paid: $180.00-$200.00

Recently on Trailspace