Integral Designs Silshelter

Integral Designs is no longer in business, and the Silshelter has been discontinued. If you're looking for something new, check out the best tarps and shelters for 2021.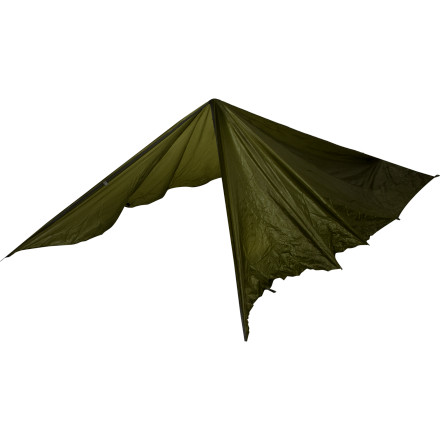 Specs
Price
Historic Range: $71.97-$144.95
Reviewers Paid: $120.00

Reviews
3

reviews

5-star:

0

4-star:

2

3-star:

1

2-star:

0

1-star:

0
I initially bought the Silshelter, as it fulfills three of my backcountry requirements.
1. Firstly I use it as a standalone shelter for my mountain bike and rucksack, and an all weather shelter for cooking in the inevitable downpour conditions that exist , when I am on one of my epic rides in the English Lake District, or Peak District, when I sleep in My Marmot EOS 1P tent.
2. When I am campsite based undertaking day walks the Silshelter is draped over my tent and staked out with one walking pole to provide an extended vestibule providing extra kit storage and cooking area.
3. When I venture off for a wild night camping the Silshelter is used in conjunction with the Bugliner or a bivvy bag depending on the Midge/Mosquito to rain ratio, to provide a well protected nights sleep.
I have only been using the shelter for two months now but I am reasonably impressed with the performance / weight / versatility ratio. The late spring and early summer weather so far has been quite mild but very wet, the Silshelter has coped with the conditions extremely well. It provides a surprising amount of internal space for such a light weight and is easily erected within 2 - 5 minutes. It can be a bit tricky in blowy conditions, but if you weight the bulk of the material down with your pack or a stone or log as you stake the shelter out it is easily manageable. Practice makes perfect.
When pitching, I stake the rear two loops of the tent out first leaving a little slack, as I then use a car engine valve grinding tool, (ie a wooden dowel approx 20 cm long with rubber cups at each end (cost approx 99p, weight 15 grams)), to support the rear of the tent by placing one end in the rear pole pocket and the other end on the ground. I aim to leave a 1 - 2 inch gap from the lower edge of the rear of the tent to the ground to aid ventilation.
I then adjust adjust the length of one of my walking poles to approximately 43 inches and secure the hand grip in the forward pole pocket, I then lift the apex of the tent up with the pole angled rearwards by approx 10 - 15 degrees and stake out the forward two corner loops so the tent sides form a perfect rectangular floor space shelter, I then use a further two pegs to stake out the door flaps and then adjust the six stakes so far to achieve a reasonable symmetrical structure.
I always carry a further six stakes and stake out the two mid point loops each side, or one mid point loop and using lightweight bungees one of the the flysheet loops. At the rear I use a second walking pole and the three loops with lightweight bungees attached (bungees supplied and retro fitted by myself), if required to help give clearance above my feet and improve stability in windier conditions.
The door system, with practice can be set up to be versatile, it can be staked in such a manner that it forms a tight weather seal, or it can be adjusted to allow a slight opening to aid ventilation, this takes a little practice but once mastered is second nature.
A further consideration, if you don't use trekking poles or are are reluctant to pay the hefty price for lightweight adjustable poles, consider using telescopic fishing rod bank support rods available from angling shops and screw top adapters at a fraction of the cost of trekking poles, aprox weight 250 grams, cost 5.99 to 14.99 depending on weight / material (IE steel, aluminum, carbon).

Design: tarpaulin tent pole supported and staked
Sleeps: 2
Ease of Setup: Simple after two practice pitches it became second nature, full shelter erected inside 5 minutes. Tarp shelter alone less than two minutes.
Weight: Tent 400 grams, Bug Shelter 545 grams, Poles 245 Grams, Pegs 200 Grams
Price Paid: CA $ 169.99 approx £ 90.00

I do a lot of solo high country archery hunting for elk and deer in Idaho and Utah. Approx 30-40 nights in it so far. Indispensible shelter for my use. I go 3-5 miles a day and never know where I will end up.
I use a OR bivy and light ground cloth also. Have been in heavy rain and light snow with no major problems. You should stake a least one end to vent or will condense by morning. Weight is a premium for me the less gear the more food and longer I can stay in the field.
As others have said I am not overly enthused with the door flaps but the design works if you know how to adjust it. I can store my pack, gear, bow etc and still have room for sleeping bag but it's tight. You also need to tie the top loop to pull up the center if you can. Use a stick and lever back to the bottom of the shelter, works great.
If bulk and weight are an issue is a good product.
Design: three season
Sleeps: 1
Ease of Setup: average 5-10 minutes
Weight: one-half pund
Price Paid: $120

I've used this for at least a dozen nights in three seasons; not winter. It's very light and might fit two people in a pinch. I would recommend using a bivvy or sleeping bag cover and either dispense with ground sheet or use very small one. Lately in colder weather I think I could use more interior height and can't really say I'm enthused by door arrangement. A zipper would be better. I'm ambivalent but can't enthusiastically recommend.
Design: shaped tarp
Sleeps: 1
Ease of Setup: take getting used to but easy
Weight: 1 lb
Price Paid: ?

You May Like
Recently on Trailspace