Integral Designs Unishelter eVENT

Top 25 in Bivy Sacks
Integral Designs is no longer in business, and the Unishelter eVENT has been discontinued. If you're looking for something new, check out the best bivy sacks for 2023.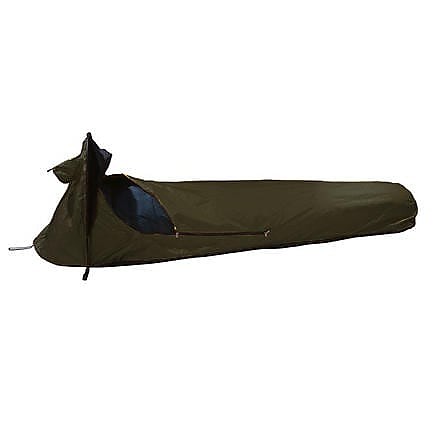 Lightweight doesn't have to be painful. This lightweight shelter gives you headroom and bug protection while putting the mesh viewing window in JUST THE RIGHT PLACE. You really can't go wrong with the Unishelter bivy from Intergral Designs.
Pros
Lightweight (just shy of 2lbs!)
Roomy!
Bomber
GREAT VIEWS (they got the window right)
Cons
Pre-shaped POLES (ANNOYING)
It is a bivy. (I do not care who you are, tents are more comfortable than bivies, just like a hotel room is more comfortable than a tent)
Let us chat a little about construction before we get started:
Materials:
Its made of fabric of the hour: eVent. Now I don't go into the whole debate of eVent vs goretex. I have done hours and hours of research and I personally believe that if you use either wrong you will get condensation.
The floor is a pre-coated light nylon. Nothing special. It does feel a little thin, and I am scared of damaging it.
The poles are a pre-shaped easton aluminum. This is where I dock my half star. I HATE THESE POLES. Because they are pre-bent they make me feel as if they are broken. Also, they make it awkward to roll up the tent. I would have loved to see a thinner, aluminum that flexed with pole sleeve. It is small and it doesn't really effect the bivy, but it makes me feel uncomfortable. HALF STAR GONE!
The stuff sack is an UTLRA-thin rip stop nylon. It shows wear quickly like other super thin fabrics. It functions just fine though and helps the bivy take on its long and slender packed shape. It's about a foot and a quarter tall with a diameter of 4 inches. This is small and can fit into any nook or cranny on any pack.
Structure:
It is a long bivy with a really nice shoulder girth. It has a zipper that goes about halfway down the side and then rolls all the way up alongside the pole and then even about halfway down the other side of the bivy at the head (Nice and big zipper makes it easier to get into. Keep in mind it is still a bivy and not a one man tent).
At the face is has a no-see-ums mesh window that you can open or close from the inside. The zippers for this are small zippers and can be hard to work with in the dark. That is something I got used to with time inside though. This window works for ventilation. There is a cool little tube vent behind the head also. This one can be closed with a pull cord. Just my two cents here, but I feel as if integral designs is one of the ONLY companies to get this window thing right. THE MESH IS BACK FACING!!!! This means I can lay on my back and just look forward to see out. I don't need to crane my neck backwards or be laying on my stomach to see out. WELL DONE!
Setup:
You take the pole and connect it all together then feed it through the sleeve at the head of the bivy. After, you peg the bivy out (five stake-out points). Done. There is a piece of cordage on top of the raised hood. I don't really understand what that is for. I tied it off to a tree one night but it did pretty much nothing because the bivy is solid as soon as you stake it out. It might be so that you can keep the hood off of you if you don't want to carry the weight of the stakes. The tent I got DID NOT COME WITH STAKES. I got mine from a secondary dealer so either shame in integral designs or the seller was a punk.
Also for set up, the elevated head has a little hood on it. In the hood is a wired brim. It's fun to play with and helps give some rigidity, but it adds to the nerve wrecking list of things that feel they might break down easily.
Use:
This is what we all have been waiting for! I will say that I LOVE THIS BIVY. It is bomber as it is zipped up and I have never experienced condensation. YOU HAVE TO DO THIS RIGHT. It is easy to miss the little gaps were you have not zipped it up all the way. It is also easy to zip up too tight.
That little hood I was just talking about works wonders when it is raining. Unzip a section of the bivy under that hood when its raining to keep the warm moist air leaving while protecting you from the rain. GOOD THINKING I.D.!!
The bivy, when staked out tight, is pretty bomber. The hard winds I have seen, the rain I have seen, and even the back yard testing I have performed have not seen this thing collapse if set up right. Seems silly but my brother and I took a hose with the strongest nozzle either of us had, and BLASTED IT while his little daughter sat inside. Yes the walls pushed in, (it would have compressed the loft on a REALLY lofty bag, but it is a freaking HOSE) and yes it could have puddled, BUT it didn't fall, move, or get wet inside. The cold nights I have spent in it, WHILE ZIPPED CORRECTLY, have seen no condensation.
In my experience, this bivy has added about 5-10 degrees to my sleeping system. This will very depending on how you keep it zipped or how you sleep.
If you used a VERY LOFTY BAG, don't worry, to me it looks like there is MORE than enough room. I used a 3 piece sleeping system so the loft isn't the key for me (a 45 degree summer bag, a felt liner, and wool long johns. With this I can take or add too what I need to be comfortable).
Conclusion:
This bivy is tough stuff and helps you back light while still having comfortable nights. I wouldn't want to go long periods, or wait out rain storms in this thing (as I said earlier, tent are better) but for the superlight one man adventure of a couple days, this thing rocks.
The only thing now is trying to find one. They are not made anymore. IF ANYTHING THOUGH this review is to seek of the high quality to expect with Integral designs or the company and bought them out, RAB. If this is a standard of quality they set, then I would buy other products they put out (AS LONG AS THEY ARE ON SALE… GOOD GOLLY THEY ARE COSTLYJ).
Source: bought it new
Price Paid: $165

Your Review
You May Like
Specs
Price
Historic Range: $319.95
Reviewers Paid: $165.00

Recently on Trailspace