Jacks 'R' Better Hudson River Quilt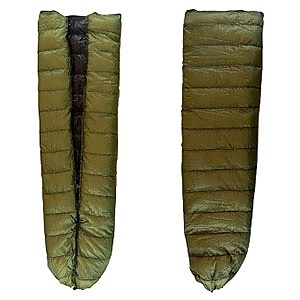 Quilts that don't let me buy new gear. Because they are light, and they are still in great shape.
Cons
The lack of color choices
I've had two Hudson River quilts for what seems like forever. About a decade now, I think. I've used them on my bed, on cots in other people's houses, car camping, and backpacking.
When I bought them, there were not many quilts on the market—that's changed over time, now there are many vendors and many options. I chose these particular quilts because they were versatile—each of them can be used as an underquilt or as a top quilt, thanks to the double-sided velcro on the footbox.
I added a modification later offered by the Jacks (the company is owned and run by two guys named Jack), a centered drawcord, on both quilts so the foot end can be gathered up at the foot of the hammock more closely.
I have the regular size. Specs on the website are thus:
Length: 78 inches (1.98 m)
Width: 48 inches (1.22 m)
Loft: 2.5 Inches (6.4 cm)
Material: 0.9 oz., 20 denier, ripstop nylon
Insulation: 800 fill power goose down
Weight: 21.5 ounces (0.61 kg)
Temperature Rating: 25°-30° F (-4° C)
I can attest to the fact that this is accurate. On a very cold night in Sequoia NP we had very low temps indeed, in the low 20s at dinner time, and the following morning the lake was iced over and the dirt in the trail was frozen. I was in my hammock and strung up a poncho over the underquilt, one of the Hudson River quilts. I wore heavy weight base layer and a balaclava to bed. I was toasty warm all night in the low 20s with these modifications.
In the morning, I shook ice off the underquilt shell! Clearly I was at the lower limit for them. The moisture had to have come from my body, as it was not humid and I had hung the poncho over the outside of the quilt loosely to block the cold breezes. I have been out in subfreezing weather many other times with these quilts, without issues, but now have a 0 degree quilt in addition to my three-season Hudson Rivers, for those trips we know will be in the 20s or lower.
A lot of the quilts you can buy now have pad straps, or cords, or some mechanism to tie the pad to the quilt—neither of my quilts have those. I wrap myself up in one and sleep on my side, given comfortable sleeping pad or hammock. I tend to move around in my sleep and frequently re-tuck the quilt when I roll over to sleep on the other side. This is not the detriment people want to think it is—a feature, not a bug, for someone who hated mummy bags due to how trapped I felt in them. Rolling around in a mummy bag would lead to being wrapped up in it as it would either be so big it would twist around me, or too confining to move much.
I don't actually get cold with a quilt because of two things. I keep it tucked in, and when it comes loose I tuck it in again. I stay hydrated as possible, and I get up to pee—getting up does not get you cold, it warms you up because you are up and moving around, which causes blood to flow. Which warms you up—and then I get back into the quilt, which is still retaining some of the body heat I left in it, and boy am I warm.
Gapping and drafts are not such a concern in the hammock as in a tent. I'll wake up sprawled and still wrapped in the quilt if I'm in the hammock. The underquilt moves around with me, and keeps the underside warm. The hammock with quilts is like a big warm hug. I sleep continuously through the night in it. The quilts, attached underneath with the JRB underquilt attachments (basically a couple of carabiners on the ends of a length of shock cord) and tucked over me inside the hammock, are so comfy....
The top drawcord lets me cinch the quilt around my neck, and the bottom is of course forming the footbox. A tiny gap is inevitable but a spare piece of clothing can block it. I wear a fleece hat to keep my head warm and a nice byproduct of not having the head insulation attached to the rest of the sleeping insulation is that I can get up and not have to put on something else to keep my head warm—I take that warmth with me.
Each quilt is big enough to use on a twin bed. I added full length velcro to one side of each, put them together, and used them on a full sized bed one winter when the heater broke in the middle of a cold snap—my cat was appreciative.
My quilts get 3-10 nights of use per month. I wash them approximately every year and a half to two years, aka every hundred uses or so, in a front loading washer with down-specific wash, and dry them carefully using cycles of low/no heat in a drier until the clumps have loosened and the down starting to loft, then put them on the clothesline in the sun. They are just as warm and lofty as the year I bought them.
After each trip I take them out of the compression sack and let them air out on the line, then put them in suit bags that hang in the closet—for the short span of time before they are pulled out again and put in a backpack, or a tote bag. Sometimes on long backpacking trips I throw them over a rock to air out in the sun. Never a branch—there are no holes in my quilts and I keep sharp or pointed objects away from them. The fabric is ordinary nylon ripstop, durable until you apply something sharp or pointed.
The Hudson River compresses roughly to the size of a large grapefruit, by which I mean one of the California backyard grapefruits, that look more like bowling balls than the tiny fruit you find in a store. I can easily carry both my quilts in the same waterproof stuff sack, if I use a 6L sack. The top will roll down several times to provide a good seal.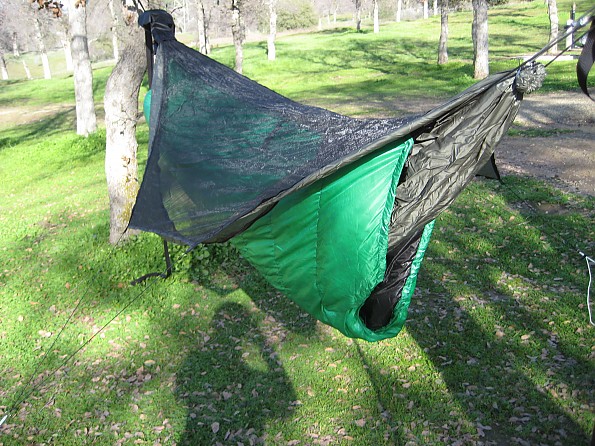 Hudson River on a Warbonnet Blackbird hammock, before I climbed in and adjusted the top end to snug up against the hammock.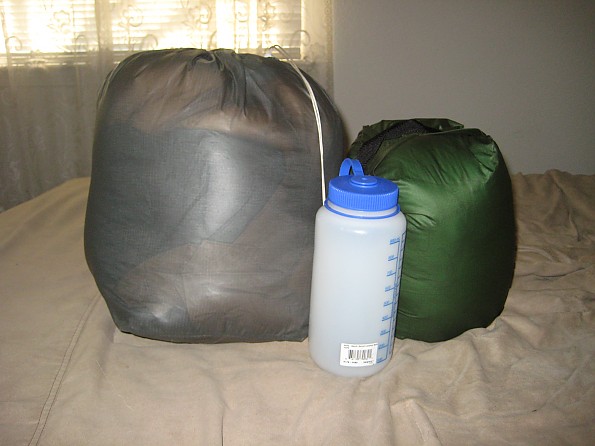 A comparison shot—Hudson River in its own compression sack, in green. With a homemade quilt made of synthetic fill from a Ray Way kit (my starter quilt) and the 32 oz Nalgene. The synthetic quilt was as compressed as it would ever get. It was not nearly so compressible as any down item, of course. The Hudson River can actually compress a little more than that. But I don't like to torture my gear....
Source: bought it new
Price Paid: ~ $140

Your Review
Where to Buy
Help support this site by making your next gear purchase through one of the links above. Click a link, buy what you need, and the seller will contribute a portion of the purchase price to support Trailspace's independent gear reviews.
You May Like
Specs
Price
MSRP: $239.95
Reviewers Paid: $140.00

Weight
21.5 oz / 0.61 kg

Length
78 in / 1.98 m

Width
48 in / 1.22 m

Loft
2.5 in / 6.4 cm

Material
0.9 oz., 20 denier, ripstop nylon

Insulation
800 fill power goose down

Temperature Rating
25°-30° F / -4° C

Recently on Trailspace