JanSport Big Bear 5000

The Big Bear 5000 has been discontinued. If you're looking for something new, check out the best expedition packs for 2021.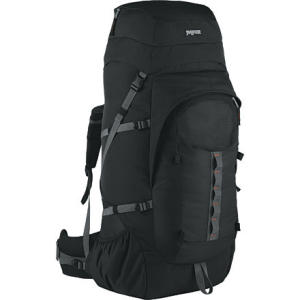 Specs
Price
Historic Range: $79.92-$99.90
Reviewers Paid: $47.93-$50.00

Reviews
4

reviews

5-star:

0

4-star:

2

3-star:

0

2-star:

0

1-star:

1
I've been carrying this pack for a few years now on 5-day trips. I bought it because it was so light for the volume. On that score, it is definitely a hit. This is a very basic pack, with not a lot of bell and whistles (the reason it is so light). 
The suspension has been fine even under heavy, packed-to-the-gills-and-then-some loads (probably over 50lbs--I do not weigh my pack on the principle that knowing a number is usually a bad thing).  The hipbelt looked too thin to me when I got it, but the padding has been just fine on the trail. 
I'm 6'1" and the pack is tall enough for my torso. The water bottle pockets on the side are sized for half-litter bottles. There is an internal bladder pocket, which I do not use. The top pocket is big enough for rain gear. No problems with durability
Slight drawbacks: This pack feels a little smaller than its stated 5000 inch volume, but that could be because I carry a huge bear canister on the inside. In any event, I often end up with gear packed beyond the top into the area with the weather collar. 
Resulting in slight problem #2. The straps holding down the top attach diagonally to the side of the pack, not straight down. That may save a bit of weight or may be for structural reasons, but occasionally (once or twice on a 5-day trip) the pack top will fall forward onto my neck.   
Overall, a great pack for the money, and one of the lightest available for the size.  My type of pack.
Price Paid: I no longer remember, but it was cheap.

Overall, I'm pleased with the value of this pack. I have taken it out multiple times now with anywhere from 25-35 pounds in it and it handles fine. Make no mistake though, this is a stripped down pack- one main compartment, one thin secondary compartment, and a wet-dry pocket just big enough for a trifold map and compass. For the sake of being complete, I'll mention the two water bottle holders but I don't trust using them without a lanyard or lash tied to whatever I put in them (usually just my packed up rain cover).
Pros include a finished look thanks to small additions like the excess strap retainers, an infinite variety of height options thanks to the simple hanger system under the hook-and-loop closure padding, and an ultralite feel (it weighs just over 3 pounds empty) due mostly to the loss of excess pockets, zippers, etc.
The pack rides very well when secured properly and is surprisingly stable for its size. The pack appears very durable and is made with a good oxford cloth.
The major con I find with this pack is the poor back ventilation. After only an hour or two on the trail I found that my back was much more sweaty than it ever is with other packs.
Buy this pack if you're on a budget and you still want a functional, durable, stable, and good looking product.
Don't buy this pack if you're the type that needs lots of bells and whistles, or if you have serious back sweating issues.
Design: top-loading internal
Size: 5000 cubic inches
Number of Pockets: 4
Max. Load Carried: 35 pounds
Height of Owner: 5' 10"
Price Paid: $50

I'm actually writing a review for my friend. He bought this off of Campmor after seeing it for only $50 and 5,000 cubes and figured it was worth a shot. I've also included my observations while on the trail with him.
Too bad it missed.
Would have been nice to even come close to the target.
First off, Jansport has cheapened a lot of their products with different fabrics and materials. The packs are nothing like they used to build in the 80s and 90s. The pack did not hold up well to scrambling around trees that fell on the trail and just didn't seem like a solid 5,000 cubes.
The shoulder harness was a bit shakey and wasn't very firm, the straps are a little thinner and shorter than other Jansport internal frames, and they use a new hip belt that wasn't very effective, even with 4 or 5 different refits on the trail.
Regarding the storage areas, there are no zippers for a "lower compartment", its one solid area for your sleeping bag and stuff sacks. To make things even more interesting, there are no lashing straps on the BOTTOM of the backpack or TOP to hang items... just an ice axe loop, 4 small lashing loops on the outer pocket, and then a few lashing points in the middle.
Also, if you do pack your sleeping bag in the VERY bottom, don't plan on using the water bottle pockets -- they will keep falling out. The elastic doesn't stretch very far.
I'm not sure if Jansport was designing this backpack for a hiker or a European backpacker, but the name Big Bear is definitely fitting - it's a very clumsy design.
Design: top loading internal
Size: 5000
Number of Pockets: 3
Max. Load Carried: 50
Height of Owner: 5'10"
Price Paid: $49.99

I want to get a preliminary review out there while this pack is available at year-end closeout prices. I found little information on the Web and bought this based on my experience with other Jansport bags, the price, and the volume-per-weight ratio (80.65 cubic inches per ounce; light compared with other packs in this volume range).
First impressions: a well-built pack, with all the standard adjustments and some details that aren't mentioned even on the Jansport site.
Not mentioned elsewhere: There is a pocket for a hydration bag (that will hold a Platypus 2-liter) and one tube hole at the top-center, but no tube-keepers on the shoulder straps. There is a nice storm collar under the top flap. There are stabilizer straps on the belt to pull the load to your hips. The essential haul loop and load-lifter straps are there. And there are little strap-keepers on all the compression straps and the belt straps.
There are _two_ stays. Shoulder straps are sewn to a sliding panel whose height is adjusted with a strap under the lumbar pad. Too soon to tell, but the rated max torso length of 20" might be optimistic. The "wet-dry pocket" is rather small; just the size of the netting shown in the photo. The "front panel sleeve" is a pocket that covers almost the entire front of the pack. (It's the grey-colored area on the blue and green packs.) It's about 2 inches deep, with a zipper that runs in an arc around the top half of the pocket.
The lid is non-detachable with a pocket that is about 3 inches deep. Inside, there is only the hydration pocket -- no dividers, key clips, cell phone pockets, ... -- an old-school "bloody great sack".
The padding does not look luxurious, but a loaded test-drive is necessary to evaluate it. There is a lumbar pad and a full-length back pad that's divided along your spine. S-curved shoulder straps (with sternum strap) and hip belt are padded of course.
All-in-all, it looks like a good deal for what I paid. I'm looking forward to getting out there with it.
Design: top-loading "big bag" internal
Size: 5000 cu
Height of Owner: 5' 11"
Price Paid: $47.93 + tax

You May Like
Recently on Trailspace