JanSport D5

#6 in unisex External Frame Backpacks
The D5 has been discontinued. If you're looking for something new, check out the best external frame backpacks for 2022.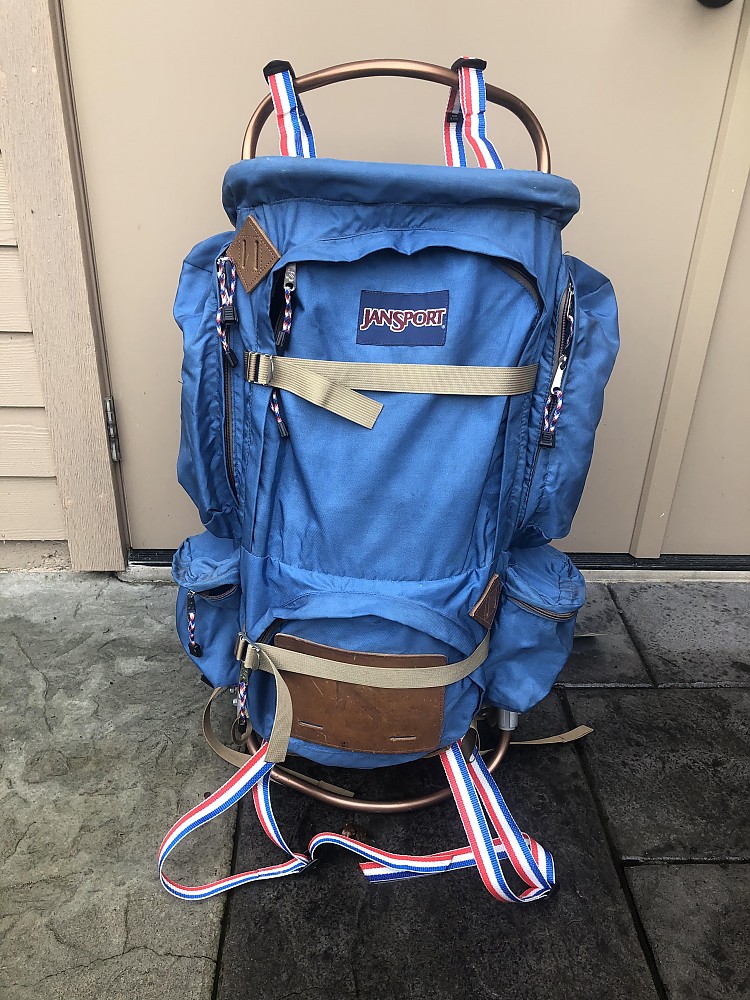 Specs
| | |
| --- | --- |
| Price | Reviewers Paid: $30.00-$130.00 |
Reviews
9

reviews

5-star:

7

4-star:

2

3-star:

0

2-star:

0

1-star:

0
I have two JanSport D5 packs (mid-late 1970s vintage) that are part of a collection I have, which includes three JanSport D3 packs. The D3, as a much larger pack (5220 cubic inches), was more popular back in the day when gear was heavier and bulkier. The D5 is the little brother to the D3 and personally I feel fits better into today's backpacking world because it's considerably smaller (4146 cubic inches) while still being roomy enough for multi day trips.

One of the advantages of an external frame pack is that you can more easily attach gear to the outside of the pack bag. What doesn't fit inside goes on the outside. At just over 4 lbs, the D5 very reasonably falls within acceptable pack weights even today.
Pros
Size is very reasonable while not being too large
The adjustable, flexible aluminum frame is comfortable and lightweight
Panel loading design for ease of accessing gear
Several exterior attachment points
Hip suspension system places all weight where it should be: on the hips.
Cons
By virtue of the fact that it's an external frame pack, many would consider it antiquated based solely on that.
There are some moving frame parts (nuts and bolts) that will require a small wrench to tighten on occasion. These packs originally included tools for this.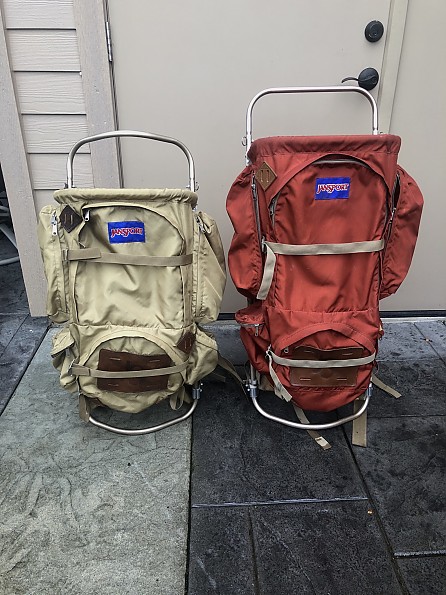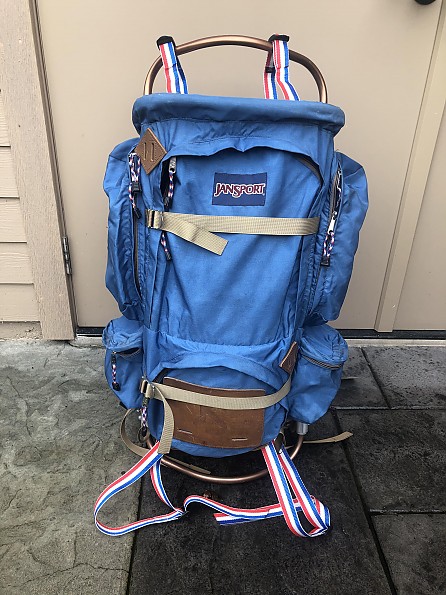 Experience
I've not yet taken the D5 on the trail, but am planning a multi-day trip this summer and the blue one will be my load carrier.
Source: Purchased on eBay, both vintage but unused.

I bought my D5 in Berkley in 1978 and have used it for every camping trip since. I also use it for most of our family trips as my suitcase (I check it with our other bagage). It's a lot easier to carry away from the luggage carousel! The D5 has been around the world with me! It is very comfortable to wear, the hip belt/hinged "u-frames" are very effective at transfering the load to your hips.
Nick
Design: front loading
Number of Pockets: 7
Max. Load Carried: 110
Height of Owner: 6'
Price Paid: $125 (25 years ago)

The D5 was my 2nd pack. It was a step up from a canvas back with shoelace tiedowns and an aluminum frame held together with screws. What an amazing step up. I got this pack in '76 and took it on weeklong trips up San Gorgonio, San Jacinto and Whitney.
As a Boy Scout, I took some ribbing for the weird looking wings on the waist belt. But I got a lot of converts when I let my fellow scouts try it on and feel how well those "wings" center the pack weight over your legs.
This old pack was a real lightweight in its day and still stands up pretty well compared to some of the best modern packs. I still have it, but all the waterproofing has worn off the inside of the bag, so I figured it was time to retire it to the attic. It may still see some trail use someday.
Price Paid: $99

I purchased my D5 in 1976; I used it last weekend in Sedona! It's simply a great pack. I've carried between 65 and 70 pounds in it. (Guadalupe, TX--no water on top) It creaks and moans under the weight. I carry lightweight wrenches and cable ties for field repairs; it's in pretty rough shape and makes a great conversation piece on the trail too. I want to have my JanSport tent refinished because the lash straps on the pack match up to the loops on the tent bags. Also, other b'packers get jealous when I pull it off and stand it upright on the hip-hoops. It's a great backpack!
Design: front-loading external classic
Size: Large
Number of Pockets: 7 including map pouch behind head
Max. Load Carried: Just under 70 pounds
Height of Owner: 6' 3"
Price Paid: $200

Got it so many years ago that I can't be sure what I paid. Maybe $120. Simply the best backpack ever. I still own two of them.
Price Paid: $120 in 1978?

I believe that mine is the D-5 model, the d-3 is taller. I bought it nine years ago, and have had it all over the country. The special "wings" that transfer the weight of the load directly to the hip bones are remarkable. On every trip I have been on I carried more weight than the other hikers. The surprising thing is that the others would ask to trade packs with me for a mile or two to take the weight of their backs. A great pack if you can find one. Please e-mail me if you want to sell one.
Max. Load Carried: 65lbs for a week
Height of Owner: 5'9"
Price Paid: $120 USD

Bought my D5 in early '70s. Used it since then. The weight may be an issue for some, but from my winter and summer backpacking trips in the Adirondacks, Catskills, AT has never failed. I'm 65 and still using it and Jansport still has parts like shoulder straps, belt parts, etc usually at no cost.

Actually when darkness comes around I still know where my gear is. Used it on a two-week Northville Placid Trail. Hopefully pass it on. Happy hiking, y'all.
Pros
Love the pockets, deep bag dept and side pockets along with aluminum hip supports.
Very reliable.
Built absolutely solid and Jansport still supports it.
Cons
A little heavy for some but that's a personal issue
Overall. Great pack for short spurts and long excursions.
I think I paid 130. Best buy ever.
Experience
All around it's the only overnight pack I have ever used in over 30 years
Source: bought it new
Price Paid: $130

Does anyone know where you can buy a good used Jansport D3 or D5? I'm not sure which is the largest. I loved my old one till I wore it out, and Jansport (which is their loss) doesn't make them anymore.
Size: D3 or D5
Number of Pockets: 4
Max. Load Carried: 5500
Height of Owner: 5'10"
Price Paid: $129 in the early '80s

i loved my d5. i used it snow camping, summer for sure. i could put everything in it and be gone for 2 weeks no problem. the sad thing is the big d happened that's divorce and it was gone. i am looking for another one but i think they are a rare item. if anyone can help mail me at srt80@live .com please. stephen taylor
Design: front loading external
Size: big huge
Number of Pockets: 3 pockets
Max. Load Carried: 70 lbs
Height of Owner: 5 feet 8 inches
Price Paid: 30 dollars

You May Like
Recently on Trailspace