JanSport Goshawk 40

Top 25 in unisex Overnight Packs
The Goshawk 40 has been discontinued. If you're looking for something new, check out the best overnight packs for 2021.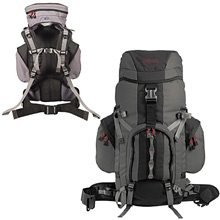 Specs
Price
Historic Range: $64.97-$89.99
Reviewers Paid: $30.00-$50.00

Reviews
4

reviews

5-star:

3

4-star:

1

3-star:

0

2-star:

0

1-star:

0
Great pack, especially for the money. I use this thing exclusively for 1-3 day trips. It has just enough room for everything. It's not heavy. Fits really well. Ventilates well. Jansport calls it a 1.5 day pack. I can get 3 days out of it, but I wouldn't push it to 5 days. It's got all the bells and whistles of an expedition pack at just 2450ci.
Design: Top loading internal
Size: 2450
Number of Pockets: 4
Max. Load Carried: 25lbs
Height of Owner: 6'-1"
Price Paid: $30 - Craigslist

The Grunt's Review.
The Goshawk is an excellent day trip/ short range internal frame ruck great for the casual hiker who likes to carry water and first aid, to a one to two day hiker/camper pack for the ultralight crowd who wants a pack to go on the cheap. The internal water bladder pocket is good for not having to carry external canteens on the pack, although for me, I have mine configured with two extra external military one quart canteens, first aid kit (the smaller 1 to 2 person kits go in just about all of the pockets, but recommended for the outside center pocket), the top pouch makes good for on the go chow like trail mix or broken down MRE type rations.
I gave mine to my wife as she fits more of the size of the pack (it's the smallest in the line, with the Klamath being the medium and the Humbolt being the sort that Quartermasters drool over for the ability to carry EVERYTHING into the field). I'd recommend this pack for beginning hikers/campers, even kids, who don't quite fit the medium frame packs, or smaller internals (she's 5'2"), but don't want the more typical basic pack.
For a day pack, this thing is the equivalent of Bond's Daypack, you almost expect to find some small satellite hookups, and as a computer bag, you have enough pockets for everything tech you would want with a laptop, with room for CD books to spare.
Things this pack Can't Do:
I wouldn't take this pack on an expedition of more than a week, and that alone is with a LOT of thought toward what gear I'm carrying. The Goshawk is very versatile for the light loads, but that's about all it can handle despite the bells and whistles that come normally with a larger pack. Don't expect to get a bedroll inside the main pocket, as it's good for clothes and some gear, but think LIGHT when planning your loadout. You can strap on all sorts of things to this pack, but that's the catch, you have to strap it on to carry it, from bedroll to shelter. None of that is going to fit in the main pocket at all. The main thing that's lacking in this pack is space, but if you're going minimal on the gear, but need/want something that can handle a Little of everything, this pack is for you.
The other downside is that Jansport stopped making this pack about two years ago, and the new line, while it has a nice looking new Klamath 2, hasn't gotten the Goshawk a revamp that I've seen.
Design: Top Loading Internal Frame
Number of Pockets: 1 main, 1 outside central, 2 side, and one additional top
Max. Load Carried: 65 lbs.
Height of Owner: 6' 3" for me, but 5' 2" for her..
Price Paid: $50 (Campmore clearance)

What makes this pack great is that is useful for so many uses. With all the bells and whistles it can accomodate gear for ANY winter sport and summer hike. I've used it on Mt. Washington, Shenandoah, and many other locales and it fits what I need and is comfortable. Sadly, it's strength is its weakness: all those bells and whistles add weight when not needed. A top knotch bag at an unbeatable price.
Design: internal
Number of Pockets: 5
Max. Load Carried: unkn
Height of Owner: 5'11"
Price Paid: $49.99

This is a wonderful pack!! Jansport rocks on this model. I HIGHLY recommend it! I am sad to say I don't think they are making it any more. What a shame! If you can find one then I would say buy it.
If you are looking for a large day pack for hiking, this IS the one! I love mine. I have used it heavily for two years as a daypack for hiking in remote wilderness areas. It is considered a day and a half pack by Jansport, and that it is! Wonderful fit on the back, well ventilated, lots of pockets and organizers, hiking staff straps, top organizer pocket, lots of room, external sraps, internal water bladder pocket, and the list goes on with features! This pack would even work well as a overnight pack for camping during the summer months with a light load.
I dread the day I have to replace mine if they have stopped making them because I simply won't leave home without it on day hikes!
Update: January 27, 2012
Update January 27, 2012
It's a shame that Jansport does not make this pack anymore. I still use mine for day long hikes. It has not missed a beat in terms of quality and is holding up very well in all of my day hikes in a national forest.
If you see one of these used, I would highly recommend buying it. It is a  wonderful day to day-and-a-half backpack!
Design: Internal Frame Day and a Half Pack
Size: 2450 cubic inches
Number of Pockets: 4-Rear main pocket has smaller organizer pockets within it.
Max. Load Carried: 35 lbs
Height of Owner: 5 foot 6 inches
Price Paid: $49.97

You May Like
Recently on Trailspace