Jetboil Sumo Cooking System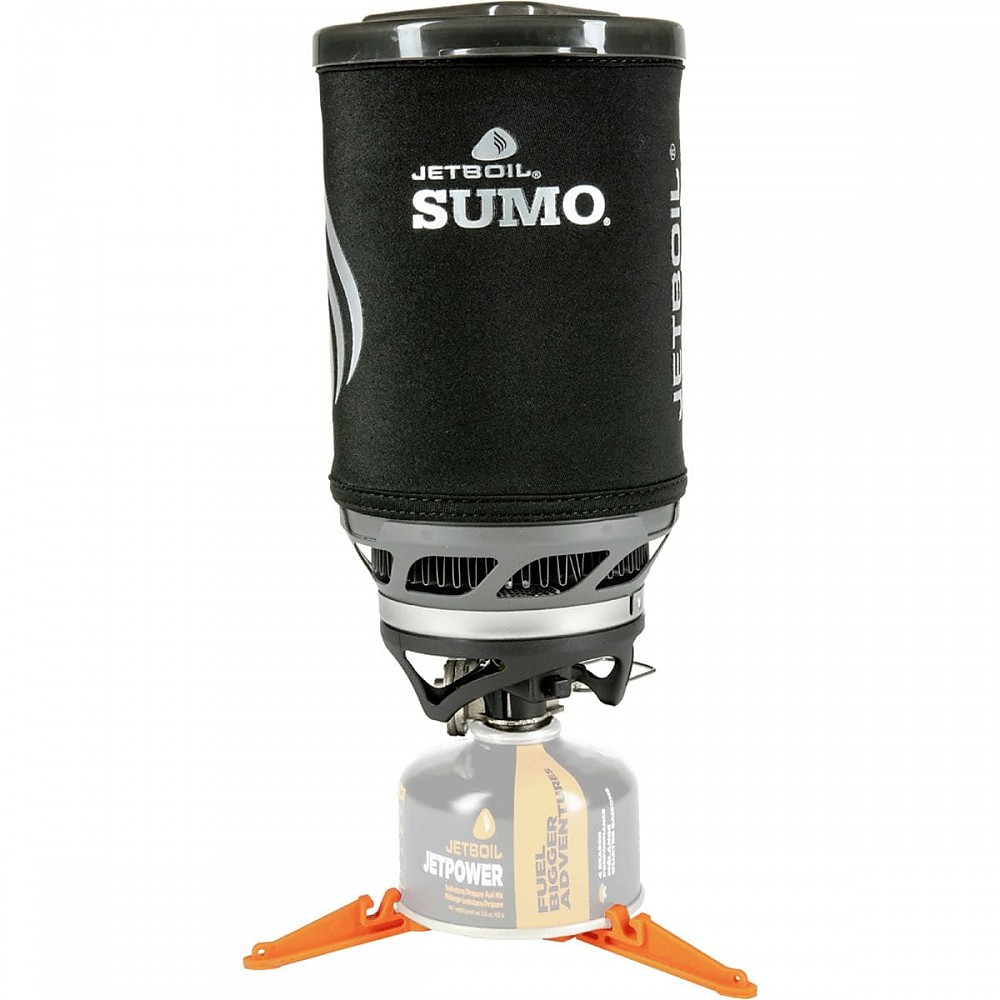 The Jetboil SUMO is a user-friendly, canister-style stove that easily supports 2 to 3 people on most backpacking, camping, and paddling trips (1.8L or 61oz cup). With an improved simmer regulator and sure-fire ignition, the SUMO makes cooking a pretty simple task. Couple it with a Jetboil silicone coffee press (grande size) and you'll have yourself a big pot of coffee each and every morning on the trail. Its biggest drawback is a finicky lid.
Pros
Surefire ignition switch
Stable
Portable
Large volume pot for 2-3 people
Has a well-made coffee press accessory (sold separately)
Conditions: 
I've used the Jetboil SUMO for three months in spring and summer weather, including during overnight backpacking trips, fishing excursions, car camping adventures, and on a roadtrip. Cooking has ranged from making coffee (with the silicone coffee press, sold separately), making soup and oatmeal, sautéing veggies, and rehydrating dehydrated meals. I have yet to try baking in the SUMO, but I plan to do so when the weather gets cooler.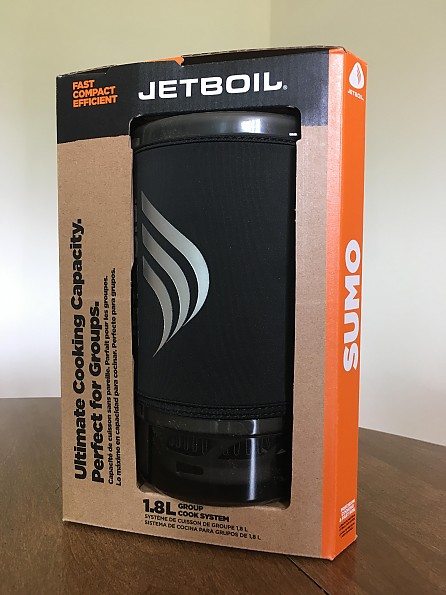 Specs: 
Weight, including all components except fuel: 1lb. 3.3oz (547g)
Capacity: 1.8L
Fuel: Isobutane/propane mix in canister form. Most of my testing was done with Jetboil's specific JetPower canisters, but it works with a wide variety of fuel canisters on the market, as many share the same valve type. Both the 100g and 230g canisters work equally fine with the SUMO.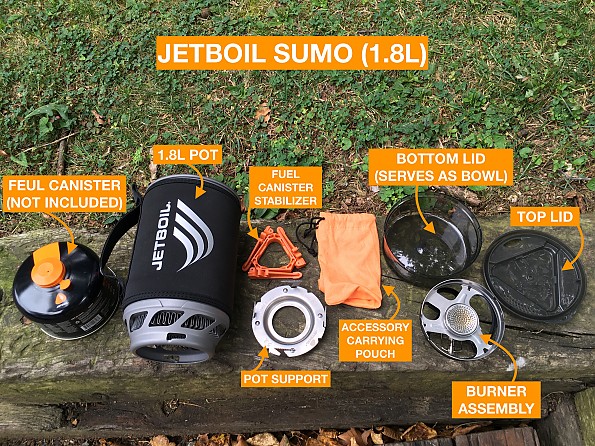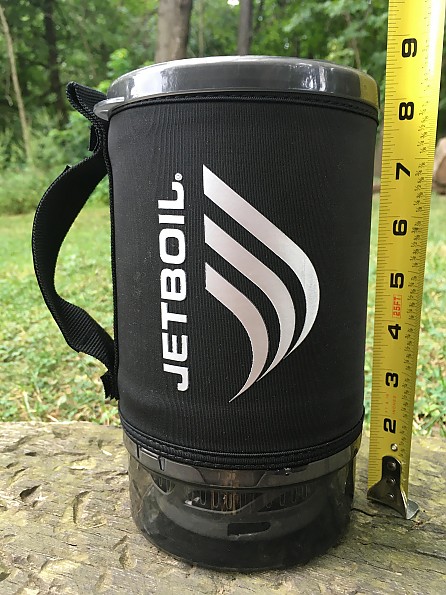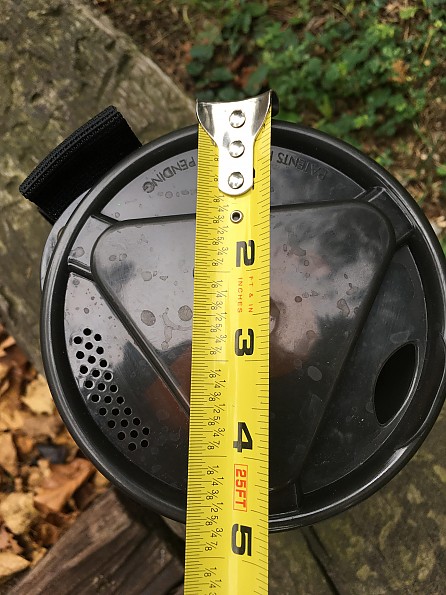 Setup:
I've always found canister-style cooking stoves very easy to set up, operate, and maintain. This was the primary reason I made the switch from liquid fuel stoves to canister stoves about 6 years ago. The setup of the Jetboil SUMO is very intuitive for those who have used canister stoves before, and easy to learn for those who have not...at least it was for a friend who had not used one before setting this one up, with the exception of them asking me where the pot stabilizer accessory went. This could be confusing for some, because it actually doesn't get used with the provided 1.8L pot, but is an included accessory in case you want to use a different pot, especially those with a wider base (like I did with an older, wider Jetboil pot later on in the review, keep reading).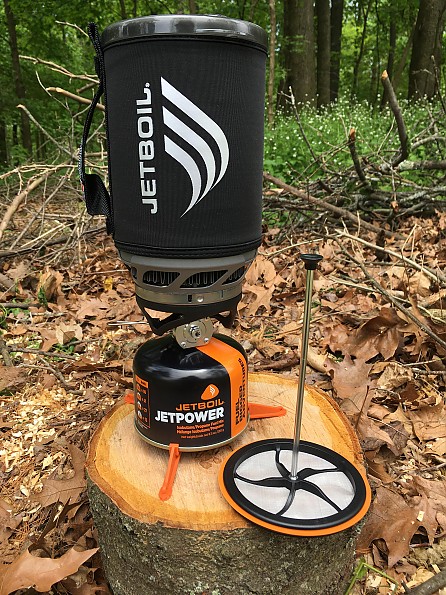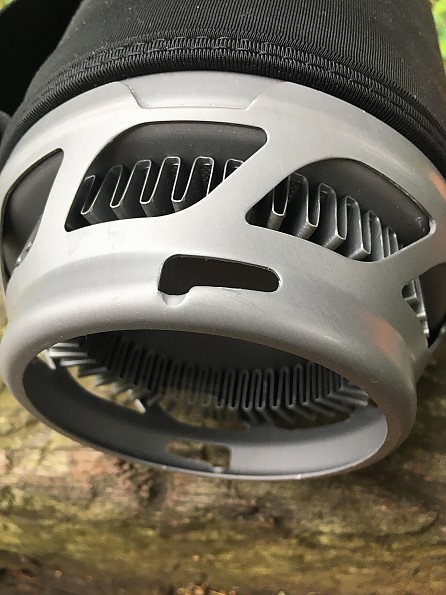 Ignition: 
The built-in push button ignition is certainly an upgrade from my previous canister stove (Jetboil Group Cooking System with the FluxRing 1.5L pot), which required a manual spark or flame to light. Simply turn the gas on, push the ignition button, and you have a nice steady flame. Over the course of three months of testing, I have not had a single misfire. The burner flames on the first push of the button every time. And even if the ignitor does someday fail, the stove will still work just fine with the introduction of a manual spark or flame to get it going.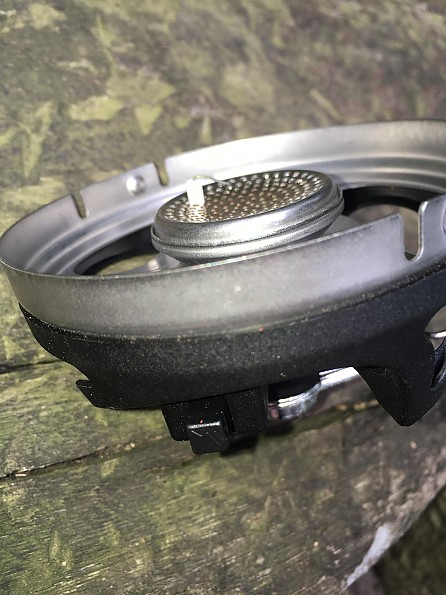 Flame Control: 
The flame control knob, or regulator, is a big adjustment from previous Jetboil stoves, which required much more nimble fingers and didn't have nearly the range of simmer to rolling boil as this one has. The low is still fairly hot, meaning a gentle simmer requires a watchful eye, but it's a noticeable improvement from earlier canister stoves.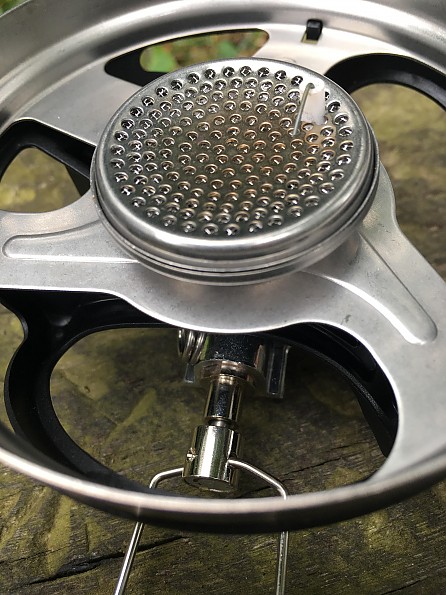 Boil Time: 
Here's the outcome of a boil time test I ran in sheltered conditions:
Volume of water: 40oz. (1.2L)

Starting water temp: 66f (18.9C)

Ambient air temp: 70F (21.1C)

Time to boil: 4:41 

Fuel: Jetboil's JetPower (isobutane/propane mix) 230g canister
My tests aren't exactly apples to apples with Jetboil's claim of 4:15 boil time for 1L of water, since I was boiling 1.2L (40.6oz), so I consider their claim to be pretty accurate and the boil time is totally acceptable for me. Personally, I don't get too caught up in how fast a stove can boil water, because I'm typically not in a rush when cooking in the backcountry. In fact, I'm trying to slow down, not speed up, hence why I'm in the backcountry to begin with. 
Cooking:
By far the most frequent use of the SUMO has been to make pots of morning coffee with the silicone coffee press (grande size for the SUMO), which is sold separately. There is a full review of the coffee press here, so I won't go into too much detail about that, except for saying that once I got the hang of it, I really like making coffee in the SUMO and it's as close to my at-home french press coffee as I've been able to make in the backcountry. Apparently, the coffee press can also be used for steaming (think veggies or fish). I haven't ventured in to those culinary waters yet, but next trip out, I may take along some veggies and give it a go.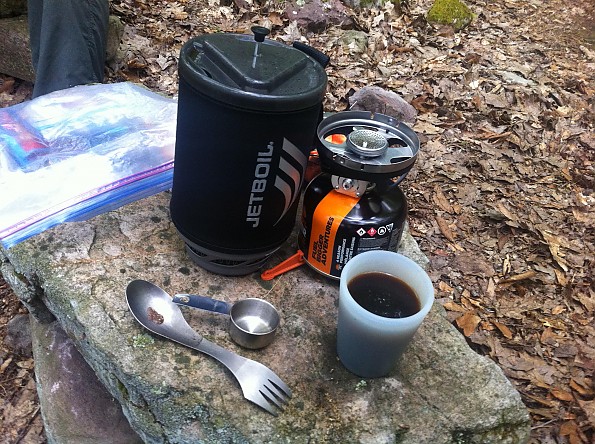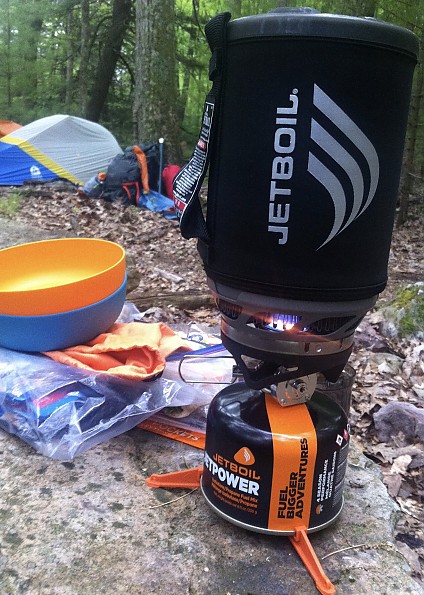 Other frequent cooking adventures included making morning oatmeal, evening soups, sautéing veggies, and rehydrating dehydrated meals. It's been too warm this summer for me to desire baked goods on the trail, so I've refrained from baking in the SUMO, but it won't be long until I try a cobbler or cake. I'll update the review when I have the chance to see how the SUMO handles baking.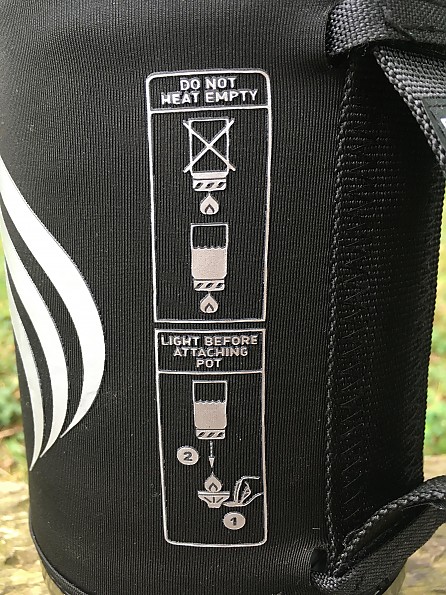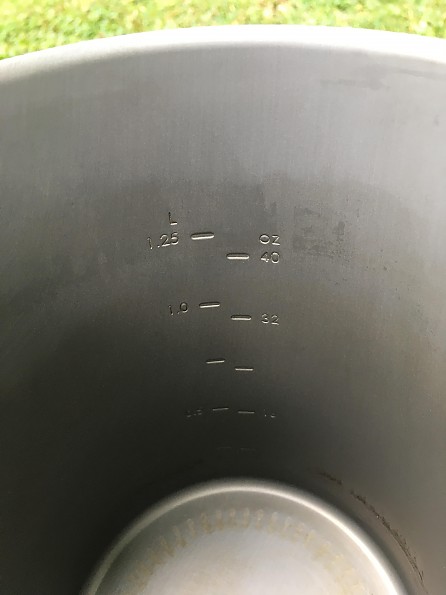 Below is an onion sautéing test I did to compare the Jetboil SUMO (1.8L) to my older Jetboil Group Cooking System, which has the FluxRing 1.5L pot. I used the same equipment (pot stabilizer, canister fuel, and burner assembly) for both tests. Each pot received 1.5 cups of roughly chopped onions and ⅛ cup of olive oil. The burner was turned down to the lowest setting and I stirred fairly consistently until the onions were sufficiently cooked and translucent (about 5-6 minutes). The outcome of the test revealed that the onions in the SUMO were more uniformly cooked and had fewer brown, burnt spots than that of the Group Cooking System's FluxRing 1.5L pot.
Honestly, I was expecting the opposite, since the older system has a wider base and more surface area to spread out the onions and the SUMO is narrower, but what do I know. I was delighted with the overall sauté-ability (yep, that's a word) of the SUMO.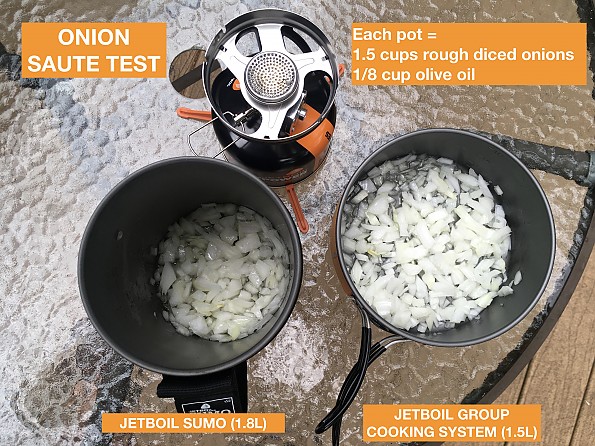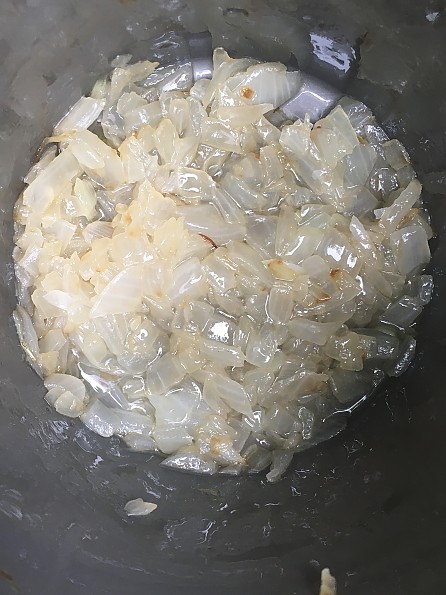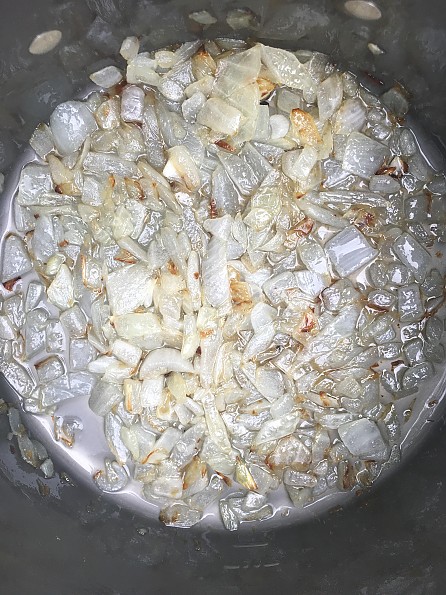 Wind: 
I haven't tested the stove in too severe of wind conditions yet, but the integrated FluxRing, which helps provide a fast and equal heat exchange, also seems to help protect the flame from the wind somewhat. When roaring at full blast, no reasonable wind is going to put out the flame. But even when I did my onion sautéing test on the lowest possible flame output, there was a modest breeze and not once did it seem to affect the burner. 
Lid: 
The lid is my least favorite component with the Jetboil SUMO, particularly when I try to use it to pour out hot liquids from the stove (e.g. coffee or soup). The lid does have two pour functions, one area with several little holes which acts as a strainer, and one area that can be used for a straight pour through one large opening. The problem is twofold, 1) the lid get so hot to the touch that it's hard to maneuver once the liquid inside is hot and 2) the lid has a tendency to come off when pouring, if you don't hold it securely in place (which, again, is hard to do because it is very hot to the touch).
I've dumped hot liquids on a couple different campsites because of this issue. Imagine the horror of dumping half a pot of coffee after a poor night's sleep. Ughhhhh!  Fortunately, I'm smart enough (or lucky enough) to not have been pouring over my lap when this happened. However, you could see how this issue of the lid coming off when pouring could be potentially dangerous. Because of the potential danger of this lid, I deducted a full star from the overall rating of the product.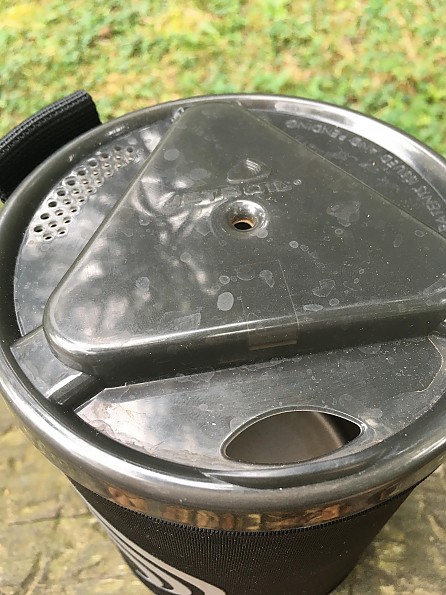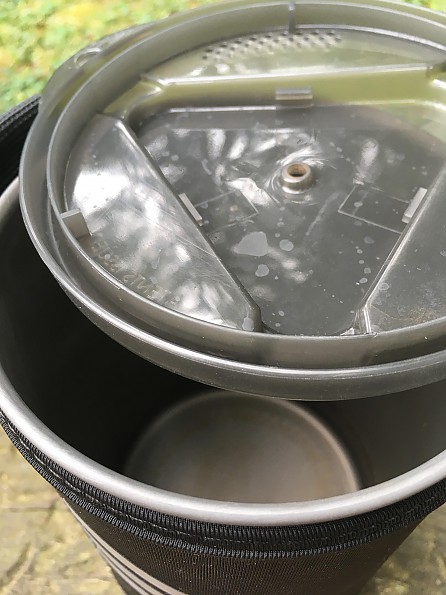 Stability: 
The Jetboil SUMO has two main components working in its favor that add to its overall stability. First is the strong connection point between the burner assembly and the bottom of the cooking pot. With a little click and twist, the connection is solid and best of all, it's easy to tell if it's correctly in place or not...almost foolproof.
The second feature that aids in stability is the included fuel canister stabilizer, which adds a few extra inches of stability to the base. This is particularly useful when a flat surface is hard to come by. The fuel canister stabilizer works on almost all brands of canisters on the market, and all standard sizes. The fuel canister stabilizer can be a bit stiff to work, meaning it can sometimes be tough to get a canister to fit in and pull out of its small grooves, but with a little elbow grease and wrist turn, it eventually works.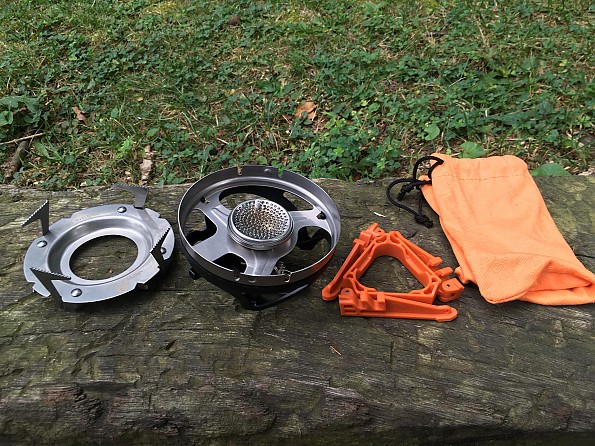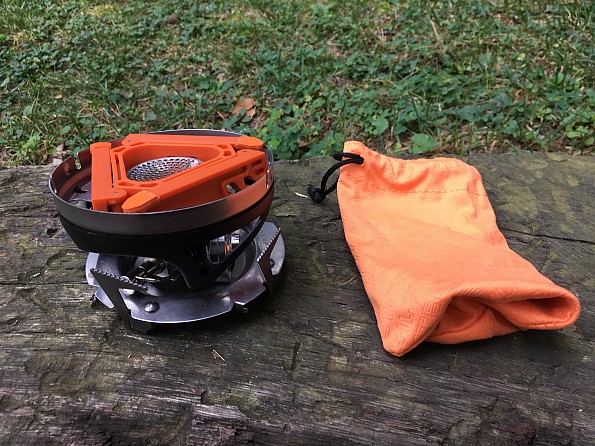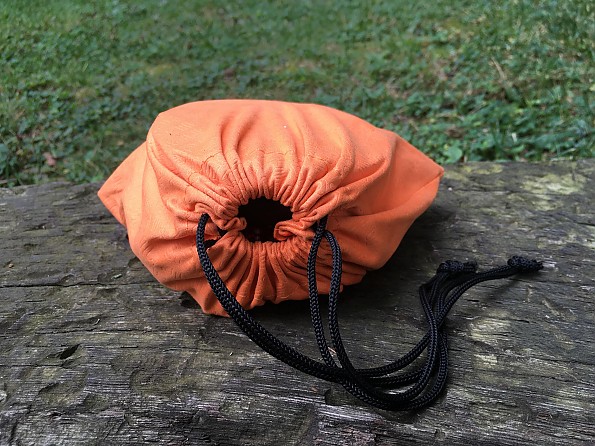 As a previous owner of Jetboil's Group Cooking System (FluxRing 1.5L pot), the SUMO's 1.8L pot is a nice upgrade in stability. I don't have to worry about it falling over or dumping hot liquids or food everywhere. The burner is still compatible with more of a frying pan approach, but when it comes to boiling water, the stability of the SUMO cooking cup is far superior. The onion sauté test that I referenced earlier is a prime example. I didn't need to use my other hand to hold the SUMO when stirring the onions, but I absolutely needed to hold the Group Cooking System pot when stirring the onions in that pot. The stability factor may be overlooked, but when you're groggy after a restless night's sleep or exhausted from a long day of hiking, a stable cooking pot is very much appreciated. 
Comparison to the older Jetboil Group Cooking System (1.5L):
Here are some side-by-side photos that highlight the similarities and differences between the older Jetboil Group Cooking System (1.5L). This has been a go-to stove for me for the last 6 years or so.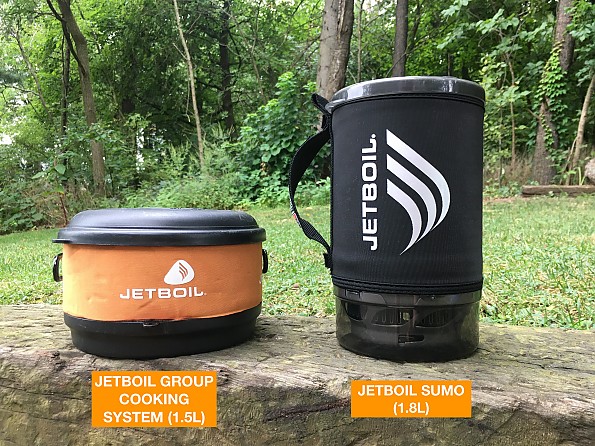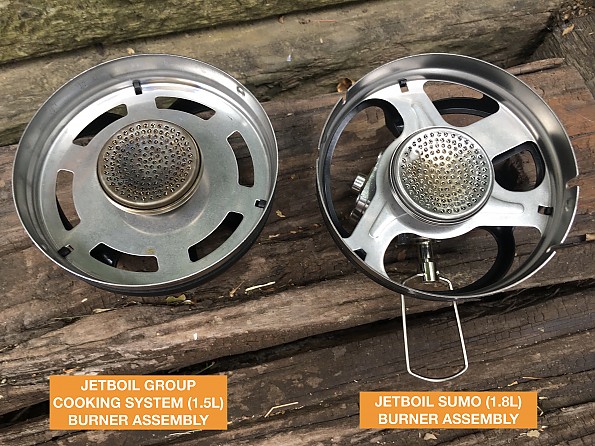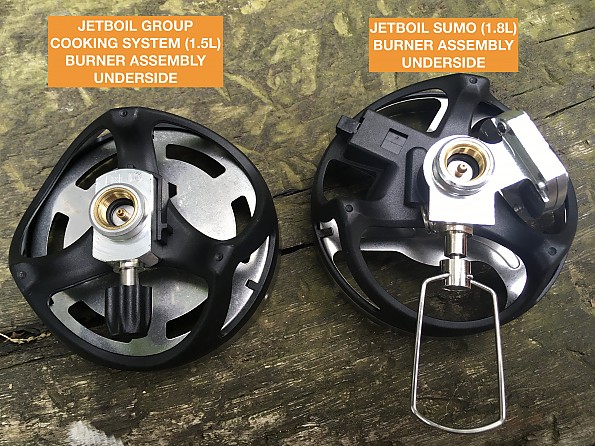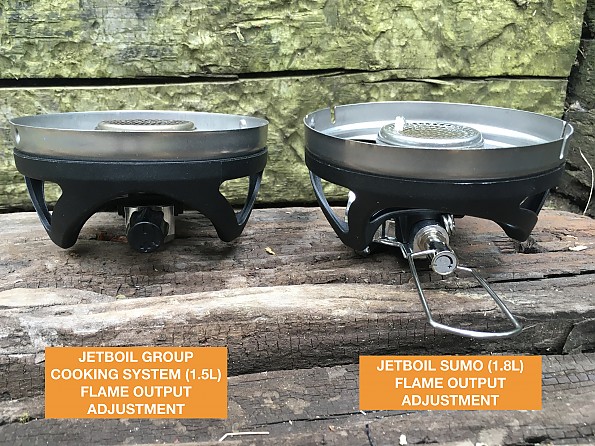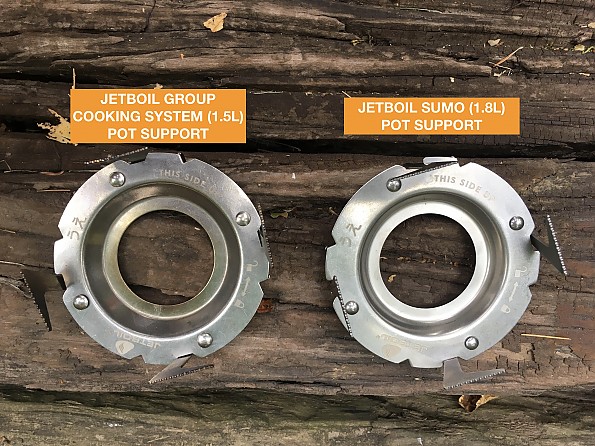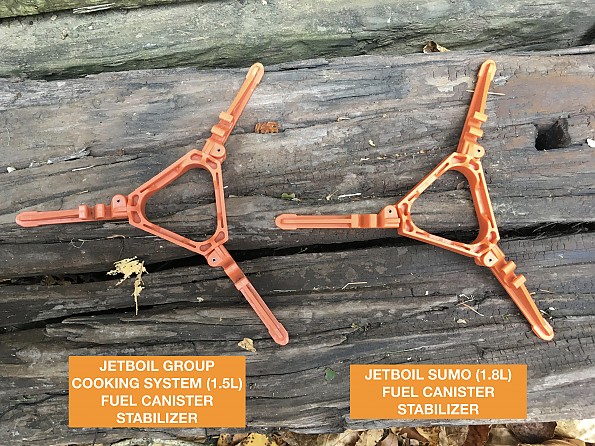 Best Use/Recommendation: 
I really appreciate the ease and reliability of canister stoves, and since I'm very rarely cooking for only myself (usually 1-3 others), I tend to bring along a larger than average pot and extra fuel. For these reasons (not to mention the effective coffee press), I really enjoy the Jetboil SUMO and recommend it for those who share similar cooking needs. This stove setup could appeal to a wide range of users, from a small family wanting to get away from the charcoal grill at the campsite and try some backcountry cooking, to a multi-day paddler who enjoys good food on the water, to a pair of backcountry hunters who need coffee and quick meals in the pre-dawn hours. 
Experience
I've utilized cooking stoves in the backcountry since my early days as a Scout. My earliest hiking and camping memories are of cooking over wood coals and there was a large two-burner propane stove that was sometimes utilized too. As an adult, I first became familiar with liquid fuel stoves, before switching to canister fuel stoves. Previous to the Jetboil SUMO, I've used the Jetboil Group Cooking System (GCS) fairly extensively for the last six years, as my go-to canister fuel stove.
Source: received for testing via the Trailspace Review Corps (Sample for testing and review provided by Jetboil)

Your Review
Where to Buy
Help support this site by making your next gear purchase through one of the links above. Click a link, buy what you need, and the seller will contribute a portion of the purchase price to support Trailspace's independent gear reviews.
You May Like
Specs
Price
MSRP: $159.95
Current Retail: $131.21-$174.99
Historic Range: $75.98-$189.95

Fuel
propane/isobutane, Jetpower

Boil time for 1 L of water
4:15

Water boiled per 230 g fuel
24 liters

Weight
16 oz / 453 g

Optional accessories
Jetboil Grande Coffee Press, skillet, FluxRing 1.5L cooking pot

Recently on Trailspace