John Calden Boots Mountain Hiking Boot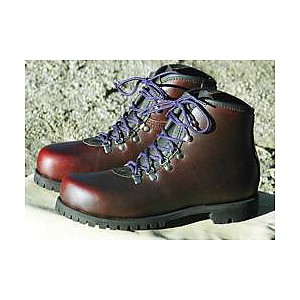 After four different pairs of hiking boots in 15 years that didn't quite fit the Mountain Hiking Boots fit perfectly right away.
Pros
Perfect fit
No break-in
Waterproof
I have a pair of the Mountain Hiking boots made with 4 mm leather uppers and leather midsole. They are great.
These are stiff soled heavy boots used for hiking and backpacking. 
Fit: The fit was perfect from the moment I put them on. Break-in time was the 2 minutes it took to walk from the car to the trail head.
Comfort: The box toe provides plenty of room. I have never had any toe jamming issues descending steep slopes and trails. While my boots have the stiffer leather midsole they have never seemed stiff to walk in.
Support: I am a heavy guy. My boots have the leather midsole. I have not had any issues with pressure point penetration when walking on rough sharp edged rocks.
Water Resistance: As long as water does not come over the top these boots stay dry inside. Pretty handy for crossing shallow streams and muddy trails.
Traction: Great
Temp Control: I have used these boots in weather from 10°F to 95°F. They were warm in the cold weather and my feet did not sweat in the hot weather. 
Durability: My first pair of Calden boots lasted 20 years of hard use, 4 sets of soles and poor maintenance and the leather finally cracked through at a flex point. Plus my feet grew 1/4 of an inch so it was getting hard to get the boots on.
With better maintenance I expect these boots to last another 25 years. That will mean getting another 4 - 5 sets of soles out of them. My current boots are 5 years old and I just got the heel replaced.
Conditions: I use these boots in rain, snow, mud, desert sand and rock on and off trail.
While it may appear that the lacing system that does not extend far down the boot would cause the boot to not fit well and lead to the foot moving forward and jamming toes, the opposite seems to happen. When John measured my feet one of the measurements was taken at about the point where the laces start. Thus there is no lacing adjustment across the top of the foot. This allows there to be plenty of toe room while keeping the foot from sliding forward.
My only whine is that when the boots are cold, like they have been in the car overnight outside when the temp gets below 25°F, the boots get stiff and take some extra effort to put on. Once on they are great.
Source: bought it new
Price Paid: $1150

There are very few craftsmen left in the world who can make a boot like John Calden. If you do a lot of backcountry hiking, your feet deserve a pair of these boots.
Pros
Exacting fit
High quality leather
Should last forever
hand made
I have kind of unusual feet. I wear a size 11, but my foot is very low volume. I have struggled with blisters for almost 30 years with store bought boots. I finally decided to find a craftsman out there to make me a pair of custom boots. I found John Calden after extensive research. I only wish I had found him earlier.
He is one of a handful of folks in the US that has the expertise to make a boot of this quality. I have worn the heck out of my boots, and with routine care the leather looks as good as the day I purchased them. 
I no longer get blisters and I regularly do 20+ mile days back-to-back-to-back in these boots.
I met John when I was passing through Colorado, and I can tell you that not only does he make an excellent product, he takes a ton of pride in his work. That is important to me. I like to do business with people that care about their work, who strive to do their best for every customer.
The boots that I bought from John are more precious to me than any other piece of clothing or footwear I own. I will resole them and maintain them for as long as I can, which I expect will be many years. Although more expensive than store bought, the longevity, fit, and quality make these boots a bargain.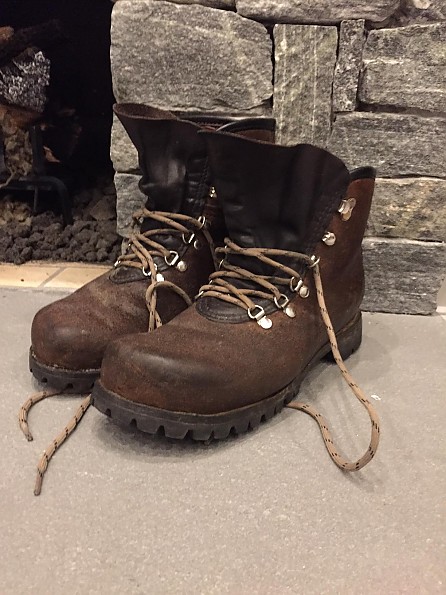 Source: bought it new

I've had my Calden Boots for three seasons now, and about 500 miles later, I absolutely love, love these boots! They are the most comfortable and durable boots I've ever owned.
Pros
Comfort
Durablitiy
John Calden's personal attention to my needs
Style
Cons
Delivery Time (but great things take awhile)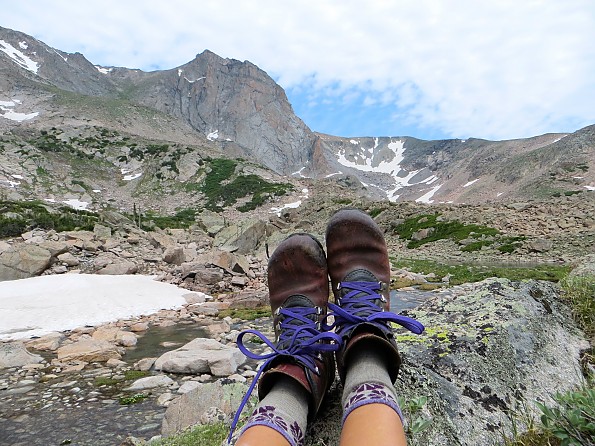 It is obvious John took much time and consideration in making my boots, the fit couldn't be better. I have hiked up to 20 miles in one day, and yes my feet are tired but I couldn't have done this in store bought boots. These boots have allowed me to continue long hikes.  
Another thing I noticed is I don't get pain in my knees like I used to, which I contribute to the fit of the boot and proper arch support. John uses a Vibram sole on his boots so traction is good, however I do need a resole on mine after 500 miles.
The only thing I would change is I ordered the boots smooth out and I should have ordered rough out. The leather gets pretty scratched up from the Rocky Mountains where I do most of my hiking. John did put a toe cap on the boot which does protect the ends of my boots. I don't use my boots in the winter because I really need something with insulation to keep my feet warm
John also uses a double tongue system which allows me to make more adjustments for fit, depending on the socks that I use that day. I can say, with confidence, that I recommend these boots. Well worth the money and time.
Source: bought it new
Price Paid: $975

These boots are great for on-trail or off-trail hiking.

Pros
These boots are handmade to fit the hiker's foot
I hike in the San Juan Mountains of Southwest Colorado in and around Durango and Silverton. I have never found a satisfactory pair of store bought boots. The most common problems have been heel slippage and black/blue toes.
A friend of mine suggested that I contact John Calden. He  works out of Estes Park, Colorado, which is a short drive from Denver. I made an appointment with John at his workshop. He took a very careful measurement of each foot. It takes John about a month to produce a pair of hiking boots and he has a backlog.
I waited almost a year, but it was worth it. No heel slippage. No black-blue toes. I have been using the boots for over a year and they have worn very well. I have only good things to say about them.
Source: I had them handmade

Beautiful, comfortable, well made custom boots.
Pros
Comfortable custom fit
Beautiful workmanship
Cons
Long lead time due to order backlog (but shows the popularity of John's boots)
My wife took delivery of her boots late in 2015 and I've waited until she had a chance to wear them for a few months before writing this review.
My wife has bunions and has never been able to find mass produced boots or shoes that comfortably fit her feet.  She loves the boots John made for her and highly recommends his boots. Though not inexpensive, this is a great option for people with hard to fit feet or those who desire a premium pair of hiking boots. The workmanship and leather of John's boots are exceptional.
As my wife and I travel, several people have approached my wife to express positive, unsolicited comments about her boots. Great job, John!
Source: bought it new
Price Paid: $1,300

I have a pair of mountain boots from John Calden. I have not had a blister since the day I got them, and they've seen heavy use both hiking, backpacking, and off-trail.
Pros
The fit seems nearly perfect.
Cons
They're heavy, full-leather mountain boots.
If you're looking for a trail shoe, these are not the ticket.  But if you do long hikes, anything off-trail, or rough terrain, these will stand by you and function perfectly.  I love them.
Source: bought it new
Price Paid: $650 or so

Perfect fit from day 1 for hard to fit feet. Never a sore spot. No toe jam on descending.
Pros
Fit. Hiked through Swiss Alps shortly after getting them- not much break in time. I had been through 5 pairs of high quality boots from REI and returned all of them because of fit issues prior to getting John's boots!
High quality leather.
Cons
I don't consider expense a con for a custom fit.
The all-leather is not waterproof but breathes well- took a bit extra sealing of stitching to get better water resiliency.
Really really great boot. Worth the wait and the money as I don't think I will need another boot ever.
Source: bought it new

Your Review
Where to Buy
Help support this site by making your next gear purchase through one of the links above. Click a link, buy what you need, and the seller will contribute a portion of the purchase price to support Trailspace's independent gear reviews.
You May Like
Specs
Men's
Price
MSRP: $1,000.00
Reviewers Paid: $650.00-$1,150.00

Women's
Price
Reviewers Paid: $975.00-$1,300.00