KA-BAR Becker Companion BK2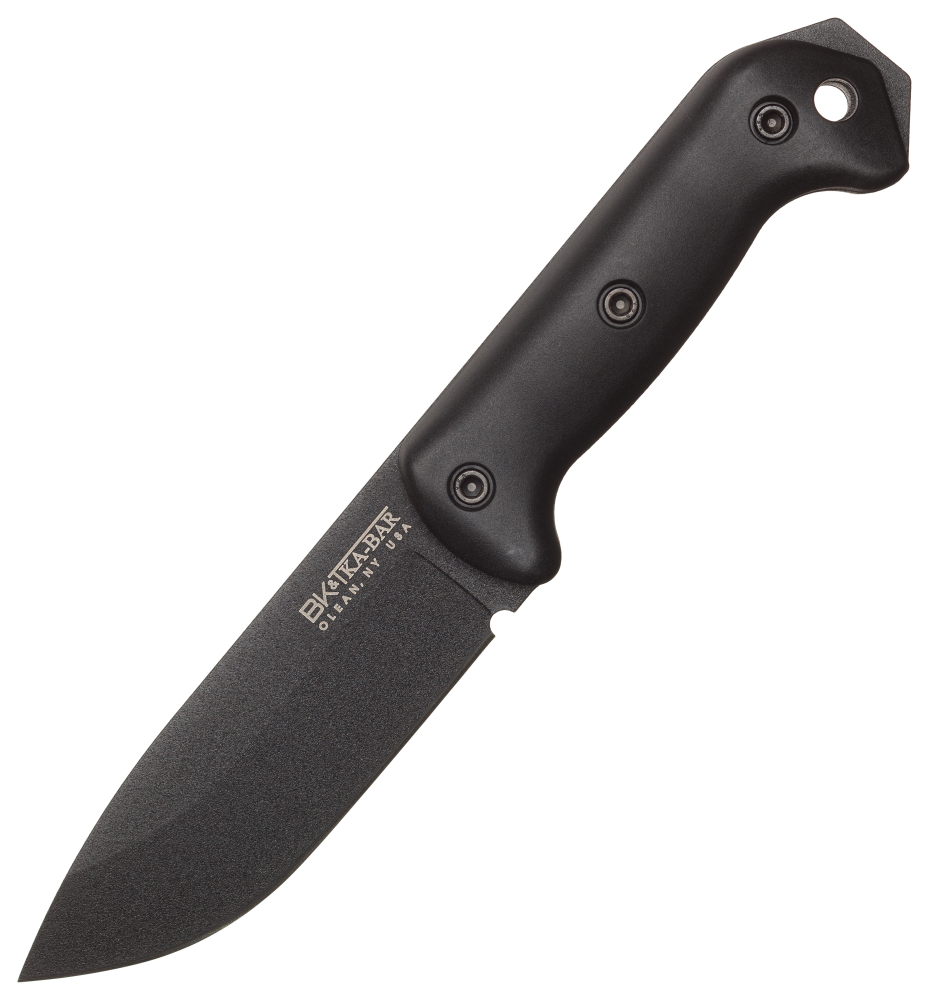 This thing is a BEAST!!!! Glad to be the first to review one of the best items of gear that I own. I would advise anyone spending time in the outdoors to at least give it a shot. You can also find it online for around $60, and it more than pays for itself. You can check out my mod's photos for the BK2 on my profile.
Pros
Multiple use, and multiple carry options
Durability
Strength
Edge retention
Low cost
Ability to be modified to your own standards
Works as well if not better than most high end knives
The knife in the display photo is the older model, the photos I have are the new version
Cons
Some people may not like the weight or size
The handle grips should have been micarta instead of grivory
BK2 specs:
5 1/4 inch Bade-  10 1/2 inch Overall-  Full Tang 1095 CroVan Steel-  Flat Ground Drop Point @ 20 Degrees
Blade is 1/4 inch thick-  Hammer Pummel as Butt Cap-  Overall Weight is 1lb-  Made in USA   

Ok... first off, if you happen to be one of those super ultralight hikers that swears by his or her Swiss Army blade; go ahead and skip this review. But, if you love the outdoors and realize that the most important piece of gear you carry along with you happens to be the piece of steel attached to your belt; then by all means... enjoy my review of the Ka-Bar Becker Companion. Better known as the BK2.
I spent a lot of time searching for a good knife to go along with me on our hiking/survival trips. I did plenty of research before I came to the conclusion of the BK2. Chopping, splitting, shaving tinder, skinning, prying, digging, stabbing, and anything else you can imagine... you can do it with this bulldog of a blade.
The 1/4 in thick blade is unstoppable. Slashing through 1" to 2" bamboo came suprisingly easy. Splitting 2x4's and even 4x4's down the middle from battoning left me wide eyed. A lot of people that complain about anything regarding this monster should take a second look. The weight, I have no problem with... it helps pack a punch when it comes to chopping (it's like a compact camp axe.) 1/4" thickness of the blade adds muscle when you need to use it for prying (think of a small sharpened crowbar.)
The handle feels great, its form gives you that extension of your arm feel, though I wish Becker would have used Mircata scales rather than Grivory.  The pummel is beyond perfect. It will drive a four inch nail into a tree, should the need to drive nails arise. It wears good enough that I've replaced it with my everyday knife. It goes where I go. And the sheath, I like it as well.
A lot of people complain about that and the weight the most. But, the sheath is simple, does a great job of keeping the beast on its leash till the time comes to pull it out. Plus, it is one the few things out there that have a lot of possibilties when it comes to personally modding it out. I've modded mine by doing some sewing along the nylon belt loop creating a pocket for an emergency fishing kit, wrapping about 25 ft of 550 cord to the sheath, and fitting it also with a Gobspark Firesteel. SO, if I'm ever separated from my pack while in the bush, or take a spill down river... I always have a bare essentials kit with me. My knife never leaves my side. It's like the 10/22 of the knife world.
My BK2 will be around long after I'm gone, and bringing as much reliability to my son as with me. It came out of the box razor sharp, when i did the simple hair test... it actually took off a couple layers of skin. Which I found funny since I'm normally safe when it comes to tools like knives. So, I took it as a comical blood bond with my new sidekick.
I have already turned many others onto purchasing this knife, and I would put this mini machete on the front of the list to any outdoor fan/ hiker/ survivalist. But to set the record straight on some of the more negative posts that i've read about it. I've had the BK2 for 2 years now. And have hit the trails with it numberous times already. I'm sure everyone already has heard of the chopping power of this monster.
Well, living in the deep south of the pine belt... it has gone beyond what i've expected. Firewood for camp on the trail is blown through with ease. Also, shaving kindling to start your fire will come simple as well. Down here, we also have a lot of lighter pine. (old pine wood that has set up lots of resin) And anyone that has dealt with this type of wood knows, that it is as hard as stone and always a pain to cut, chop, or chip... but if you do, you have some of the best fire starter out there. The bk2 takes on this task like an axe to a viking.
Many that post bad reviews for this knife say that they would rather carry a simple smaller blade, and a camp axe or saw. Well, if that's your take on it... fine. But, I would much rather have a knife that can replace multiple items, than carry 3 or 4 different tools that do one thing each.
I've also read that it's not as good because it doesn't have a partial seration. Well, yes, but anyone being familier with a knife also knows that other than cutting rope... you really don't use serration. And if you keep your knife sharp, it should go though rope with no problems.
People have also posted a negative of it being bulky and unmanagable. ??? Ok, to those people... you either have little girly boy hands, or you have no idea how to handle a blade. I used my bk2 to carve a wooden spoon. And it came out great. So, my take on these stupid negative posts I read... is that the people making them are those ultra light backpackers that think anything more than a Swiss Army knife is too much. Well to those, you can keep your swiss army trash for the cork screw wine bottle opener. And I'll keep my bk2 monster that can do everything a knife, axe, saw, or anything else can do except open your bottle of merlot.
Source: bought it new
Price Paid: $58 on Amazon

Heavy duty 5.25-inch blade, 1-lb. weight survival knife that is your go-to for your outdoor adventures. Best for splitting logs, cutting down dead tree branches, making tinder, cutting rope and paracord, pry bar—great knife that you can rely on.
Pros
Full tang
Good 1-lb weight to use as hatchet axe
Thick steel
1095 Cro-Van 56-58 hardness
1/4-inch thick flat grind drop point blade
Comes surgically sharp
Cons
Heavy for small people, wider hand not suited for smaller hands, and not suggested for women due to its heavy weight
Poorly made nylon attached to a nicely made base molded sheath
Grip can get slippery in wet weather or while sweating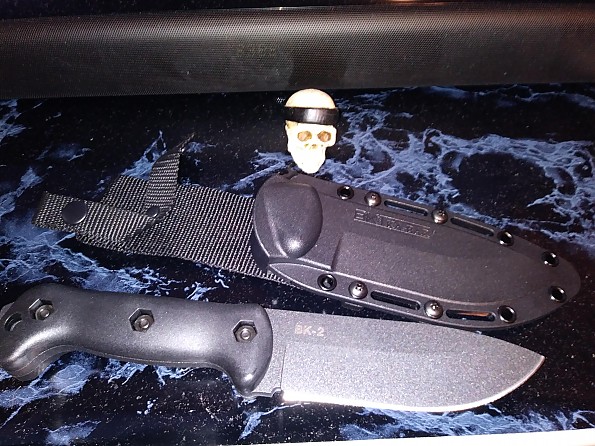 Blade Length: 5 1/4"
Overall Length: 10 5/8"
Blade Thickness: 0.259"      (6.6mm)
Blade Steel: 1095 Cro-Van     56-58 Hardness 
Blade type:  Drop Point
Grind: Flat
Grind Angle: 20%
Handle Material: Zytel.
Weight: 16 oz.
Sheath Material: Black glass filled nylon.
Knife is Made in USA
Sheath is Made in Taiwan
 KA-BAR Becker BK2 Companion Fixed Blade Knife
Many people out there are telling you that you need to bring the right tool for the job that is solely designed for that job.
Well, not everything is black or white...there is a gray area.
Fact is, the same people that are saying that you need to bring specific tools for the job are usually ex-military that are carrying 100-150 lb. stuffed backpacks with them.
As one gets older, so does their backs and we learn to pack our backpacks with tools and equipment that have multiple functions to reduce weight. Instead of carrying an axe, a hatchet, a splitting wedge, and a saw I use this survival knife saving approximately 12 lbs. of weight.
The formula for work in foot lbs, of energy is  W= F(orce)  times D(istance), so carrying those other items 100 feet you are doing 1200 lbs. of foot lbs. of work just carrying those items versus 100 lbs. of foot lbs. of work for just carrying this survival knife.
Our bodies consume energy by doing work, also causing us to have a greater intake of calories from doing more work.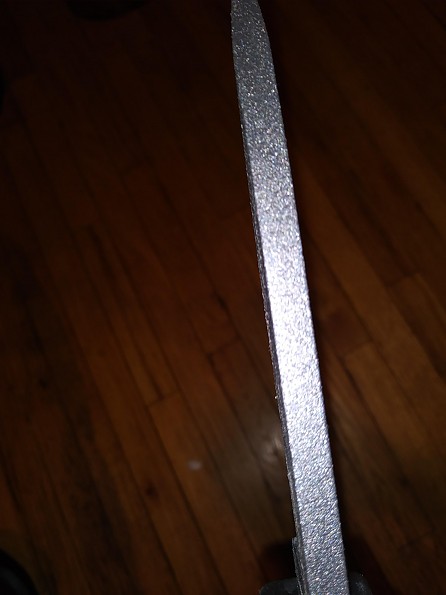 At approximately 1/4 inch thick the KA-BAR Becker BK2 can easily split logs into two using baton method and can be used as a hatchet to cut branches and small trees. This flat grind full tang blade combined with the one pound hefty weight makes this knife a replacement for an axe, hatchet, and splitting wedge for your outdoor adventures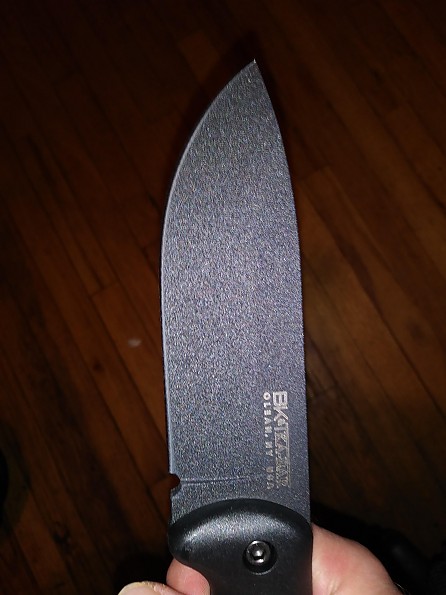 With this said, in all the many years I have owned this knife it has kept its sharpness just using a leather strap. It has never cracked, snapped, or chipped on the blade. It is very well made, with exception to the nylon part of the sheath that is attached to the moved portion of sheath. This can easily be fixed using after-market sheaths designed for this knife.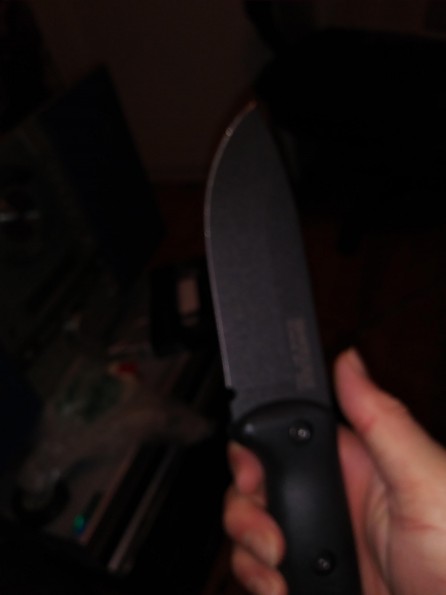 Experience
I have owned Ka-bar BK2 going on 8 years now. It always comes with me on my solo outdoor adventures camping and hiking in the great outdoors. I own numerous knives that are similar to this knife, with this one being the best of them all and all the others are my second knife that I bring and not my main knife I own—Shrades, Tops, Condors, Bokers, Bucks, Gerber, Oerla, and even a Gil Hibben Sidewinder (and that is the only knife of his I found worthy).

Due to my back I can no longer swing an axe to split logs or cut down small trees. But the KA-BAR Becker can achieve this feat for my without trouble. Instead of long axe swings I can baton or use the knife as a hatchet. The hilt has a metal window punch and can also be used as a hammer and also has a lanyard hole to threat through paracord to further prevent the knife from slipping by being connected to your wrist.

From my experience, third party sheathes for this knife are the way to go. In the rain or during a hot sweat the handles of BK2 can become slippery so may want to get sandpaper and brush the handle grips or even use gripping tape, so during wet weather or while sweating the knife doesn't slip out of your hands. There are numerous other aftermarket grip options so you can always replace the grip with one that has anti-slip features.

All in all I love the Becker BK2 Companion by KA-BAR also referred to as the "BK2" or "The Becker", not to be confused with the "Becker Necker" a neck knife from KA-BAR, which by chance I also own and will be doing a review in the future. I am glad this knife does not come with a serrated section on the knife as the way one would do Bushcrafting or using this knife as an axe or hatchet the serrated part would hinder the daily tasks. The BK2 cuts through paracord like paper.

The Becker BK2 is not for everyone. For backpackers and campers that have never carried an axe or hatchet for their trips would most likely frown at first when trying out this knife. But for those whose gear includes axes, hatchets, or saws, or those that will need to split logs or cut down trees the BK2 will be a welcome addition to your gear.
Source: bought it new
Price Paid: $125

A very sound tool for bush craft and camping. You can field dress a dinosaur and baton a Redwood into kindling, but Fugeddabout backpacking with this beast.
Pros
Feel and fit in your hand
Control and confidence in use
Maintains edge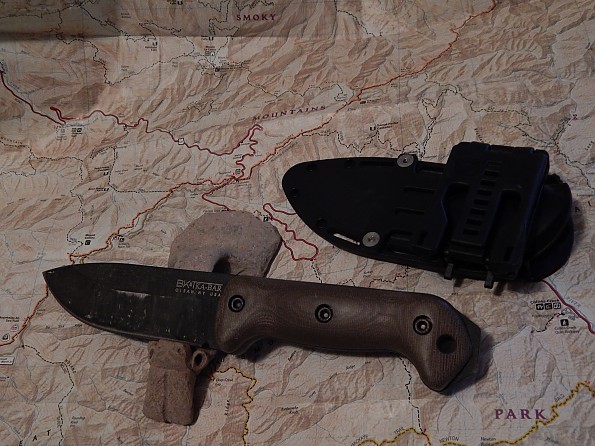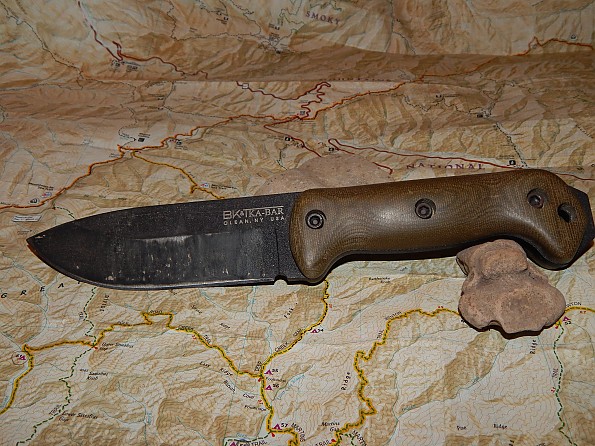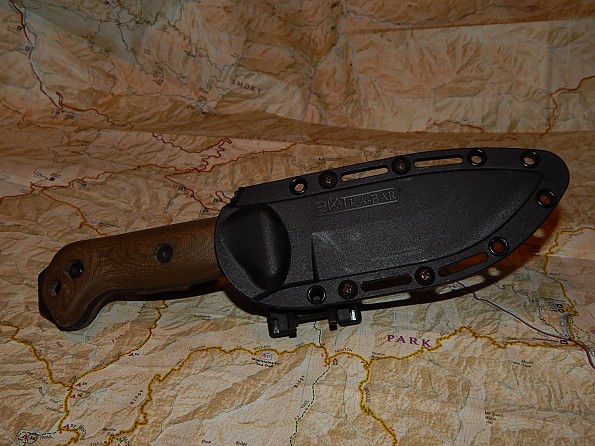 I'm not a knife collector, I'm a knife user. I do enjoy looking at them and contemplating a new purchase, but all in all, how many blades can you USE ?
After breaking my last knife (Gerber) I decided to go "durable". As soon as I opened the BK-2 box I knew it really fit and I would have a lifetime of use and enjoyment with this knife. Right away I bought a Micarta Linien handle kit and a sheath kit (now about $120 invested), and it feels even more like a favorite pair of jeans.
I took this with me on a few weekend campouts and day woods events. It rocked and drew attention like a rock star (Ka-Bar ! Heads Up, I probably sold about three of these for you). Everyone, big and small, loves it. It seems to fit everyone. Chopping? Hold the handle toward the end. Day-to-day use and carving? Batoning stumps (seriously)? No problem. It will take whatever you give it.
So, I was very hyped to take it with me for seven nights in the Smokies backpacking. A pretty tough 60 miles due to crazy altitude climbs. Well, first, where can you strap a 1.5 lb, 11" chunk of steel when you're backpacking. Trust me, I like to keep it handy so I tried my pants belt — nope. The backpack straps — nope. Backpack hip-belt — nope. Ranger style? Nope. Ended up inside my pack. Not the most spontaneous of places but OK. 
After three days of mostly hiking uphill, all I kept saying was "why did I bring that massive chunk with me"? By the time I got home, as much as I love this thing, I'd determined I'll be getting a different, primary blade. Like I said, I want a knife that gets worn and used. When I die and my boys find it in my pile of gear (before they blow it all out to the highest bidder), they'll see where I grabbed it for hours of crafting, carving, scraping, cleaning, slicing and even, maybe just admiring.
I came home, researched and bought a Helle. Haven't used it enough to review. I really, really like this BK-2. Others really, really like my BK-2. But I'm a one knife man (my wife finds comfort in that kind of single-ism). I'm trading my 1.5 lb "F-150" in for a 6 oz "Porsche". Long term, I think I made the right choice.
Source: bought it new
Price Paid: $82

A great knife, if you use it for the right purpose.
Pros
Ergonomic handle
Sharp
Well built
Holds edge well
Versatile
I've had the Companion for a little over a year now and have gotten to use it more than a few times.
The knife is a little on the heavy side, and can be a pain to carry on a hiking trip, if you carry on a belt any not in a pack.  My trouble with it has been that I have not been able to find a place to keep the knife on my belt were it doesn't bump into me as I walk.  Initially it's not a problem and I hardly notice it, but after a couple miles it begins to feel like a baseball bat hitting me over and over.  I admit though, that may be a "me" problem, and no fault of the knife.  I prefer to blame the design of the loop that attaches to the sheath, it isn't very stiff and allows to knife to swing too much.
It is a good knife to use on camping trips however.  It does work great around the camp site.  The thickness and toughness of the blade allow it to be used for chopping wood for the campfire.  It really is great for cleaning up dead fall limbs for the fire.  It will trim the smaller branches off without much argument.  The weight of it does make it useful for tapping tent stakes in, using the butt of the knife of course, and in my use the ground has been just a bit too tough to push the stakes in by hand.  Obviously, if it takes a sledge hammer to drive your stakes in, this knife isn't going to work, but in eastern forest land it has proven to be just right.
The Companion is not necessarily a large knife at 10.5 inches overall, and 5.5 inch blade length.  So, using it in places where you would normally use an average size pocket knife may be a little awkward.  Say, if you like whittling on smaller sticks, or something like that, it could be more trouble than it's worth.  
The weight can be an issue again over prolonged use.  It can tire the wrist and hand after a while.  Luckily the handle is made so it is easy for me to hold.  I have big hands though, someone with smaller hands may have trouble comfortable holding the knife for any period of time.
It does come in the black finish as seen in the picture.  The black will wear off some during normal use and sharpening.  For some it is a badge of use, for others it looks bad.  That's something you may want to think about before purchasing.
The bottom line for me is, it's a good knife when used in the right place.  It's probably not the best knife to pack on a weekend hiking trip, unless you just like carrying the extra weight.  For extended trips into the wilderness, use around the campsite, or in survival situations it is a great knife.  It is versatile in its abilities, holds an edge for a while, is easy to sharpen when it does start to dull, and will last a lifetime.  
Source: bought it new
Price Paid: ~$60

Most useless knife I've ever owned.
Pros
Made me respect and miss my Estwing hatchet.
Cons
Does nothing well
Sheath horrible, grips horrible
Too short to chop, too fat to slice
Handle bolts rust and get loose
Heavy for size
Goofy feeling in hand
Too expensive
I have owned and tested a lot of knives in the field and I really don't get the love for this model. I think people with little experience buy this and then give it 5 stars. Just look at the pics, the knives look unused. Nobody that used a knife daily could actually like this. Maybe they just like being hard on themselves trying to make this ridiculous knife perform? I just simply cannot believe the positive reviews. I bought into the Amazon rating hype many years ago and hands down it is the least effective blade ever made. Definitely the worst knife I ever bought.
I have tried to like this knife and I spent a lot of money on it in the process trying to get it better. Sheaths, grips etc etc. Made it better at everything but, you guessed, it being a knife.
It's too short, heavy and fat to do any serious cutting/chopping tasks effectively. Sure, you can do stuff with it, but at what cost? I cleaned a few catfish with it but that wasn't a pleasant experience. It takes way more effort to do simple tasks with this knife than anything purposely made. It's also not as tough as people proclaim. Just look at the tang, yep it's a skeleton.
If you must have a hammer knife-like item just get the Essee 5 which is superior in every single way. Or better yet, save the money and buy the small Estwing hatchet. I own all three. That hatchet does everything this knife supposedly does at a way cheaper price point. In fact, I'd argue my field tests prove it does much better at knife tasks as well.
Do yourself a favor and don't buy into the bk2 internet hype. It's a horrible piece of knife-shaped steel. I have tried to like it to no avail and would never carry it again. If you want a cheap bombproof knife, just buy an Ontario sp1 and save yourself a lot of hassle trying to make this bk2 do something productive.  
Experience
This is the most useless knife I own. I have tried to use it repeatedly for over 15 years. It does nothing well and was a complete waste of money.
Source: bought it new
Price Paid: $80

A jack of all trades...but a master of none.
Pros
Chopping
Edge
Versatility
Cons
Heavy
Ease of use
Handles
A knife review...I must be brave...people will hate you forever if say anything bad about their knife of choice...but I'll dare venture into this territory for the sake of those who wish to gain as much insight as possible before making a purchase.
The Becker BK2 is a knife of the highest quality...the carbon steel blade keeps an edge well...and the full-tang and blade thickness make this a knife ripe for any abuse I could ever dish out (the handles are my only concern as they require occasional tightening with an hex-key). With that said...this knife really is more of a survival knife than a backpacking or bushcraft knife. It will do just about anything you ask of it...but it doesn't do tasks as efficiently or effectively as other tools.
The weight of the knife is the real killer for me...it feels like it weighs a bazillion pounds...and it really offers the average backpacker nothing more than what a small simple blade offers...given that most of the camping tasks for backpackers really do not require much of a blade (I have used the "keychain" size Swiss army knife successfully for years backpacking).
For bush craft and carving the BK2 is simply no match for my Mora II which carves wood much easier....and which can split wood nearly as well as the BK2. Finally...if I expect to be processing a lot of wood...I am reaching for my Gransfors Bruks small forest axe and folding saw without hesitation as they can process wood MUCH faster and with considerably less blisters.
So if the knife fails in most regards...why the high rating. Well...as I said...it is built with first rate quality at an affordable price. More importantly however...if I was only given the choice of one tool to make a living indefinitely in the back-country I would choose this knife. I think this is a great knife for people into bug-out+end-of-the-world+zombie apocalypse stuff...and also for people like me that keep an "emergency" knife in the trunk of their car.
For $40 I have a knife in my car which I can (with a bit of work) make a small shelter+build and maintain a fire+and possibly process animals and plants for food if I was to get stranded at a remote trail-head in the winter. So for me then...40 for an excellent survival knife makes the Becker BK2 a great knife...and worthy of 3.5 star rating.
Source: bought it new
Price Paid: $40

Your Review
Where to Buy
Help support this site by making your next gear purchase through one of the links above. Click a link, buy what you need, and the seller will contribute a portion of the purchase price to support Trailspace's independent gear reviews.
You May Like
Specs
Price
MSRP: $146.03
Current Retail: $104.99
Historic Range: $104.99-$119.99
Reviewers Paid: $40.00-$125.00

Weight
1 lb

Blade Type
Fixed Blade

Blade Length
5.25 in

Blade Thickness
0.25 in

Blade Width
1.625 in

Overall Length
10.5 in

Edge Angles
20 Degrees

Shape
Drop Point

Tang Stamp
KA-BAR/BK&T

NSN
1095-01-493-1798

Knife Material
1095 Cro-Van

Grind
Flat

Handle Material
Ultramid

Rockwell Hardness
56-58

Knife Manufactured In
United States

Sheath manufactured In
Taiwan

Recently on Trailspace