Katadyn Combi

#4 in Pump and Gravity Water Filters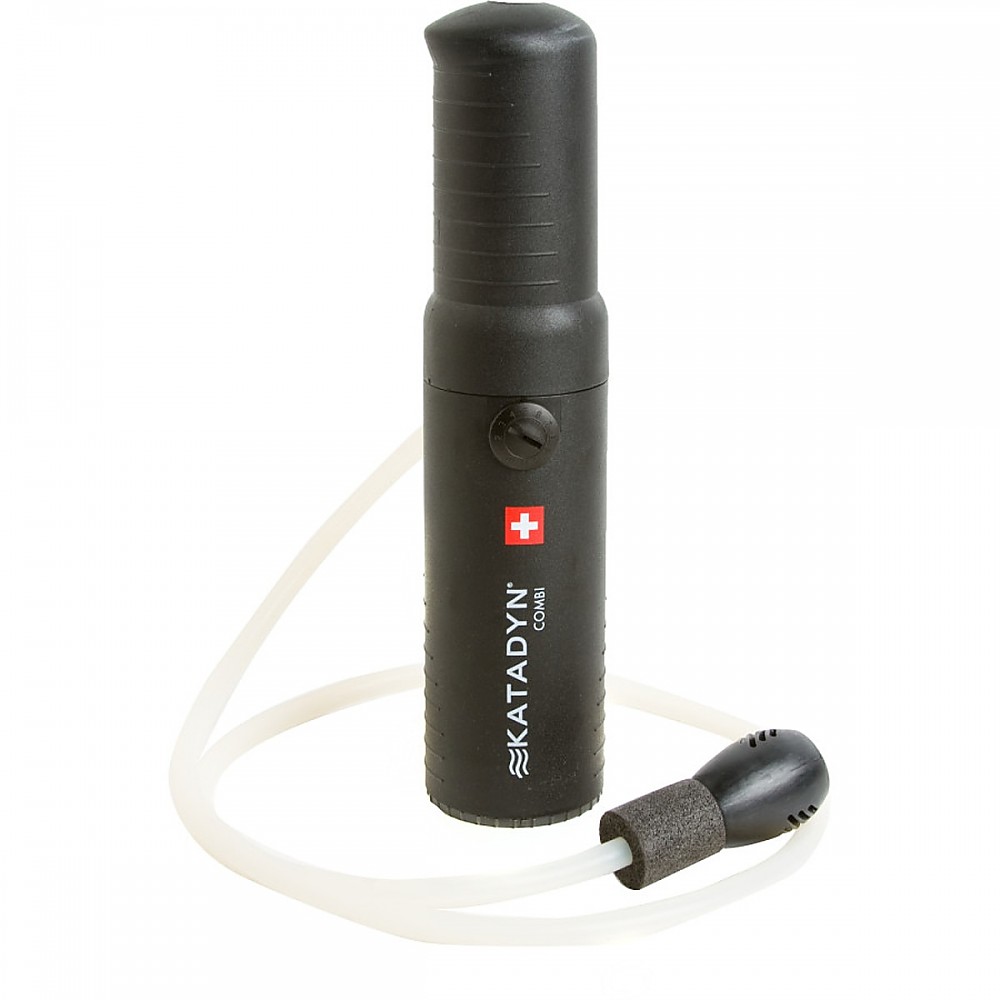 Specs
Price
MSRP: $219.95
Historic Range: $111.96-$219.95
Reviewers Paid: $100.00-$160.00

Dimensions
11 in

Diameter
2 in

Output
1 quart/min

Technology
Ceramic depth filter 0,2 micron, Activated carbon

Weight
20 oz

Reviews
5

reviews

5-star:

4

4-star:

1

3-star:

0

2-star:

0

1-star:

0
Great working, long lasting, but heavy.
Pros
Great taste with the charcoal loaded
Long lasting
This thing is rated for 50,000l like wow. It is smooth and sort of one piece with the hose detached. In my opinion it makes it unlikely to break. I've had this for like 15 years. It has been used thousands of times, all over the place, in all climates.
With the charcoal full the water tastes fresh and crisp like bottled water from the store. Charcoal takes out pesticides as well. 
It is heavy compared to tablets and other smaller ultralight filters. We will not change though. The speed and taste have us hooked.   
It screws onto the large Nalgene and some Swiss bottle. The hose has a pre-filter on the end.
Easy to use, works perfect every time.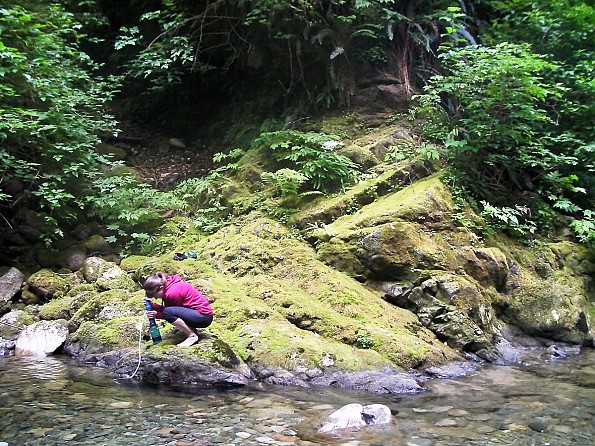 Source: bought it new
Price Paid: Long time ago, not sure, over $200

I love this filter.
I have owned and own many other types, and backpack a lot.... I also travel in odd countries, and I always carry iodine and coffee filters as as pre-filter to extend the life of my filter.
For me, the fact that it was cheaper than the "hiker" yet offered better filtration (activated carbon, too) made it a no-brainer. The water tastes sweet and the pumping goes easy.
The pump body is hard molded plastic, unlike the 'hiker's metal, but I'm not worried about it at all.
The two caveats are that one should prevent it from freezing, or the ceramic will crack, (replacement ceramic only: 50 USD) and it is not an ultra-light pump for solo camping: But it will suffice for a larger party: We pumped for 12 using this filter alone. As a guide, it is my first choice to bring with me. At 30,000 gallons, it will keep pumping!
What a bonus, too, that you can use it in your RV or sink or wherever! I made a cool base-camp D.I.Y. sink from "instructables" (that's the url) with this filter as a flow-through - amazing! See the instructable titled "field sink".
Obviously this filter is a great choice for emergency preparedness, also B)
Highly recommended.
Price Paid: $150

I've travelled and used this filter for over 20 years and never had a problem. The best I've ever seen and you avoid all these anoying plastic bottles.
Pros
Easy to handle
After over 20 years it is still as new and I can still get the replacement for it.
Even used it with slightly salty water on the islands in the Philippines
Cons
No cons at all. If you think about the weight just consider that you don't have to carry all this extra plastic water bottles.
Just as an additional comment: the usage and cleaning of the filter depends a lot on how dirty the water you are filtering is. Whenever possible I filtered the tap water which made it easy and the taste was absolutely perfect. It even filtered out the disgusting taste of chlorine.
Experience
It's the best if you travel to remote places like mountains, forests, and islands.
Source: bought it new
Price Paid: I don't remember but I bought it in Switzerland

Great device.
Pros
Silver ceramic AND carbon filtration
Swiss-made device
Cons
Heavy
Plastic is tough but not metal
I have a few Combis. Used one with mountain water in Auburn, California, and didn't have a problem.  In fact, the water tasted amazing.
Source: bought it new
Price Paid: $100

Bought this filter in the spring and took it for a number of kayak/canoe trips over the summer. It was my first filter, but I'd had some experience using various other filters (belonging to friends) in the past.
I think the advantages and disadvantages of this filter were made obvious on one particular 5-day river trip, where my friend brought along his brand new MSR filter (waterworks?), and me my Combi. We'd often filter water at the same time in camp or on portages, and for the first few pumps the less expensive MSR filter seemed to match my Combi in both speed and water clarity (not that water clarity is necessarily proof positive of safe water).
In fact, I was even a bit jealous of my friend as the MSR's lever pumping action made it easier to grip than my Combi's piston action. This was compounded by the fact that the Combi didn't seem to grip the Nalgene bottles tightly enough and I ended up having to squeeze my bottle between my legs in order not to drop the whole assembly. (I later found out that the gripping piece that came with the filter was either broken or misshapen, and the replacement piece works perfectly.)
It wasn't until I was about a third of the way through filling a Nalgene that the Combi really hit its stride. I'm not sure how it worked exactly, but the Combi seemed to use built up pressure to dramatically increase filtering speed over the MSR filter, and after about twenty pumps or so, the Combi just took off and finished filling bottles in no time. It completely left the MSR filter in the dust and I was must have finished in a third the time it took my friend. The Combi seemed to use built-up pressure in the filter chamber to increase it's efficiency, and boy did it work.
I'm extremely happy with my Combi filter. Its speed and efficiency by far make up for its initial problems and difficulty of use. I'm not sure if anyone else has had the same Nalgene (or other bottle) gripping problems that I did, but if so I suggest you replace the gripping piece with a new one.
Price Paid: $160

You May Like
Recently on Trailspace