Katadyn Exstream XR Bottle Purifier

The Exstream XR Bottle Purifier has been discontinued. If you're looking for something new, check out the best water purifiers for 2023.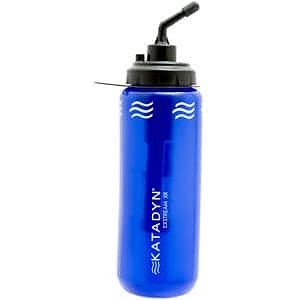 Works great, simple design, reasonably priced.
Pros
Easy to use
Works as intended
Cons
A little on the heavy side
This is a basic, simple to use water treatment product that works very well. Treats even the most suspect water and makes it good to drink. Works great for an individual and you get a lot of use out of one cartridge.
I have used it many times and with just rinsing the cartridge good between uses it continues to give good results on filtration. It's probably one of the most convenient water filters you can carry and other than the fact that it is a little on the heavy side when full, it works awesome.
Source: bought it new
Price Paid: $39.99

I read the reviews above. These types of stupid online feedback sites makes anyone an expert...which causes more hard than good.
While searching the internet, I came across this web page and read the reviews on this wonderful personal water purification system. The intent of this system is to provide an ultralight, bare minimal option for drinking water. When hiking in a desert, this was really a stupid move. A personal hydration system should be used when in high drinking water demands as far as the hydration comments above.
I use this system as intended. My last mountaineering adventure was the result of a short side line road trip in a remote part of the world. My companion and I came across a mountain range and headed off for a short climb. We reached a level where we reloaded our Exstream bottles from a pool of water that was created by melting snow. Yes, there were tiny worm-like things moving in the water! This water was used as we made our short day climb.
If the directions are followed, as intended, it takes 2 to 4 seconds for water to work its way thought the iodide cartridge, killing the intended bio hazards. Simple... read the instructions and understand what this purification was intended for before thinking about purchasing one. The iodide resin technology is not healthy for long term use; therefore do not consider this system for everyday gym, etc...
A 5 star product from the Swiss. A climb with a hydration pack was not the proper tool for our fast and quick light trekking around the mountains for a couple hours.
Price Paid: $42.99

This is one of the best backpacking purchases I have ever made. I love backpacking, but there are a few aspects of it that I really don't enjoy. Pumping water is one of those things. I have been using the Exstream for two and half years now and I couldn't be happier with it. It is so convenient to just scoop and drink. I haven't experienced any difficulty getting water out of the bottle and it has functioned flawlessly.
To use the bottle, you unscrew the lid, dip it in the water source, screw the top in and squeeze the bottle to drink. Understand this isn't a filter, it's a purifier. No waiting, no chemicals, no sweat.
I have the older-style bottle and it weighs 8 ounces empty. The internal filter cartridge must be changed periodically. I changed my cartridge after two years and I backpack quite a bit.
The one qualifier I would have to point out is that I hike in the Pacific Northwest. There is no shortage of water sources in the areas I frequent. In those situations the bottle is perfect. If you are in a more arid locale and trying to scoop the water from a small, shallow water source, that might present a problem.
Price Paid: $40

There is a little work involved with this product, but I don't really have an issue with it. Squeezing a water bottle from time to time shouldn't push anyone's limits, especially if he/she is hiking with 25-35 pounds on his/her back. This was in my price range and that means I have limited ability to moan and complain about having to work for the safe water, which I faithfully feel is purified through my use of it, internet reviews, and the web site info.
I have put some fairly nasty water in this beast and have never suffered from a belly ache or angry butt. On longer trips, I fill up an empty CamelBak on the trail rather than carry a lot from the get go. I am pleased with it and resist the temptation of going all-out with a $100 plus product. The filter is pricey at $40-ish; however, the filter is the major component of the product, so it makes sense that the filter is almost as expensive as the whole product.
There are some things worth complaining about. . .the reasonable cost of the Katadyn Exstream XR is not one of them. It works for what I need it to do.
Price Paid: $48

This bottle/purifier idea sounds great BUT I found that getting a decent flow of water from these are next to impossible, which is why pump-type filters have taken over the market. It's especially frustrating when doing any desert hiking, where you need copious quantities to stay alive, and water must often be scooped out from shallow pools. Also, I found the filter clogged easily in silty water conditions, and is expensive to replace. Not recommended
You guys having trouble getting water out of it, should take the seal off the top of the virustat cartridge. There is a little plastic protective seal on the top of the new cartridge. The directions are printed on the side of the bottle.
I use mine on short hikes on the AT. It works great. No worrying about the crud. And its so fast and convenient. Just dip and sip.
Price Paid: $30

Great filter... if you don't want water... However I have never succesfully gotten water from it. I hate this thing. You give yourself arthritis trying to squeeze water from it. I am pretty disappointed. Pass on this junk. The Virustat replacement cartidges cost nearly as much as a whole new bottle.
Price Paid: $45

Your Review
You May Like
Specs
Price
Historic Range: $34.93-$49.95
Reviewers Paid: $30.00-$48.00

Recently on Trailspace