Katadyn Guide

Top 25 in Pump and Gravity Water Filters
The Guide has been discontinued. If you're looking for something new, check out the best pump and gravity water filters for 2023.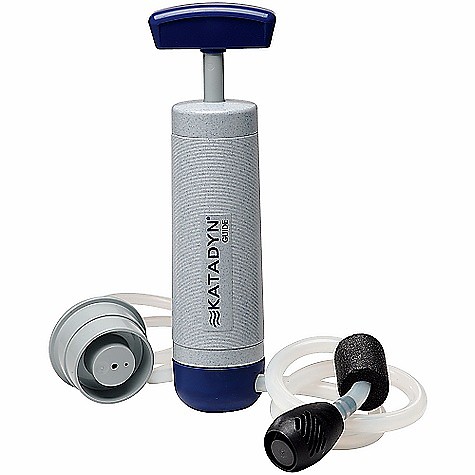 Although a little heavier than other filtering units, this is the best one I've come across, that also has a reasonable price tag! When I bought this unit in 2004, this was the fastest and required the least effort to produce a litre of water.
I had a chance to directly compare 12 filters and this one came out at the head of the pack. The only downside is that the elements are fairly expensive and do require replacing after its useful life has been exhausted.
On the upside, these filter elements last a long time. I have three years on my current element and it's performance has not deteriorated noticeably. I've used it everywhere from turbid desert creeks, heavily laden with red sand,(SE Utah) to silt laden glaciated streams in BC and it still produces 1 Litre of water in 34 effortless strokes. Filtered water literally gushes forth.
No awkward levers to wrestle with. The pump arrangement is IMHO ergonomically easier to use. I bought the optional attachment that allows you to directly attach the filter to a Nalgene or MSR Dromedary. I believe they (attachment) are included in the Kat Guide Pro unit package.
I would not hesitate to buy this filter unit again as it's 'a keeper'!
Price Paid: $79.99

Put side by side with my MSR Miniworks EX this sucker beat it in speed and # of pumps by about twice as fast. I don't believe it is a better pump but it is really fast.
I wish it wasn't discontinued due to fear that the filter replacements will be hard to find. Supposedly they are going to still be available though. If you find a PUR Guide water filter it is literally the same filter, as a matter of fact the one I own is actually a PUR water filter. It worked really well filtering lake water and it tastes just like tap water.
I would recommend buying the water bottle attachment if you have a standard mouth bottle because it makes it lighter and takes the place of another hose and attachment. It is also just easier to use with the adapter. A good filter.
Price Paid: $40

High water output and easy to pump but I think this is designed to filter melted snows and glaciers where water is clear. Excellent when used in clear waters, but when in tropical setting where water is settled with algae and sediments the element filter will be good only for single use. Element filter is hard to maintain in the field. Impurities in the element filter cant be removed by just swishing in the water, high pressure must be applied.
Price Paid: $84

Used this filter to primarily filter very clear Lake Superior water for a week. Blows away all other filters for speed. Ergonomic with the center pumping handle location. I mated with a wide mouth Nalgene bottle (adapter came with filter). Liter-per-minute seemed underrated - more like a liter and a half. Carbon core gave great taste.
One drawback - filter is not easy to pull out and I had trouble seating the replacement filter rubber gasket properly.
Price Paid: $69.99

This is an excellent filter. Though notably heavier than the Katadyn Hiker, it features an easier-on-the-hands pump and filters the water much faster. In fact this is the fastest water filter on the market! No MSR, Sweetwater, or Katadyn filters any faster. If weight can be overlooked definitely get it.
Price Paid: $89.99

Your Review
You May Like
Specs
Price
Historic Range: $49.95-$84.99
Reviewers Paid: $40.00-$89.99

Recently on Trailspace