Kayland 8001

The 8001 has been discontinued. If you're looking for something new, check out the best mountaineering boots for 2023.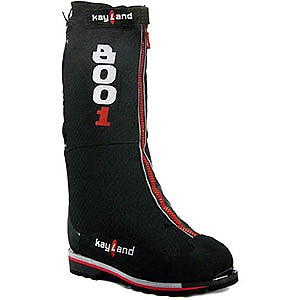 Pros
Confortable right out of the box
Rigid
Cons
Front exposed zipper might create problem
Integrated gator does not stay put
No gator hook
No membrane for waterproofness
A better insole is a must
I did not understand if 200 gr primaloft insulation is enough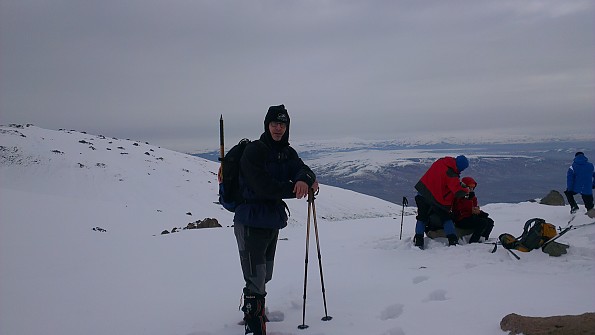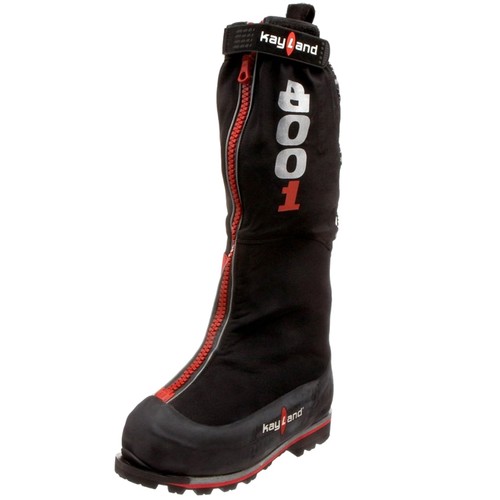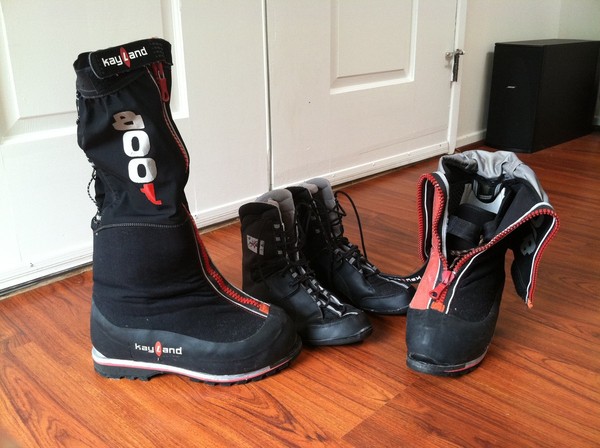 It's an outdated model from Kayland. They took these from the production line two years ago, if I am not mistaken. I bought the boots from a Spanish ebayer who was liquidating his mountain gear store two months ago. They looked solid and well build when I took em right out of the box. Having a double boot which is a first time for me, made me think my feet will never get cold until I snuggle in my sleeping bag and indeed, I was very comfortable when I wore em during a 4000+ m summit attempt last weekend. Weight-wise they are heavy compared to lighter alpine boots, but the warmth they provide overshadows the weight issue. The boot itself is pretty much a mountaineering boot with all the necessities except a membrane. The Velcro strap, just like the one in ski boots, right above the boots lacing locks the upper and the tongue around the user ankle tight, making quick put on and take offs easy without tying and untying the boots all the time while on the camp site. Neoprene impregnated/glued Kevlar and a wide rubber rand covers and circles the pack leather boot. I know it's a big mistake to take a new pair of boots to a summit attempt, but I did it by taking these to one particularly hard one this last weekend. I thought having an independent separable boot inside the rigid one would have shortened or eliminate the break-in period. No exaggeration, but it sure did just that and I got no problem. Although, they seamed and felt OK to wear in the first glance, after a 10+ hour climbing adventure in them, I felt discomfort on my soles, particularly on the right one. I presume this discomfort also made my right foot susceptible to cold as well. However, cold feeling did not last long, it came and went on and off for a couple of times. The discomfort I felt was definitely due to not so quality insole that came with the boots. At the end of the day, my feet was dry except the perspiration. When I unzipped the boots, I saw dampness on the neoprene, but it did not pass through the inner boots. The integrated gators stitched above the Kevlar cover are flimsy and do not stay put where they reach under/around ones knee, better to use a real gator on top. However, due to very centered all the way zipper which looks heavy duty, no front gator hook is placed on the boots. It's a mishap, but not too much of a big deal. Overall, they felt OK, however do they perform flawlessly above 7000 m just like the model name claims? try and see on your own risk, I do not think I will ever get that high.               
Source: bought it new
Price Paid: 200 Euros

Your Review
You May Like
The 8001 expedition is a double wall boot for arctic expedition use and mountaineering above 8000 meters.
Recently on Trailspace