Keen Durand Waterproof Mid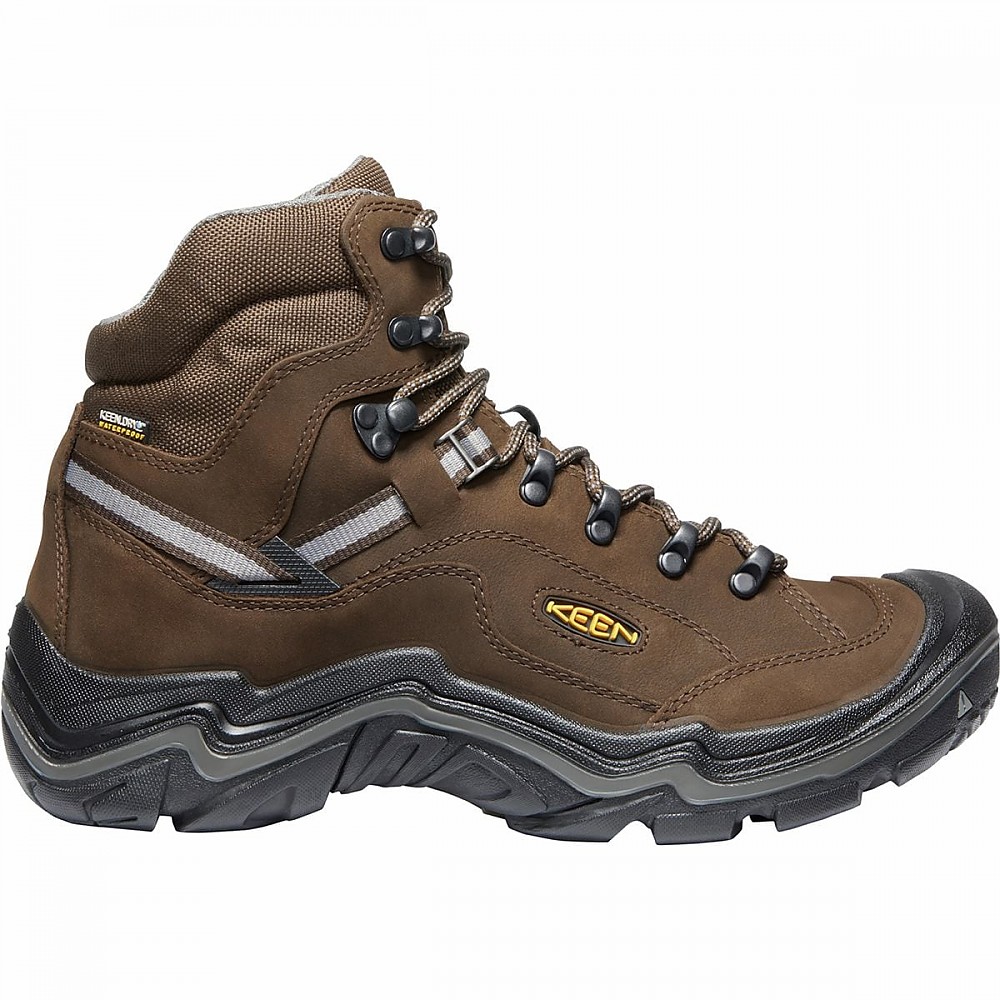 If you can deal with the large toe box and keep your toes from smashing into the end while descending you might like these boots. If you have super wide feet maybe.
Pros
Durable
Great grip
Very waterproof
Cons
Hopelessly wide toe box
Lacing system is inadequate
Footbed is too thin
Keen makes some great sandals, the ones with the rubber toe cap. They also make some decent shoes.  I think these boots are a fail though, at least for my feet.
In their defense I did a few things these boots were truly not designed for. Maybe the title of this review should be: Things NOT to do with your Durands. If you want to just read my gripes skip to the Problem section.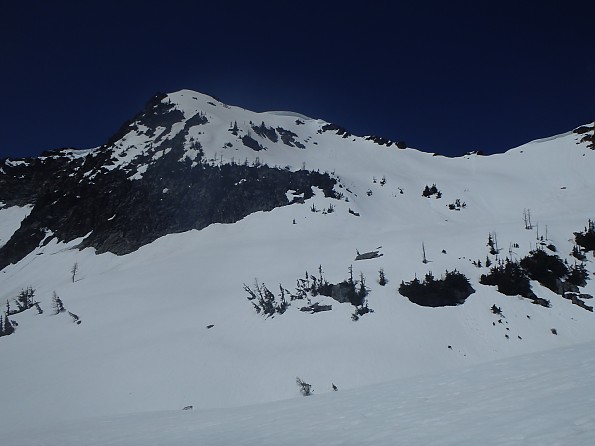 Probably not what they were intended to be used for, but they did pretty well and stayed waterproof. Strap-on crampons are not their thing though.
Testing:
I tested the Durand boots on several day hikes this spring and summer above the tree line. I hiked on trail, off trail route-finding (I was NOT lost ;) and over boulder fields. I took them up to Icicle Ridge and Grindstone Mtn summit scrambles. I had to finally stop taking them along because of one huge issue you can read about below.  Finally, on my kid hike last week, I left them at home and went with my running shoes. I couldn't bring myself to wear them again. My camera suffered a disaster and lost almost all of my pictures unfortunately.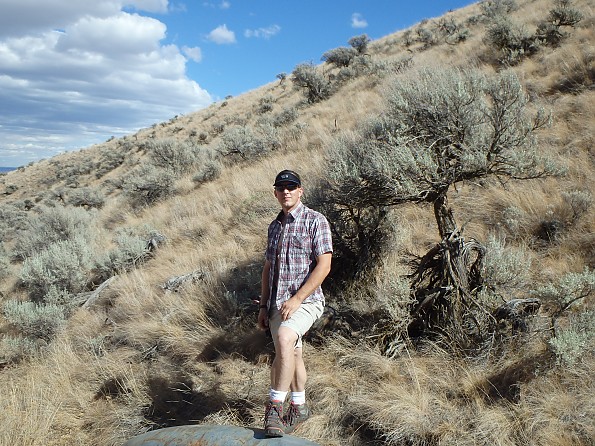 For moderate hiking with limited downhill walking (it's possible) they are decent.
Fit:
These boots fit like a sneaker. As a matter of fact I caught myself wondering why I didn't just wear sneakers instead a few times. But as far as fit goes, they are, to my middle-average sized feet, clown shoes. Keen shoes look great with their huge toe box and, if you have ultra wide feet, they might be the ticket for you.
I wear size 9 to 9.5 and tested the size 9.5.  I have average to slightly wide feet. The Keen boots were still far too wide for my feet. I tried to tighten the laces to fit me but it just made my instep hurt. Trust me I tried several different lacing ideas; tight instep, tight ankle, loose all over, tight all over, nothing worked.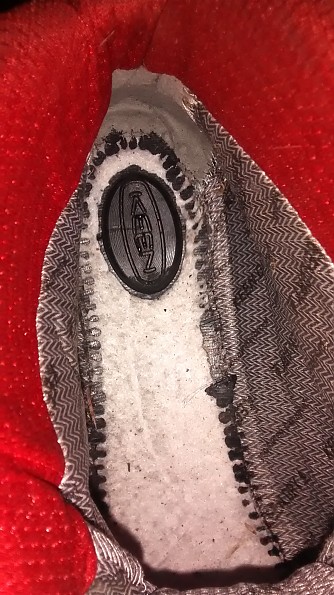 This rubber heel pad feels really nice. The mid-sole under the rest of the foot is too thin IMO.
Comfort:
They are plush inside like sneakers. Your toes will never be cramped inside the large toe box. The ankle cuff is super padded and gives decent support.  They fit like shoes, feel like shoes and perform like shoes, till you walk down hill.  Then your toes might butt into the end of the toe box as mine did, causing me much pain.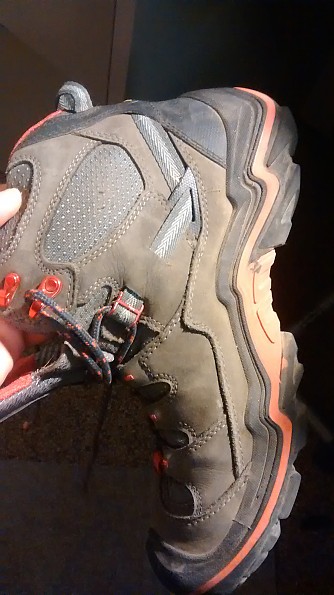 Even after testing they clean up really nice. Almost zero noticeable wear.
Water Resistance:
In this category they crush. I hiked through creeks, through DEEP mushy spring snow (worse than rain IMO) and they never leaked a drip. I can honestly recommend them if they fit you and you need good waterproofing.  They breathe better than most WPB boots and after a punishing day of snow, creeks and dirt, my little piggies were cool, dry and blister free.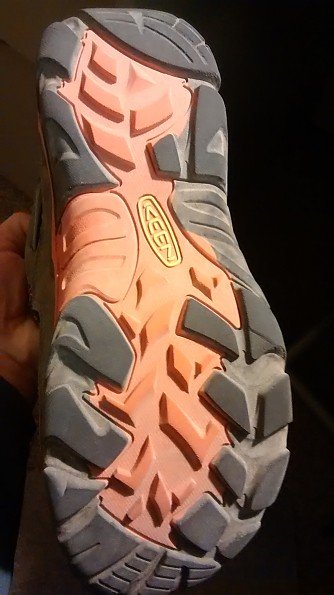 A soft rubber compound makes rock-hopping a pleasure. I gripped like Spiderman.
Traction:
I did about three miles of boulder hopping in these boots and they grip like glue. The soft rubber compound, likely to wear out like butter on pavement, is great for scrambling.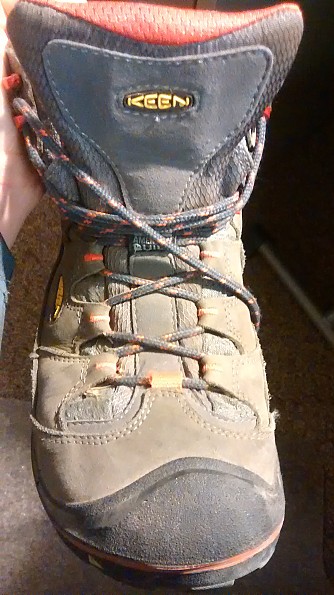 Trademark rubber toe cap and hopelessly wide toe box. But seriously ZERO wear or failures.
Durability:
After each of the abusing trips I washed them in the sink, scrubbing them with a brush, and each time they came out looking almost brand new. After hard use they had zero stitch issues and seemed to take the beatings like a man.  In this category they also shine.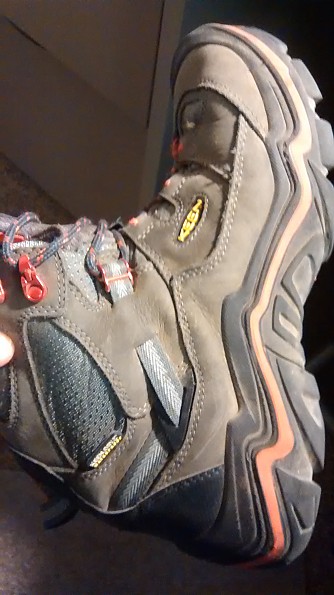 They do look really nice.
The Problem:
These boots look and feel super plush, until you walk down hill. That huge, clown-shoe toe box makes it impossible to keep your toes from ramming into the end of the boots during descent. For a little hill it's okay but after 2-3,000 feet of downhill I was ready to rip them off and go barefoot.  Combined with the thin mid-sole that allows you to feel all the rocks underfoot and my feet were angry. 
Best For:
Very light hiking on level trails with really wide feet that fill the toe box snugly. I know a lot of Keen fans will be mad, but I can not recommend these for any kind of real hiking, which is sad because its a local company I'd like to support.
For those of you who like to LOOK outdoorsy at work, in class or around town (you know who you are) these might be the ticket.  The waterproofing will be great as you walk to class in the U-district or go to the EMP or catch a Mariner's game. If that's your bag then yes, these are stylin' kicks that will go great with the TNF summit pack you bought to carry your books to class in.
Source: received for testing via the Trailspace Review Corps (Sample provided by Keen for testing and review)

I bought the winter version of these boots and love them so much that I bought the summer version! These boots never caused any blistering, they were super warm but I did not sweat in them, great stability in rough terrain, waterproof in slush and high snowy areas. I can't say enough about how awesome they are!
Pros
Warm
Waterproof
Rugged
Great grip and traction
Great ankle support
No blistering
Great fit
After carefully researching winter hiking boots in stores and online for a month I finally purchased these boots and it was the best winter boot purchase I ever made! These are the only winter boots I need for all outdoor activities. I wore them snowshoeing, hiking, playing in snow, working outside in the cold and rainy muddy areas And they proved to be awesome!
My feet are always warm with no need for foot warmers. My feet don't sweat at all. I'm sure my choice in socks helps (merino wool blend socks always).  
I'm very happy with my purchase and I got them on sale which was so hard to find! I searched over 20 stores online and locally to see who had the best prices and my size (8). Believe it or not after all the outdoor stores I found the best deal on Amazon! I just couldn't believe it! These particular boots for some reason are very pricey.
I highly recommend buying them right now on the off season. You can snag these for $119 at Nordstrom Rack, and $159.99 on the KEEN website right now! Wow, what a deal. I bought mine in December and paid $169! Which was a deal then because everyone was selling them for $200 or more! These boots were worth every penny! I will never need another winter boot. 
Source: bought it new
Price Paid: $169

Lightweight hiking boot with a roomy toe box.
Pros
Roomy toe box
Lightweight
Inexpensive
Cons
Slippery sole
Weird last lace
I purchased these boots because of the nice roomy toe box and their light weight. Most hiking boots today seem to have a narrow toe box which is OK if you have a pointy foot. 
I am a little disappointed in them. They turned out to cause my foot to blister in the heel area on a very steep rough hike. I have not noticed the same problem on level trails. The soles are very slippery on wet rocks.
Also, the construction of the cuff area around the Achilles tendon is kind of weird in that it dips down in back. It caused pain in my right foot's tendon but not my left. I thought it would break in but I ended up putting a 1/2 in. slice in the back to re-leave the pressure.  
Size wise they run a little short, so you have to order the next size up. Some people have complained about a heel dimple underneath the footbed causing pressure annoyance. I did not feel it but I also replaced the stock foot bed with an over-the-counter orthotic. 
The last lace is stupid in that it is not a hook but a closed loop. The two right below it are hooks. You can get used to it but it is just stupid design. I will still use these boots but they would not be my go-to boot for any tough hikes.
I tried to make them work rather than send the back because of the roomy toe box and light weight when you want to pack them in luggage, but I would have sent them back knowing what I know now. I did not get to test the water resistance.
Source: bought it new
Price Paid: $144

Pros
Bridge of the foot, not cramped
They feel like a custom boot
Excellent traction
Soles allow me to feel the contour, thickness allows feel
Cons
Upper lacing could be engineered a little better
Tongue barely too narrow
Heel sole pattern, needs one more deep cut
I have to say my feet are ultra wide, and that this boot and fit are absolutely fabulous for me! I could not be more pleased. Also I don't have any foot slide forward problem pushing a downhill hike.
I've tried almost all of the top reviewed boots out there, and if you have a fat foot with a good arch you won't find a better fit! These fit like a glove and support my ankles with grace and firm reinforcement!
Source: bought it new
Price Paid: $180

Pros
Comfortable
Warm in winter
Wide toe box
No blisters and no break time at all
Cons
Not so breathable
Leaked after about year or so
Slippery on ice and wet surfaces like rocks and roots
Not for downhill hiking
Definitely overpriced
I've bought it on sale for about 90€ and I think it's ok price for these boots. I said overpriced because before sale the price was about 150€.
Keen has its own membrane and I don't like it because it's not breathable as I expected and didn't last long. IMO definitely not for warm weather. Comfortable in winter and in this case breathability is not problem. Maybe the quality is not that good here in Europe as in USA. Started to leak after year or two and I didn't use it much. 
I prefer some nubuck leather  boots instead. These are more like shoes or sneakers, so keep that in mind. Not for serious hiking, more for daily walking on the trail for about 5 to 10km without serious uphill and downhill. I'm surprised that there is no break-in time at all and no blisters in my case. 
Since the outsole shape is with rounded edges I think it is not good for serious trekking and hiking, but could be useful on flat surfaces.  
Background
In my experience decent for everyday walking.
Source: bought it new
Price Paid: 90€

Durable, comfortable, and lightweight. Great for wide flat feet.
Pros
Durable
Lightweight
Good traction
Waterproof never fails
Cons
Seams separate near the small toe
Another writer says they are not for serious hiking, but rather for looking like an outdoorsy person. I don't know what this writer considers real hiking, but this is what I do in  them. I never see a trail where I go cause I'm a land surveyor.  I am in swamps, hills, creeks going up, down, through thick underbrush, rocks, sand, and any other conditions you can imagine.
These boots do it all. I'm on my third pair and ready for a fourth. They last me about a year before the traction is not sufficient anymore. Mind you that I wear them five days a week for work, and on the weekends for yard work or any adventure I may go on.
Their true test is my job. I doubt any trail can throw at them what I do. The best part is, that even after a year plus and worn to nothing, the waterproofing is as good as the day I bought them. I stand in creeks while coworkers go running for their muck boots.
These are not wanna be boots by any stretch of the imagination.
Background
Tons, tried many boots over the last decade, these are the only ones I will wear.
Source: bought it new
Price Paid: $180

American Made Built-In Heel Pain.

Who's bright idea was it to put the raised black rubber rock in the center of the heel area?

If you like hiking on a rock under your heel, by all means buy this boot.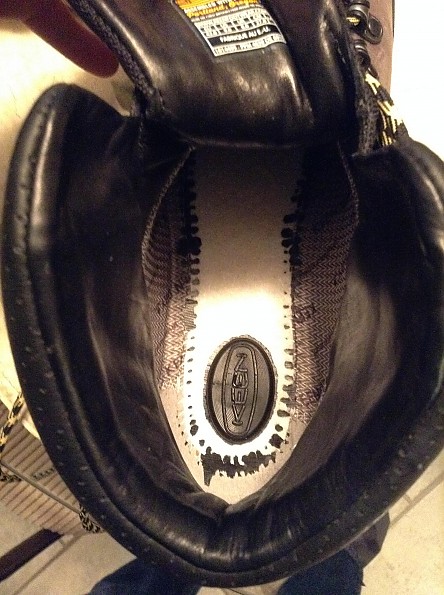 The most stupid design ever with the raised hard rubber rock under the center of your heel pad.
i had to void my warranty and cut the rock out so I could use the boot. I like spending good money and voiding the warranty a week after buying a product.
You can always buy one of their Made In Vietnam boots if you prefer not supporting their American Factory Workers in Oregon.
I should have bought a pair of Limmer Lightweights for twice the money. One piece leather upper, glove leather lined, Vibram soles.
Great boot otherwise.
Your Review
Where to Buy
Help support this site by making your next gear purchase through one of the links above. Click a link, buy what you need, and the seller will contribute a portion of the purchase price to support Trailspace's independent gear reviews.
You May Like
Specs
Men's
Price
Current Retail: $209.95-$210.00
Historic Range: $86.73-$210.00
Reviewers Paid: $144.00-$180.00

Women's
Price
Historic Range: $43.73-$180.00
Reviewers Paid: $169.00

Recently on Trailspace