Keen Newport Trail WP

The Newport Trail WP has been discontinued. If you're looking for something new, check out the best trail shoes for 2023.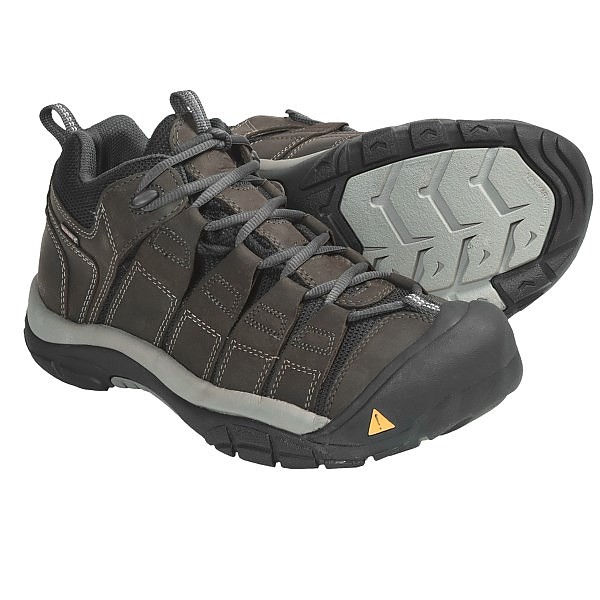 Bough the shoes at a local mall shop. Had them for about 8 months when the sole started to come undone.
Pros
Very comfortable
Waterproof
Wide toebox
Cons
Durability is not very good.
The adhesive which holds the sole to the shoe loses its bond
I've purchased a pair of shoes for $130. Took about a day to break them in. They were the most comfortable shoes out of the box that I've owned.
However they did not last long. I have worn them as everyday hikers and shoes. The soles stated to come off at the 8-month mark. I've contacted the manufacturer and they have send me another pair...which lasted for 6 month.
Keen has great customer service, but shoes are not durable in the long run.
Source: bought it new
Price Paid: $130

Since I love my Newport sandals I thought these would be perfect. The pair I have must be defective. The left boot's sole has no flex and the right one has tons of flex. When I walk on cement the left shoe makes a slapping sound. These are comfortable to wear if not walking. I can get by in them for 5 miles, but beyond that they kill my feet. I've had them a month and am shopping now to replace them.
Use: 10 mile day hikes
Break-in Period: none
Weight: 235
Price Paid: $90

just the basics

1) Not going to keep all water out even with the WP version. The slits run all the down to the sole.

2)great for my double E wide foot!!

3)lasted 3-4 years with out any damage, mostly the damage came from myself slipping the shoe off without unlacing. And i beat on these shoes, excellent build quality.

4)not going to cut it in New England winters even with a bigger sock.

5)arch support was good

6)IMPORTANT!!!!!The toe protection will give you a very unstable hiking feel in the toes. If you do any bouldering or scrambling on your hikes the toe protection is way to broad and sometimes i slipped because of it.

Other than that stuff this shoe was excellent for wide foot people. Anything other than winter and this boot rocks! It also did moderately well in Colorado rockies where i used to live and where i bought these. BULLET-PROOF
Materials: e-vent, leather,
Use: short and long hikes, bouldering, scrambaling, everyday use
Break-in Period: 1 week
Weight: ???
Price Paid: around 125

A nice and comfortable light hiker that is probably best suited to urban trekking and well-groomed trails. Excellent fit and feel for my foot. I have a narrower heel and midfoot, and a medium sized forefoot. Overall I am a medium width. However my toes do not taper sharply like most manufacturers build shoes for. Keen on the other hand recognizes this form, and builds shoes to accommodate this.
Thanks Keen!
On their website, Keen recommends up-sizing half a size for this shoe. People in many other reviews have as well. However I purchased my measured size of 10.5, and felt that going up half a size would be too large unless I intended to wear thick socks. Perhaps those with wider feet (E or EE) might prefer to size up, but if you are a medium width stay with your measured length. By comparison, I do need to size up half a size to fit the Targhee - the Newport last fits more true-to-size than the Targhee last.
The Newport Trail WP offers decent midsole support and rigidity yet quite flexible. Much better midsole support than the Merrell radius and Moab Ventilators. Also has great arch support, uncommon on most shoes these days I find which require me to spend an additional $40+ on superfeet insoles. Some may find this arch support to be overkill for them, but the footbed will probably compress with time to better fit your foot contours.
I will be using it mostly for wearing as a winter shoe and cycling in wet weather during the summer. Although called a boot, this is really just a slightly high-cut shoe. I picked these shoes up after initially looking at the Targhee II. These feel more solid and potentially offer better venting and fit a slightly wider than the Targhee II boot. They don't have the same aggressive lugs as the Targhee though, so traction will probably not be as good in snow and mud as the Targhee, but so far seems fine (have yet to walk in snow). The back of the Newport is the same height as the Targhee II, but the front is slightly lower making it more flexible around the ankle - good for cycling.
The footbeds are a comfy but slick-surfaced foam that is strongly scented. I like the scent, which is reminiscent of baby powder, though I find it a little overpowering at times. I can smell it when wearing the shoes even. This may be an issue for those with sensitivities. I believe this scent is related to the antimicrobial surface treatment - this footbed, combined with the Keen.Dry membrane, makes for a very sweaty, and therefore potentially stinky foot.
This boot is warm, even when it's cool out. However that is par for the course with ANY waterproof shoe if you're like me and have sweaty feet! It does mean you'll need to wash the footbeds regularly though, and change your socks more frequently. I can't vouch for the effectiveness of the membrane yet. I am not a fan of how slippery the footbed feels when damp from sweat, but they seem to hold my foot in place fine.
Overall an excellent shoe, better than I expected. Still hard to justify the cost in Canada - Keen sells their footwear a lot more expensive in Canada than the USA for no apparent good reason. These retail for $110 USD in the USA, but Keen lists them at $170 CAD on the Canadian Keen website.
Considering the exchange and the market size here, this is preposterous! I managed to get mine for $105 because they were a return that had been worn outside - I probably would not have paid the $160+ tax being asked by the retailer for them new, and would have had them shipped from the USA. However to be fair, several other companies do the same, most notably Merrell.
Materials: leather, nylon mesh, Keen.Dry membrane
Use: Urban walking, light trail use
Break-in Period: None.
Weight: ~1 kg per pair
Price Paid: $105 CDN (discounted)

I bought the Keen Newport Trail WP at a closeout at Eddie Bauer. They only had 2 sizes and one of them was mine. The price was great so I decided to take a chance.
I have used them twice, both time in extended rain and cool and clammy weather. The last time I used them I hiked over 12 miles on a very rainy day with lots of puddles and wet grass and dirt. Needless to say, the boots were extremely comfortable and totally dry. Plus my feet felt very comfortable and not to hot or cold --- just right.
I have other waterproof boots in the past and they have become wet. These were fantastic. Knowing what I know now, I would buy another pair even at full price. Great value!
Arnold Sanow
Materials: Keen Dry - like gore-tex
Use: day hikes
Break-in Period: Immediate
Weight: 20 ounces
Price Paid: $39

Your Review
You May Like
Specs
Price
Historic Range: $64.83-$109.95
Reviewers Paid: $39.00-$130.00

Recently on Trailspace