Keen Targhee II

The Targhee II has been discontinued. It was replaced by the Keen Targhee III Waterproof.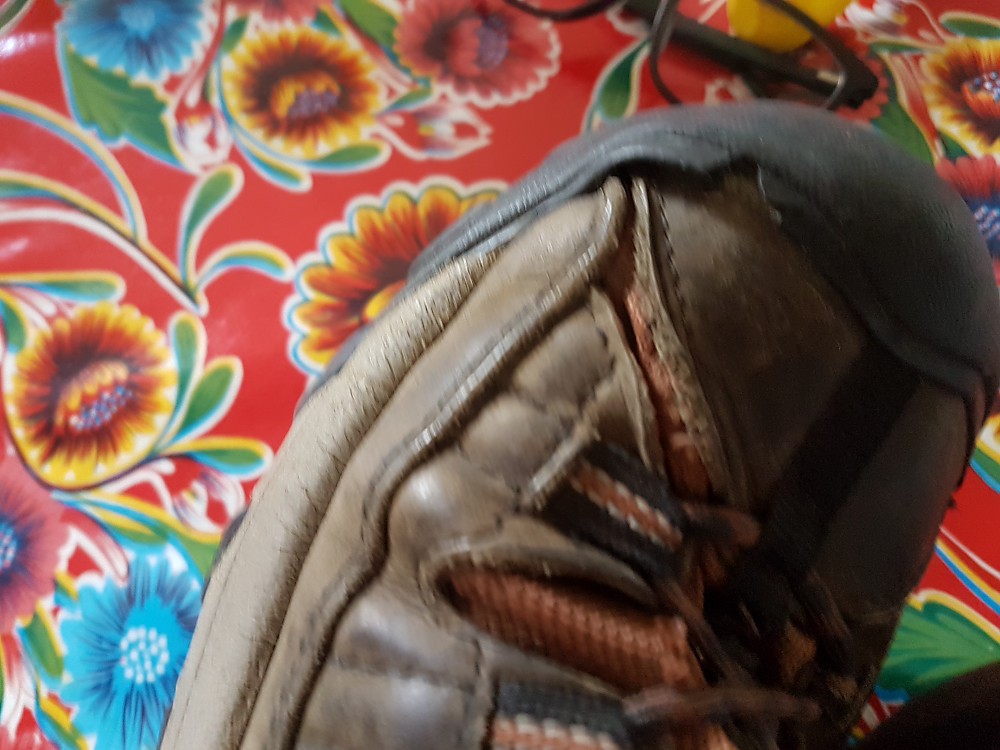 Soles started falling to pieces after only a month or so.
This is my second pair of Targhee IIs. My first pair were worn most days for 2-3 years, including much wilderness hiking as well as city walking. I ended up replacing them when the wear on the heel became obvious—they were great.
The new pair are at the other end of the spectrum as far as quality. It seems that the glue used to hold the layers of the sole together was substandard. Part of the tread started peeling away after only a few weeks and now it looks like a whole layer will fall off soon. It's been less than a year.
Source: bought it new

As a light duty trail/approach shoe, this product didn't meet my expectations. The support and comfort levels did not match earlier Keen purchases.
Pros
Wide toe box
Grippy sole
Durable
Cons
Uppers not very supportive
Nylon lining is not ideal in warm weather
Sole not really stiff enough for difficult terrain
I really like the Keen last—the wide forefoot takes the threat of blisters away.  I've owned a few pairs of their shoes, because of this, but the Targhee 2 is perhaps the least impressive of those purchases.
The shoes have held up to punishment, but I never choose them for difficult tasks, so what does that mean? The soles have good tread and are grippy, but they are too flexible and the uppers don't hold my feet still, which reduces confidence and adds fatigue, on grassy slopes, or broken rock. A full boot would probably have suited me better; a stiffer sole would be better still.
I would never wear approach shoes for trail hiking in British conditions—even waterproof ones—they just don't offer enough support. In somewhere like California, where weather is more predictable, lighter footwear is common, but I still found the Targhees disappointing on trails in the Bay Area and around Tahoe. Hot weather left my feet swimming in the nylon lined uppers of these shoes and left me wishing for a pair of their office shoes—leather, with a leather lining.
As an everyday walking around and driving shoe, the Targhees have found a role. The wear rate has been slow and construction quality is good enough for these purposes, but as an active outdoor shoe, this product has not made the grade—at least for me.
Experience
I bought the shoes in 2013. They have led a quiet life, after their early failure to impress, in the Sierras and State Parks. Of course, I have old knees and feet. A younger lightweight person might love them.
Source: bought it new
Price Paid: $85 US

I have been wearing the Targee II's for a number of years now. They are probably my all time favorite shoe. My first pair lasted a good while but eventually split a toe seam. I bought a new pair and with very little use other than an out to dinner, once in a while kind deal, the toe area split on the new pair. 
I contacted Keen and let them know that I exected nothing on the first pair. I really didn't even expect much on the new pair other than maybe a little pro-rated help on a replacement third pair (sent detailed pictures also).
The second pair was worn so sparingly but was older than one year and the factory refused any help in any way. I have never had the problem with any other shoe or boot that I have ever worn of any type and you can see in both pair that the material overlap was extremely minimal to hold the joint together. 
I like the shoe so much that I brought a third pair and only wear them at times where my dogs want to enjoy themselves and keep watch over the seam. I have seen a similar failure on a Targhee II in Vermont where I actually stopped the person and asked about them.
The Targhee II in my opinion is a great shoe but the customer service aspect of the manufacture was nonexistent in my case.
Price Paid: $110

Overall this has been a very comfortable shoe. I have used them on a variety of trails and terrain. From sand trails to rugged rock slides. They grip really well and once broken in are very comfortable.
The downside that I am most upset about this shoe is how long they are lasting. Either I am very tough on my shoes or the rubber soles on these things are cheap. I bought them last April 08 and they are almost completely wore out. And I am not hiking every day here. I have had other hiking shoes hold up longer.
The rest of the shoe is fine, but the rest of it is wearing out like someone doing burnouts with offroad tires if you know what I mean.
On second note, it's worth getting the Gore-tex model, I opted for cheap 20$ less for the non and every time I step in a puddle I regret it.
Materials: leather
Use: short dayhikes, rought trail dayhikes with daypack, anything up to 8 miles.
Break-in Period: 2 weeks
Price Paid: $119

The best thing about these boots was the wide toe box - SO COMFORTABLE. The new Targhee III has a narrow pointy toe box. Keen has ruined this model. I'm so disappointed.
Pros
Square roomy toe box
Comfortable out of the box
Consistent fit
Cons
If you wear them daily, need to replace every year
These boots were the best I'd ever found for comfort and fit. They don't last forever, but I didn't care because they were SO comfortable. Fit perfectly right out of the box. I just bought a new pair of the Targhee III and they completely changed the toe box. It is now pointy and narrow. Incredibly disappointing. 
Experience
I've owned six pairs of Targhee II boots. So sad that they are discontinued.
Source: bought it new

I bought these shoes to replace another pair on my PCT Oregon segment hike. Within the first week I had a nasty blister on my heel and under both front toes. After 300 miles the stitching at the toe came loose on both shoes. The soles did not offer enough cushioning on the lava. I couldn't wait to get these shoes off at night. The waterproofing wore off when it came time to ford streams and rivers.
I contacted Keen when I returned. My recourse is to return the shoes where I bought them (very inconvenient since I bought them in Ashland and I live in Eastern Oregon) or get a replacement of another Keen footwear product from the company.
Unfortunately, I don't see anything that's comparable in price that I want.
Materials: leather upper
Use: Oregon segment PCT (CA to WA)
Break-in Period: on the trail—replacement for other shoes
Weight: 14 oz.
Price Paid: $110

This is an amazing hiking shoe! I was nervous to hike very far in these just because they are low-tops, but they're awesome! I hiked Mt. Whitney in them, with a 22lb. pack—did 21 miles in a day without blisters! I did try wearing them backpacking, but the weight of the pack was too much for these shoes.
The most amazing thing is that the Targhee 11's do not need any breaking in time; they fit great from day one! I wear them to hike in 3-4 days a week (purchased them a year ago), and they're still going strong. Thank you Keen!
Price Paid: $100

The Vibram sole adds stability and comfort on long hikes. Feet felt good after 20 miles.
The Vibram sole adds stability and comfort. Made for a medium width foot. If you have a narrow foot, these shoes are not for you.
Source: bought it new
Price Paid: 100-130 dollars

Your Review
You May Like
Specs
Men's
Price
MSRP: $120.00
Historic Range: $107.99-$124.95
Reviewers Paid: $85.00-$119.00

Women's
Price
MSRP: $120.00
Historic Range: $65.95-$125.00
Reviewers Paid: $100.00-$110.00

Recently on Trailspace