Keen Targhee Waterproof

The Targhee Waterproof has been discontinued. If you're looking for something new, check out the best trail shoes for 2023.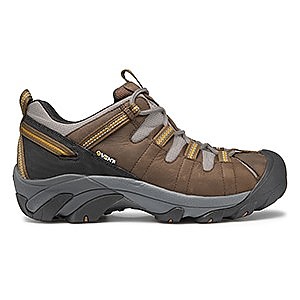 I have a pair of Keen Men's Targhee waterproof, and they are NOT BREATHABLE. Very hot and sweaty, so much so that I have to take them off at every sit down stop, including trail rest, restaurants, and flights.
The fit and support is great but does not overcome the non breathablity. 
I will not buy again.
Price Paid: $135

The soles wear out quickly, would be 5 stars if had Vibrams.
Materials: nubuck leather
Use: dayhiks and short backpacking trips
Break-in Period: none
Price Paid: $125

Very comfortable and great traction but durability is poor at best. I loved these so much when I bought them that I bought a second pair. The first pair started to fall apart in about 6 months of wearing them light hiking (stitching started falling apart and the bottom started de-laminating), it took the second pair about 18 months to follow suit.
The waterproofing is weak at best as they leaked from the beginning, and even after I returned a pair due to this and got replacements I had the problem with the new ones as well. I have a friend who has these same shoes and has the same issues so it seems to be a poor material of design issue.
In short - very comfortable but terrible durability - I'll not waste any more money on their hiking boots again.
Materials: leather
Use: light hiking
Price Paid: $130

I am trying to gear this review towards those who have not been buying quality hiking/trail shoes. Some shoes fit—some shoes fit great. These fit great for me, that's what it's all about finding shoes that FIT GREAT for you. A great shoe should move with YOU, the way YOU go the shoe goes.
Keen Targhee—very solid sturdy shoe and if you're not used to this type of direct feel for the terrain you may think the shoe is not performing well, (probably because you have been hiking or walking in sneakers or work-boots) of which these are not! What these are—performance footwear—a shoe with a purpose! Total control and traction on flat and incline surfaces including sand, dirt, gravel and wet grass uphill and down.
We're not hiking Everest here. We're just trekking through local hillsides, the beach, rugged trails, and wet terrain.
Trekking, not running. This is not a running shoe or a backpack shoe. Light hiking anywhere.
It is extremely comfortable. Has Keen-Dri waterproof. I have stood in a stream below ankle and stayed dry, three hours in wet snow my socks were wet—Few shoes are "Waterproof"(Salomon B52 Ts Gtx) different story. All around great shoe.
Price Paid: $87.36

This is possibly the most comfortable shoe that I have had in the last 50 years of climbing and hill walking (I am in my 70s).
They have been used for fitness training on an urban hill circuit of 7 km 5 days per week and after a mere 9 months are completely shagged. After 1 month pieces were coming adrift from the soles so back for repair. After 2 months the same this time stuck back with super glue. Now the soles are finished but the tops as good as new, there is in my humble opinion a serious design or quality control fault.
Comfort, tops ... Wear cost for me is nearly 16c per km and unacceptably expensive.
Materials: Leather & w/p membrain, Keen composite sole
Use: Urban fitness training
Break-in Period: Nil
Weight: approx 2lb
Price Paid: $200 NZ

I have a pair of Keen H2 that are one of the best pairs of shoes I've ever owned...they've gone through every possible condition in the last two years and still have plenty of life in them.
Sadly, I just bought a pair of Targhees and this was a mistake. Less than two weeks in (with no field work or hiking, just kicking around in them to break them in) the rubber is coming unglued from the uppers on the inside of each shoe—terrible quality.
I only hope I still have the receipt so I can return them. If my retailer/Keen is cooperative, I'll get another pair—if not, I'll never buy another pair of Keens.
Materials: Leather, gore-tex
Use: Hiking, trail hikes.
Break-in Period: 3-4 days
Weight: ?? Me or the shoe?! I weigh 170lbs
Price Paid: $100

I love these shoes but BEWARE of sizing. They run at least a half size small. Support your local shops and try a pair on. At least you'll save the aggravation of shipping back.
Materials: leather and e-vent (like Gore-tex)
Use: short day hikes (so far)
Break-in Period: nada
Price Paid: $109.99

What? This is where ratings systems that allow you to select stars based on personal preference go wrong. These shoes are great, and they hold up wonderfully. I am on my second pair after a year with no problems.
These shose are not like other brands where the heel is so wide you can toss the shoe off while walking. They are not made for gorillas with huge wide feet, like most brands.
If you have wide feet, go for Salomon or some other brand. The old Targhee had wider heels but they fixed it in the new one!
Price Paid: 90

No doubt about it, these shoes would be wonderful were it not for their lack of durability. They're comfortable straight out of the box—nice wide toe box, but grip the heel well. Have the cushion and stability of a boot, but wear like a trail runner.
Unfortunately, however, they don't hold up. I've been through two pairs. The soles started coming off after 60 miles of easy, good weather, day hikes with the first pair, and after only 15 with the second. Combination of poor design (delamination begins with wings that wrap around sides of shoe) and manufacturer defect (poor glue). Friends have reported similar problems with the Taos hiking sandal.
Rumor has it Keen is currently redesigning them. I'll be first in line to test out the new line, but until then, it's going to have to be something else.
Use: dayhikes, ultralight backpacking
Break-in Period: None
Price Paid: $99.95

My feet are EE, and I love these shoes. They took 20 miles of light walking/hiking to break in decently, but they're great now.
When I first wore them, the material was tight above the top of my foot, even with the laces opened wide. Before even lacing up my toes felt as though I had already laced them up tight. But as I said, they have broken in nicely and are very comfortable now.
I've had them for six months or so, and have maybe 150 miles in them. They're very comfortable, have good tread that doesn't show very much wear at all, and still look good.
They weren't the lightest shoe in the price range I was looking in, but they fit the best.
Chris
Materials: leather
Use: short dayhikes
Break-in Period: 20 miles of light walking
Price Paid: $100

Would be comfortable if they weren't designed so narrow...
Price Paid: $100

Your Review
You May Like
Specs
Men's
Price
Historic Range: $38.92-$109.99
Reviewers Paid: $87.36-$135.00

Women's
Price
Historic Range: $27.24-$104.95
Reviewers Paid: $99.95-$109.99

Recently on Trailspace