Keen Truckee

The Truckee has been discontinued. If you're looking for something new, check out the best trail shoes for 2023.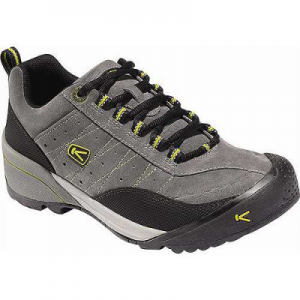 After reading some of the other posts on the discontinued Keen Truckee shoes I had to respond!!! I just got off the phone and after looking online — with no success as I am in search of a second pair!!!! Yet they are discontinued!!!
I have narrow feet, size 11. I have still the olive green leather, grey fabric with orange stripes and highlights. They are the best shoes I have ever had in my life!!!!
I did find that they started to break down after a year of everyday use, and wanted to get a replacement pair. But never did. I just kept wearing what I have and still wear today....
Because I cannot find a replacement that even comes close!!!!
Now my shoes are two and a half years old And here I remain.
If you have a pair, send them to Pittsburgh. I will be waiting.
And Keen Co., bad move to not sell that style anymore. I will be waiting for you also, maybe this fall, otherwise??? Your customer service recommended the Obsidian. No, thanks.
Materials: leather, fabric; no gore-tex!
Use: All around everyday Ahh. everywear!!!
Break-in Period: 30 sec. just tie the laces!!
Weight: feather weight contender !!!
Price Paid: $80

Great product that goes from trail to city and back without missing a beat. First, it looks much better than most trail running shoes which for me was huge since I needed a shoe for my longer trips where I would be both hiking/running and touring cities. Very comfortable with great support but a little warm for very hot climates.
I broke them in with a 12-hour friends b-day at Disneyland. Nothing more uncomfortable than that much concrete and standing. They came through with flying colors. Next was a run/hike in the Santa Monica mountains...I didn't need to remove then afterwards when having a beer they were so comfortable.
Materials: Leather
Use: Disneyland to Europe Alps trekking with heavy pack.
Break-in Period: One day
Price Paid: $90

I bought my Keen Truckee shoes April of 09 prior to spending 2 weeks backpacking thru Europe. My shoes have been to Scotland, England, Ireland, France and Italy as well as all over New York City. I also wear them to work, and I am on my feet for most of my 12 hour shifts. They are just now (May 10) starting to wear out.
They are the best fitting shoes I have ever owned. I plan to get another pair just like them. Great stability, I tend to supinate when I walk and I have more of a squared off foot, these shoes helped me a lot!
Price Paid: $79.99

This shoe sucks. It has horrible traction and it has a hard footbed with weak cushioning. Although it does look pretty cool and that's its only benefit.
I had heard a lot about Keen and how great they are. I am severely disappointed and this will be my last pair of Keens. I have large feet (size 14/15 and very wide) and the shoes do fit very well as size goes.
I would not recommend this shoe to anyone. I haven't been happy with its performance on any surface.
Price Paid: $80

I bought these shoes as hikers for my son at Christmas. I was kind of happy when he didn't even want to try them on. I started wearing them immediately and loved them, they're very comfortable.
Now it's mid April and I'm disappointed. They are tearing at the seams; both shoes have a hole. I have just worn them for normal daily wear, no hiking or climbing. Too bad!
Price Paid: $50

These POS shoes are cheap Asian made crap. Soon after purchase they started to fall a part. I am extremely disappointed in these shoes. Keen should be embarrassed that they put their names on these and offer refunds to any and all that purchase these crappy shoes.
Price Paid: $130

Your Review
You May Like
Specs
Men's
Price
Historic Range: $44.97-$90.00
Reviewers Paid: $50.00-$130.00

Women's
Price
Historic Range: $26.99-$90.00

Kids'
Price
Historic Range: $23.83-$60.00

Recently on Trailspace