Kelty Camp Kitchen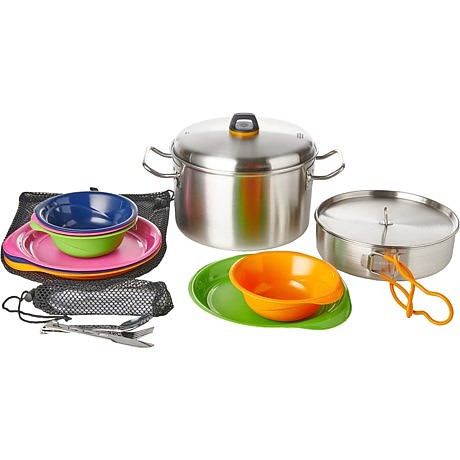 My husband and I camp together a few weekends each month, and take two week-long trips each September. We have been camping our entire lives, and have used various types of camp kitchen cook ware, ranging from high end brands to odds and ends picked up at the local thrift store. Our motley collection of camp kitchen gear received a definite upgrade when we received the Kelty Camp Kitchen to review for Trailspace.

We found that this inclusive set of a pan with lid, pot with lid, four sets of eating utensils, four plates, and four bowls is a well made, durable, strong set suitable for car camping, festival camping, or other types of front country camping in which gear size and weight are not a concern. It would be a great addition to the camp kitchen or a good starter set for families and small scout groups. As a starter set, it includes the minimum pieces required for four people; for most effective use, it would probably require adding additional eating utensils and dinnerware.
Pros
Each of the 24 individual components is well made sturdy and good quality
Complete basic set of pans with lids and eating utensils and dishes
Long handles on the frying pan keep hands safely away from heat source
Plates and bowls are color-coded for each group member
Cons
No storage bag for entire set
Plates must be bagged separately as they do not fit into the nesting pots
Drain holes could be larger on venting lid
Utensils held in sets by flimsy binder ring that is prone to loss
Does not include cups or mugs
Frying pan can get stuck when placing in or taking our of large pot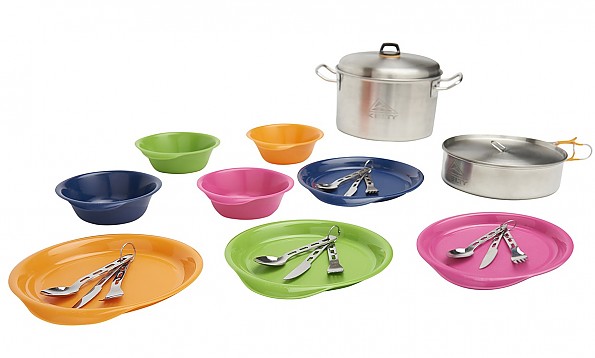 Manufacturer's photo
Narrative:  This Kelty Camp Kitchen was used on 10 camping trips since this past spring. We used the entire set of  two basic pans and lids, four different colored plates, four matching bowls, and four knife/fork/spoons sets while hut camping, state park car camping in tents, and camping in our pop-up tent trailer.
We utilized some of the dishes and utensils while camping at paddle-in campsites, but the large pot and pan are too big to pack in my small canoe. However, for canoe camping expeditions in which larger canoes and more gear capacity exists, this set would be fine. We rarely backpack, but this set is really not suitable or designed for backpacking, due to its size and weight( 6.75 lb/3 kg). Kelty promotes this set as an inclusive set designed to serve a family or camping group of four, and it certainly meets that purpose well. 
Matching aluminum cups are available from Kelty, and matching plastic Preserve brand cups can be purchased online. We used this set for just the two of us, and the extra plates and bowls came in handy for food preparation and as serving plates. The Kelty Camp Kitchen does not come with accessories such as ladles, spatulas, or serving utensils.
Nesting and Storage:
Large mesh bag
Small mesh bag
2 pots and 2 lids designed to nest together
Kelty promotes the "nesting design" of this Camp Kitchen, and also includes "mesh storage bags for compact convenience". On their website, Kelty clearly states that the plates do not fit within the nesting pots for storage; they are carried in as separate mesh bag. All other components fit within the nesting pots. However, once together, there is not a carrying bag for the entire set. We use a mesh grocery bag to carry the nesting pots and the mesh bag with plates.
We also found that placing the frying pan within the large pot for storage can be a tricky operation; it is a very snug fit, and getting the frying pan back out of the pot can be difficult. We try to not push the frying pan down any further than necessary.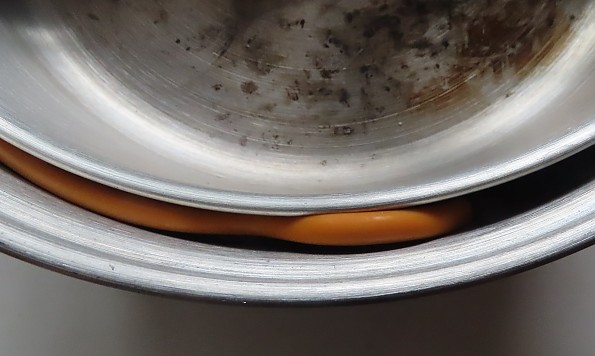 Showing the space between pot and pan when nesting; the pan handles                                                         make for a tight squeeze


We discovered that if we stack the larger vented pot lid upside down, the mesh bag with plates fits nicely on top; the entire kit is then placed in our mesh bag. The entire packed up kit measure approximately 7 inches/177mm high, and 14 inches/355mm across (the large pot handles account for four of these width inches).
Utensils:
4 forks
4 knives
4 spoons
4 binder rings
The 6 inch/152mm long eating utensils are stronger and heavier than your standard scout mess kit utensils. They are made of stainless steel and each set weighs approximately three ounces. After much use each utensil has retained its form, and has not bent or been deformed. The knife has a serrated edge, and we successfully have used it to cut meat. The spoon is a "normal" size, in that it is not the larger, flat type that is seen in many camp sets.
There is a small mesh bag to contain the four sets of utensils; we found that it is best to put the pointy ends in this bag first, to ease removal, to avoid catching on the mesh as you remove the utensils. Each set of three utensils is held together with a binder ring; we found this binder ring a bit flimsy (12-14 gauge wire thickness), and prone to breakage and loss. The utensils are not color-coded; we know from experience that especially with children, having utensils sets that match their assigned color dishes can make life easier! Therefore, we replaced the binder rings with small utility carabiners, color coded to match each of the four different colors of the plates and bowls. The four sets of eating utensils will fit into the large pot for nesting and storage.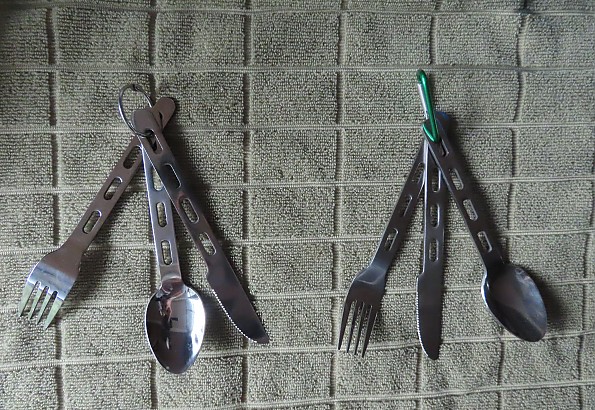 Set on left with the binder ring, and on right with color coded carabiner
Dinnerware:  
4 full size plates
4 bowls
When we unpacked the set and saw the plates and bowls that are included, we knew that Kelty had made a good choice. Over two years ago we purchased the same type of Preserve brand plates and bowls as part of the kitchen kit for our tent trailer; after two years of use, we can attest to their durability. They are dishwasher-safe, and made from 100 percent recycled materials. On the base of the plates, the specifications for these recycled plates is clearly stated "Reuse Forever", along with the Preserve website address should you want to return the plates if you will not re-use them. The statement of recycled materials is also written in Braille on the base of each plate.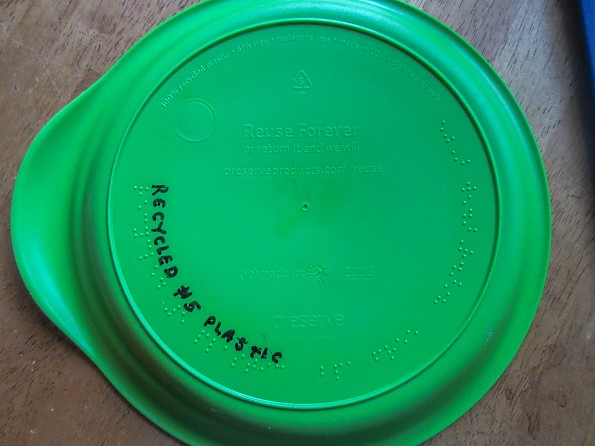 Bottom of the "Everyday Plate", with Braille translation marked


Though only one plate and one bowl are color green, the Preserve company definitely promotes themselves as a "green" manufacturer. According to their website, Preserve advises that their plastic products are made from 100 percent recycled plastics and their minimalist packaging uses a "high percentages of recycled materials." All of their plastic products are recyclable  through their mail-in and retail-based programs .The products are made in the USA, which the company claims enables shipping efficiency throughout the supply chain and uses less fuel and thus reduces their environmental footprint.
The Kelty set has four "Preserve Everyday Plates", one each in blue, pink, green, and orange. These bright colors match the "Everyday Bowls" that are in the set, and we can attest that they have retained their bright colors after years of use and dishwashing. The plates scrub up nicely in camp. There are cut marks visible on the plates; however, the center of each plate is made of a tougher surface texture, so the cutting does not affect the integrity of the plate surface. There is a grabbing handle area on one side of each of the plates. The width of the plate (including handle area) is 10 inches/254mm, and the plate is approximately .75 inches/19mm deep. Each plate weighs approximately 2.5 oz/70g.
The plates come with a carrying mesh bag; the set of plates don't fit into the larger pot for nesting and storage. The four bowls will fit into the large pot for nesting and storage, or they can be kept in the same mesh bag with the matching plates.
The four Preserve recycled bowls, in bright colors to match the plates, are 6.75 inches/171mm across (including a small grab handle on one side), and 2.5 inches/63mm deep, each comfortably holding approximately 10 oz./295ml of liquid. Each bowl weighs approximately 1.5 oz./42.5g
FRYING PAN:
9 inch aluminum pan
flat lid
We used this pan much more than the large pot in the set; this pan is made of 304 grade stainless steel, and is 2.5 inches/63mm high by 9 inches/229mm diameter; the interlocking handles are 6.5 inches/165mm long.
This pan worked well for cooking items such as eggs, pancakes, grilled sandwiches, and hot dogs. It was used over the burners on a two-burner camp stove, and over larger full size gas burners in a hut. It heated well, but we did note that it seemed to get hotter in the center area when used on both the smaller and larger heat source area; this resulted in a singed area that could not be removed by cleaning. In general, the pan is easy to clean. The base of the pan has shown a very slight raised area in the center, apparently a deformity resulting from cooking over the various heat sources over which it was used. This has not affected its continued very satisfactory use.
There are two interlocking handles; covered with silicone, that provide a nice, cool, easy to grasp handle when cooking. Be advised; be careful to interlock together them together before use, or the two handles may be moved to one side, making the pan unstable for grasping. The handles are securely attached to the pan.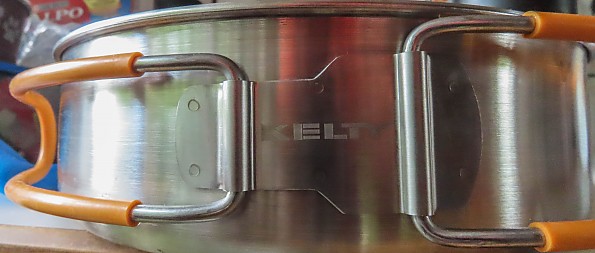 Handles securely affixed; here folded in against the pan


The pan lid is solid, without drain holes. It fits nicely in the top of pan, and has a small "ring" on top; this ring is rather small, so we used a pot grabber or a utensil to remove the lid. The lid from the larger pot will fit over the pan, but is obviously not designed for use with this pan.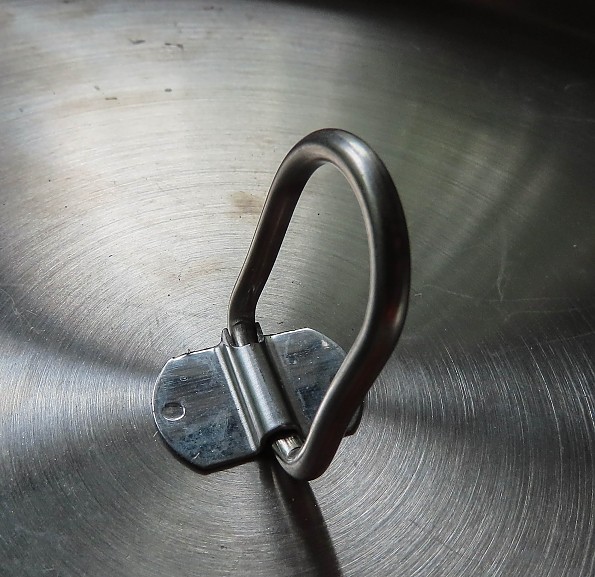 Ring/handle on top of lid 1" x .75 inch.
POT:
Large capacity (over 160 oz.) pot
Raised lid with vent/drain holes
We did not use this pot much, since it is rather large for most two-person cooking activities. However, when we used it for spaghetti and noodles, we were impressed with its ability to heat and cook quickly (faster than indicated on the box of noodles). This pot is heavy and sturdy, with solid handles firmly affixed to the side. The handles are fixed, and are 2 inches/50mm long each, thus reducing its portability. However, the large handles make it easy to utilize gloves or pot holder when grabbing the pot.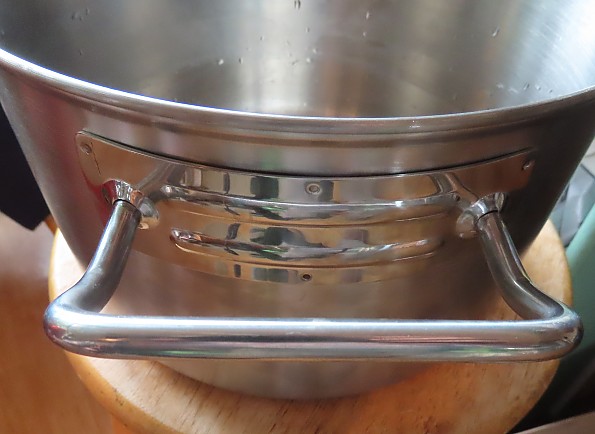 This stainless steel pot is 5.5 inches/140mm tall, with 10 inch/254mm diameter, and holds over 160 oz./4.75L of liquid (within 1.5 inches from the top rim of pot). It would be great for cooking up a pot of chili or stew for a large group. The pot is easy to clean, and does serve as container for nesting the other kitchen kit components.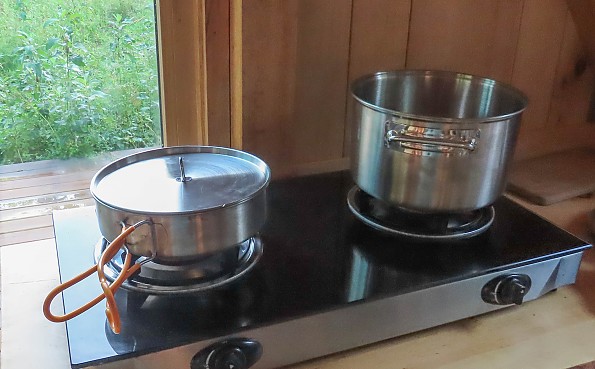 Pot and pan in use at Nulhegan Hut, Vermont
The lid for the large cook pot is slightly raised ( 1"/25mm high), and fits securely over the pot edge. The lid has two sets of drain holes, one set of three holes and on the opposite side of the lid, a set of 13 holes. These holes were helpful in draining water, but we feel that though the number of holes is fine, it would be more efficient if the holes themselves were larger.
This lid has a large, heat resistant plastic handle, with a layer of silicone between the handle and the metal of the pot lid. This handle can be easily grasped with two fingers, and has remained tightly screwed to the lid despite multiple packing and un-packings.
Summary
This Kelty Camp Kitchen has become part of our kitchen kit for both car camping and tent trailer camping. I can recommend this set for anyone looking for a dependable and sturdy cook kit, which includes very nice and durable eating utensils and dishes. There is something nice about the convenience of ordering one kit which includes most necessary cooking and eating items, is reasonably priced, and is of nice quality. Additional utensils, cups and/or mugs must be purchased separately; such additions could be conveniently stored in the mesh bag designed to carry the plates.
A kit such as this would have come in very handy when we were taking our children camping; we now will continue use it for the two of us and friends that may accompany us on our camping adventures. The set is designed for four, but it served just the two of us well; the large pot is a bit much for most twi-person cooking, but this pot does serve as the base for nesting the entire set. The "extra" two sets of dinnerware and utensils were put to good use for food preparation and serving. If weight and size are not an issue, this set can be used successfully on many different camping adventures.
Experience
Both my husband and I are lifelong campers; car campers, canoe campers, family campers, backpackers, hut campers, and winter campers. Our extensive experience in the outdoors involves of course cooking and food preparation, and so I feel quite suitably qualified to review this Kelty Camp Kitchen. I was able to utilize and evaluate this cook set while camping in a variety of settings, and so can verify its versatility.
Source: received for testing via the Trailspace Review Corps (Sample for review and testing provided by Kelty)

Your Review
Where to Buy
Help support this site by making your next gear purchase through one of the links above. Click a link, buy what you need, and the seller will contribute a portion of the purchase price to support Trailspace's independent gear reviews.
You May Like
Specs
Price
MSRP: $89.95
Historic Range: $39.99-$99.95

Weight
6.75 lbs / 3.06 kg