Kelty Clear Creek 20

The Clear Creek 20 has been discontinued. If you're looking for something new, check out the best 3-season synthetic sleeping bags for 2023.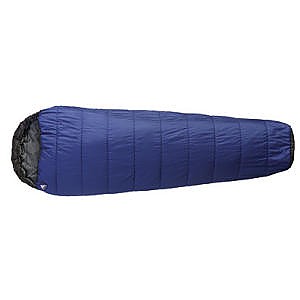 For the money it is a great sleeping bag. It is heavy, which doesn't bother me too much, but it is big and can be a pain to pack. The liner feels great, but must add more weight. It has always been warm enough for me, but I tend to be warm. After over five years and a lot of use I am retiring it for a lighter and more compact bag.
Design: mummy
Temperature Rating: 20 degrees

Bought this bag and though I paid $65 for it I at least expected it would warrant its rating for 20 degree weather. At 30 degrees I was slightly chilly but this may have been due to it being far too narrow for my shoulders. In fact after two hours in the bag they hurt and I suspect that the stretching of the bag reduced its heat retention ability. At 35 degrees and up I was fairly comfortable except for the tightness around my shoulders.
Spent seven days backpacking in North Dakota Grasslands/Badlands and this bag is too heavy for any trip over three days. Next time I will be more wary for the bag.
To summarize -- Great price! Might be more effective against the cold if you actually fit width wise into it. A little heavy for many day trips. But again considering the price... not too bad I guess.
I have been using this bag for the last 2-3 years exclusively for camping (tad too heavy for backpacking). I'ts great for its price.
Pros: It keeps you warm extremely well in 25 degree range. I had enough room in the bag: I am 5'11" and 165 lbs. The sewing and fabric are hardy. It packs to a decent size.
Cons: I just got back from the San Juan and Sangre de Christo mountains: the lows were between 10 and 20 degrees and the bag doesn't hold up at all in that range. The contoured hood tends to slip off very easily letting cold air into the bag.
Summary: This is a great three-season bag, but do not take it out in the winter.
Design: Mummy
Fill: Hollofill
Temperature Rating: +20 F
Price Paid: $65

Version reviewed: Long
I was excited to find a bag to replace my old down army issue. Thought that long meant it would fit wide too. I took it backpacking in the Adirondacks in September and had a rude awakening. The bag is long enough but way too narrow to be comfortable. I was incredibly cold beside. It never got below 40 degrees. I wore Thermals and ws STILL cold. So I'm going back to lugging my old Army bag. It maybe heavier but it's warm.
Design: mummy
Fill: synthetic
Temperature Rating: +20
Weight: 3#
Price Paid: $79 on sale

Seems to be a great bag for the price. I have spent several warm nights in sub-30. Don't know how it will hold up in the long run (only had it for about 6 mo.), but it seems to be well put together.
Design: Mummy
Fill: Hollofil
Temperature Rating: 20F
Weight: 3+
Price Paid: $80

I'm not sure if it's just me or the particular bag I got but I'm really suspect about my bag's temp rating. I did not feel very warm in this bag even in 40F weather when I tested the bag on a ridge-rest pad on my porch one night. I do know that I will not now trust this bag in any type of outdoor cold weather situation where you would be up some "creek" if your bag fails to perform. Its probably OK for car-camping.
Design: Mummy style
Fill: Hollofil II
Temperature Rating: Supposed to be 20F
Weight: 2 lbs 4 oz
Price Paid: $70 sale, $90 Reg

What a great bag for the price. It's a little heavy for a +20 bag but if you need something reliable and don't have the cash for North Face, this is the one to have. This and a Thermarest kept me toasty camping @10k in Colorado (25F) and backpacking in the Sierra Nevadas. I'd recommend getting a better compression sack than is provided, to get that weight centered, but other than that, I am very pleased.
Design: Mummy
Fill: Hollofil
Temperature Rating: Farenheit
Weight: 3lbs14oz
Price Paid: $90 (American)

Your Review
You May Like
Specs
Price
Historic Range: $35.66-$85.00
Reviewers Paid: $65.00-$90.00

Recently on Trailspace