Kelty Crestone 1

The Crestone 1 has been discontinued. If you're looking for something new, check out the best three-season tents for 2020.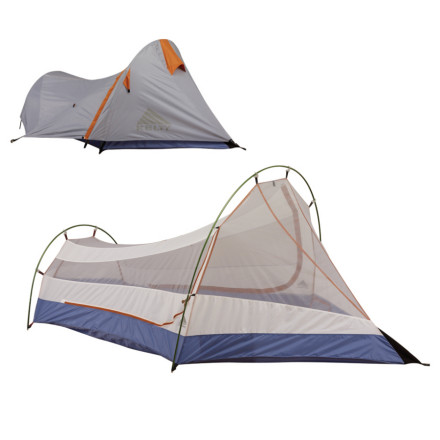 Specs
Price
Historic Range: $38.00-$129.95
Reviewers Paid: $60.00-$100.00

Reviews
10

reviews

5-star:

2

4-star:

5

3-star:

2

2-star:

0

1-star:

1
Love this tent. Bulletproof. Affordable.
This tent is probably my favorite backcountry piece of gear I own.  
It is very easy to set up. It is NOT freestanding and you need to make sure it is anchored down at the anchor points with tent stakes. First thing I did was ditch the stakes it came with and bought some good, solid MSR Groundhog stakes. Once the tent is anchored down it is very stable. I have been through many storms and high winds with this thing and it has held steady.  
This tent is very weather resistant with the rain vestibule on. I have been through very heavy rainstorms and stayed completely dry. Part of that is knowing how and where to set up a tent during inclement weather. I have also been through blizzards in the winter with this tent and it did well.  It breathes well and easily handles the weight of a few inches of wet snow.  
This 1-man tent is not very roomy. I am 6'2" tall and 220 and I fit pretty tight in it but it has plenty of room for me, my sleeping pad, sleeping bag and clothes.  Getting dressed in this tent is a bit of a chore but thats the price you pay for packing light.  

I typically put my backpack and gear under the rain vestibule.  The vestibule has enough room for a good sized backpack and some boots.  
I have used this tent a few times a year for the last 5 years and it is still like new.  It has held up very well.  I don't think you can beat the construction & durability for the price.  
This is a great tent and I highly recommend it if you can get your hands on one.  
Source: bought it new
Price Paid: $70

I love this tent. I bought it 2 years ago, haven't used it a lot, maybe a dozen times, but it is excellent for the price.
Most recently I spent a night on the Washington Coast with a strong consistent rain all night long. The tent held up well. I little wet on some of the edges from the drips coming off of the rain fly and splashing on the tent, also my feet got a little wet cause of a low spot that formed a puddle under my tent (my fault not the tents problem) however very little of the water even came through the bottom of the tent and it was sitting on a puddle for hours. It has been very durable and waterproof, I've never applied anything to the tent or rainfly.
The only problem is the lack of room, but that is expected. I can situp inside with my head just touching the top of the mesh roof. My boots fit under the vestibule of the rain fly, but not much else fits in that small space.
Good Quality for the Price, as is with most Kelty Products.
Great tent for the money.
Pros:
+Light weight
+Easy setup for one person
Cons:
-Included stakes are cheap and heavy
I bought this tent on a low-budget. After eyeballing it on different websites, I caught a deal on eBay that included the tent, rain fly, poles, stakes AND footprint for above mentioned price (includes $10 for shipping). The small vestibule has enough room for my pack and boots. If you're tent-shopping on a budget, I highly recommend!
The tent has not been tested in a rain storm, but the fly and tent feel sturdy and I would assume they would perform.
I recommend the Kelty brand. Their stuff is quality without being too costly because of the name.
Sleeps: 1
Ease of Setup: Very Easy
Weight: 4 lbs
Price Paid: $72 on ebay

This is a great little lightweight tent. I'm relatively short and small (5'4") and found this tent to provide enough room for myself as well as my 4750 cu inch backpack plus sleeping pad and sleeping bag and other little gadgets. If you are a taller individual and looking for a strong tent, this tent would not be a good choice.
This is a little tent in the sense that I was not able to sit up straight completely inside the tent but I didn't find this to be a major problem. It's got a small pocket on each side in the head portion of the tent, and I found these to be very useful for storing headlamps, whistle, and other smaller things. This is not a freestanding tent and I was aware of this when I purchased this.
Most of my trips were in canyon country and in several occasions, I had a hard time finding a good campsite where all I could see was slick rocks and cryptobiotic soil. The tent comes with a couple of tiny tent strings and using these I was able to secure both ends of the tent. The strings are very tiny. Since my second trip, I've used ropes that I purchased separately.
The mesh ceiling panels provide excellent ventilation. The tent comes with a rainfly and it kept me dry in rainy conditions. Having a vestibule helps when you need to keep things dry such as boots, backpack, etc. You can roll it open.
This tent is very lightweight (4 lbs or so). On several routes, I had to do 10 hours/day hiking for 3-4 days straight. Having a lightweight tent like this one helped. This is a small tent with two poles and it is really easy and quick to set it up.
The tent materials are pretty durable. After 1.5 years of fairly heavy use on 5 different trips and 10+ 3-4 day backpacking routes from dry canyons to wet canyons, from prairies to forests, this tent shows no noticeable tear and wear.
Design: Three-season tunnel
Sleeps: 1
Ease of Setup: Very easy
Weight: 4+ lbs (tent, rain fly, tent bag, strings and stakes)
Price Paid: $60

This tent is exactly as it is described. That is to say it is a tight 1-man hoop style tent. At 19.12 square feet it is a little smaller than the average 1 man by a foot or two.
Pros:
1. A full size rain fly.
2. Considering the full fly, 3.0 lbs is really light.
3. 6.5 square foot vestibule. Bigger than average.
4. Simple set-up. Less than 4 min on the first try.
5. The price.$70. Great value for money.
Cons:
1. Typical POS stakes. I pack Vargo 4titanium needles for the corners + three MSR groundhogs for the ends and the vestibule. Big weight savings!
2. It is a bit tight at 19 sq-ft. I'm 6'-1" and I don't touch the ends though, so it isn't all that bad.
Overall: Simple, cheap (relatively), light-weight. Yes you can find a better one man hoop tent out there, but be prepared to pay 2X-4X to get it. This one is the best value for money out there.
Design: Staked hoop design
Sleeps: 1
Ease of Setup: A monkey could do it.
Weight: 3 lbs, 0 oz
Price Paid: $69.99 + free shipping

Kelty Crestone 1.
Pros
Lightweight
Good quality
Affordable
I bought my Crestone 1 back in 2009. Used it while hiking the AT in 2010. It stood up to high winds and heavy rain through my whole hike. Plenty of room for me 5' 8" and I have also had my Shi Tzu dog in it with me on a few hikes. Plenty of space in vestibule for my boots and bag. And had no problems sitting up in tent.
I would suggest to anyone that is over 5' 10" to possibly look into a different tent, for it will probably not be as perfect for you as it has been to me.
Source: bought it new
Price Paid: $99

Pros
-inexpensive
Now here's what I have to say about it, i've used it for four years, the design of this tent is pretty neat at first, but its not free standing, it requires equal tension at all points which can be hard to achieve, and if not done correctly can effect tightness of tent walls, allow a sag in the middle of the tent, reducing interior space which is already cramped.
despite the mesh interior which is nice when there are no elements, condensation is still an issue. However its a warm tent with fly attached.
I used this tent in the Swan Range one spring and weathered a thunder storm along a lake with no real additional cover, it survived the rain, but there was so much condensation, and the limited interior space makes it almost impossible for you to not hit the walls and knock the precipetation onto your sleeping bag and gear.
In addition that same spring I used it in Western Montana over spring break, and was caught in a freak snowstorm that dropped three inches of wet heavy snow...because of the tents design there is a sag in the middle which allows the fly to make contact with the tent if any major preasure is applied, in this case three inches of snow, which i had to continually bump off so it would sluff to the sides. It did stay warm, with my zero degree bag, and sleeping pad.
This tent doesn't really pack down that small, and for the weight and size you'd be just as well off spending a little more money and buying a small two man like Marmots Limelight, or MSR's Hubba Hubba. You won't gain any weight on the buy and will increase your living space, and save some saved pack space, and can bring along a friend in addition.
Oh and also the vestibule is only really useful for your boots and thats about it, which is ok since i usually just use my pack cover and hang my pack in a tree anyway...
Overall you get what you pay for...this tent would be great for bike touring, and other single man expeditions where you wouldn't put it to the extremes...
Price Paid: 100$

Pros:
- Very Light
- Portability
- Easy to set up
No very bad things, but need tarp under tent at all times.
Sleeps: 1
Ease of Setup: Very easy, no directions needed
Weight: About 1.3 pounds
Price Paid: $88.99

Worst tent I have owned. The price explains the quality I paid for. Although it is easy to setup it is hard to get in and a pack and boots barley fit in the vestibule.
Design: three season 2 hoop bivy
Sleeps: 1
Ease of Setup: very easy
Weight: 4lbs
Price Paid: $69.97

Great little tent for the money. I use it as a backup when motorcycle touring and the hotels are full or not available. Holds up well in wind and rain when staked properly. It is a quick pitch but not a stand alone...so pitch it where you want it.
Enough head room to sit up in...I'm about 5'10". It is a one-person tent with space for your pad, bag, and a few extras. The vestibule is big enough for a small pack or duffle. If you ride like I do...well after you should have stopped...the Crestone is a nice tent to have on hand.
Design: three season non-freestanding
Sleeps: 1
Ease of Setup: easy set up
Weight: 3 lbs
Price Paid: $99

You May Like
Recently on Trailspace