Kelty Domolite 4

The Domolite 4 has been discontinued. If you're looking for something new, check out the best three-season tents for 2021.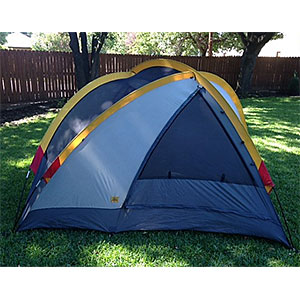 Specs
| | |
| --- | --- |
| Price | Reviewers Paid: $40.00-$300.00 |
Reviews
6

reviews

5-star:

3

4-star:

1

3-star:

2

2-star:

0

1-star:

0
I purchased this test after reading some lit. on KELTY. Let me tell you, This tent has been up to its eyes in water and has some bad wind... I still havent gotten wet or thrown out of this thing yet. I purchased the vest. on clearance for $29, what a buy... The vest has a partial floor for some gear to keep dry. It's a great tent if you're not worried about the extra weight. I strongly recommend this bomb shell.
Design: 3 SEASON
Sleeps: 3-4
Ease of Setup: 3 MINUTES BY MYSELF
Weight: 10LBS
Price Paid: $260

Best and only tent you need for two people. Absolutely love this tent! Great for any weather including snow, side of mountain, or just camping with a buddy. Light, easy to set up, hasn't ripped yet.

Had it for a very long time 20+ years, maybe more. Perfect for stargazing. It's cool in the heat and the accessory cover snaps in at the corners. Airy and roomy for two with a lot of stuff.

Kelty should bring this one back for sure!
Pros
Strong n durable
Airy with great solid construction
Light nuff for backpacking
Has that perfect tent feel!
Just the right amount of windows and pockets
Love, Love, Love it!
Zippers haven't failed in over 20 years
Cons
They don't make it anymore
Can't say enough about this tent!
It's really worth every penny and more.
I use this every year for all kinds of camping and it hasn't failed me yet.
Nor has it ever developed a hole...however I am very careful with it.
You basically feel like you have a perfect balance of windows-to-solid-panels, so you feel like you are sleeping outside with a fair bit of privacy. Obviously it was designed by a well-seasoned camper.
Just Love this tent!
LoL, as a matter of fact I am out on a hike and writing this review from inside of it.
Happy camping! "Feel the Bliss"
Source: bought it new
Price Paid: $200+

No longer made; good room for two guys and lots of stuff. Kind of heavy with the f'glas poles; alum poles make it much better. OEM was all f'glas poles. Not so good in rain over many hours without attention to guy lines.
Pros
Tough tent
Good room for two guys and stuff
Cons
Waterproofness without seam sealer not good
I owned this tent for over 10 years and it has mostly serviced well. The fly split when taking down and Kelty won't replace because it cannot be repaired. They gave me a half off coupon against a new one. They no longer make this tent.
Three problems:
If you have an extended rainstorm you MUST tighten the guy lines or the fly sags and leaks when it contacts the tent.

It MUST be seam sealed to cover the needle holes since seams are not tape sealed.

Hard to set up alone and REALLY hard to do so in a wind if you are alone. Reason: Hard to pop up one of the 3 spreader poles, hold in place while the other two are being raised. Otherwise, with two people not bad to setup.
This tent held up but sagged into my face after a 4" snowfall overnight in the BWCA, May. It popped back up after shaking the snow off! Holds up to strong winds.
Source: bought it new
Price Paid: $200?

Good, 3-season tent with lots of room.
Pros
Roomy
Headroom
Ventilation
2-Doors
Cons
Fiberglass poles
Pole supports: sleeves, not clips
The mesh sides/ceiling are great for star gazing and ventilation.
It has a very sturdy construction with the 3-pole design.
The rainfly is only three-quarter, but good enough to weather a storm.
Set up is not too difficult, but the large size of this tent means a couple extra minutes walking around it.
Packability is not advisable for lengthy trips.  It's heavy.
It's very roomy and easily allows for 2 people + a lot of gear comfortably.  Three adults will fit just fine but will limit the amount of gear. Headroom is more than adequate.
The (2) doors are a nice option, particularly with them having the mesh/privacy zipper options.
Source: bought it used
Price Paid: $40+ shipping

Excellent tent in all weather, real easy setup, great ventilation.
Pros
Excellent in all types of weather
Cons
Can't remember how to set up vestibule
Excellent tent in all weather, easy setup,ventilation is superb, very roomy, haven't used vestibule but one time and need help in remembering how to do it.
Source: received it as a personal gift

We've owned this tent for over ten years now and use it mostly for canoe camping. It's been through some tough weather with no problems.
I have the optional vestibules for both sides which gives it lots of storage. Weather protection from the fly isn't too good without the vestibules attached if you're in windy raining conditions. The pole sleeves may not be as handy as some clip tents but they're reliable and don't bulk up when rolling up for storage.
We've backpacked it on some shorter trips. When you average out the 12 pounds (with both vestibules) over 4 hikers that's only 3 lbs per person which is pretty average. You can't go wrong with a Kelty - certainly durable.
Design: three season free standing tent
Sleeps: 4
Ease of Setup: average - pole sleeves take a little extra work
Weight: about 12 pounds with two optional vestibules and footprint
Price Paid: around $300

You May Like