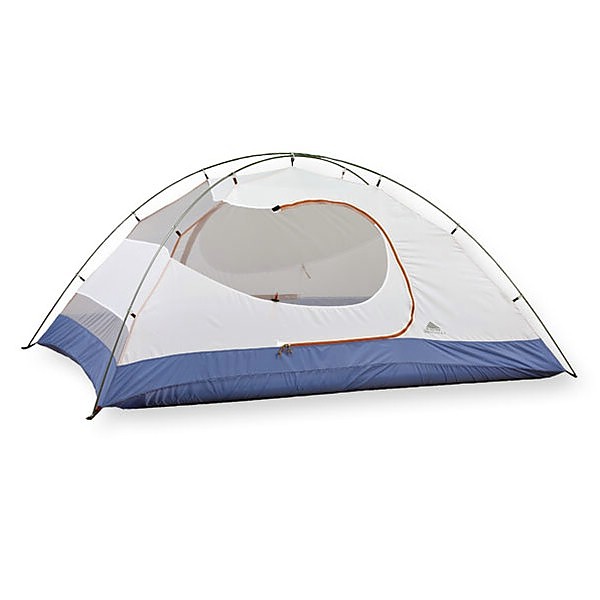 Specs
Price
MSRP: $189.95
Historic Range: $32.97-$199.95
Reviewers Paid: $120.00-$180.00

Seasons
3

Number of Doors
2

Number of Vestibules
2

Capacity
2

Minimum Weight
4 lb 14 oz / 2.21 kg

Packaged Weight
5 lb 9 oz / 2.52 kg

Floor area
37 sq ft / 3 sq m

Vestibule area
10.2 sq ft + 10.2 sq ft / 0.9 sq m + 0.9 sq m

Width
58 in / 147 cm

Length
92 in / 234 cm

Height
40 in / 102 cm

Packed Diameter
7 in / 18 cm

Packed Length
25 in / 64 cm

Number of poles
2

Pole Type
DAC Featherlite NSL Poles + Swivel Hub

Wall Material
70D Dye Free Polyester Taffeta

Floor Material
1800 mm PU Nylon Taffeta

Fly Material
75D 1800 mm PU Polyester Taffeta

Reviews
10

reviews

5-star:

4

4-star:

5

3-star:

0

2-star:

1

1-star:

0
Excellent tent for the money! Decent sized for two people. A little on the heavy side. Nice to have two doors with vestibules. Mine has yet to leak even a drop. Simple to set up.
Design: freestanding
Sleeps: 2
Ease of Setup: easy
Price Paid: $150

Very well designed, easy to use # season tent.
Pros
Easy setup
Quality fittings
Twin door design
I've been using and working with the Gunnison 2 since this model first came out about 8 years ago. Read my other reviews for more about me, but, briefly, I work around and on tents everyday for a living.
The Gunnison 2 is the standard tent I outfit clients with for summer and fall expeditions in the southwestern U.S., Alaska, and Mexico. We use them for extended car camping, backpacking, canoe expeditioning and sea kayaking. This is not a lightweight tent, but neither is it a beast. The materials are appropriate for hard institutional use (though a footprint or self-made Tyvek ground sheet is essential for keeping the floor happy).

Pros:
Extremely easy to set up. Clip the four pole "ball feet" into the corner pieces, the center into the apex hub, and engage the edge clips. The fly simply clips in and stakes out. I can reasonably set this tent up now in about four minutes.

High quality plastics for all fittings. When I first saw the new (now four year old) apex hub and corner ball mounts, I was skeptical. "When those break, you're done for" I thought to myself. After many years of seeing 60+ of these tents come and go with clients I have only seen one broken plastic part — and that was because I broke it while strength testing it in our facility.

Twin door design — When two people must live and work together in the field for extended periods, crawling over each other to get to a single door gets old fast. The Gunn 2's double door are a real blessing. Plus, due to the fickle nature of ALL zippers (see "cons" below), when the zipper on one door finally fades, you've got the option of another.

Two Pole Design. The simplicity of twin identical poles cannot be overstated, especially after a long day of desert hiking or rough sea kayaking. However, it is worth remembering that this is not a winter or mountaineering tent. It is a fine rain and light snow tent that will handle moderately breezy conditions IF GUYED OUT PROPERLY. It is designed to collapse and pop back up if the wind pumps up — as it has done on numerous occasions to me in blustery willie-wah conditions in Alaska and the Sea of Cortez. While I have seen poles break on Gunn 2's, it seems to happen much less if the tent is fully guyed out.

Easy fastening toggles facilitate keeping the door material out of your way when packing things into or out of the tent.

Plenty of room for two people and their gear. The two vestibules at either door means that each occupant gets their very own covered gear shed. How nice!

Cons:
Zippers — Anytime you make a zipper turn a corner it causes stress on the zipper pull and teeth. And since the Gunn2 features oval entryways, the zippers are forced to make a turn. If you develop the habit of slowly opening and closing the zipper while feeding the material on either side with your free hand, this shouldn't be a problem. For me, with clients who sometimes are tired and cranky after a long day, I find that the zippers take a beating. To be clear: this is not a design flaw in either the tents or the zippers — it's just a part of life in the field. Attention to detail while zipping doors will keep your zippers alive for many years of service.

The stakes that come with the tents are, as my British co-workers say, s***! Simply purchase proper stakes when you buy your new tent. These bad boys are what you want...MSR Carbon Core Tent Stakes Remember: when conditions get nasty, it is stake integrity that will determine whether you sleep comfortably or not.

In stormy, snowy conditions, snow can be driven up under the fly and through the mesh window. But if you're in stormy, snowy conditions in this tent you already made errors in judgement and now you must suffer!
Source: bought via a "pro deal"

Pros
Lightweight
Great floor space
2 vestibules
Cons
Crappy stakes included
There are lighter tents available
I've had the standard (not the "pro") Gunnison 2 person tent for approx. 5 years and have used it in a variety of locations and seasons.
I haven't done any winter camping with it, and (hopefully) never will. The tent is designated a 3-season tent, and I'll take Kelty's word for it. 
The tent is very easy to set up, and though I've never actually timed it I'm guessing I can set it up in 5 or 6 minutes, including staking. A few words about the stakes that come with the tent. Throw them away. Immediately. Don't find out when you're on a trip that the stakes are garbage. Mine bent while I pushed them into the ground with the palm of my hand.  
I have had the tent in one absolutely huge downpour on a trip in Arkasas one spring.

Some gear got wet before we had the tent up, but we didn't have any issues with leakage in to the tent.  There is a lot of mesh used for ventilation and I haven't had issues with condensation, but I haven't had to wait out a 2 or 3 day storm in it either.
We've also used the tent in some high wind areas and the tent has stood up to the wind without an issue.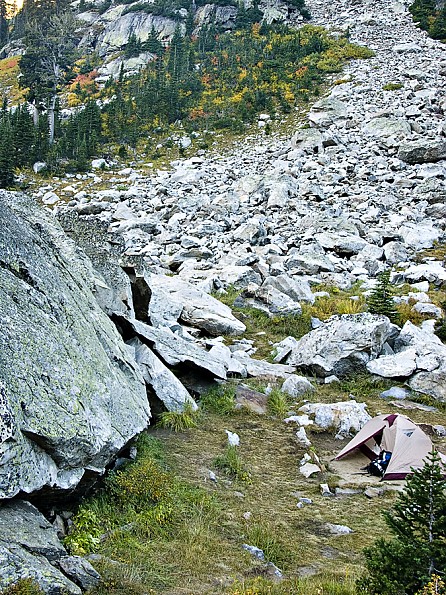 Gunnison 2.1 backpacking in the Tetons.
There are certainly lighter options on the market, and they will lighten your wallet correspondingly. The MSRP for this tent is $199. The weight according to the Kelty web site is 5 lbs. I know this is horrendous if you're a serious ultra-light packer, but considering the Gunnison 2 person has 37 sq feet of floor space, two 10 sq foot vesibules, and two doors, these seemed like worthwhile trade-offs.  And since it is a 2-person tent, you can split the load with your partner.  
I am all around happy with this tent!! 
Source: bought it new
Price Paid: Probably $150, can't remember for sure.

This tent is relatively lightweight (especially broken up between two people) with a great amount of room for two people - we're married and enjoy being close, yet still had plenty of space between us as we slept and below our feet for gear.
The vestibules are handy and spacious. The set up is quick and easy due to the external hooks. We awoke surprised by the lack of condensation on the tent though we were in a humid area. May be a little too warm with the fly on for hot summer nights. if you can leave the fly off ventilation will improve. Rugged material.
Overall: very impressed with the tent quality for the price.
Design: three season freestanding
Sleeps: 2
Ease of Setup: simple / quick
Weight: around 5 pounds
Price Paid: $160

Great, durable, economic tent.
Pros
Two enterances
Two vestibules
Very simple and quick set up
Cons
Weight (but not all that bad)
Non reflective guidelines.
Being a larger sized guy I went with this tent so  I would have a little extra room for myself and gear esp. on a rainy day. Though not the lightest, I have no trouble carrying it in my Maverick Mountainsmith pack.
I typically use this tent for weekend backpacking trips, but also use this for week long treks along the Appalachian Trail. I have been in some bad storms with this tent, and have yet had it leak on me.
Be sure and use a foot print with this tent,.. it will keep the floor lasting for years!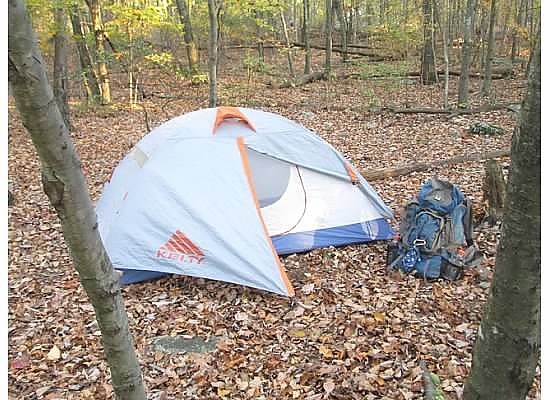 Source: bought it new
Price Paid: $149 footprint extra

Best tent ever!!! Not ultralight but great for any other use.
Pros
Ease of set up
Size
Features
Setup is as easy as putting the poles in the tabs and clipping the tent to them <1 minute.
The rainfly is nice and warm. 
Tent has ample headroom for sitting, and the vestibules are handy.
I can strap the entire tent bag(poles and all) to my pack securely.
No problems with moisture at all.
The stakes seem a little flimsy, so I replaces them with plastic ones.
It's not a super light tent, but the extra weight is worth it for the features you get.
I liked it so much I bought two to replace the old 6-man we used to use. This makes us more flexible, also.
Source: bought it new
Price Paid: $120

My Kelty Gunnison 2.1 has served me very well for the past three years. I've spent many nights in it and it is still in great condition.
Pros
Light weight
Great price
Easy assembly
Great looking
Cons
The windows on the fly are somewhat worthless
It only takes a few minutes to set up.
I spent a 24-hour period in 50 mph winds and rain and it remained stable and dry.
It has vents near the peak that help with ventilation
It came with the gear loft. My previous tent didn't. The loops in the ceiling are great for hanging the gear loft, some short cloths lines and a flash light.
The one piece pole system works great. It makes set up and take down faster.
The one problem I had with it was promptly repaired for free by Kelty. Manufacturers that back their products are very important to me.
I use the Kelty Gunnison 2.1 for bike touring. Lightweight equipment is very important to me. It was the first of several quality Kelty products in my kit.
Source: bought it new
Price Paid: Aprox $125

Very easy and fast to set up and take down. Packs down relatively small for a tent this size. Fits my 6' 5" slender frame great. Holds two adults easily. Best suited for backpacking. Would highly recommend. Perfect for backpacking in pairs.
Pros
Two doors with a vestibule each
Very roomy compared to weight
Easy setup
When set up right is 3+ season
Cons
Little heavy for a solo packer, but only slightly heavier than its solo counterpart.
Rain drips in when entering or exiting with wet rain fly
A very easy tent to set up even in the dark. Pitches tight and remains stable in the wind with plenty of guy lines.  Handles rain very well straight out of the box, though I have since additionally sealed the seams for my peace of mind.  
Can be set up with good ventilation or without depending on how much breeze you want for the time of year. I can set up right in the tent without hitting my head on the top, two moderate to large vestubles allow for dry storage of packs and muddy boots outside the tent.
It packs up easily in a slightly oversized stuff sack. Lightweight aluminum poles snap into corners of tent easy with the help of the jakes foot.
Construction of tent is good as it has held up well with the abuse from kids, much better than some other tents i have and use.  
Source: bought it new
Price Paid: $169

I've used my Gunnison 2.1 for two years now in spring, summer and fall. It fits a 25x78x2.5 inch pad with room to spare for all my stuff. It has never leaked a drop despite some decent storms. It has received no special care other than hosing it off when dirty and always storing dry.
It fits me (about 6 feet 2 inches) unlike many other 2 person tents. If you need to share with a second person, you better be very fond of them (true with other two-person tents) but you will have two vestibules and two doors.
While I am sure there are better tents, this tent is large for a two person backpacking tent, reasonably priced, well-made and has earned my trust. I am comfortable recommending the tent to anyone.

Design: three-season almost-freestanding dome (at least one stake for each vestibule)
Sleeps: 2
Ease of Setup: could not be easier
Weight: about 7
Price Paid: $180

My Gunnison 2.0 lasted five nights. I have about seventy nights on the 2,1. The rain fly has basically worn out and Kelty did repair it. I could have used the same tape without being hung up for a week or so
My complaint is more with their customer service and sales departments or lack thereof. If you want to be a dealer, just ask, they will set you up. I went to what I thought was a store for warranty and it was a a house, not a retail store.
I am a bicycle tourist so being run around by Kelty corp is a bit more difficult than just driving. If you are looking for a tent that does not last and has very poor customer service and communications, this is the one for you.
I am buying another Marmot and if you seek something that will last go either way. Four or five Coleman, or one good quality tent with quality service and Kelty is not it.
Price Paid: $149.99

You May Like
Recently on Trailspace