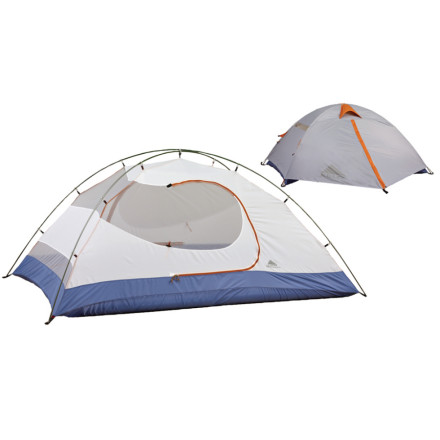 Specs
Price
MSRP: $259.95
Historic Range: $39.97-$289.95
Reviewers Paid: $105.00-$200.00

Seasons
3

Number of Doors
2

Number of Vestibules
2

Capacity
4

Minimum Weight
7 lb 7 oz / 3.37 kg

Packaged Weight
8 lb / 3.63 kg

Floor area
57 sq ft/ 5.3 sq m

Vestibule Area
15.6 sq ft + 15.6 sq ft / 1.4 sq m + 1.4 sq m

Width
82 in / 208 cm

Length
100 in / 254 cm

Height
52 in / 132 cm

Packed Diameter
8 in / 20 cm

Packed Length
28 in / 71 cm

Number of poles
2

Pole type
DAC Featherlite NSL Poles + Swivel Hub

Wall Material
70D Dye Free Polyester Taffeta

Floor Material
1800 mm PU Nylon Taffeta

Fly Material
75D 1800 mm PU Polyester Taffeta

Reviews
5

reviews

5-star:

1

4-star:

3

3-star:

0

2-star:

1

1-star:

0
I bought this tent for easy setup and take down, no tricks. Made to sleep four adults cozy, or three adults roomy. High quality brand name tent with no defects. Probably not the lightest tent available, but very reliable for a three-season backpacker.

Pros
Easy to set up and take down
Lots of headroom, storage pockets, gear loft incl.
Cons
Maybe a little heavy for backpacking
This tent is very easy to set up and take down. There is always a choice to be made, how will you repack the tent for travel or backpack. I had to buy the footprint from a different company. When I got the footprint, I attached it to the tent body and left it that way.
I have used this Kelty Gunnison tent over 25 nights and mostly for backpacking. For all my backpacking trips, the tent parts were divided up between other hikers. Each person always carried the same part of the tent and shared other group gear to even up packing weight.
On a ten-day excursion, after several nights of backpacking and setting up and breaking camp every day, other group members challenged me/ us to a tent setting up race. Because my tent mates and I were familiar with our easy to use Kelty, we set up full tent with fly in about 45 seconds. 
This tent was very rugged and dry in multiple rainstorms. Every zipper, clip, loop, pole section, and grommet has been perfect. Very stable in moderate wind.
Still no sign of wear on any parts after one year of heavy use.
I live and use this tent  in the Rocky Mountain West. No problem with condensation in the summertime.
Source: bought it new
Price Paid: $150, going out of business sale

Great car camping tent for a family of 3. We can use our large 25" wide sleeping pads and still have room for duffel bags inside the tent. Two vestibules for storing your shoes so they stay dry. Nice high ceilings add to the comfort and utility of this tent.
Even though this is a "4-person" tent, it would be too cozy for 4 in my opinion, but it still has more room than most 4 person tents in the backpacking category, and you could manage pretty well. It's also quite heavy for a backpacking tent -- around 8 lbs! I imagine the 4-person "family camping" tents would have more headroom than this one and more weight, but at 52" high at the peak, the 8lb Kelty is just fine for us.
Well ventilated so not too much condensation occurs. The rainfly is very effective and keeps the tent quite warm, and there's enough ventilation to keep from having a rainforest inside the tent... I think the mesh at the bottom of the tent walls help a lot. My Sierra Designs tent was basically all mesh, so I wondered how the Kelty would fare, and it does very well indeed.
Very easy for one person to set up. Haven't tried doing this in real windy situations, but no problem in light winds. Takes about 10 minutes including the rain fly, or about 15 minutes if your toddler is "helping" you... About the same as for my Sierra Designs 2 person tent. Both tents use the super fast hook type of attachment to the poles, but the Kelty ones don't seem quite as sturdy or as seasy to attach to the poles, but still quite easy.
Weakness of the tent: Not the same quality of workmanship as my Sierra Designs Electron 2 tent!!! There were several flaws including a guyline attachment not correctly sewn in (I easily fixed that by putting on a grommet -- since this is for car camping, the extra weight doesn't matter), and several other minor things. All minor, but still... Also the guylines are real thin and black in color so you will surely trip over them at night, and in addition, they seem to absorb water and grow slack overnight. The florescent yellow guylines on my Sierra Designs tent didn't do that. And finally, the lightweight aluminum tent stakes bend VERY easily, so I'll have to get heavier duty stakes.
Still, I would very happily recommend this tent. For the price, as compared to Sierra Designs, MSR, Big Agnes, etc., it was quite a bargain. A little too heavy for backpacking, but great for car camping.
Design: 3-season freestanding tent
Sleeps: 4
Ease of Setup: Super easy!!!
Weight: about 8 lbs plus the footprint weight
Price Paid: $180

We (wife, self and two boys) have used this tent 5 or 6 times now. I have had no problems with it at all. It's not real heavy for a 4 person tent and sets up easy.
Okay, like ALL backpacking tents I have ever used or seen it's a bit tight for 4 but it does work and since we are all family it doesn't matter. My bag does touch the side of the tent but we have had a couple of rainy nights and never had water in the tent so the fly does it's job.
Having 2 doors is a great thing! We use one as an entrance and the other as gear storage. We also like that the windows in the fly let in light. It does take a minute to align the windows properly because the windows stick to the poles but like I said, that only takes a minute of conscious thought.
As with all hub style poles it sets up very quickly and I also like that the footprint attaches to the tent via clips. The price was a blessing for our tight budget as I actually ordered the 4.0 as a closeout but they sent me the 4.1 instead and told me to keep it. I was a happy camper!
Design: Campmor calls it a 3.5 season tent and it is freestanding.
Sleeps: 4
Ease of Setup: very easy
Weight: 8.5 pounds (including tent, fly, footprint, stakes...)
Price Paid: $120

Bought used on eBay 2005 or 2006 model. Listing advertised there were ember holes in tent and rain fly. I think there were 2 holes and easy to fill in, so it was a steal for me.
Love this tent. Has a lot of room/space, but the kicker is the dual door and dual vestibule (both 16X2ft.sq.) feature. Has a hook in center to hang a lantern/light from and zipper pockets on sides for personal belongings quick access (wallet, maps, electronics, etc).
I upgraded from a TNF Tephra 22, which was s'posed to be a 2 person tent, but barely one can fit. I offered it to numerous different friends once I got the Gunnison and they all recommended I keep it and set it up on my site for either extra storage or for my dog to have his own personal tent!

Design: 4 season (here in Florida) free standing tent
Sleeps: 4
Ease of Setup: My dog can do it with his eyes closed
Weight: 9Lbs
Price Paid: $105

This is an adequate 3-season tent, but it has a serious flaw in the way the rainfly attaches to the four bottom corners of the tent. The problem is that the poorly-designed, flimsy clips that hold the fly corners down - don't hold. They don't even have a chance.
I'm surprised that Kelty would ship a tent with such a flaw. The clips couldn't have been tested. The buyer will have to replace the clips with something that will work...Fastex clips for example.
Design: three-season freestanding dome
Sleeps: 4
Ease of Setup: easy set-up
Weight: look it up
Price Paid: $200

You May Like