Kelty Illusion 3500

The Illusion 3500 has been discontinued. If you're looking for something new, check out the best weekend packs for 2020.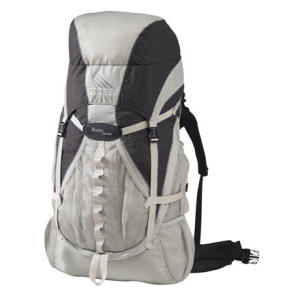 Specs
Men's
Price
Historic Range: $84.98-$170.00
Reviewers Paid: $99.00-$175.00

Women's
Price
Historic Range: $67.98-$170.00

Reviews
5

reviews

5-star:

3

4-star:

1

3-star:

0

2-star:

0

1-star:

1
Before this pack I had a Kelty Trekker external frame and decided to shed some weight so I bought a Gregory G-pack. I was happy about the weight but the lack of rigidity and comfort caused me to look for something in between. I chose the Illusion when I saw it had gotten an editors choice award from Backpacker magazine.
I have a small waist 30" but my torso is 18", which is a little long for my height. Back fit is usually a very big problem for me. The hip belt is tightened all the way but fits. The shoulder straps, load lifters and sternum strap easily make for a comfortable fit on my small shoulders and chest. I like to keep my pack weight under 30 lbs. and the Illusion easily carries it with no discomfort. I figure it could easily carry 45 lbs. but you will never see me with that much weight.
I like all the mesh pockets and shove it pocket in the front, it keeps the pack light but makes for retrieving granola bars and water bottle very easy. The large zipper in the front is great for getting things out without tearing down the whole pack. I also like that this pack has plenty of compression straps something you don't see on many packs this weight. I think the top lid is a little flimsy and should have been made smaller IMO.
My only other complaint is when the hydration pocket has a full bladder in it the back of the pack rounds out and doesn't fit close to my back.
I have taken the Illusion on overnight trips up to weeklong trips and it has handled anything I could throw at it. So I have had it for a few years now and I think I am qualified to say that the Illusion is a very durable and well made pack.
Sadly Kelty discontinued the Illusion and now makes the Nimble which is heavier and nowhere near as comfortable IMO. If you are thinking about purchasing the Nimble take a look at the Illusion first. You may still be able to find this excellent pack on the internet somewhere, maybe on Ebay.
Design: top and front loading internal
Size: 3500
Number of Pockets: 6
Max. Load Carried: 30 lbs.
Height of Owner: 5' 7"
Price Paid: $170

pros..
i like the big open middle zipper. you can open-face this pack nicely, but getting it closed is another thing. I want to push a pack to its abilities and see how it holds up. I don't abuse my packs, i just use them hard, and a lot.
I travel and hitchhike and stuff them and open and close them, and this pack definitely did not hold up at all. within the first few days the -way too small- strap clips broke.. two of them. the front mesh pocket is inefficiently designed to hold anything that isn't totally small and flat. the side pockets are too small if your pack has anything in it, you basically cant fit anything in them, and they aren't deep enough. even socks fall out of them. the have all ripped on me.
this pack is not designed to ever be full, because if you fill it to the top of its drawstring capacity and then close it and cinch it down with the cinch straps, this pack looks like its folding in half. the zipper is nice and burly, never looks like it's gonna break, but its pretty poorly designed. it's a first attempt, that can definitely be improved upon.
super important.. if the pack ever has anything in it on the top of the main compartment, and you cinch it down (like you normally would) it almost always reverses the sunken in mold for your head to be able to tilt back nicely.. thus poking into the back of your head and you have to force it back into place.. which doesn't last for long.
Design: front loading internal
Size: small to medium
Number of Pockets: 1 real plus 4 5 small mesh
Max. Load Carried: oh.. 80 pounds maybe?
Height of Owner: 5'8''
Price Paid: $175

I bought this pack on sale and thought I'd try it out for an upcoming hike through Canyonlands NP in Utah.
I remember looking at Kelty packs when the Zuni 1st came out and thinking that pack had a a lot of nice features, but it was a little too limited in capacity, to suit me and my style. at that time.
Well, I'd been parring down and lightening my pack weight and thought I'd give this pack a go. It is filled with great features that I really like. Love Kelty's Scherer Cinch, for easy tightening of the hip-belt. There is a very useful 'security pocket', including key clip, contained in the top lid.
I love the front panel, with its "u" shape zipper. It allows easy access to items in the bottom of the pack. Dyneema grid-stop fabric is always great to have on a pack. Too bad they didn't choose to make the bottom of the pack out of it. I got a 'pull' on the nylon that they use there.
There are a total of 7 pockets, besides the main compartment. I like the size/usefulness of the side mesh pockets, that have cord locks to keep things secure. The 'sleeves' behind the top two side mesh pockets are great for holding tent poles, etc. The front 'pocket, while quite useful, could benefit from the straps being another 6" longer. The weight is pretty decent as well.(1524g on my scales)
This pack carries surprisingly well, as I had no sore spots(hips/shoulders),even though it was this packs 'inaugural' outing, with 27lbs on board, for a 4 day trip.
I pretty well maxed out the bag's suspension adjustment, with my 21.5" torso. I like having the choice of using either of the 2 hooded bladder hose exit 'ports'.
This pack is now my 'go to' pack for trips up to 5-7 days in milder climes. An excellent thought out(and executed) design. If you can find one, I highly recommend it!
Design: Front panel/top loading Internal frame
Size: OSFA 3500CI
Number of Pockets: 7
Max. Load Carried: 32
Height of Owner: 6' with a 21.5" torso length
Price Paid: $99

I had down sized from a 5500 plus "monster" at 6 lbs. to a Mountainsmith Ghost at 2 and change. Still wasn't quite there and decided to go "counter culture" and increase my weight by going to this conventional design, but still fairly light about 3.5 lb pack.
Suspension is excellent as is the torso length adjustment. Various mesh pockets are well designed although the two bottom ones could be a little deeper. Pack has shingled hydration tube exit ports on both sides to go with the internal bladder sleeve. The bottom of the pack is flared for sleeping bag accommodation (I even managed to get my gigantic North Face 0 deg Polarguard 3D bag in there...with a little persuasion).
Pack carries well and obscures rear and side vision less than most conventional internal frames. The panel loading feature is quite useful for grabbing something you foolishly put on the bottom, but then need on the trail. It also allows you to take better advantage of the full volume. I wanted slightly more capacity than my Ghost and a little better suspension. This pack more than delivers.
I still use the Ghost on overnighters, but for cold weather, 3-day or more treks, or just when I feel like taking the kitchen sink and making fun of my ultra-light comrades, this is an excellent pack. Besides, I promised my wife I wouldn't buy anymore.
Design: top and panel loader
Size: 3500 ci
Number of Pockets: 1 top, 1 shove it mesh, 4 side mesh
Max. Load Carried: 35 lbs.
Height of Owner: 6 ft. 0 in.
Price Paid: $105

I took this pack with me to Big Bend for backpacking, and I was amazed at the weight and features. Although on the downside the pack didn't have a sleeping bag compartment so you have to be careful with your hydration bladder. Overall a great pack that you will never need another one again.
Design: front/bottom loading internal
Size: 3500 cubic in.
Number of Pockets: 5
Max. Load Carried: 40
Height of Owner: 5'5"
Price Paid: $170

You May Like
Recently on Trailspace