Kelty Mantra 7

The Mantra 7 has been discontinued. If you're looking for something new, check out the best three-season tents for 2021.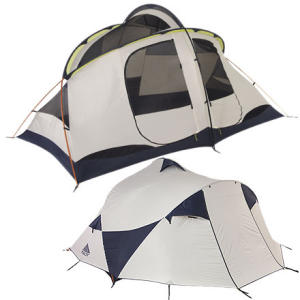 Specs
Price
Historic Range: $237.15-$529.95
Reviewers Paid: $280.00-$500.00

Reviews
6

reviews

5-star:

1

4-star:

4

3-star:

1

2-star:

0

1-star:

0
I camped with the tent for eight years. At first, the poles were too long and ripped the tent. Kelt gave us new poles and fixed the tear. This tent held up in severe winds and rain and kept us dry.

Another storm off Lake Michigan, our family went to sleep in the car. When we returned, the tent was blown up the bluff, lodged between two trees, and was still intact (it needed more weight to hold it down or bigger stakes to keep it down).

This spring the tent leaked and I was told the polyurethane likely broke down. The fix was applied polyurethane to top and underside which was a very big job. Easier to buy a new fly.

I am writing because I just learned that Kelty no longer makes this tent and I see no other tents on the market that compare. For now, I will apply the waterproofing. I will miss this tent and only wish Kelty will make another like it.....Thanks, Kelty.
Cons
Fly coating material breaks down and leaks after 8 years.
Source: bought it new
Price Paid: $500

This review is more about the Kelty company than about the tent. I can't say enough about the excellent customer support that I have received from Kelty over the years.
But first, the tent: We bought the Mantra 7 (family of 5) and used it during a 2-month camping trip through various parts of the Rockies. We've also used it locally here in Florida, and recently on a 3-week trip in the Smokies. It has proven to be a very sturdy tent, and we've been happy with it. It is very good in wet weather; the fly covers the entire tent down to about a foot or less from the ground. Even in pouring rain lasting hours, it has kept us dry (until lately--more on that below).
The one negative aspect of the tent, and this is just the nature of the beast, is that the thing that makes it a good wet-weather tent can make it hot in warm weather: the all-encompassing fly. Although the Mantra 7 is built with a many ventilation features, if the tent is in the sun and there's not much wind, it will get hot inside. Of course, if there's no rain in the forecast, the fly can be removed and then the top and sides are almost entirely screen mesh.
Now, the company.
Shortly after buying the tent, I went on a small camping trip solo, intending to bring the family along after a couple of days. So, I was forced to set up the Mantra 7 alone. Now, my wife and I had done a test-assembly after getting the tent, and found it challenging to bend the very sturdy main poles into place--it was definitely a 2-person job. Once assembled, the tent seemed very sturdy, but getting that last pole's end into place was rather difficult. So here I was attempting it alone. Bad idea.
Not being able to slide the pole through the pocket adequately while trying to bend it caused me to have to bend one of the pole way beyond any sane angle. I ended up snapping one of the poles in half at one of the joints. This was not a product defect, but poor technique. I knew it was going to happen because of the force I was applying to it, but didn't really have a choice because of my circumstance. So, it snapped and I was without a tent. I had to go to a local K-mart and buy a cheap Coleman tent (bad idea).
I called Kelty about it when I was in town, and they immediately sent me a replacement pole, and told me to return the broken pole to them when I got back and they'd replace it. All of this was not only free, but they didn't even ask me when I bought it, nor for a receipt, etc. The attitude was just "we want to get your tent working for you." I was impressed and received the replacement pole a few days later, soon enough for my family to enjoy the Mantra when they arrived (I waited for my wife to assemble the tent this time.) When I got home, I sent in the damaged pole, and received a replacement for that pole to (so I now have a free extra pole). :-)
We used the tent locally a few other times with excellent results and then stored it away for 4 years in a hot, Florida attic.
We recently pulled it out for a 3-week camping trip in the Smokies and decided to set it up before leaving to make sure everything was working. We found it in good shape except that the elastic in the fly-supporting pole was shot. The pole worked fine, and we were able to assemble the tent, but it was just a bit difficult to keep the pole pieces together while doing so. Since we weren't leaving for a couple of weeks, and since we had such good luck with Kelty 5 years earlier, I decided to call them.
The response was exactly the same as the first time: "We'll send you out a replacement elastic cord right now if you'd like, or you can sent the entire pole to us, we'll install the elastic, and return it to you." No charge. Due to the time constraint, I elected to do the former, and the cord arrived a few days later.
During our trip in the Smokies, we hit some hard rain halfway through the trip. And, the tent began leaking. Just annoying drips through the ceiling here and there. The fly was leaking through the seams. After taking it off the tent and examining it, it was obvious that the seam tape was coming loose. So, I purchased some seam sealer and applied it, eliminating most of the leakage.
However, another problem was that on either side of the tent fly, where a small (1') triangle of fabric exists, it has somehow stretched to the point where no matter how tightly we pulled the supporting strings for the fly, we couldn't keep it from contacting the tent when it was wet. Both sides leaked water in there. Evidently, 4 years of storage in the hot attic had caused the fabric to stretch or something.
Upon our return, I called up Kelty and explained both issues. The response was the same: "Send us the old fly, and we'll send you a new one." Well, the new one arrived today. Again, no questions, no receipt, no cost. Awesome.
It's rare to receive this kind of service from a company today, and I applaud Kelty for it. In fact, I would not spend my time writing such a long review if I wasn't so impressed. They have made a dedicated customer out of me.
Design: three-season freestanding dome
Sleeps: 6+
Ease of Setup: moderately difficult (requires 2)
Weight: adequate for camping
Price Paid: $350

We've owned and used the Mantra 7 for about six years in climates from the mid-90s on the Outer Banks in North Carolina to extreme windy conditions on Prince Edward Island and Meat Cove in Nova Scotia, as well as some fall weekend trips where the temperature dipped into the teens. Overall, it's a great design ergonomically and deals with high winds beautifully. I do have some complaints, however.
Other reviewers mention how dry the tent is in downpours, but that has not been my experience. True, we've been in some SEVERE downpours with high winds, but the tent has not kept us bone-dry. It's a simple design flaw, however; the water flows off the fly and lands directly on the exposed seams that are stressed far too much in the corners by the high-tension poles. The exposed seams in the tub floor of the tent are stressed and opened, and the water flows through them into the tent, negating the positive design of the tub floor. These seams should definitely have been redesigned and taped at the factory and/or the fly should have fuller coverage to the ground at the corners.
The other major quibble is that the poles are under too much tension. I've been tent camping for over 40 years; I know what I'm doing, and yet I've had two of the poles bend and give out at junction points (once the middle black one, and once one of the two main gold ones) necessitating some serious lashing and reinforcing on-site to get through a trip. Not easy to do considering the high tension these things are under. Two of the stays that hold the vents in the fly open have also broken and collapsed.
Overall, the design is admirable, but the construction is not on par with truly exemplary outdoor gear. I also own a North Face two person four season tent that has seen several feet of snow, severe sub-zero temps, major thunderstorms, and it's never given me an ounce of trouble. I should have gone the extra dough and just stuck with that brand for our family tent, too.
Design: three-four season family tent
Sleeps: 6+
Ease of Setup: relatively easy, but poles are under too much tension
Weight: about 20 pounds... but that's a guess
Price Paid: $349

Overall, I agree with the listed specialty shop reviews, but...do yourself a favor and call Campmor for shockcording and redo all your poles. After half dozen uses the shock cord is limp and lost its elasticity, causing poles to separate inside pole sleeves, which is a royal pain when dismantling. Door screening is very sensitive, snagging easy, not as durable as the two 25 year old North Face tents I own. It is roomy and keeps you dry.
Design: 3 season/freestanding modified dome
Sleeps: 6+
Ease of Setup: 10 minutes with 3 or more people
Weight: a ton (definitely a car camping or flat water canoe tent)
Price Paid: $350

By far, the best family tent I have owned. It's huge, with a divider from the kids. Full fly has kept us dry in numerous downpours. Vestibule is big enough to plant a couple of chairs so you can watch it rain, while you stay you dry. Have used in in cold and warm climes. Highly recommend it.
Sleeps: 6+
Ease of Setup: easy
Weight: heavy..but it's for car camping not backpacking
Price Paid: $280

This is a solid family tent. Camping in March in the Smokeys during severe thunderstorms and not a drop of water in the tent. Wind couldn't deform the tent since it is strung so tight on its DAC poles. Easy to put up and take down. This is a real home away from home! Only drawback: the tent vents great but because the fly doesn't come all the way to the ground dry debris blows up under the awning.
Happy Camping!
Design: 3-season freestanding
Sleeps: 6+
Ease of Setup: Cake
Weight: 25 pounds
Price Paid: $350

You May Like