Kelty Red Cloud 5000 ST

The Red Cloud 5000 ST has been discontinued. If you're looking for something new, check out the best expedition packs for 2020.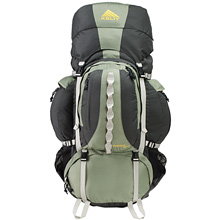 Specs
Price
Historic Range: $99.95-$200.00
Reviewers Paid: $119.00-$150.00

Reviews
5

reviews

5-star:

3

4-star:

0

3-star:

2

2-star:

0

1-star:

0
I bought this a while back.  I had the Redwing 3100 of the same color, which has stood the test of time so I thought this would be a good choice. 
I'm 5'9" with high hips.  The fit of this pack was perfect.  But there were some operability things I didn't like. 
One, when the bag is full the zipper covers stretch tight over top the zippers and impede their ability to function. Usually I had to lay the pack flat on the ground to operate the zippers. There is no easy access for the hydration bladder area so you will have to unpack half the pack every time you want to fill up water.  Also there is nothing to hang the bladder on so it keeps falling to the bottom of the bladder carrier. 
I have  a 38 in waist, which I don't think is too over the top, but it made the hip belt almost useless, and the pack kept falling.  Just because we have a shorter torso doesn't mean the hip belt padding should be shorter in length as it goes around the waist.  I don't think the padding on this reached the front of my hip bone.  The butt pack is not easy to remove, and fastex buckles should be added.  It's also heavy, and the water bottle pockets won't hold a nalgene bottle. 
I would put the durability of this pack far above most others.  If you are doing a lot of traveling and your bag is going to take a lot of abuse this is a great bag. I'm going to use this bag for travel as a civilian contractor in middle east. 
If you are going to be doing a lot of actual backpacking you should consider something a bit lighter, easier to use and be willing to shell out a hundred more bucks.  A low end pack will suck the life out of you on the trail.  A few of these reviews have come from people with little backpacking experience and the passionate backpackers buying the latest gear don't own this pack so they can't rate it. Their input is missing. 
I don't want to sound like I'm knocking Kelty, but I do feel this pack has a slightly higher average star rating than it warrants.  Overall it's not bad, but if you're getting serious you'll want to take it up a notch.     
Price Paid: $119

This was my very first backpack. I'm a planner and shopper. I like to know that I'm buying good quality stuff that is appropriate for my needs.
Overall, I'm impressed with this pack. It's quite durable, and for the price I won't complain. Still yet, I have two major issues with this pack. They are: 1) the weight of the pack alone, and 2) the padding on the shoulder straps. I've got broader shoulders for a girl, but I'm still quite short. The shoulder straps don't extend very far down, and they constantly cut into my armpits. With a heavy pack, that's not much fun at all.
I bought this pack because I wanted to do some backpacking and I travel a lot. At the time of purchase I was planning a month-long stint to southern India. Since then, I've used this pack on extended backpacking trips in the southeast, the trip to India, and an 11-month journey around the world to 19 countries.
For the price, this pack is pretty good. The material is a little heavy, but it probably makes it a little more durable. The Red Cloud held up to 11 months of tourtuous third-world travel and abuse. On over 20 different flights, I never bagged it separately when I checked it. I just cinched all the straps down tight, and I never got any tears or busted buckles. I had people throwing my bag off the top of moving buses and everything. This really impressed me about the bag.
Pros:
Durability!
The two-panel loading
Sleeping bag compartment
The removable lid/day bag
Cons:
Short Shoulder straps
Weight
Ultimately there are lighter packs out there now (even Kelty bags that have longer shoulder straps!), but this is a decent bag for people on a budget.
Design: Front and Top loading internal frame
Size: 5000
Number of Pockets: 6... counting the main compartment
Max. Load Carried: 55 lbs... not the best few hours of my trip
Height of Owner: 5' 2"
Price Paid: $150

As someone who has done a lot of camping, hiking, and backpacking in several countries around Africa, I have begun to realize the importance of gear fitting properly.
Since I am fairly short for a guy, standing at a little over 5'7" with a short torso and fairly narrow chest, I find that most products are just too big for me. Usually the packs are too big and long for me, usually leaving me feeling like I borrowed my dad's jacket or something.
From the first time I laid eyes on this pack, I knew it was different. Here was finally a pack that could fit me. When it was finally mine, I test loaded it with my tent, stove, fuel, and some clothes to get a feel for it. After I got all of the straps set correctly, it was almost like I wasn't wearing anything at all.
For someone who was used to being keenly aware of the load on my back due to improper fitting, this was heaven. It was since proven to be durable, but most importantly, comfortable. Finally, a pack that could carry all of my gear without killing my back.
Of course, it looks cool too, which is always a plus. Its pockets are conveniently placed, and each are big enough to carry a wide variety of gear.
Design: Top-loading internal
Size: 5000 c.i.
Number of Pockets: 6
Max. Load Carried: 45 lbs so far
Height of Owner: 5'7'
Price Paid: $148

I have just bought this backpack and I am one who will look at prices for months and compare packs. This pack had the most features and is awesome. You can buy it from www.bobwards.com for this same price.
Size: 5000
Height of Owner: 6'2"
Price Paid: $129.99

I'm a relatively short (5'6" on a good day) male backpacker and have tried a variety of packs over the years, including expensive Gregory's. For a short torso, I've never found a better value -- good fit, great features, relatively lightweight, and durable for a great price. Plenty of space for extended treks (I've done 7-12 day trips with this pack) and I really like the layout of the pockets and internal divides. It's my favorite pack.
Design: top loading w/rear access
Size: 5000 cu in
Number of Pockets: 1 top, 2 sides, 2 rear
Max. Load Carried: 47 lbs
Height of Owner: 5' 6"
Price Paid: $135

You May Like
Recently on Trailspace