Kelty Red Cloud 5600

The Red Cloud 5600 has been discontinued. If you're looking for something new, check out the best expedition packs for 2020.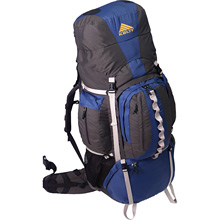 Specs
Men's
Price
Historic Range: $99.95-$199.95
Reviewers Paid: $19.95-$300.00

Women's
Price
Historic Range: $175.00

Reviews
13

reviews

5-star:

6

4-star:

5

3-star:

2

2-star:

0

1-star:

0
Durable backpack.
Pros
Durable — this thing lasts for years
Extra storage space
Comfortable
Cons
No detachable day pack
Weak velcro suspension
I literally live out of this pack now. At the beginning of the year I got rid of everything that couldn't fit inside of this bag and I've been living out of since. It's going pretty well for me. After traveling all the way around the world a couple times over the last 5 years, this pack is still holding strong. I've taken it on numerous flights, walked countless miles with it on my back, and lived out of it for months at a time.
I'm a small guy (5'8" 140lbs) and this pack is just a little too large for me. If I could stretch my torso an extra inch it would be perfect. Even with it being a little large, it's still really comfortable. Hip, shoulder, and sternum straps are all comfy and really easy to adjust with the bag on. It distributes weight really well, even if you don't do the best job packing it.
The two things I would change on this pack are its suspension system and I would add a detachable day pack to it. The suspension system is really weak when its put at the smallest size and usually rides up about an inch after its worn for a few minutes. And the pack has a storage compartment that is almost fully detachable, I don't understand why it wasn't made to be a day pack.
Over all though I'm very pleased with this pack. It's made all of my adventures so much easier over the last five years and I expect to have more than a few more years use to get out of it.
Source: bought it new
Price Paid: $300

Bought a Red Cloud 5600 for a 5 night trip to Clear creek in the Grand Canyon. Plenty of room, rode on my back like a dream. Easy to get to anything in the pack at anytime w/o unloading the entire pack. Pack weighed 50 lbs at the start.
Trained with it all summer carrying 55 lbs of water and weight up and down the mountains near home, looks like new. Easy to fit to my back and stayed comfortable. It's tough, convenient, well-built, love it.
Price Paid: $149

Got a Kelty Red Cloud 5600 at the local thrift store just off the University Campus. It will be my winter pack. Holds everything I need and then some! Great fit and great weight distribution. I really like it so far! 
Price Paid: $19.95

Likes: The pack is great. I am 6 ft 175, and it molded to my body perfectly. Weight was distributed on my hips well, and there were plenty of pockets. I like the Velcro feature on the side pockets, which makes it easy to carry tent poles. The pack has compression straps which makes it easy to make the pack smaller in width.
Overall I am very satisfied with this pack. I researched and tried almost every pack currently made by all brands for the 55- larger internal frame packs, and this one was by far my favorite.
Dislikes: There were a few things that were missing from the pack. I would have liked to have D rings on the front shoulder straps to hang things from. Also a few more daisy chains would have been nice as well as a hook to hang the Camelbak from inside the pack.

Design: Front-loading internal
Size: 5600
Number of Pockets: 7
Max. Load Carried: 35 lbs
Height of Owner: 6'0
Price Paid: $150

This is my third Kelty backpack. I started with a D4 way back in the 70's. This Red Cloud replaces the 10-year old Red Cloud that's beginning to show signs of stress.
I needed the volume for bulky loads -- the compression straps allow you to reduce the volume when you don't need all that space. I like pockets on my backpacks and this one has three usable pockets, plus two tiny ones on the hipbelt, plus the lid is another "pocket".
The sleeping bag access is much improved on this model. The panel-loader access is new to me, we'll have to see how useful that turns out to be. The suspension system on this model is improved from the older model, though that system was not too bad. They have found ways to tidy-up the straps that used to dangle from various points on the older model, that's a nice improvement.
I'm looking forward to having an internal water system on this pack. I miss the D-rings on the shoulder straps on the older model. I do like the color scheme on this new model over the blue/yellow of the older one.
Design: top-loading internal
Size: 5600 ci
Number of Pockets: 3
Max. Load Carried: 50 lbs
Height of Owner: 66"
Price Paid: $200

Backpack Features:
- Top panel loading
- Front panel loading
- Lid converts to a fanny pack
- Sleeping bag compartment
- Internal load pocket
- Hydration compatible
- Zippered side pockets
- Mesh water bottle pockets
- Side compression straps
- Spindrift collar
- Daisy chain
- Ice axe loop(s)
- Large front pocket with organization
- Zippered stash pocket
- Security pocket
- Fleece-lined optics pocket
- Lash tabs
I purchased the Kelty Red Cloud 5600 this past May for a backpacking trip through Shawnee State Forest. For the trip, my total pack weight was close to 40 lbs (not including the weight of the pack @ 6 lbs 10 oz). I had no problems with the pack -- although it was heavy, the pack itself was comfortable to wear and to adjust when needed. Also, the pack did not cause problems during all the steep climbs and descents at Shawnee.
Additionally, I liked all the pockets and loops that the Red Cloud 5600 offers. I was able to stow all my stuff and get to it with relative ease.
I would definitely recommend this pack for the novice / intermediate backpacker who is looking to do week-long backpacking trips. If you're only going to be out for the weekend, you should probably look for a smaller (and lighter) backpack. BTW, after searching around in stores and on-line, I found the best price for the Red Cloud 5600 at backpackingdeals.com.
Design: top and front-loading internal
Size: 5,600 in3
Max. Load Carried: 40 lbs
Height of Owner: 5'11"
Price Paid: $139

I have been using this pack for two years now and it's awesome. The back support and lumbar system make this pack comfortable, and when I'm on long hikes I sometimes forget it's even there. I've used it for a lot of trips ranging from a long day hike, to 3 day outings and even 5 day outings and small expeditions and it has proven itself time and time again.
Durable and holds up great (as long as the owner takes care of their gear). Still looks as good as it did the day it caught my eye in the store. I feel the space volume is very sufficient I've been able to hold just about all of my gear in it and on it (I live in Colorado so in the winter I need to carry a lot). I would absolutely recommend it to anyone who is looking for a nice durable pack with comfort and good volume.
Design: Kelty Red Cloud
Size: 5600 cu. in.
Number of Pockets: around 10+
Max. Load Carried: 60 lbs.
Height of Owner: 5' 7"
Price Paid: $170

Top choice, grade A for durability and function. This thing's been stuffed with 10 days of clothes and gear, ransacked by airport security, and strapped on for a day hike through Valley of Fire (AZ) and various Midwest climates. This bag is great for car camping and hiking to camp, just the same. I love how organized everything stays even when I half-hazardly yank clothes out from the front and bottom. Very comfortable, lots of adjustments, plenty of alternative storage spaces, and a great sleeping bag compartment.
Design: front & top loading internal frame
Size: 5600 cubic inches
Number of Pockets: 4
Max. Load Carried: 31 lbs
Height of Owner: 6' 1"
Price Paid: $165

This pack is the only pack I have owned and after six years of using it I still think it's a great pack. The pack is big enough to carry a week's worth of stuff and is built to last. The water bottle holders work great and the side pockets are wonderful.
BUT, I think that the pack weighs a lot (5 1/2-6 lbs.) and is almost too big for what I need. If I were to buy another pack it would about 4,000 cub in instead of 5,600. For a first pack this works great, but for someone who weighs everything, like me, this isn't the best choice for a pack. I had a hard time adjusting the metal stays.
So after all that I would give it about 3 1/2 stars.
Design: Front loading
Size: 5600
Number of Pockets: 5
Max. Load Carried: 45 lbs
Height of Owner: 5' 10"
Price Paid: $80

An excellent pack. I spent a week in the North Dakota Grasslands/Badlands south of Medora City. No trails out that way and pack proved very stable with the heavy loads I carried over challenging terrain.
Hefting a 60lb load proved no problem when everything was adjusted correctly but adjusting it correctly took some give and take. Eventually it was great. The floating lid gave great room for expansion and the detachable top lid worked great. I liked best that I could acess the middle of the bag without unloading the entirety of its contents through its various zippers.
Also, I enjoyed the hydration system. It worked great with my Camelbak and kept me well hydrated without constantly reaching back for those elusive bottles on the side pockets. If I could add one thing it would be a mesh pocket on the hip strap as a map or compass/gps pocket.
Otherwise great pack, very comfortable when adjusted and worked great for a full seven days.
Price Paid: $165

This is my third backpack. I like it very much. Once I learned how to adjust the back pad and shoulder straps it was like a dream. I carry around 50+ pounds and find it works well with heavy loads.
I like the extra pockets so that I don't have to dig deep into my backpack to find the little things that I carry.
The pack is very comfortable.
I think if I was to change things, it would be two things. First, the top has a belt on it so that you can use it for small side trips from base camp. Personally, I find it would be much more effective if the top had two mesh pockets on the belt for liter sized (or any for that matter) water bottles.
Also, after I purchased this pack, I saw an advertisement for another that showed an X-style cross strap for the shoulder straps.
When this pack is properly adjusted, it is very comfortable, but I would like to see an X-style strap between the shoulder straps.
Design: Top, front and bottom loading internal frame.
Size: 5600 ci
Number of Pockets: 3 outside plus top and 2 more inside.
Max. Load Carried: 58lbs
Height of Owner: 6'1"
Price Paid: $159.99

Big pack, well constructed. I took it on several hikes and campouts. I liked the ability to store stuff in different pockets. The suspension system and internal frame fit just right after adjusting. Very rugged and dependable. Not the lightest, but then it is a BIG pack.
Number of Pockets: 4
Height of Owner: 5'7"
Price Paid: $176

Ok this pack has great load lifters and they work flawlessly. It is made very solidly and even the plastic parts are heavy duty and you can tell they wont break.
My only gripe with this pack is that I could never ever fill it. I travel lighter than most (or would like to think so) and this pack has more room than I know what to do with.
If you carry all the gear for another person than this probably is the pack for you if you like to do overnights that is. If you don't carry all the gear for another than you may want to opt for the Kelty Coyote.
Design: front loading
Size: 5600
Number of Pockets: 4
Max. Load Carried: 40
Height of Owner: 5'10
Price Paid: $140

You May Like
Recently on Trailspace