Kelty Redwing 2900

The Redwing 2900 has been discontinued. If you're looking for something new, check out the best overnight packs for 2020.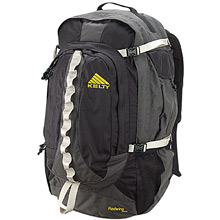 Specs
Price
Historic Range: $99.99
Reviewers Paid: $49.99-$100.00

Reviews
11

reviews

5-star:

8

4-star:

2

3-star:

0

2-star:

1

1-star:

0
Once a favorite of wilderness rescue teams, the Redwing is beginning to show its age and weight. An internal frame pack with two main zip compartments, the Redwing's teardrop panel-loading design doesn't make the most efficient use of the available cubic inches compared to a top loading pack. Sturdy overall, but it has a rather flimsy hydration pocket (though it does have hydration tube ports). Heavy cordura-type construction and reinforcement -- even in places it doesn't need it -- and straps everywhere mean needless weight, my pack weighs 4 lbs. 11 oz. with hipbelt, yet holds less than 3000 cu. in.
My biggest complaint is that Kelty has a habit of designing pack dimensions only for those with short torsos, and the Redwing is no exception. If you have much over a 20-21" torso you will find that the hipbelt is riding too high to be any use.
Design: Panel loading Internal
Size: 2900 ci
Max. Load Carried: 30lbs.
Height of Owner: 6'1"
Price Paid: $70

The Kelty Redwing 2900 is a great day pack. I use it often while helping out with kids in the Cub Scouts. I would recommend it to anyone.
Price Paid: $69

I use this pack for prospecting. I goes through alot of abuse in thick bush, and I haven't had any problems with it. I have carried heavy loads of AMEX and dynamite with it. I looked at all the packs available on the market and decided on this one. The pockets are all laid out nicely. A very well thought out pack.
Size: 2900
Max. Load Carried: 50+
Height of Owner: 5'10"

The Kelty Redwing 2900 was being billed as a "daypack plus" when I bought it. If that's true, what I did with it this summer -- a five-week, 450-mile hike across Germany with camping gear -- was downright abuse. That said, it performed beautifully every step of the way, and I can hardly wait to take it on another long trip.
I started out with 22 lbs. of stuff (some details for the gearheads out there: Marmot Eclipse with fly and footprint, REI Nooksack +35, and Therm-a-rest Ultralite Long, all of which did just as well as the pack.) The hip belt and suspension seem to be comfortable at almost any weight, and once I was a few weeks into the hike, I'd started carrying around bottles of wine, hardcover books, frivolous food items, etc. with no ill effects.
The waterproofing seemed a bit spotty, even in moderate rain, and I ended up putting all my stuff in plastic bags inside the pack. Next year I'll either invest in a good lightweight pack cover or treat the thing aggressively with silicone. Maybe both.
As you'd expect, the pack was a little grungy by the time I got home, especially the padded back panel. I took out the stays, ran it through the washing machine with cool water, left it out to dry in the sun, and it was as good as new.
Bottom line: a great piece of equipment, lightweight, low-profile (esp. in the sage/black version I have), apparently indestructible, and recommended for just about any outdoor activity you might throw at it. In ordinary life, it does just as well carrying the groceries home from the store!
Design: front panel-loading internal frame
Size: 2900
Number of Pockets: 5
Max. Load Carried: 30-35 lbs.
Height of Owner: 5'10"
Price Paid: $100

This is an excellent day pack, and then some. I bought it to suppliment my Dana Terraplane, which at 6000+ c.i. sits in the closet during day hikes. I love the design and feel of this Kelty pack and the size is just perfect for a long day hike where the food is fresh and the gear is not scrutinized over for space and weight.
Design: Front Loading
Size: 2900
Number of Pockets: 4 + Main
Max. Load Carried: 20 lbs
Height of Owner: 6' 2"
Price Paid: $100

I have to say that this is a fantastic pack. I bought it to carry my load of textbooks at college after discovering the shortcomings of Gregory packs, but now I use it for everything. The suspension is very comfortable, the hip belt adjustment system is astoundingly easy, and the organizational possibilities are first rate. It took some bending to get the framestays into the proper shape, but well worth it. This pack by and far is superior to its competition.
Design: panel loading internal
Size: 2900
Number of Pockets: main + 4
Max. Load Carried: 20-30 lbs.
Height of Owner: 6' 0"
Price Paid: $100

I bought the Kelty (Redwing) rucksack, size large, I tried it on a dayhike. I had been using a Jansport "supersack" for years, I paid $45 for it. But the Kelty "Redwing" is far superior to me. For starters, it has a water bladder pocket and tube holes, padded thick waist belt, more pockets and a internal frame, contoured shoulder pads, sternum strap, I really enjoyed using it. It was very comforatable. It was advertised for a day and a half pack. I don't know how it would work as a overnight pack, but I bought it for a luxurious daypack. I am very pleased with it. I'll not be using my old jansport supersack anymore. I only paid $49.99 for the Kelty Redwing on sale, worth much more.
Design: internal frame/rucksack
Size: 2900
Number of Pockets: five
Max. Load Carried: 25 pounds
Height of Owner: 6'
Price Paid: $49.99

I bought this as a day pack to use for technical climbing as well, and it is great. I use it to carry everything. I have even become a minimalist backpacker, and have used it on multi-day trips. It is a great pack, although the front pockets are a little too small to be useful for anything more than sunglasses and a clif bar. I would highly recommend this pack as an extended day pack. Also think about taking the stays out and custom bending them to your own back. There are instructions on how to do this in the Osprey catalog.
One more thing, there are two features which I hope to see every pack company take. 1. The sternum strap is elasticized so that you can tighten it and still breathe (this is great) 2. The hip belt adjustment straps are threaded in such a way that when you pull they tighten, you don't need to pull the buckle in the other direction. You have to try this to appreciate it.
Design: Internal
Size: 2900
Number of Pockets: 5
Max. Load Carried: approx. 50
Height of Owner: 6'3"
Price Paid: about $100

Kelty is probably one of the most underated pack manufacturers out there, and this pack is no exception. I originally bought it as more of a day pack for toting books at school, but I've wound up taking to the trails quite a bit with it, leaving my North Face and Lowe Alpine at home! The aluminum frame conforms to your back and can be removed to be used as a rucksack (why would you want to?) Compression straps are smart and well spaced. The hip belt is heavenly (TNF, please follow Kelty's example!). In all, I would say this is an excellent pack for short spring/summer/fall hikes where no huge sleeping bags are necessary.
Design: Internal/Rucksack
Size: 2900
Number of Pockets: 5
Max. Load Carried: 45 lbs
Height of Owner: 6'2
Price Paid: ~$100

Good--It was very comfortable, I thought. You don't sweat that much on the back, cause there are little ridges for fair ventalition on the back. I've hiked 14 miles with it and I had no problems with it.
Bad--You may half to stop evey ONCE in a while though.
Design: Internal
Size: 2,900 ?
Number of Pockets: 1 main, and 4 other pockets that are not that small, but not that big.
Max. Load Carried: Arround 30
Height of Owner: 5' 6''
Price Paid: $90

This is the larger version of the Kelty Redwing. It has two metal strips that act as an internal frame, but you can remove them easily. The pockets are big enough and it has a few nice attachment patches. It carries enough for a one night trip. It has held up pretty well.
The pack also has a nice hip belt. However, it doesn't fit me! I have to wrap the hip belt around my stomach to remove any of the load from my back.
This is a good pack, but don't buy it if you're tall.
Design: rucksack
Size: 2900
Number of Pockets: 2
Max. Load Carried: 20
Height of Owner: 6 ft 3 in
Price Paid: $100

You May Like
Recently on Trailspace