Kelty Super Tioga

Top 25 in unisex External Frame Backpacks
The Super Tioga has been discontinued. If you're looking for something new, check out the best external frame backpacks for 2023.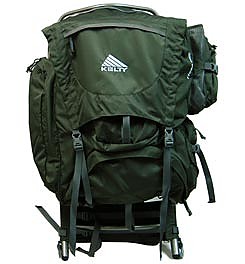 Carries Heavy Loads Great. Good for packing with younger ones, where the burden is on you. Hunters, fisherman, young family backpacker daddies, this is the pack for you.
Pros
Huge volume, and high carrying capacity.
Hydration in external long pocket, or internal main pocket
Lots of pockets for small items. 5 external compartments
1L Nalgene bottle sleeves behind two packets.
Through sleeve: fishing rod, gun, trek or tent poles
Lots of lash points. Huge overstuff bivy and top cover.
Sturdy material, holds up well.
Highly adjustable shoulder suspension, torso, and belt
Cons
Stickier zippers (but fixable with bar soap...)
Really wide and tall, branches beware. Scrabbling no...
Hip belt dated. Top of Line in '95, just decent in '15
Needs longer load lifter straps for easier on-back adjust
Fewer and fewer store staff know how to adjust externals
I wish pass through pocket had a built in catcher pocket.
4.5 Lbs. More like 4.75 with upper and lower straps sets.
Shoulder straps could be touch wider, but they are OK.
I have had a Super Tioga since '95, and it is still going strong. It is still my go-to pack — but I have finally succumbed to some internal pack use on 1 and 2 day trips with a new REI Flash 65L pack.  
I love this pack because I still favor a dry, cool, back- and a more upright walking stance. This pack distributes weight well to your hips, and the shoulder straps are a bowed type, with load lifters straps. Easily adjustable in the torso, but best suited for larger men in the large size.  There is a Small/Medium S/M model of the Super Tioga for smaller torsos, but there are not many of the S/M packs out there as the model is discontinued, and the majority of what was sold during production years was the large size.
On external frame packs, load lifter straps work differently than on internal frame packs. The name of "load lifters" was born with their introduction on internal frames. On internals, lifter serve "mostly" to pull the upper part of an internal pack's upper (above the shoulders) load forward, tight on your back. Such packs being soft, with either zero, or just an internal plastic or aluminum frame plate inside the bag, tend mostly just pull the upper back forward, tight onto your back. On internals, tightening the load lifters has the effect of transfering more load to the shoulders, and offloading it from the hip belt.
On external frame packs with load lifters, the effect is mostly different (even opposite), but the same name is used for the straps, as they appear on the same place, as the upper strap going from top of shoulder round on the strap, ideally to a place 45% up and back on the frame.  (Sometimes more than 45%, sometimes less depending on your pack and torso size). 
On externals like the Super Tioga, to you "tighten" the load lifters to put more weight on the hips, and reduce it from the shoulders. How? You loosen the main shoulder straps a bit (more weight on the hips), and then you tighten the load lifters straps to pull the upper pack "forward", but there is actually a slight gap at the top of the shoulder induced by the tighter load lifter. To move weight to the shoulder, you loosen the load lifters, and tighten the main shoulder strap.  It is opposite from an internal frame pack.  
Younger staff at stores don't seem to use externals any more (no experience with them), and they don't realize they adjust differently.  I wish the load lifter straps were longer, so they were easier to adjust while the pack is on. Adjustable, but it would be easier with longer straps.
On the Super Tioga, the sleeping bag pocket door can be tricky to get a 0 or 20 degree synthetic bag into. No problem for a down bag or a 32 or 40 degree synthetic.  If you are just starting, and have a big heavy bag, you can lash it to the top of the pack.  (You can put on the bottom), but on an external frame, you should put that load up top.  The frame distributes the weight down to hips just fine (the beaty of an external), and this puts the weight over your center of gravity with just a slight forward lean.  On the bottom (as required by an internal), or as optional on the Super Tioga, you have to lean more. Some people don't like the weight high, it makes them feel tippy, especially in rock hopping water crossings, etc. Your choice. 
The left side long packet had an internal zippered divider. You can make one big compartment, or two smaller ones sharing a single outer access zipper. I now strap my tent to the top rack (weight high), and my old school classic Therm-a-Rest self inflat pad to the bottom. I usually pull the tent poles out and put inside the main compartment using the side passthrough that is available, giving a less wide profile at the top by moving the poles.
I've hiked this pack heavy (60 lbs) for a 2 weeker in the Sierras. All forms of bear canister fit in it.  A large canister can fit in the main compartment, or buy a canister carry bag, and lash it high or low on the frame.
This is a great pack for starters because you stuff is probably bulkier and heavier. This bag will carry it, and your weekend load of 45 lbs is well carried.
This is still a great pack for experienced folk with new low weight stuff, or richer newbies, as it carries a 25-35 lbs load in perfect comfort, with lots of VOLUME left to spare. Got a bigger heavier camp ground tent, or a larger sleeping bag, no problem.
If you are really pushing the weight down, this is probably not the pack. With two sets of straps (for older pads, tents, or sleeping bags), its close to 5 pounds.  An Osprey, or REI Flash, or like pack can come in around 2.5 pounds. If you are only carrying 25 pounds of new, expensive, lightweight equipement, this pack, at 5lbs, and hence 20% of your load is the wrong answer.  At low end weight, I prefer a well ventilated REI Flash or Osprey Atmos pack that is itself very light. But the Super Tioga is very comfortable with a light load as well, with weight on hips, the overall base weight is just higher.
Finally, for fishmen, hunters, trek pole users, or those with longer tent poles, you can use the pass through pocket behind the large external pocket. This is great for longer fishing poles, a rifle, tent poles (but you need a pole bag), etc. Trek poles have better more moden solutions in should strap storage, but this pack does have shoulder strap lash points to allow mounting a skinny zipper bag for poles. (Done with a kids fanny pack with two loops and 2 D-rings).  
With tent poles, I wish it had a "catch" open pocket at the button for the passthrough.  Lacking that, I have to use a pole bag (a tiny bit more weight), and a bit of cord hold the poles in the pass through. I usually just store poles inside the main bag now, it is so big, I usually have the space.
Source: bought it new
Price Paid: $150

Are YOU a mule? When you need to haul a week's worth of stuff, this pack will do it.
Pros
The long side compartment handles tent and fishing poles
Great price
Super strong and carries a load
Pockets and pockets
Cons
It could be lighter
The top drawstring can pull stitches out if too tight
I'm not a small guy—6' and 225-230 pounds. I usually have to carry enough to qualify as a mule. This pack carries it all. If you need to carry a real load this is your pack.
I know it's considered old school, but hey, it is still made because it still works. If you hike trails and don't want to be Mr. Schweddy, you'll like this pack. It transfers the weight to your hips, and takes it off your shoulders.  
The other reviews pretty much said it all. I want to expand what the importance of fitting is.
I used the little picture guide they include and then made the pack look the same on me. You will probably need to stretch out the frame. Look at the picture, and look in a mirror. Do you see where the load lifter straps are? They should be above your shoulders not level with them. It needs to pull UP when you pull on the lifters. It needs to take the weight from your shoulders and put it on the frame so it transfers to your hips.
Once you get that part of the fit right you can make all of these little tweaks as you hike. Pull the load off your shoulders and put it on your hips. Need a break on the hips? Slip a little more on your shoulders and loosen the hip belt for a while. This being able to adjust on the fly helps so you don't have a sore back, shoulders, hips, at the end of the day.
Happy hiking, see you on the trail.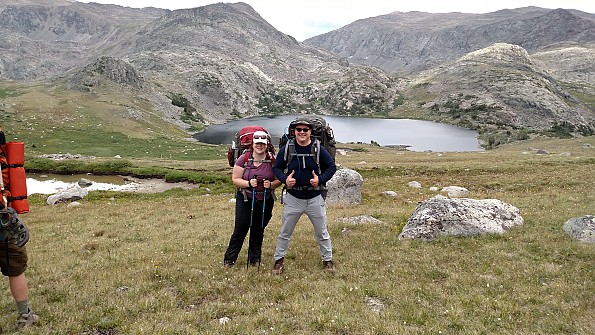 Source: bought it new
Price Paid: $160?

I love this pack. I have been using it since 1995. All my friends brought into the internal frames but I have the outside pockets and all that it has to offer.
Design: front loaling
Size: large
Number of Pockets: 4
Max. Load Carried: 3200
Height of Owner: 6'1
Price Paid: $120

The Super Tioga is my third external frame pack since I got my first one in 1975. I have used, extensively, the original Dana Designs Terraplane, Osprey packs, ULA Catalyst, and Golite packs.
The Super T is a very well made and very well designed pack. It has plenty of interior space. Many options to strap gear to the outside. Hydration compatible. It has many useful pockets to organize and access gear. It is made from very durable materials and the quality of workmanship is true to the Kelty name.
The pack is easily adjustable for a comfortable fit. This pack carries very well whether loaded heavy or light. It is a very cool (on the back) pack to carry due to its design. The wires that hold the frame pins in place will rip your clothes if you do not tape them - I used electrical tape.
The front loading sleeping bag compartment has a circular zipper that can be hard to operate and getting a large sleeping bag in there can be a little testy.
I am thrilled with this pack and it should last for a really long time. I would highly recommend this pack. I got mine at Campmor and the price was very good compared to what you get with this pack and what some other packs offer for much more money. nuttnfancy does a good review on youtube.
Design: External
Size: 4900 Cubic Inches
Number of Pockets: 6
Max. Load Carried: 50 pounds
Height of Owner: 5' 10"
Price Paid: $139

GERAT PACK! Lots of cubes, a work horse, can take a beating...
Price Paid: 2 DAMN MUCH!

My first Kelty Tioga was purchased new in 1970. I used it all over the world, from the Sinai desert to Iceland. I bought four new Super Tiogas on clearance in 2014. Much improved hip belt and shoulder straps.
Pros
The Super Tioga keeps heavy loads centered on the hips, the leg muscles do the work.
The mesh panel across the back allows air to circulate and is more comfortable for carrying heavy loads.
Cons
Because the pack can carry more, your backpacking companions will load more community gear into your pack!
The best external frame pack Is the Kelty Super Tioga. If you can find one, highly recommend getting one and also buying a rain cover for it.
We have used many packs over the last 50+ years. What we have found is that  internal frame packs are super comfortable, but for heavy, long-haul trips that are essentially long approaches or a week or more backpack, the external frame Super Tioga is an excellent choice.  
Experience
Over 50 years using Kelty Tioga and Super Tioga.
Source: bought it new
Price Paid: $150

Excellent Pack. I've had it since '95 and the only problem is a tendency to overload. I study lakes in the arctic and for hauling gallons of water, equipment and a raft across miles of tundra you can't beat it.
It's very wide so forget any close maneuvering. Difficult to load into a helicopter, won't fit into the trunk of a long-ranger. Very tough frame and material, stands up to a beating.
Lots of places to strap stuff to. I can strap a fully inflated raft to it and stumble around the tundra scaring the beejeebus out of the grizzlies. With all the pockets and straps it looks cool on me!
Design: external
Size: >5000 cui
Number of Pockets: many
Max. Load Carried: ~110lbs (ouch)
Height of Owner: 6'1"
Price Paid: $110

I bought this pack 10 years ago and am still using it. I use it with lashes to carry loads between 50 and 90 pounds. Less than that I use a smaller internal frame, but for carrying weight this is the pack. The adjustable straps and frame make it versatile. I've loaned this pack out many times to others who are not my size and it always does the job.
Number of Pockets: 4
Max. Load Carried: 80-90 pounds
Height of Owner: 6'3"
Price Paid: $200?

I do alot of hunting, especially sheep hunting in the Canadian Rockies. This pack has been awesome. It takes a beating and still is superior to any pack I have had before. I have carried 120 - 130 lbs out of the mountains frequently. It holds the weight so good. And on the long hike out with a sheep on your back you want something comfy...this is it! Love it.
Price Paid: 269 Cad

I love my Super Tioga. It's got good balance for a big external. I spend a lot of time in the Cascades and Olympics in Washington. There's very little "flat" around here. Its size makes it perfect for week long trips. As for the frame shelf, which some don't like, well... the bottom of the bag is in near perfect condition after about 4 years and many miles in all weather conditions. The only problem I have with it is that the bottom compartment zipper can be tough to unzip when full. Cold fingers don't help much either.
Design: Top loading external
Size: 4800
Number of Pockets: 6
Max. Load Carried: 58lbs
Height of Owner: 5 9'
Price Paid: $120

I have carried this pack on section hikes of the AT, the Florida Trail and numerous weekend trips. It is without a doubt one of the best external packs around. Plenty of adjustment features help to dial the pack to your exact needs, and tons of room to carry whatever your heart desires. It seems everyone is going to internal frame backs, but the tioga is the last of the great packs suited to long hikes in nearly all conditions. The only real drawback of this pack is the inability to adjust to small framed people. If you are looking for a "man's pack" go with a super tioga and leave the internal framed "wonders" to the weekenders.
Design: external
Size: 4300
Number of Pockets: 5
Max. Load Carried: 70lbs
Height of Owner: 5'9"
Price Paid: $150

I researched and researched and researched last spring as to what pack I would buy with my hard earned money. I was planning a summer of backpacking and hiking throughout the western States and Canada, and wanted something that would last for a while, carry everything I could ever want to bring, and mainly.... be an external frame!!!! I am a bit of a traditionalist, and wanted to go against the grain of internal, internal, internal. The results??? After backpacking in Kananaskis Country, Alberta...Columbia River Gorge Wilderness, Oregon... And biggest of all the 75 km West Coast Trail on Vancouver Island, I have a few things of note: For shorter, lighter (25-30lbs) trips, the external allows the weight to be carried beautifully, and the pack is well designed for storage and access to handy on-trip items such as trail mix, H20, binoculars, maps, etc. There is plenty of room for "stuff", and the bottom shelf is great for a tent and sleeping pad(yes, it is a bit of a squeeze).
But.... now for the not-so-good news: On the big, long up and down treks like my B.C. adventure, this pack suffers a bit. First, the pack bag, when stuffed full, literally oozes through the back mesh panelling, providing the exact opposite of the "cooler ride" I expected from an external,(sweaty backs were constant). Second, and most importantly, I think, is that the suspension, although good under lighter conditions, began to sag after a few hours in the harness, and by the end of a day's hike the waist belt, although cinched toooooo tight, kept slipping off my hips and putting the weight onto my ass. I began to envy the more technical, form fitted hip belts of my hiking partners' internal frames. The K2 Longbed/Shortbed frame design appears to be directly adressed to this problem. Also, for those of you that say "oh, most of my hiking wiil be done on level trails", make sure that that is all you will want to do with this pack, because although I easily dealt with the constant swinging of the weight when jumping tree roots, hopping rocks, or climbing ladders, it's not something I felt was worth the difference of having an external frame. To sum it up, although a well made, thoughtful pack, the Kelty Super Tioga offers nothing extra that most well designed internal frame packs can't provide, and seems to be actually lacking in some respects. Dana Designs, here I come!!!!
Design: External
Size: 4300
Number of Pockets: 5
Max. Load Carried: 75lbs
Height of Owner: 6'0"
Price Paid: $180

I love this pack. It handles a lot of weight and balances it nicely with good comfort.
The frame only adjusts to those about 5' 10" or up... but my height and mass are well suited to this pack.
I have carried my girlfriend (125 lbs) around campus with it.
I have carried 65+ lbs over about 50 miles of the White Mountains (extremely rough trail) and never had a problem with the pack.
I really like the bottle holders built into the side pockets... a cool idea, although I would recommend a quickdraw holster for on-trail hydration.
The one real problem that I have is this silly shelf at the bottom of the frame.
It is too big for just a sleeping mat, but too small for mat + tent (pushes bottom of pack up).
Kelty has apparently addressed this issue, because the newer models don't have this problem.
Bottom line: If you can fit the pack, it's great.... if you have a smaller stature, save yourself the blisters on your shoulder.
Design: external frame
Size: 4300
Number of Pockets: 4
Max. Load Carried: 80 lbs
Height of Owner: 6' 4"
Price Paid: $170

Your Review
You May Like
Specs
Price
Historic Range: $139.97-$190.00
Reviewers Paid: $110.00-$200.00

Recently on Trailspace