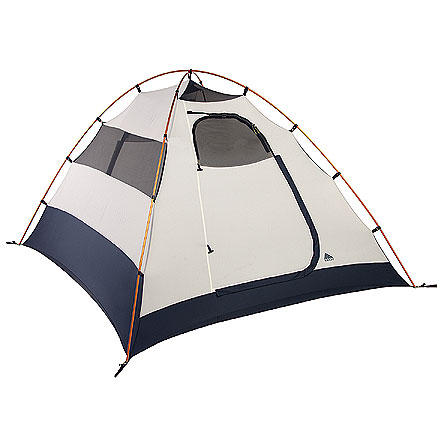 Specs
Price
MSRP: $199.95
Historic Range: $99.95-$179.99
Reviewers Paid: $5.00-$130.00

Seasons
3

Number of Doors
1

Number of Vestibules
NA

Capacity
4

Minimum Weight
7 lb 10 oz / 3.46 kg

Packaged Weight
8 lb 7 oz / 3.83 kg

Floor Area
55 sq ft / 5.1 sq m

Width
80 in / 203 cm

Length
99 in / 251 cm

Height
57 in / 145 cm

Packed Diameter
8 in / 28 cm

Packed Length
10 in / 30 cm

Number of Poles
4

Pole Type
Two 12 mm DAC DA17 Aluminum Poles, Two 8.5 mm Fiberglass Awning Poles

Wall Material
70D Dye Free Polyester Taffeta

Floor Material
1800 mm PU Nylon Taffeta

Fly Material
75D 190T, 1800 mm PU Polyester Taffeta

Reviews
8

reviews

5-star:

0

4-star:

6

3-star:

2

2-star:

0

1-star:

0
This is a relatively spacious tent, easy to setup, below average fly design, a bit on the heavy side, but overall a decent quality.
Pros
Ease of setup
Decent quality construction (except fly)
Inexpensive for the quality
Cons
A bit heavy
Poor fly design/construction
First of all, I bought this tent off of someone for $5, so any of my complaints are probably unwarranted for the value. However, here it goes.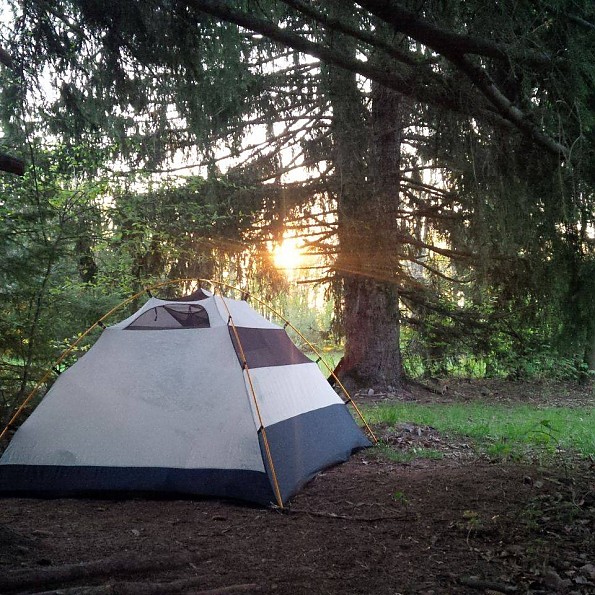 Setup: The tent is easy to setup with one person in about 5 minutes. Aluminum tent poles are quality and use snaps to connect. The fly uses two short fiberglass poles and is slightly more difficult to put in place.
Stability: The tent is high profile, but remains fairly stable in moderately windy conditions.
Weather Resistance: I do not routinely use the fly (unless absolutely necessary due to a surprise evening shower). When I have had to use it, it keeps the rain out well. I have not coated the tent or fly with anything.
Ventilation: I have never had an issue with condensation. However, on warm summer nights, I sometimes wish the mesh on door and rear of the tent were larger to allow more airflow.
Room & Storage: While I cannot stand upright, it is fairly tall in the center of the tent (roughly 5 feet). The tent fits three adults with gear fairly well. Four adults without gear is too tight and requires sleeping side by side touching each other. The gear loft is functional and there are several smaller side pockets in the corners.
Packability: The tent and parts pack up well (about 6" by 15"), but overall, the pack is heavier than desirable (about 8.5 pounds).
Ease of Use: The tent works well and is easy to use. The fly design is poor and is not worth using. The fly poles are fiberglass (as opposed to the nice aluminum tent poles) and broke quickly. The fly also puts quite a bit of strain on the door and the zipper. If I used the fly more, I am sure this would become a major problem down the road.
Overall, a decent quality tent for the price. I wouldn't plan to take this on any long trips, but overnights and weekends are just fine.
Source: bought it used
Price Paid: $5

It's lightweight. Pretty durable. Easy setup and take down.
Overall a pretty good product. Not badly priced. Easy to set up and take down. Stands up to the weather. Good space in it. Did have one issue with a pole. Warranty dept sent back the wrong pole but working on resolving that issue.  
Had it for about 4 years now. One of my fave tents.
Source: bought it new
Price Paid: $79

Just used this tent 5 days on the Arkansas River. Had wind, rain, heat and cold in the Colo mountains. Sets up fast n nice, plastic fly poles broke day one had to make do. Anyone who has this tent can get nice well made poles for the fly at tent pole tec .com $26. With the large tent poles included and the new poles this tent should be bullet proof and perfect.
Pros
Light
Easy
Dry
Warm
Simple Design
Well Made
Cons
A bit small best for 3
Fly poles are junk
This is a very well built tent as Kelty does. Sets up fast and simple. The fly is great but the fly poles are plastic. Not good for kelty as they seem to be cutting corners. Although the tent poles are larger than most small tents?
The open air top is nice and no mesh on the walls is warm. It is a very dry tent. Overall can't be beat at under $100. It is a bit small for 4 good for 3 and very comfy for 2. If you buy the new poles from tent pole tec online for $26 shipping included this tent can't be beat at all for under $130 and will last a long time.
I did just use it in the Colo Rockies on the Arkansas River and had wind, rain, heat, and cold all in one week. This tent was great except the cheep fly poles mentioned above will use this tent all summer long all over Colorado.
Source: bought it new
Price Paid: $94

I'll keep this short and sweet since the other reviews covered everything.
Pros:
-Very very easy to set up
-held up in 40 mile per hour winds and rain, no leaks and I didn't coat it with anything
Cons:
-it's pretty small 
I actually didn't even notice the zippper/rain fly issue mentioned. Maybe I'm too aloof lol. I'll definitely pay attention next time it's set up.
I'd recommend it for 1-2 people.
I used this tent for the first time this week camping at a state park in northwestern Maine. The tent is just roomy enough for a queen size air mattress and some gear. It sets up easily with 2 lightweight aluminum poles and 2 fiberglass brow ridge poles. The fly went on easily and has plenty of guy-out points if wind is a concern -- a good thing as this is a high-profile tent I at 5'6" can nearly stand in. It is a pleasing dark blue with light gray.
As others have mentioned, the door is stretched very taut when the fly is in on placing strain on the zipper. It does look like a future failure point, but in the meantime I managed by zipping from the bottom and pulling the door edges together as I carefully zipped.
We had heavy rain the first night, and while the tent did not leak, the fatal flaw is the design of the fly, which has a brow pole over the only door. This directed the rain off the brow directly into the tent if you need to open the door in the rain. Even with minimal use of the door, it was enough that there was a puddle of water in the low corner in the am. We could find no way around that problem other than set the tent door under a larger fly.
Otherwise, no leaks and good ventilation to dry things out the next day. I personally wish there was a window in the fly or that the door had more screening (but of course then it would rain in) to afford the ability to see out of the tent from the inside when the fly is on --a feature I loved in my old Alpine Meadows tent.
If the weather will be perfect, or you have a larger fly to situate the tent door under, this is a good basic tent, roomy and dry. Otherwise... well, I'm back here on Trailspace looking at tent reviews, wishing I could by a 4-person Eureka Alpine Meadows tent before my next trip in August.
Design: free-standing dome
Sleeps: 4
Ease of Setup: Easy--1 person 10 minutes, 2 people 5 minutes
Weight: 8 1/2 pounds packed
Price Paid: $112

I purchased my Kelty Trail Dome 4 last year and have camped and backpacked with it in a variety of weather conditions and temps. The tent is roomy enough for 4 kids and their stuff, but it is ideal for two adults and their backpacks.
I seam sealed the tent when I first bought it and have had no problems with leaks or drips. The tent stands up well against strong and/or gusting wind, assuming you anchor it and the fly properly. One person can easily set up the tent in under 10 minutes.
The only issue with the tent is the difficulty in using the front door zipper when using the tent fly (see Rex's review below). There are two small poles that support the tent fly, and the front one causes a lot of stress on the zipper. I knew this would be a problem when I bought the tent thanks to Rex's review. Instead of using string to remedy the problem, I use two adjustable straps that go around the main poles to ease the tension on the zipper. This works great, and the straps are easy to put on, adjust, and take off.
Overall, I have been pleased with the quality and durability of my Kelty Trail Dome 4.
Design: 3-Season Dome Tent
Sleeps: 4
Ease of Setup: Easy
Weight: 8 lbs 7 oz
Price Paid: $110

I bought this tent on sale at Gander Mountain. I couldn't resist a Kelty tent for this price. I've used it twice. Once in light rain--no leaks.
It is very roomy for two people. It can hold two cots with plenty of space for gear underneath. The 57" height is great. I just wish it had
a vestibule to cook in during the rain. The only downside is the tight front door zipper. You have to be very careful or it will break.
Sleeps: 3
Ease of Setup: Piece of cake
Price Paid: $79.99

I purchased this tent for 2-3 adults of my family to car camp in. I have used this tent one time for four days in the Great Smokey Mountains National Park one April-2005 weekend. During that stay, I experienced an unbelievable contrast of weather.
From 70 degree temperatures and extremely high winds from a squall line thunderstorm, to a light dusting of snow with cold (30 degree F temperatures), to sunshine and the 50s. We got it all in those four days! The tent held up very, very well. I was very impressed with Kelty's quality.
Pros: Good quality (made in Bangledesh-not China-can you believe it?), well designed, four large pockets for organization on the sides and one large supplied attic shelf. The tent and floor material are very tuff and I never had one single drop of water in the tent (I did seal the corners and fly seams with McNett's seam grip--of which I am a firm believer in). Poles are very strong (aluminum) and guy outs are just right and make the tent very stable.
Setup of this tent cannot get much more simple. It is a breeze to set up! I never felt any fear in the raging storm because the tent was rock solid. A footprint is available for this tent and I highly recommend it. I have one with mine.
Cons: My wife informed of a regular sized bed air mattress that we would be carrying on the trip. Geeezz... Because of the size of a regular size air mattress, this all but kills ANY extra space in the tent. We barely had room for our gear on one side of the tent and my daughter had to sleep in another friend's tent with them (my original plan was for three people and some gear in a 4-man tent). If you factor a regular sized bed air mattress into your use of this tent, then reconsider the SIZE of tent you will need! Kelty's naming of this tent means four tightly packed bodies in the tent and NO gear. Take this into consideration again in your purchase.
Another very small quirk is this: With the tent staked down and in place, the small side poles that hold the tent fly out over the front of the door actually put tremendous pressure pulling on the door and door zipper, thus making it very, very hard to zip the door shut. My wife predicted a zipper break or split in a matter of a few trips if this continued. I had to take a piece of string and tie between the two main aluminum poles across the top front of the door and tighten it to relieve the pressure put on the zipper of the door. This is the only way you could easily zip the front door shut. In some ways, if it were not for the very high quality of the materials and ruggedness of the tent, I think the Eureka line of tents will offer you more features and less small quirks for a family tent and at a lower price, although no footprint is available and no aluminum poles for the Eureaka family tents are available for the same class of tent.
Bottom Line: Despite a few minor quirks, this is a very good and dependable base camp tent for backpacking/canoe/kayak camping of two people or car camping with two people/gear and NO regular sized bed air mattress (other than an individual Thermarest type). Kelty in my opinion fudges on the actual amount of people you can get in this tent-with comfort. Keep that in mind when thinking of the Trail Dome 2, 4 or 6 man tents.
Overall, very good quality tent and it WILL keep you dry in rain and hold up to some pretty wicked thunderstorms. I can very proudly tell you YES on that!

Design: Freestanding Dome
Sleeps: 4
Ease of Setup: VERY EASY
Weight: Unknown
Price Paid: $130

You May Like
Recently on Trailspace