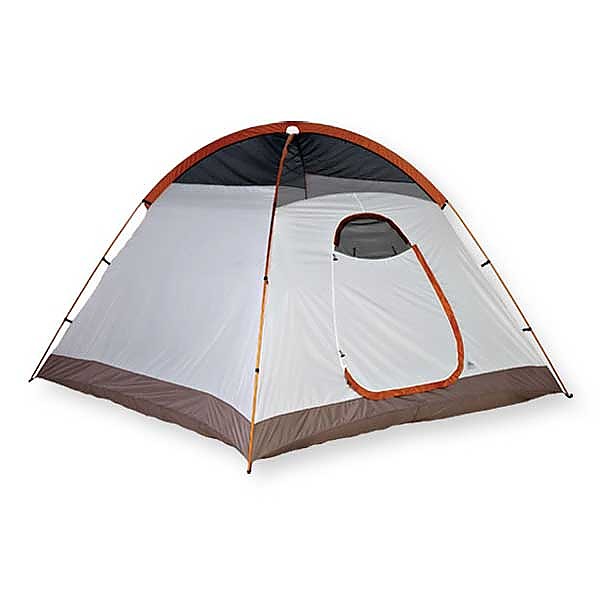 Specs
Price
MSRP: $289.95
Historic Range: $154.95-$299.95
Reviewers Paid: $165.00-$175.00

Seasons
3

Number of doors
2

Capacity
4

Minimum Weight
13 lb 6 oz / 6.07 kg

Packaged Weight
14 lb 8 oz / 6.58 kg

Floor Area
100 sq ft / 9.3 sq m

Width
120 in / 305 cm

Length
120 in / 305 cm

Height
72 in / 183 cm

Packed Diameter
10 in / 25 cm

Packed Length
30 in / 76 cm

Number of Poles
4

Pole Type
Two 14.5 mm DAC DA17 Aluminum Poles, Two 9 mm Aluminum Awning Poles

Wall Material
70D Dye Free Polyester Taffeta

Floor Material
1800 mm PU Nylon Taffeta

Fly Material
75D 190T, 1800 mm PU Polyester Taffeta

Reviews
3

reviews

5-star:

0

4-star:

3

3-star:

0

2-star:

0

1-star:

0
I received this tent as a gift for Christmas last year. I finally used it this past weekend (10/9/10).
In my opinion the tent is a little snug for 6 people with sleeping bags and pads. You could fit 5 with no comfort issues but 6 would really stretch it.
We had mild winds I'd say no more than 15 mph, I didn't use the guy lines and the tent was really stable in that wind. The rain fly didn't flap against the wall at all during the night. Ventilation was great with no condensation buildup at all. The overnight temps were around 32 degrees.
We never get rain here in the desert (Las Vegas), so I set the tent up on my lawn and used the hose and a nozzle to simulate rain. Although no rain leaked thru the fly, rain can get into the tent from the mesh windows and vents if the rain is driven by wind and moves more horizontal than vertical.
Other than that it's a great sturdy tent. I would recommend to any one for car camping. I hope you're able to find this useful.
Design: Three season freestanding dome tent
Sleeps: 6+
Ease of Setup: Really simple 2 poles plus 2 for rain fly
Weight: 9+ pounds
Price Paid: Gift

This tent is the perfect size for canoe camping. Traveling into the Alaskan wilderness by water allows the use of a larger tent than on backpacking trips. It rolls down to a very compact size and has plenty of room for a good size family. I have slept through hours long rainy days with no leaks. I haven't even sealed the seams!
Price Paid: $175

During this 2007 Christmas season I have been actively looking at tents that I would be purchasing a new one for dog agility trials and my Beamer and I get back on the road. I was looking for the best deal in the house for under $200. We wanted one that we could stand in, with plenty of room for two people and their gear, including the crates for our dogs, and want to put aside the canopy I have been using.
I initially had settled on the Kelty Trails Dome 6 or Columbia Bugaboo Dome tents (because at my age we won't be going too far afield) but then looked at some of the Eureka! Tents. I next went to the Costco website where I located some other Kelty tents. I looked at both Costco's and Sam's internet sites and found a Kelty Green River 4 tent at a very good price with Costco.
When you look at the Kelty Green River 4 tent, you need to take the opportunity to compare it with other Kelty's, particularly Trails Dome 6. But at the same time, we should also look at the Columbia Bugaboo dome tent, as well as the Eureka tents.
They all have about the same "footprint," about 10' x 10', or 100 square feet. While the Green River has only 81 square feet, it does have a vestibule, or covered area. It is not included in the sleeping section but can be used for additional storage or folding chairs, to sit under out of the way from the flying bugs. The Eureka Sunrise 9 is also 81 square feet, but it has no vestibule.
If weight is a factor, the Trails Dome 6 comes in at only a little over 13 pounds, the Eureka Sunrise is 16 and quarter pounds, while the other two tents are significantly heavier - both at better than 21 pounds – but if the tent is used for car camping that should not be problematic. But if you want to backpack the additional eight pounds can be quite a lot.
The Green River's vestibule area doesn't have a "footprint," or an area that would be included as part of the "sealed tub floor." It is in the outdoors, but could be covered by another drop cloth. That can be a problem with rainy weather - a covered space but with no flooring. But let us face it, the extra space of the Columbia Bugaboo actually is the storage, or the "foot lockers" of the tent, and could rightly be included as part of a vestibule (albeit, unlike the Green River, part of the tub), which the Bugaboo and Trails Dome tents do not have.
Each tent has sealed seam flooring, generally made of nylon taffeta. But Eureka Sunrise has heavy duty 210 denier polyester oxford cloth for its tub flooring. Although the Columbia tent appears to be made of somewhat lighter material than the two Kelty tents, it has a polyethylene floor.
Also, both the Kelty tents are seamless floor areas while the Columbia does have a sealed seam which may become a problem. The Kelty and Eureka tents tub design does appears a bit better, keeping the seams watertight and above the ground.
The major difference seems to be the use of the Dac 75 poles with Kelty's Trail dome tent. Both of the others make use of fiberglass poles, two 9.5 mm for Columbia Bugaboo and three 11 mm poles for the Green River, the Eureka Sunrise uses two 11 mm poles with ring and pin attachment, while the Trails Dome has two 14.5 mm aluminum poles. The fiberglass poles are heavier and lack the durability of aluminum poles, but the pre-formed aluminum ones come at a significantly higher price. The fiberglass would probably be fine for the not too frequent campers.
The Kelty tents offer heavier nylon cloth construction for the tents. It appears that between them, the 1800 mm coating on the flooring of the Kelty's would possibly be a better buy than the 1200 mm that goes with the Columbia, even if it is double coated. The 70-denier fabric appears to be better on the two Kelty tents. The Kelty comes with different fabrics for its walls and fly, being a 68 denier for the walls but a generous 75 denier poly rip-stop for the fly.
The Eureka uses heavier fabrics: 75D poly for the walls and Fly, with a triple dose of 1200 mm for their Storm Shield coatings. The industry standard for waterproof rain flies are all constructed of polyester taffeta with 800 mm coatings, but both Kelty tents have 1800 mm waterproof ratings while it is 1200 mm for the Columbia Bugaboo and the Eureka Sunrise.
Except for the Eureka, each of the tents has sleeves and clips - rather than just sleeves to put the poles through. While it makes it easier to erect, there may a problem in high wind areas for them all. The Sunrise 9 uses a pin and ring system to attach the 11 mm fiberglass poles. Because they are all dome tents this may be less of a concern, but the Green River will be harder for a single person to set up in that there are three poles rather than two.
In reviewing as many comments on tents as possible this is one area that seems to detract from the Green River. The complicated and difficulty in setting up was a major complaint and must be considered.
The Columbia Bugaboo, unlike the Trails Dome, makes use of large scale no-see-um mesh instead of another door and calls this mesh window with a skylight its Cyclone Venting System. For warm weather camping, like here in Utah's desert county, it appears to make a lot of sense. However, both the Kelty's do have very good ventilation, and should not be problematic. And the Eureka has four hooded zippered windows which allows quite a bit of ventilation or privacy.
I am retired and with my companion have taken up agility as a dog-handler team and spend a few weekends at trials. I would like to camp out (something that I left behind 55 years ago, in Korea and swore I would never do it again) and tried it this summer and fall, but with a smaller one person tent. And we found out that the high Sierras is not an area to be caught in during the fall snow storms that came about in October. We really don't need a screened vestibule area, but would like a little more room to wander - with headroom to squander like in the Bugaboo and Trails Dome. And we don't need a Springbar tent - not at this age!
And the price! Well, it was only $120 at Costco for the Green River (a list price of $240), with shipping at another $15, and that surely beats the $200 estimate that was in the other reviews, or even Sierra Trading Post's $182 (which shows a price now of $130, and there are more bargains every day). Even with the sales tax figured in (and unless it is on the internet you have to pay it, and then only when there is a locale in your state - so lets add another $15), they are all still quite a bargain.
The best price for the Trails Dome appears to be Amazon and Backcountry Edge's $187, with a suggested $240 as tops. The best price for the Sunrise 9 was $150, with free shipping and a $20 rebate from Eureka. Its MSRP was $199, although there were a lot that came in higher. The Bugaboo had a MSRP price tag of $170.
With that 80 square feet and 71 inches clearance in height I was tempted to go for that Green River. But I still prefer the Trails Dome tent, or the Eureka Sunrise 9. The Bugaboo is at $116 at Amazon (shipping included) during this Christmas season and it was priced for about $85 during October. A sound alternative would be the Sunrise 9, but not at the $180 price tag at Amazon.
There are other internet places, like Ramsey Outdoor and Kittery Trading Post, which should be tried. Another site would be to try Sierra Traders, which has a good display of tents and has sales from time to time, but most are closeouts from previous years.
Costco should at least be considered if you have a membership, which we do. It was just something that I had overlooked, even though I had visited the local Costco. The selection is rather limited, but it does handle some of Kelty's offerings. Eureka is not found at Costco. Sam's Club does not have any tents on their internet site.
For me, the decision settled down to the Eureka Sunrise and the Kelty Trail Dome 6 tent. They both had desirable features, but the aluminum poles and weight of the Trail Dome 6 won out. I would give each of these tents a 5.0, but because they individually have features that would be nice but are lacking at this time, I rated them both at 4.5.
Update: July 31, 2010
Jim and Beamer are back again, this time with an update to an older Trailspace review, comparing the older model Trail Dome with a Eureka Sunrise 9 tent. We now have a 2010 model and both tents have proven very good but this one, the 2010 Kelty Trail Dome 6, should prove to be outstanding.
For what it costs to stay at a motel you can own this 2010 upgraded tent and enjoy many camping trips. Unlike the blue and white of the older Trail Dome this current model is a colorful white with orange and brown trim. You should note the difference for some will sell you a older version while claiming it is the essentially the same, except for the colors. More importantly, either model will accommodate you and in a pinch up to three friends for a camping experience.
This "6-Person" tent is an ideal 3-season ventilated tent for the campground, but it is not for six people - unless you want to cram them. But, leave the other gear outside, including those slippers you want to bring along. Kelty's two-door Trail Dome 6 Tent is one of the best values you'll find in quality camping tent designs.
Like the smaller Trail Dome it is well ventilated, but this larger version also has sturdy aluminum brow poles and two doors instead of one. After a long ride to the campground you have to look forward to getting out the ground cover or footprint and then pitching the tent. It has been made easy, even for the shorter person. A simple pole design and clip and sleeve construction makes the Trail Dome a snap to pitch. It is freestanding, which makes it easy to set up and fine-tune the placement to avoid rocks and uneven surfaces, especially if it has attached a Kelty footprint. While the fly contains does contain four "guyout points" there is little direction for the placement of those lines for optimum value in moderate wind, unlike directions given with Eureka tents.
With the longer sleeve design there should not be the hang-up on the clips for shorter persons to navigate while placing the fly over the tent body. If you are looking for a drawback, it might be that the Trail Dome 6 does not have a vestibule. But for car camping, you will probably put most of your gear inside your vehicle, especially when you are in bear country where it will be required. And there is some likely slight leakage when the rain is combined with wind because the brows do not cover the doors adequately.
Unlike tents with vestibules, Kelty's new Trail Dome offers exceptional ventilation with its mesh ceiling that works exceptionally on those warm summer nights. The mesh ceiling offers incredible breathability and a view of the stars - when not using the included rainfly. 1800 mm coated watertight walls and taped floor seams keep the moisture from wreaking havoc on you in the middle of the night and you don't worry about condensation because of the exceptional ventilation.
You can cram a headlamp, a book, and other items in the internal storage pockets. Great for family camping, there is plenty of interior storage space. If you need even more storage, rig up your "gear hammock" to the Trail Dome's loft loops. But forget that extra space if you want to cram in five or six people for sleeping; it just won't do.
The two DAC 14.5 mm Pressfit poles are structurally rugged but slightly heavier than the ultra-refined tent poles that you usually find on higher priced tents. The DA17 pre-bent poles are made of proprietary aluminum alloy designed by DAC specifically for tents, which provides a large diameter pole with high stiffness, strength and durability at an affordable price.
The "clip" construction provides great fly separation and increased air movement, while making it easier to set-up your tent, but offers less strength than full-length sleeves in the older Trail Dome tents. One of the improvements for 2010 takes care of that problem because the sleeves have been lengthened. Three clips connecting to the poles on each of the four sides are color-coded so set-up is easy and quick in low light conditions.
Above the doors, both front and back, next to mesh window you'll find grommet attachments on the upper clips for the shorter aluminum 8.5 mm brow poles that help keep rain from seeping inside the tent door whenever it's open. This apparently is a refinement for 2010 because the tent clips also serve as fasteners for the brow poles but they no longer are free standing but part of the sleeves. This is perhaps one of the drawbacks of not having a vestibule but the 2010 offerings have been modified by the rounded doorway, with wide flaps covering the ultra silent zippers to keep out any water. It also lessens the tensions that were on the older brow clips.
As for tears in the tent fabrics, I experienced this firsthand in a recent camping experience when my new 2009 Trail Dome 6 had a disastrous seam tear in the mesh and fabric, with tearing continuing down the body for about 28 inches, when we returned from a hike. While the brow pole was very tight I hadn't forced anything, but obviously it was enough to tear the 68D nylon fabric. This probably has been corrected in the 2010 model, with the change to a 70D polyester fabric, but remains to be seen.
If you insist on a Kelty tent, it seems that Backcountry Edge is a good place to look. If you're looking to pick one up at the lowest possible price wait until they go on clearance in the late summer to early fall. Don't wait too long though, you know how fast clearance items can sell.
American Recreational Products, a subsidiary of Kellwood Company and part of its Other Soft Goods segment, makes outdoor gear including tents, backpacks, sleeping bags, outdoor clothing, and related camping accessories. Brand names include Kelty, Sierra Designs, and Slumberjack. I've also heard of some people having problems with refunds and or warranty issues with their Kelty tent.
My suggestion, if you still feel you have to have one, is to buy it at Backcountry Edge because they will probably be your best bet as far as warranty work or returns go. Had it not been the work of Taylor Eshelman of Backcountry Edge I would still be trying to get my older Trail Dome 6 tent replaced or repaired by Kelty.
All Kelty tents come with a limited lifetime warranty that states "the materials and workmanship will be free from defects for the life of the product." A warranty is a guarantee that states a product is reliable, free from known defects and that the seller will repair or replace any defective parts that should later be discovered. In the event that if a tent fails to meet those warranty terms, or that the product is not reliable and free from defects, the repair, replacement or the return of monies paid should be within a reasonable time frame. When that promise made is broken, i.e., your tent is defective or is not as should be expected by a reasonable purchaser, a breach of that warranty has occurred. While it is actionable, it should at least be reported to the Federal Trade Commission and the Better Business Bureau.
Dealing with Kelty directly should be avoided at all costs and if you feel that you must have a Kelty product it is best to work with someone like Backcountry Edge, REI, Altrec, Sunny Sports, Mountain Sports or Cabella's. They will intercede with Kelty or even make repairs themselves. But, unlike dealing direct with Kelty, the process won't take eight weeks, and a lot of headaches, to attain satisfaction.
If you end up getting a "cheap tent" (cheap until you have to buy another to replace it, or listen to your partner complain the entire trip) make sure to pick up some seam sealant like McNett's even where seams are "sealed" with waterproof taping. Even with good tents like Kelty's they sometimes have small pinholes where you can see the light shining through.
Also if you have a leak around the door, check the zipper first as it can be a problem. But then I have also seen campers string a tarp between trees or even drape it over the top of the tent. I can't say I recommend this but I guess it worked for them in a pinch, particularly if one was just starting a camping trip in a cheap tent.
Design: Three season freestanding dome upgraded.
Sleeps: 3
Ease of Setup: Very easy with clip and sleeve and four poles.
Weight: well, fits into the car for this 75 year old with a dog
Price Paid: $300

You May Like
Recently on Trailspace