Kelty Trekker 65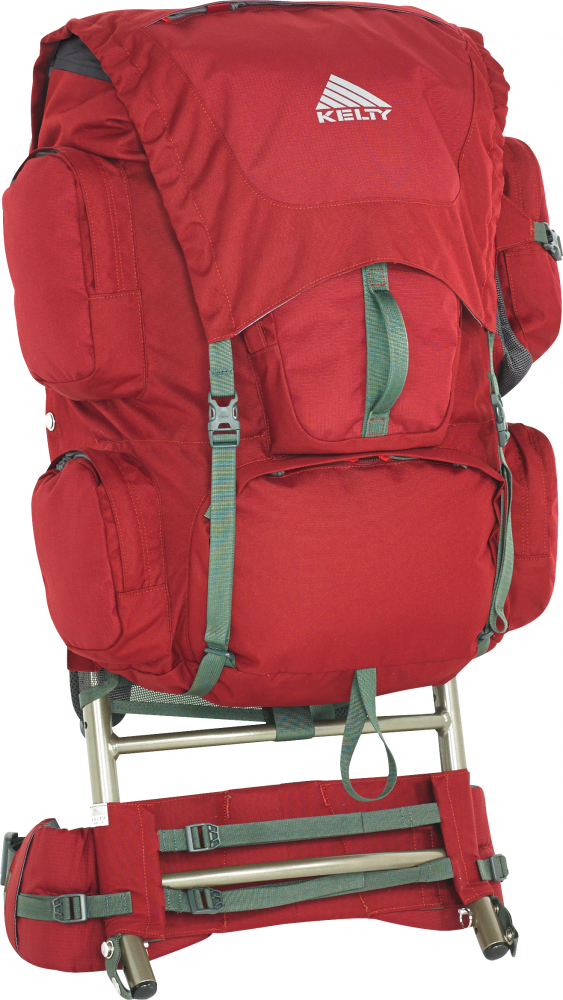 I started out with external frame packs in the '80s, joined the internal frame craze in the '90s, and joyfully returned to external frames with this pack about nine years ago. It is an eternally adjustable, heavy-load-eating comfort-monster.
Pros
Endlessly adjustable
Excellent customer service support
Tough
Comfortable
Cons
Just a little heavy
Favors taller folks slightly
This pack can be tweaked endlessly to find that perfect fit. The frame itself can be shortened or lengthened, the pack body lowered or raised on the frame, the hip belt and shoulder straps replaced.
To that end, I am a slender man, and found the factory-installed hip belt to be far too long. I couldn't tighten the hip belt enough to fully support the load on my hips—the webbing ran out and the padded sections ran into each other before I could get it to what felt fully tightened. I contacted Kelty and they sent me the "women's" hip belt and shoulder strap setup for the cost of shipping, and now I can adjust the hip belt to ride as high or low on my hips as I want.
I use the shortest frame setting for my short back, and the lowest pack setting on the frame, and attach my tent under the pack body snugged up against frame right at the small of my back, and the load only ever over-tops my head if I'm loaded out for multi-day trips carrying half my wife's load.
Speaking of loads, I've carried as little as twenty pounds for a solo overnight up to all of my gear and half my wife's gear for a sixty pound five-day trip. Jaunts as short as five miles on old roadbed trails to as much as ten miles on overgrown backcountry trails clambering over and under fallen trees. This pack eats it all and begs for more. And my hips commonly feel less stress for all that load than with my 20-pound daypack on a ten-mile day. 
While the pack doesn't feel as molded to my back as an internal frame would, doesn't sit as solidly while ducking and weaving, it's never overbalanced me, never caused me to feel as if I were going to tip over. And that little bit of sway, that touch of inertia, means I don't use as much torso muscle and energy fighting the load while I hike. Or at least that's how it feels on *my* back.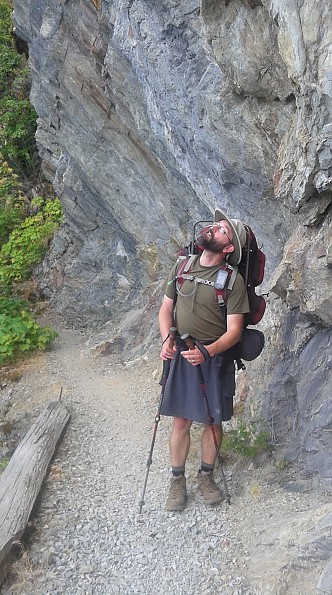 My only dings against this pack are pretty minor. When the pack is fully loaded, the flat top-panel pocket is the next best thing to useless—you might get a paper map in there. The hydration pocket is in an odd spot in the main pack chamber and doesn't have a port for the bladder tube. And the chest compression strap is a little high—probably as a result of my swapping out for the "women's" rig. Pretty minor, really.
I carry the included replacement pins and split rings with me, just in case. But in hundreds of miles over the last nine years, I've yet to have any worry—let alone cause—to use them. All those heavy loads, and absolutely zero sign of material fatigue or fraying. And as an added bonus, there has been much less absorption of body odors as compared to my older internal frame packs, due to the external frame design keeping the pack body off my back.
In short, I can't see ditching this pack. Unless I win the lottery and that perfect titanium frame comes along.
Source: bought it new
Price Paid: $180

Lots of room in this pack. I am a big guy and it fits very comfortably and does not shift much. I would recommend this pack for people who tend to pack a few more things than the average hiker would. I use it for three-day trips and it still has plenty of room left.
Pros
A big open area in the main pouch
Side pouches are the perfect size for a Nalgene bottle
Comfortable pads even for a big guy
Cons
Wish the straps were a little longer
I could personally use a few bungees straps
This pack fits very well and as I have mentioned I am a 230+ guy. The pads fit very well and are comfortable around the shoulders and waist. Depending on where you like to sit your pack I feel this one rides very well when I have it tight, and when I relax the shoulders and let my hips carry the weight.
I have used this pack in the 0-10 degree weather and as well as late fall and it loads up very well. I utilize straps for the outside to hang my sleeping bag, my pad, hatchet, and even a small jacket if I don't feel like opening it up while mid-hike. I do wish that a few of the pockets on the outside were just a little bit longer to fit some more accessories such as bigger medkit and whatnot. 
Background
I am 26 years old and I have been a camper and hunter all of my life. I am only in my third year of specifically backpacking and have used this pack for every trip. I tend to pack heavier as I enjoy fires, and fishing wherever I go. This pack has held up in -5-degree weather up to 70-degree weather and was never uncomfortable!
Source: bought it new
Price Paid: $125

A great pack. Just needs some time to be adjusted correctly to fit your needs.
Pros
Well built
Lightweight
Very large main compartment
Cons
Load rides too high when fully packed with factory setup
4 small side compartments. 2 small & 1 large would be nice
Be sure to carry back-up clovis pins
This is about as good of an external frame pack as you can find nowadays, since the powers that be seem to want to force everyone into using undergunned internal frame packs. I did, however, find that if you pack the main compartment to its max, the load sits WAY above both your head and the frame.  The "Frankenstein's Monster" effect.  
I adjusted this by moving the entire pack down the frame, while leaving the suspension system where it belongs.  I am now able to use the pack's full capacity, and even lash my tent to the top of the frame with the load only slightly overhead, and lashing whatever else to the bottom of the frame.  That's the glory of the external frame: it can be adjusted and tweaked to meet your needs.
I suggest anyone purchasing this pack spend ample time playing with different setups with both the suspension system and bag placement before hitting the trail with a heavy load. If you take the time, and fine tune it to your needs, you'll find that this pack is both very comfortable, and large enough to pack for a long trip in the backcountry.
The only other feature I do not care for with this pack is that there are four small zippered compartments on the side.  That seems a little excessive for packing small, easily accessible items. I think a better design would be to have two small compartments on one side, and a larger long compartment on the other that can hold a hatchet, pick, or other useful tool (like a handle of booze perhaps).  
Overall, though, this pack is great, and seems like it will give me years and years of good times. 
Source: bought it new

Very well finished and sturdy. The load lifter shoulder straps are a big deal and make this pack work for you. Back ventilation is second to none. The hip belt convinces you that you can load more into the pack and onto the frame than you should; only your knees will remind you otherwise. That same hip belt is way easy to adjust to your shape.
Pros
Durable construction
Load lifter shoulder straps/cinch and luxurious hip belt
Spreads your load so evenly that it seems like it's hovering behind you
Cons
Pricey...naw, just kidding
Minor ticky noises from the adjustment/attachment rivets
Doesn't really hover; it's only an illusion
Main compartment interior color is dark
If you're going to haul everything you'd like to have on any given stage of the PCT this pack will serve you well. Be cautious though as this pack will allow you to carry way more than your knees and ankles can withstand on the long haul.  
Rivet noise cured with little strategic bits of duct tape...so if a bear doesn't smell you coming, you can sneak by them. A relevant consideration: medium or light weight hiking boots will not allow you to explore the full potential of the Trekker 65.
Expeditious and free shipping made the choice of buying direct from the Kelty website satisfying.
Source: bought it new
Price Paid: MSRP x KELTY20 + tax

Bought to replace my first and last internal pack that I will ever own.
Pros
Highly durable
Storage space
Kelty customer service
Manner in which the weight is distributed
Cons
Haven't found any after using for several miles
I bought this pack after jumping on the internal bandwagon and being highly unsatisfied. I absolutely love it! I have used this pack for several miles of trails both wide open trails and narrow unbeaten trails. I could live out of this pack if I needed to for as long as I needed.
The weight is distributed much better than my internal. I have been able to strap items to the frame if I needed (my Gerber machete is fixed to the side) and the pockets on the outside have sufficient storage for water purification, cookware, cook stove, etc.
When I received the pack the main zipper compartment on the front of the pack was zipped shut and there was no zipper. I called Kelty and not only did an English speakng American answer the phone but I received a brand new pack within a week. I like this pack so much that I have placed an order for fifteen Kelty Yukon external frame packs for my scout troop.
Source: bought it new

Lots of room, comfortable after alteration. Lacks a critical adjustment option, but with some imagination and a trip to your local machine shop the pack can be re-engineered.
Pros
External frame
Lots of room
Cons
Lacks a critical adjustment, without which the pack is useless
I like external frame packs because they sit off my back and allow air to circulate. My 25-year-old one finally bit the dust, so I bought the Trekker 65.
Unfortunately, the vertical position of the pack on the frame is not adjustable, leaving the pack way too high on the frame. Kelty could not correct the problem, but with a little planning and a trip to my local machine shop, I re-engineered the pack and now it fits very well.
Source: bought it new
Price Paid: $165

Purchased this backpack earlier this summer and took it on a 5-day pack trip to Pictured Rocks National Lakeshore.
The pack is outstanding. Several others in the group had internal frame packs and suffered from uneven weight distribution. My pack weighed 40 lbs and was supported evenly by this excellent external frame pack. 
In my opinion external frame packs are the best. The Kelty Trekker is outstanding.
Price Paid: $125

Very light and holds everything I need.
Wish it had a better compartment for my hydration system but the top flap zipper works just fine. 
I like external frames as I attach additional items as needed for my trips. Internal packs I have experience with don't measure up. However I've always been biased to external.
Price Paid: $130

Your Review
Where to Buy
Help support this site by making your next gear purchase through one of the links above. Click a link, buy what you need, and the seller will contribute a portion of the purchase price to support Trailspace's independent gear reviews.
You May Like
Specs
Price
MSRP: $189.95
Current Retail: $183.71-$244.95
Historic Range: $121.79-$244.99
Reviewers Paid: $125.00-$180.00

Weight
5 lb 5 oz / 2.4 kg

Volume
3950 cu in / 65 L

Torso Fit Range
16 - 22 in / 41 - 56 cm

Dimensions
29 x 22.5 x 13 in / 74 x 57 x 33 cm

Recently on Trailspace