The Vortex 2 has been discontinued. If you're looking for something new, check out the best three-season tents for 2020.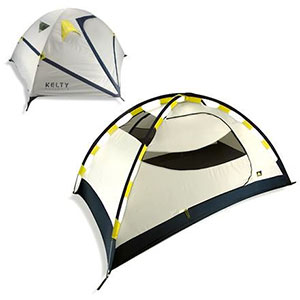 Specs
Price
Historic Range: $219.95
Reviewers Paid: $50.00-$220.00

Reviews
20

reviews

5-star:

10

4-star:

10

3-star:

0

2-star:

0

1-star:

0
This tent lasts for decades and will never fail you.
The wife bought this tent as a gift in 1994. It's been on countless trips to Algonquin Park in Ontario, Canada, even to Southern Sudan. Best friggin' tent I've seen.
Two doors allow you to get out without climbing over your partner. I've never been wet, and the two vestibules are needed for your boots and gear. Worth the extra weight in gold.
Heading back out after Covid19. $200 and 26 years of use and still going...
Source: bought it new
Price Paid: $200

Great tent for bicycle touring.
Pros
Sleeves, not clips
Flyboy wind clips on the Webforce version
Excellent ventilation
Large vestibule and good headroom
I purchased an early version of this tent around 1998 for about $200 new, and in 2011 found a used Webforce version in mint condition on Ebay for $50.
All of my camping has been bicycle touring. The tents were used on trips on the West Coast through Oregon and California (six trips altogether), the Erie Canal in New York, The GAP-C&O Canal in Maryland, several multi-week trips through Pennsylvania, and two trips to New Zealand.
Absolutely fantastic tent. Never leaked, quick setup, large vestibule space, excellent ventilation. I added a Sierra Designs Taquito organizer bag, lightweight anodized pegs, a gear loft, and Kevlar cords throughout. The wind clips work extremely well, and give the tent the stability of a 4-season model for less weight. It recently held up just fine in a 40+ mph windstorm in Waihi, NZ north island. The waterproofing has held up with no leaks, even in downpours. The color is just right, not too bright for doing quick overnight 'stealth' camps.
I originally used a lightweight footprint groundcloth to keep the floor in good condition, but have recently replaced it with a heavy duty twin mattress bag. The bag is the same dimensions as the groundcloth, and doubles as a shipping container for the bike while on trains and buses.
The tent is a little heavy for backpacking, but perfect for bicycle touring. I'd like to thank the folks at Kelty for an excellent product!
Source: bought it used
Price Paid: $50

20+ years old and still my favorite tent! Still going strong!
Pros
Pole sleeves NOT clips
Two doors and vestibules
Cons
A Little on the heavy side, 6 pounds.
Can be hot in the tent in summer with rain fly on.
I've had this tent for over 20 years and used it in all kinds of weather and it has never failed me...not once. I have never had to repair it and it has never leaked. After 20 plus years, I am just now needing to reseal one small section of the seam.  
I can set it up by myself in just two minutes. It is just as easy to take down and roll up and stuff back into its sack. This tent has sheltered at various times over the years, two adults, two adult and two kids, one adult and one kid and one dog all with extra room to store our gear.
I plan on using this for as long as I can. This is the best tent I have ever owned. Love this tent! This tent has the pole sleeves and the tension on the fabric is perfect and even. I can't say enough about this tent. Best $200 I've ever spent!
Source: bought it new
Price Paid: About $200

I have owned this tent foe 3 1/2 years. It was my first good backpacking type tent, and the sale price and size were the motivating factors to buy it, plus Kelty's reputation. (I worked for REI in the mid '80s, so I know about what companies make quality goods - from the return rate). I am a Venture Boy Scout leader, and needed a true 2-man + gear/pack room size tent- plus I am 6' 2 1/2" tall.
In eastern Oklahoma we get a lot of wind, serious downpours, and humidity with heat. Thia tent could have more ventilation and it would be perfect. I call it my "storm tent" due to its watertight record (with footprint) and strength. The two vestibules are the largest I have found, are vented, and keep your gear dry too. Set up in the dark, or in a hurry is easy with the dead end pole sleeves. Not hitting my head and feet on the ends and roof is priceless.
I did have to replace the pole elastic - my fault from not drying them out correctly. It's a bit heavier than other newer "2-man" tents that are ALL SMALLER, but for 2 hikers, it is very reasonable weight, and ROOMY. Thanks, Kelty!
Design: 3 1/2 season freestanding dome
Sleeps: 2
Ease of Setup: very easy, quick
Weight: about 6.25 lbs
Price Paid: $99.95

Absolutely the best tent I've ever owned.
Some people say this tent is heavy, but for the quality, it is well worth it. Heck, look around at the other tent manufacturers and for a tent that's of the same quality and roominess you are carrying just as much weight.
This tent has survived the Sawtooth range in Idaho, the plains of Kansas, and recently it has claimed both the Chugach range and Denali National Park. I've never had a single problem.
A sloth could set this tent up in about two minutes, five minutes to take the time to put the rain-fly on (which you should always do, no matter where you are) and guy it out well. The tent is extremely sturdy when set up correctly, which Kelty spells out in the owners manual.
I've never experienced a condensation problem either. Air flows smoothly through it, and when I'm putting the entire family in it (two people, two LARGE dogs) I mount a little battery powered fan that weighs half a pound a keeps the air circulating.
Overall, if you can get your hands on this tent, which they don't make anymore, I'd suggest to anyone to get it.

Design: three and a half season freestanding dome
Sleeps: 2
Ease of Setup: retardedly easy
Weight: 6 lbs
Price Paid: approx $175?

I've had this tent for several years. I really like the spacous twin vestibules, the gear loft, and side pockets. The freestanding design makes cleaning out the tent as simple as opening the door and shaking it out. I like to use it for short winter backpacking trips and any kayak adventure so I can store ALL my gear under the rainfly.
Design: three and 1/2 season freestanding
Sleeps: 2
Ease of Setup: Simple
Weight: Approx. 8 lbs.
Price Paid: $175

My wife and I purchased this tent for packing into the backcountry for any season but winter. We've taken the tent in extreme heat, rain, and wind. The Vortex 2 has not only met our expectations but exceeded them by leaps and bounds.
About a year ago my son (age 4) took the Vortex on a father-son camp out. I wasn't going to set up the rainfly (one of the great reasons the Vortex 2 was purchased), but did so nontheless. A typical Colorado storm rolled in and pounded the camp area that the entire group was using. While my son and I enjoyed licorice and snacks, we laughed at all the sounds the other fathers and sons made while complaining of wet tents, cloths, and worst of all bags. yeah, i could have helped, but let's face it you've got to be prepared.
In short, I've never had a wet tent, bag, or gear to worry about. Plus the added advantage of dual vestibules gives you the option of stowing gear under one vestibule while using the second as a true door. We find that a couple of trash bags on the ground were sufficient to plop our external frame packs on, mostly to keep them off the dirt/grass and flowing water from rain.
This tent is a great buy and fortunately i bought mine prior the change in design of having clips on the poles :)
Design: 2-pole 3 season
Sleeps: 2
Weight: 6lbs
Price Paid: $170

Ya, I'll write a review.....
I got the tent from REI for around $175 (2002).
I set it up in the front yard to check it out.
It was nice, and had plenty of room for my dog.
Then it got ripped off from my storage shed.
Kelty doesn't make the Vortex with the pole sleeves anymore. They went the way of "the clip." Pisses me off.
It seemed like a nice tent, but I wouldn't know since some asshole took it.
The Kelty Vortex I suppose is the same as it has been, but now with clips (to save money). Clips stress the fabric and don't take the load in wind as good as sleeves.
So...that's my review.
If you're the one that stole my Kelty, I hope you wipe your ass with Sumack.
Design: vortex
Sleeps: 2
Ease of Setup: sweet
Weight: ?
Price Paid: $220

overall, a very good tent. I've noticed the new Kelty2 has 'D' doors. This is an improvement, though I don't really mind my triangle doors. The most significant disadvantage is the difficulty in getting the tent into the carry sack if you're alone. With another person, it's a snap. It sleeps one comfortably, two people a little snugly. Rain fly is easy to get on. Also, gets hot during hot, humid weather (but, don't most tents?).
Design: free standing
Sleeps: 2
Ease of Setup: easy
Weight: 6?
Price Paid: can't remember

Great tent. Good construction, lots of features--ripstop polyester fly, alum poles, 1pc sleeves, 2 "D" doors, 2 large usable vestibules, etc. Setup is extremely easy and the "FlyBoy" clips keep the structure tight. The first time out we encountered heavy rain and sustained high wind ending with 2in of heavy wet snow. Properly staked and guyed the Vortex 2 is solid as a rock and leak free. The fly stayed taut and the large vestibules kept our gear dry. About the only thing that could be improved upon would be to add another 6 inches of width as it's a bit snug with 2 adults. This seems to be a common complaint of most tents in this class though. At $179 it's an excellent value.
Design: three-season freestanding dome
Sleeps: 2
Ease of Setup: simple
Price Paid: $179 @ EMS

This tent is the right one at the right price for easy setup and rain protection. While it may not be the best of all worlds (it could vent a lttle better) its very good price and quality make up for any shortcomings. Try and get these features at this price, bought mine at Bobwards.com and recieved great service. I am very hard to please when it comes to my backpacking equipment and I'm happy. Enough said.
Design: 3 season
Sleeps: 2
Ease of Setup: Very easy to set up
Weight: about 5.5 lbs.
Price Paid: $138

Kelty V2 is very easy to setup. The first time I took it out was on a rainy weekend. The ventilation needs a little work. However, the rain fly and footprint kept the tent dry. I love the idea of not being disturbed when nature calls the other person. The only real beef I have is the vestibules are not large enough and when staked, it is hard to get in and out of.
Design: 3 season
Sleeps: 2
Ease of Setup: Very Easy to Setup
Weight: 5 pnds 12 oz
Price Paid: $220 US

I've had this tent for about 5 years now, and it has served me very well. It doesn't do well under a load of snow, but if you stake out the fly, it does nicely under heavy wind and rain conditions.
Design: 3 season backpacker
Sleeps: 2/3
Ease of Setup: Super Easy
Weight: 7lb and some
Price Paid: $200 US

I wouldn't take this tent on a trip straight out of the box. The seams on the floor of the tent need to be sealed, and you'll want more guy lines, because this tent doesn't handle wind extremely well. The vestibules need to be tighter to prevent sagging. On the good side, on my first trip in this tent it encountered a rain storm with winds in excess of 35 mph on the egde of a cliff. Nothing shifted and everything stayed dry.
Design: 3-4 season Rectangular Dome
Sleeps: 2
Ease of Setup: Easier than any Warus or TNF
Weight: 6lbs 5oz
Price Paid: $220

I have found this tent to be an excellent performer in all the weather I have encountered with it. I like how the vestibules go all the way to the ground for waterproofness. The vestibles are big enough to put in a big pack and still have room to get in and out. All around I find this an exceptional tent. Some problems and solutions I've come up with.
Problem: The center of the vestibules sagged a little bit.
Solution: I sewed on 4 extra guy lines in the middle of each vestible door.
P: The Poles were hard to put in the grommets
S: I trimmed away a little metal on each pole to get a perfect fit.
P: The tent stakes bent to easily
S: I bought new stakes that are really nice at REI
P: The vestible zippers are hard to reach from the inside
S: Added strings to extend my reach
Design: 3+ Season
Sleeps: 2
Ease of Setup: Very easy to set up
Weight: 6lbs.,11 oz.
Price Paid: $200

After buying and using cheap tents for years the Vortex is a dream. The simplicity of design, quality of materials, and ease of setup make this tent a winner in my book. Clips for attaching the full coverage polyester rainfly with built-in vestibules and vents, double doors, a rectangular bathtub floor design, and aluminum poles at this price what more can I say. Great buy in my opinion.
Design: 3 season
Sleeps: 1-2
Ease of Setup: It's snap. Maybe 3 min.
Weight: 7 lbs. approx.
Price Paid: Approx. $150

This tent has proved exeptionally weatherproof in the hyper-intense rainstorms of the West Coast Trail. It has also stood up well to wet snow on mountaineering trips in the BC Coast Mountains. Its ease of setup and low cost are further selling points.
Drawbacks: trying to fit gear in the tent in addition to two bodies is difficult. The vestibules help, but are a little small (although making them bigger would compromise the design).
Great tent, though. No complaints here...
Design: 3 (and a half?) season
Sleeps: 2
Ease of Setup: Very very easy
Weight: ~7 lbs inclusive
Price Paid: $200 cdn

This is an excellent tent for the price. I have used this tent in the snow, and it held up beautifully. It fits two persons comfortably with 2 large vestibles for gear storage. The best feature of this tent are the two doors, so you don't have to trample your buddy when nature calls at two o'clock in the morning.
On the down side, the vestibules are a little difficult to get in and out of when staked. There is also a condensation problem if the fly is not ventilated in cold weather.
Design: 3.5 seasons
Sleeps: 2
Ease of Setup: Very easy. Can be done in under 5 minutes.
Weight: 6lbs 11 oz
Price Paid: $140 on sale at Campmor

I've owned this tent for 4 years and have put many miles on it in some pretty crappy weather. It has never let me down.
You can't beat it for the money.
One drawback though. The vestible doors are difficult to exit and enter when staked.
Design: 3-4 Season
Sleeps: 2
Ease of Setup: Very Easy
Weight: 6Lbs 11oz
Price Paid: $200?

super easy to set up! The fly has two vesibles that provide plenty of extra room. The Vortex has two doors which is a nice feature (just think; cold nights and your tentmate has a nature calling). For the money I haven't found a tent that can beat it!
Design: 3-4 season
Sleeps: 2
Ease of Setup: very easy
Weight: 6lbs 11oz
Price Paid: $200

You May Like
Recently on Trailspace