The Zen has been discontinued. If you're looking for something new, check out the best three-season tents for 2020.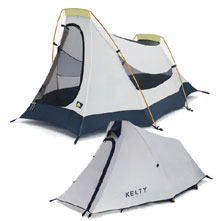 Specs
Price
Historic Range: $59.95-$144.95
Reviewers Paid: $79.00-$150.00

Reviews
14

reviews

5-star:

7

4-star:

6

3-star:

1

2-star:

0

1-star:

0
This has been a solid tent. I've used it for solo hiking. I haven't had it out in extreme conditions, but it has kept me dry during some rain showers. Ventilation hasn't been a problem but most of the camping I've done has been fair weather.
I've since upgraded to a freestanding tent which makes drying a tent at home much easier. With the hoop-style tents, you can't pitch (not easily anyhow) in your garage to let it air out and for cleaning. However, set up and breaking it down is super easy. Takes just a few minutes.
The zippers sometimes stick a little, but if you're careful, you can avoid it.
For the price, this is a terrific tent. User friendly, light weight, good features, and quality materials and construction.
Design: 3 season hoop-style
Sleeps: 2
Ease of Setup: very easy
Weight: <5lbs
Price Paid: $100

The Good: Lite wt. Easy set up. Quality zippers. Great rain fly coverage. Very stable in wind.Great vestibule.
The Bad: Shock cord lost elasticity after two summers of use.
Not recommended for winter use. Could be lighter for long backpacking trips. A little crowded for two people.
Design: Three season
Sleeps: 2
Ease of Setup: good
Weight: 5lbs
Price Paid: $135

I've used this tent since 1999 or 2000 on several kayak trips (six days on the Au Sable in Michigan), National Parks (Isle Royale twice, Glacier just last month) and it has always been great. Kayaking I used it as a solo tent with plenty of room for gear. Backpacking I love the light weight and both my wife and I shared the tent with no problems. We are both under 5'8" though.
The only negative I have about the Zen is the fact that is is not free standing. The last few nights in Glacier we had some pretty rocky sites and the stakes would only go into the ground a few inches. Luckily we didn't have any wind so it was no problem. Overall a great little tent.
Design: Three season non freestanding
Sleeps: 2
Ease of Setup: Easy setup
Weight: Approx 4 pounds
Price Paid: $119

A great tent to be sure, however weighing in at 5 lbs 2 oz add a footprint for protection and you're at 5 lbs 10ozs... heavy by backpacking standards for one person, but if you're looking for room, and ease of use with awesome zipper mechanisims that gilde like butter this tent's for you, breathable, stout in winds, it's a great 3-season tent and if you are hiking with a companion you can't beat this tent.
Design: staked
Sleeps: 2
Ease of Setup: easy
Weight: 5 lbs 2ozs packed weight
Price Paid: $150

I love this tent! I got this at a super discount clearance price, and wasn't expecting a whole lot, but was very surprised. The two pole design is so easy to set-up, and it's no problem in the darkest of night. It fits two people snugly or one person and a dog. It collapsed on me in a few surprise storms, so be sure to use guy lines in wind and rain. I literally left this tent set up in my backyard in Montana all last winter and quickly wadded it up when I moved. I didn't get around to unpacking it for a few months and expected to find mildew and all sorts of funk, but nothing, it was still in perfect usable condition. The fabric might not be as strong as other higher priced tents (I got a small hole in the floor my first night in it), so take a repair kit if you're backpacking, but a few holes are well worth the savings. The condensation has proven minimal compared to other tents I've had.
Design: Three-season lightweight backpacking
Sleeps: 2
Ease of Setup: Super Easy
Weight: 5 lbs?
Price Paid: Clearance $79

Purchased my Zen from Campmor and I can't complain about the quality of the tent. I use it on a lot of solo kayaking trips. I've had it on the Buffalo River in rain, hail and even remembered how to find the fetal position one time in a lightning storm. Great tent for summer star gazing w/o the fly. The only drawbacks are: #1 This tent isn't free standing and needs to be staked out good to get it to stand tight. #2 Don't expect to look out through those fly windows and see what's sniffing around.
Design: 3 season backpacking/kayaking
Sleeps: 1
Ease of Setup: moderate
Weight: light
Price Paid: $120

I have taken this tent hiking in the Idaho Sawtooth Mountains and a week-long trek in Yellowstone. Very satisfied with the performance. Withstood a severe downpour without any leaks. My only complaint is the tent stakes. I replaced them with a better set after my first outing. I would highly recommend this tent. Great value for the money.
Design: three season
Sleeps: 2
Ease of Setup: As easy as connecting dots
Weight: 4 lbs
Price Paid: $110

Excellent tent for what it is designed for (3 season). Fly started to leak after 2 days of rain. Reseal before 1st use. Set up quickly, reasonably tight, good room. Highly recommend as a value tent.
Design: 3 season
Sleeps: 2
Ease of Setup: VERY Quick and easy
Weight: 4 1/2
Price Paid: $119

A bombproof little tent. Lots of space inside. Breathes great. Eclipse windows work awesome. Hardcore lightweight tent especially when a heavy 4 season tent is not needed. Fly has nice features w/ integrated vestibule. Expedition-proven Kelty gear.
Wolf Jaws
"Get Some"
Design: 3 season 2 hoop ultralight tent
Sleeps: 2
Ease of Setup: easy
Weight: 4lbs 12oz pack weight
Price Paid: $120

Great little tent. Packs small, doesn't weigh much, but is well put together. Has traveled on my bike and on my back with ease. Sleeps 1 with lots of room, or two close friends. Warm on a sub-30 night backpacking in the Shenandoahs and cool (without fly) on a 85+ night on a bike trip down the C&O canal. Haven't been in heavy rain, but light showers are no problem. Vestibule is small, but serves to keep a few things out of the rain.
Design: 3 season hoop
Sleeps: 2
Ease of Setup: Very easy, very quick.
Weight: 4.5 lb
Price Paid: $120

I do much backpacking, bike touring, and canoeing...this tent is perfect! It sleeps me and plenty of my gear (which doesn't say much because I'm only 5'6")...It sleeps 2 closely with an ample amount of gear at your feet...Great tent...I give it four stars!
Design: 3.5 Season; 2 Person; Freestanding
Sleeps: 2 (closely)
Ease of Setup: Extremely easy to setup...only 2 poles and not too many stakes. The clips make it easy to get the fly on/off.
Weight: Just over 4 pounds
Price Paid: 115 - 120 dollars

Outstanding tent. I bought this tent for many reasons...reputation, price and features, I haven't been disappointed. I do a lot of camping/hiking (Scout master) and didn't want multiple tents, this one suits me fine. I'm 6'2" and fit nicely with my gear, 2 people would require good friendship. At just over 4lbs and being a small bundle it fits easily on any pack. The advertisements don't do it justice. You can't beat it for the price...even if it cost more!
Design: 3 Season
Sleeps: 2
Ease of Setup: Extremely easy set-up and stowage.
Weight: 4lbs 3oz
Price Paid: $149.99

Found mine on sale so it was an even better buy. I love the full length screening and full coverage rain fly. Seems tend to "drip" with rain so you should seam seal them or tape them over.
Two adults in the tent would be a squeeze but in winter it would help hold heat.
Adequate ventilation in summer with no fly; hot with it on.
I am 6' 1" and have plenty of stretch room.
All round, a good tent for the money and an excellent first backpacking tent. I would recommend it to virtually anyone.
Design: 3 Season
Sleeps: 2
Ease of Setup: Excellent; even in the dark!
Weight: 4 Lbs 2 Oz
Price Paid: $115

A fantastic tent for 3 seasons. Sets up easy, doesn't let in any rain, and just looks nice. The vestibule is big enough for all of your stuff to keep dry, and there is extra room in the tent with two to let your food bags sleep with you when the coons come a knockin'. I am actually getting another tent because I want to try out winter camping, but I'm quite satisfied with this one.
Design: 3 season lightpacking
Sleeps: 2
Ease of Setup: easy as pie
Weight: 4 lbs 3 oz
Price Paid: $120

You May Like
Recently on Trailspace