Kifaru KU3700

Top 50 in unisex Weekend Packs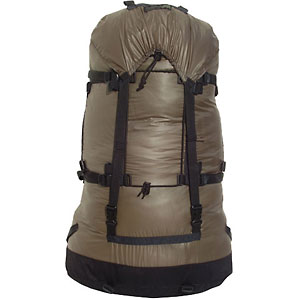 Specs
Price
MSRP: $530.00
Reviewers Paid: $530.00

Weight
2 lb 9 oz

Volume
3700 cu in

Reviews
1

review

5-star:

0

4-star:

1

3-star:

0

2-star:

0

1-star:

0
This is a 3700 cubic inch light backpack built by a long time U.S. manufacturer normally associated with hunting and military personnel. With its accessories and multiple attachment points it is able to be expanded and organized as desired. I would recommend this to anyone who would like a light pack that is capable of holding large loads very comfortably.
Pros
Light
Comfortable
Expandable
Customizable
Built to personal specifications — not off the shelf
Cons
It doesn't have to be babied but care is recommended
Geared more toward hunting and military applications
It is not inexpensive
There are no drainage holes in the Cordura to drain rain
I would like to begin by saying I am retired from a non related line of work to the outdoor industry and not a rep for this or any other company. I purchased this item and these are my impressions of it based upon its use by me. Some of the technical and descriptive information about the product is from the manufacturer's website.  I hope the reader will find this review informative.
Kifaru KU3700 Internal Frame Pack
Kifaru, is a Colorado based company who has been manufacturing serious outdoor equipment for many years to hunters and military personnel.  By serious outdoor equipment I mean everything from internal and external frame backpacks, to tents, sleeping bags, tent stoves, stuff sacks, gear sleds to pull in the snow and other specialty gear.  They also make mil spec gear for military personnel.  Their products are very popular with hunters and military personnel.  The company has been around as a U.S. Manufacturer since 1979, originally as Mountainsmith, Inc.
The KU3700 backpack is a 3,700 cubic inch, 60.6 liter pack weighing in at 2 lbs., 9 oz.  It's rated load out is 70+ pounds.  It is made of an ultra high tenacity mil-spec silnylon type material they have been using for many years in their sleeping bags, tarps and tipis.  According to the website the ultra light pack was tested for over 10 years before going into retail production to insure durability.  The bottom of the pack is covered in a more protective Cordura material.
The internal frame has composite stays which are removable/interchangeable and the shoulder straps are individually adjustable.  The back panel area has a raised torso pad to provide ventilation and their "Precision Lift Plus" system adjusts lifter strap angle so as to move the pack load off the shoulders and onto the hips.  The stays are a carbon fiber with wood laminate to reduce weight and maintain strength.  The pack has a very comfortable lumbar pad and a patent pending "Packlock Grip", which helps keep the pack from sliding down.  The waistbelt is wide with a Spandura lining.
The pack is a top loader with no zippers.  It contains an internal pouch and tube access for a water bladder system.  The outside of the pack has many attachment points for their numerous external pouches, pods, water bottle holders and other accessories.  The external items attach to the pack very securely, to the point they seem actually part of the pack.  The pack can be customized with these accessories to organize gear and/or increase the load out size to over 5,000 cubic inches.
I decided I wanted a light in weight backpack somewhere in the 3,500 to 4,000 cubic inch range with the ability to customize and configure as I desired.  Being a U.S. manufacturer would also be a plus.
I knew Kifaru was geared more to hunters or the military rather than backpackers but I purchased a KU3700 a few months ago as an UL backpack for an Appalachian Trail thru hike next year.  This August I finally got out on a week long backpacking trip with the pack in the high country above Yosemite to get use to it and to give it a bit of a test.  I thought I would post a few thoughts.
Configuration:
The pack was built with long carbon fibre stays and a waist belt from a KU5200 (a 5,200 cu in pack).  I decided on this belt since it was built for a larger pack and reports were that it was very comfortable.  I configured the pack with several external accessories to hold and organize gear.  I added an optional externally attached E&E pack holding rain gear, insulated wind breaker, gloves, hat, one pair of socks and a first aid packet.  One Long Pocket (side zip) holding a stove, titanium pot, large fuel canister, 6L Dromedary bag for camp, pack towel and self inflating seat.  One Pod (large) holding my two person tent which I eventually just stuffed inside the pack since there was room.  One Belt Pouch and 2 Bottle Pouches.  One bottle pouch attached to the belt and one pouch holding my Steripen and Prefilter affixed to a side attachment point.  I also used a KU Koala (small chest pack) with a lift kit that attached the chest rig to the stays and lifted it off the shoulders.  Attached to the back PAL straps of the E&E via carabiner were a pair of water/camp shoes.  Pack weight was about 32 lbs with water and 3 days food and maybe 4 lbs in the Koala.
Internal Configuration:
There is not a special built pack rain cover for the unit so I used a 55 Liter ILBE internal dry bag which held a spare shirt and pants, pair of socks, sleeping clothes, balaclava and down quilt.  The ILBE is waterproof, compressible and airtight, so this all packed down very small when compressed.
I placed my tent poles/pegs in their bag down the inside of the pack between the pack and the ILBE dry bag on one side next to the frame and the sleeping pad in its sack down the other side.  These helped to fill out the bottom and sides of the pack.
Since we were in Yosemite a bear canister is normally required but we were going to be in areas with bear boxes so I opted for a kevlar bear sack to store food and place in the bear box.  If needed, I could have placed a BV450 (solo version of the  Bear Vault) under the top lid of the pack or lashed it to the outside of the pack.
What did I think?
I Love this pack!!  So did my hiking partner who has decided to get rid of his old Dana Designs external frame pack.
This pack is the most comfortable pack I have ever used.  I could hike all day without removing the pack it was that comfortable.
The weight stayed on my hips and it felt a part of me no matter the terrain.  In places where balance was especially needed the pack always felt secure.  The frame, shoulder straps and waist belt made the load feel as if it was a part of my body.
The external attachments made organizing gear easy and they never felt a removable part of the system.  The pack was very easy to live out of since things were organized.  When needed, an external pouch could be removed from the pack by releasing the buckles holding the item to the pack.  When ready to move, the items could be quickly reattached via the buckles to the pack.
Concerns:
Though this is the best pack I have ever had as with any technical gear there are a couple of concerns.
First off I was concerned with price.  The pack is not inexpensive but I tend to buy gear that I don't have to get rid of every few years.  For me, this pack should last a very long time, adapt to what ever use I want to use it for, and be comfortable whatever the load.
Though I am very careful of my gear durability of the material had been a concern due to the silnylon construction and the possible every day use of the pack for up to 5 months on the AT.  After scrambling across large spans of granite, rocky and scree filled trails, the pack came through with only a few abrasions on the outside of the pack.  These occurred after a couple of non graceful slips which caused the pack contact with the ground/granite on non cordura areas.  They are barely noticeable and I think the outside, with careful use, will hold up fine to long distance hiking.
I do have one more serious abrasion or fraying on the inside of the pack which concerns me a little.  I am not sure how it occurred.  It is located along the inside edge of where a stay runs inside the water bladder pouch about 2 inches from the top of the water bladder pouch.  There was nothing in the water bladder pouch except my 3L Camelbak bladder.  Not sure how it occurred but I plan to repair it with some silnylon repair patches or possibly send it back to Kifaru for professional repair. 
One last comment.  There are no external attachments areas for securing hiking poles.  At times, one just wants to secure them so the hands will be free.  I tried securing mine point up, against the pack under the compression straps but the material is very slippery and didn't hold well.  Probably a better solution suggested to me is to remove the Steripen and PreFilter from the bottle pouch attached to the side of the pack, place the handles in the side bottle pouch then run the poles under the compression straps.  I will have to give that a try later.
All in all the pack handles weight very well, is comfortable, expandable and looks to be durable in normal use.  I am very happy with my purchase.
Source: bought it new
Price Paid: KU3700 w/o Accessories, $530

You May Like
Recently on Trailspace