Klean Kanteen 27oz Classic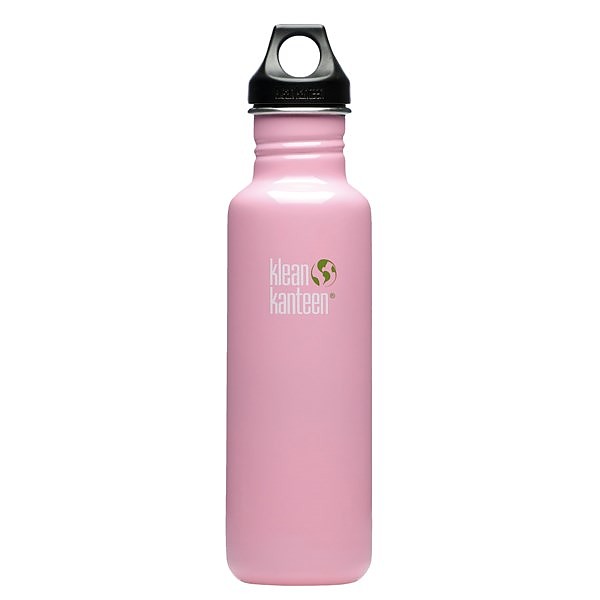 A durable steel bottle, with some ecological merits, a choice of lids and available in a selection of attractive colours.
Pros
Stainless
Long life
Bottle body is easy to clean
Pretty colours
Fits in my car cup holders
Spare parts available
Cons
Sports cap leaks
-and needs careful cleaning.
Some spares are good value—some not so much
Paint finishes can be fragile
I bought this bottle eight years ago. It generally lives in my car, with the sport cap attached. I also have a loop-top leakproof cap, but never take the bottle backpacking, so never use that cap.
I like the choice of colours. The paint isn't very durable—and would be a real mess if heated on the stove (buy the unpainted version, if you plan to take this product on a serious backcountry trip).
Sports caps are fairly ubiquitous now, but work best on the kind of flexible plastic bottles that cyclists use. It's useful to be able to squeeze the contents, either as a facial spray, or as a quick mouthful of refreshment. The Kleen Kanteen would be a flawed bike bottle for that reason—and because it's a loose fit in many bike bottle cages. (Kleen Kanteen make their own cages, if you really want to use your bottle on the bike.)
The sports cap, on a steel bottle, is a trade-off of slight extra convenience, against guaranteed leaking and hygiene issues. You still have to tilt the bottle to get anything out of it—and actively suck the contents into your mouth. Or develop patience, which kinda defeats the object of having a sports cap.
A loop cap is sealed against the elements—and a lot of germs—as well as being a heck of a lot easier to clean. The soft rubbery portions of the sports cap needs to be treated gently, or they won't last long. A hot dishwasher would be best for cleaning purposes, but not for the longevity of the cap. 
Kleen Kanteen sell silicone gasket kits, which is great, except the kit is almost as expensive as a new cap. The soft bite valve (which you probably shouldn't bite, in this case) is not replaceable. If I was going to carry the Kanteen on my belt, or in the outside pocket of a pack, the loop cap would be my preference. A dust cap is available—cheap!—if you prefer the sports cap and I think that would be a wise investment. (Currently 50 pence, in UK money).
I only drink water from my Kleen Kanteen, so haven't had serious cleaning problems. The design and moulding of the sports cap are somewhat complex, and my experience with cycling bottles tells me that this a product which pays for timely sterilisation—particularly if powdered energy/electrolyte supplements have been added and mixed, in situ. I generally open the valve with my fingers, which extends the life of the cap but calls into question its usefulness.
For serious outdoor use I prefer a larger bottle. For local walks, a screw top, 500ml/17.6 ounce bottle fits in a coat pocket or in a lumbar pack. The 27 oz Kleen Kanteen is an attractive looking product, with some green credentials, which will be the perfect, long-term hydration partner for many people. For my purposes, it's become something of a one-trick pony.
The owners of this brand might like to consider adding a replacement bite valve to their spare parts list and lowering the price of the existing silicone gasket kits. £4.95, for a couple of slivers of silicone, or £5.95, for a new cap?  Something wrong, there...
Experience
I use it in my car most days. I only drink tap water from it and wash it in the sink, every day. Three years, total use. It was an ornament for a number of years before that: too small for my outdoor preference.
Source: bought it new
Price Paid: Maybe $15 US, plus a couple more, for an additional loop cap.

After four years of hard use, indestructible and indispensable.
Pros
Dented but unbreakable, no leaks yet.
Unlined stainless steel (could boil water in it).
Tasty water, even warm or days old.
And, in wild areas, a wildlife deterrent.
Cons
The extra 2 ounces over a Nalgene, I guess?
In Canada this is the 800ml bottle. Mine's tan, except where it's been scratched, scraped, gouged or dented. It's pretty bashed, actually. It's been rolled down cobble beaches, kicked over barrens, and knocked off boulders. Onto other boulders. Never has leaked and I'm still on the original loop cap. (LPT: don't overtighten caps in general, the seal gets stressed and the threads deform.)
This 27oz size is Goldilocks: I always found a litre a bit much and 500ml not enough. With the wide mouth, it makes for a stubby bottle that stands stable. Well, except near my feet and elbows, but that's not its fault.
Water tastes good for many days, no slimy sourness, just a mineral clean, which is an advantage on longer trips. True, a steel bottle will heat up fast in direct sunlight (I drape a bandana over it in a side pocket), but it also stays cool in the shade or inside the pack. It only takes a few minutes immersed at a beach or stream for even a full bottle of warm water to chill completely. I've never put mine directly on a stove or in a fire, which apparently you can do. I have however used it in a double-boiler setup to expand my kettle capacity.
That pretty much justifies the extra weight already, but really the main reason I went for a steel bottle in the first place was so I could make animals run away. I can't vouch for universal truth here, YMMV, but in the areas I hike, most animals are not human-habituated, and I was taught to keep metal to hand in the woods. The ringing clang of steel on rock or another metal object scares the bejeepers out of moose and black bears (and squirrels, the true threat), because it's a sound never heard in nature. Then the bear spray is the second line of defence, if ever I need one.
So at least for my use and environment, that makes the 2 extra ounces over a 32oz Nalgene well worth carrying.
Source: bought it new
Price Paid: $15

Pros
Strong
Non-toxic
Choice of cap type
Cons
Made in China
Cheap paint job
I've had mine for six and a half years. I got two of them right from Kleen Kanteen. I bought the sport top, which allows me to drink without taking the cap off. The spout is good, but don't lay the bottle flat: It'll leak out.
I've used these in running, cycling and camping. I have not noticed any extra weight. I take two of them in a Jansport Coltrane fanny pack on long runs in summer (this pack has upright bottle holders). Even though I put sea salt and grapefruit juice in my filtered water, I have not experienced any build-up on the inside.
The bottle is narrow, only 2.75", so if you want it to fit snugly in your cycle's bottle cage, test it before buying. My Zefal Spring cage works fine on my MTB and my Specialized Rib Cage works good on my road bike, but my Bontrager 5mm alloy cages were too wide.
Transfer your water to a sealed container before putting these bottles in a tent: They will inevitably end up horizontal and will leak through the valve release.
To get an idea of how strong these are, I've fumbled (once) returning it to its bottle cage, and ran it over with my rear wheel doing about 20-22 mph on asphalt. No problem.
I threw one at a woodchuck in my garden, once, and hit a rock, instead. Dented, but not perforated.
The Commuter Orange paint is blanched and worn, so I'll probably sand and polish them soon, along with my two 18oz. No toxic chemicals like in Nalgene.
If you want an insulating sleeve for this bottle, the Camelback Groove fits perfectly.
Clean them out a couple times a year and keep them upright and you're good to go!
Source: bought it new
Price Paid: $24

Super durable water bottle that will more or less do what you need. However, does leak and is quite heavy as it is steel.
Pros
Durable
Metal
Spot for carabiner
Cons
Heavy
Leaks
Plastic breaks down
Although this bottle is heavy and has a leak issue, I'm on my third one in six years (lost the first two!). The bottle is high quality, durable, and has a loop at the mouthpiece that you can clip a carabiner to for your backpack. I've dropped mine on countless rocks, dented it substantially, and it remains intact and functional. 
I keep purchasing this bottle because I don't like keeping my drinking water in plastic, and glass would break in a heartbeat. As a result of the metal, it is quite heavy, and when filled with water it can do damage swinging from your pack (I have knocked it into a few things over the years).
The mouth piece is also not very secure—it needs to be fully closed or it will leak substantially, and even fully closed it will get a few drops out if it's upside down in a tote bag or on its side in your car. The plastic on the loop on the top piece has also started to break down on my bottle and has started to look sunbleached and fray.
That said, I've owned this one for 2.5 years and have used it daily that entire time. 
Experience
I have owned this type of bottle for six years, my current bottle for 2.5 years old.
Source: bought it new
Price Paid: $17

Pros
BPA free
Doesn't make water taste funny
Looks cool
Should last a long time
Cons
Heavy (not something to take hiking IMHO)
Cap can be hard to remove if it's on tight
Dents if dropped on a hard surface
Overall I like this bottle for taking to school/work/general everyday use—no concern of chemicals leaching into the water and no funky flavors if the water is in the bottle for a day or two.
I would not use it on a hiking trip as my Nalgene HDPE bottles are much lighter and will hold up better if they happen to get dropped down a talus slope like I once did with a Nalgene Lexan bottle on Mt. Jefferson in New Hampshire. The Klean Kanteen already has a dent at the bottom from being dropped on the pool deck while filled with water, so I'm sure bouncing off rocks would bang it up pretty well.
The weight and the fact that it dents fairly easily if dropped on a hard surface are the reasons I only gave it 4 stars.
Excellent thermos, durable.
Pros
Keeps liquids cold for a long time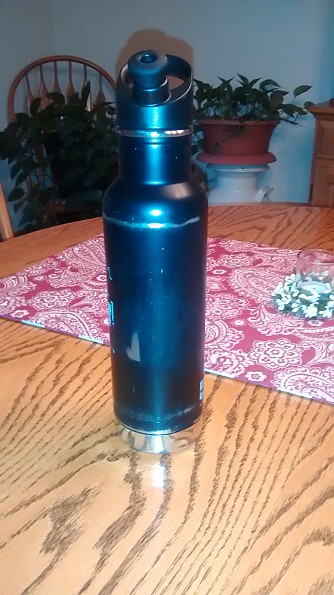 If you want a thermos that keeps liquid cold a long time, buy this one with confidence. I found I can use less ice (1/4 to 1/2 full) and have more available water since I don't have to wait for ice to melt. After purchasing I also bought the sports cap to make drinking easier. This thermos is taking a beating and has performed admirably.
One note of caution, you might as well buy the stainless steel finish, as the painted finish wears off.
In my opinion it is too heavy for backpacking, but an excellent commuter thermos and overall great outdoors in the yard.
Source: bought it new
Price Paid: Free with tent

Great for motorcycle camping.
I have been using hard plastic Lexan bottles and soft plastic Gator-Aid bottles for several years, but recently decided to investigate metal bottles partly because I wanted a large, durable, BPA-free bottle.
The primary reasons I chose this particular bottle were: 1) its small diameter makes it easy to fit in my saddlebag guard bags and daypack side pockets and 2) it holds more water than many other bottles. I also noted that its weight is about the same as similar sized aluminum bottles. The large mouth allows you to put in ice cubes easily and the water tastes fresh with no plastic aftertaste.
The only thing that would make it better is a valve that would allow you to drink without having to unscrew the top. But as is, it is the best water bottle I have used.
Price Paid: $19

Your Review
Where to Buy
Help support this site by making your next gear purchase through one of the links above. Click a link, buy what you need, and the seller will contribute a portion of the purchase price to support Trailspace's independent gear reviews.
You May Like
Specs
Price
MSRP: $19.95
Current Retail: $18.90-$19.95
Historic Range: $6.50-$25.00
Reviewers Paid: $15.00-$24.00

Capacity
27 fl oz / 800 ml

Weight
7.5 oz / 212.6 g

Size 10.9 x 2.9 in / 276.2 x 72.5 mm

Opening Diameter
1.75 in / 44 mm