Kodiak Canvas 10x10 Flex-Bow Canvas Tent Deluxe

Top 25 in Four-Season Tents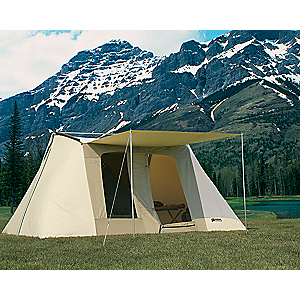 This tent ended up being more of a palace than a tent. You won't backpack with it (unless you have a pack mule), but it is an amazing upgrade from regular tent camping. It held its own in heavy rain, and completely changed how I look at base camp living.
Pros
Spacious
Sturdy
Waterproofing that works
Visually appealing
Easy to set up
Cons
Gear loft gets in the way if you're tall.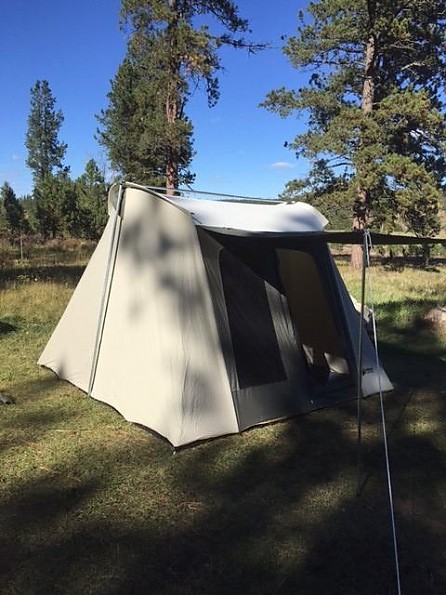 The 10x10 Kodiak Canvas Tent ended up being one of the best tent purchases I have ever made. I must admit that I was nervous. There had been some reviews about how difficult it was to set up, how it didn't prevent leakage in the rain, mold issues, and so on. My luck is such that when there are a few complaints like that, my purchase ends up on that side of the fence.
I was concerned that it was expensive compared to other tents I was looking at but, in the end, I rolled the dice and took a chance.
I am happy to report that I am so glad that I did. This tent is a palace. It was on sale and came with a gear loft and free ground tarp. The loft was OK, but the ground tarp was amazing.
Setup was a breeze (well, maybe two breezes). You stake down all the loops, and then assemble the poles. It did take a little muscle to get the second side up, but I like the tent fabric tight. I could have gone an inch or so less and it would have been fine, and easier. It's a good flex bow pole system, and the design is so simple. If you have any questions on it, there are good videos out there showing a woman setting up the tent by herself.
I didn't have a good concept of how much room I'd have, but it ended up being a lot. I had a cot, heater, clothes, assorted stuff, and a makeshift table inside and I was not cramped at all.
There are two sets of doors with screen windows on them. I bought the Deluxe model which is the middle version. It has two additional windows in the doors. The basic has one on each door while the Deluxe VX has windows on the sides as well. There was plenty of ventilation with the mid-line version.
This model also has an awning with poles and additional guy lines. It was funny in a Benny Hill sort of way trying to get it set up alone, but once tied down, it held up fine in wind and rain.
The gear loft is large, but it didn't set up vert tightly, and when I put a few clothing items in there, it sagged enough to be annoying. I'm 6 foot tall and the loft got in my way. Where it wasn't hanging, I could stand up straight. I ended up folding the loft in half and hanging it against the wall. It held what I wanted to and I had nothing in my way as I moved through the tent. It also comes with a gear organizer. It's made of mesh and has several different size pockets. It was very handy. This tent also came with a bonus ground tarp. It was heavy duty and worked well.
This tent is heavy, so it's great if you are driving to your campsite or packing in on an animal. The only cautionary note is that you must make sure that the tent is dry when you pack it up. Any moisture will turn into mold and ruin the tent while it is packed.
There were a few rainstorms during my two weeks camping, and there was no leakage at any time. There was a little bit of interior condensation, probably from my breath because it was cold at night. When I ran the heater, that disappeared.
I am looking forward to many years of use from this tent.
Source: bought it new
Price Paid: $479

I bought this four-season tent several years ago primarily for use at Burning Man, where you see 100s of these. It's because, well—if it's water-proof, it's going to be dust-proof—and it definitely is.
Pros
Water- and dust-proof
Very durable canvas with good heavy-duty zippers
High-wind resistance
Cons
Hot in desert environments without a shade structure
A lot of people make the mistake out at Burning Man of using mesh-roofed tents and thus get badly dusted. With a Kodiak, it's dust-proof and you can completely zip it up.
Only issue is, for desert environments, you need a shade structure over it because it gets pretty hot without one. I suspend aluminet with surplus camouflage net poles, which works well. The tent is heavy and built like it is because the original intention was for hunters, not Burners. Other reviewers have adequately covered the features for wooded areas, so I'll review for the desert environment.
Setup: Desert surfaces tend to be very hard, so I use round Army surplus radio set 292 steel stakes. These were designed to be used in many environments worldwide. I use a 1-pound sledge to put them it. A couple taps at the head with the sledge and you twist and easily pull out the stakes with your hand. When you get used to setting the tent up, one person can set a Kodiak up in a howling dust storm within 30 minutes, or less.
Stability: When you stake it out and put it up, it is quite taut. This tent stands up to high winds amazingly well.  You can watch the nylon dome tents fly by or get ripped to shreds in a 30 mph dust storm, while the Kodiak just stands beautifully and you, buttoned up inside—well, time to kick back and get back to your favorite book. I also use this at the annual Bataan Memorial Death March at White Sands Missile Range in the Tularosa Basin and often high wind gusts there too. And as noted, Kodiak holds up, while many of the nylons don't.
Weather Resistance: When a dust storm is over, open all the doors and windows. You don't really need to worry about brushing off dust. It goes away due to the tent shape and tautness vibrations from any wind.  
Ventilation: Have never experienced condensation in this tent!!! The tent vents very well by opening all the windows at top just a little. Tent is pretty warm on cold days due to the dark color.
Room & Storage: The walls are near-vertical and with a ceiling at almost 7 feet, easy to stand. There are 12 rings around the ceiling-wall line for stowing items and as another reviewer stated. The loft panel is a little awkward. I place it above my cot and thus out of the way, kinda. Two other stowage bags that came with mine hang on those rings as does the loft panel. I ran a parachute cord through all the rings and tied it snugly so that clothes, lights, etc can be easily hung. The cord stays with the tent when I pack it away.
Someone had said six people can sleep in this. That may be true if they are sleeping on the floor. But if you use cots, it's only good for two or three people and a small table in the middle. There're two doors on mine, so two cots are along the walls without doors.
Packability: Mine came with a packing "envelope" with buckles and a carry handle. The tent packs down to about 3 x 3 feet, maybe less, in that cover.
Ease of Use: Note all the features by other reviewers and Kodiak Canvas (the company that makes the Kodiak) everything performs pretty good. People complained the awning collects water. It's simple to stop that by using an extra pole you can buy or make. I have a 6-1/2 foot wood pole—just push it up in the mid area and rain won't puddle.
Features: I think features have been covered pretty well by other reviewers.
Construction & Durability: Had this for seven years and with maintenance, it's held up nicely. The maintenance is: once back home, set it up and hose it down to get off all dust, mud, vegetation fragments; sweep out the interior; let it dry thoroughly before packing. As it is canvas, storing it with mud, dust, or organic residue can cause mildew. Mildew is canvas rot. The simple maintenance prevents that.
Source: bought it new
Price Paid: $600

I think this one of the best tents out there for car camping. Its most significant downsides—weight and packed size—are directly related to what makes it great, which is its durability and roominess. Even though it's not perfect—no tent is—I'm giving it five stars because it does everything I want it to do.
Pros
Durable materials
Roomy
Quality accessories
Strong in rough weather
Breathable
Cons
Heavy
Big when packed up
Awning can collect water
Expensive
Setup: Putting the tent up is simple but takes some muscle because the tent and poles are so heavy. The tent rolls out and should be staked down first. Then, the roof rods are put together, and the side poles lift up the roof. There are several videos online that show it being done, and it really can be done in a few minutes unless you really have to pound in the stakes.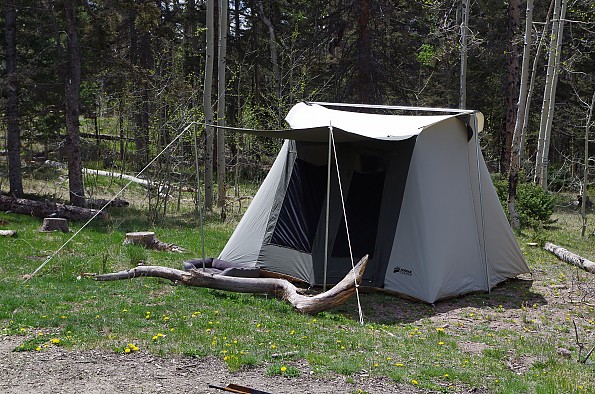 Stability: I haven't used this tent in extreme winds, but it seems very strong. The design is like Springbar Tents, and there's an impressive video online of a Springbar tent in high winds holding its own. There is some flex in the roof poles, but the side poles and the crossbar across the roof are rock solid. I think the stakes would come out before the material would tear or the poles would bend excessively. If I was confident in my staking job, I wouldn't worry about the tent in most conditions. The only exception to that would be the awning, which I'd probably roll up and secure in high winds.
Weather Resistance: I've used this tent in Colorado and New Mexico, which means that I've mostly used it in dry weather. I did follow the recommended "seasoning" procedure, which means I hosed the tent down in my backyard before I used it for camping. I've tested it out with the hose on full blast and had no issues, and I have been in some quick but intense Rocky Mountain rain storms with no leaks.
The only issue I've noticed is with the awning. The awning is essential for dry entry and exit during wet weather, but it collects water. I haven't found a configuration that reliably keeps water from pooling in it. The pooling won't collapse the awning—eventually it just runs off the side once there's enough water—but it's annoying.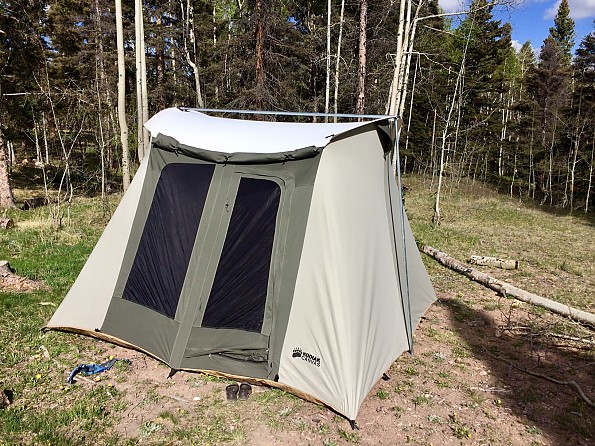 Ventilation: This isn't an issue. The tent is so big that it doesn't seem stuffy, and there are plenty of ventilation options in dry weather. When weather gets rough, you can still keep the front windows open at least partially because of the awning. With the whole thing zipped up, it's still not bad. Canvas is breathable, apparently, and I believe it.
Room & Storage: This thing is huge. It's bigger than its 10x10 size would indicate. The walls are nearly vertical, and the roof is high enough that most people can stand up throughout the tent. I'm 5'10" and feel like I'm in my house. Storage is provided in the form of a gear loft that we never bring along.
Packability: This part is really cool. The bag opens up and lies open, flat on the ground. When the tent is all folded up and ready to go, you simply place it on the open bag, which you then clip together and cinch shut. Once closed up, the bag has a nice carrying handle. The poles go in a canvas bag with a drawstring and a handle. The tent is still huge even when it's all folded up at about 30 x 20 inches. So, while it's not small, it's convenient. I do think someone with a very small car might look at other tents, however. The pole bag is about 50 inches long.
Here's a picture of the pole bag and the stake bag (and my dog's leash and harness):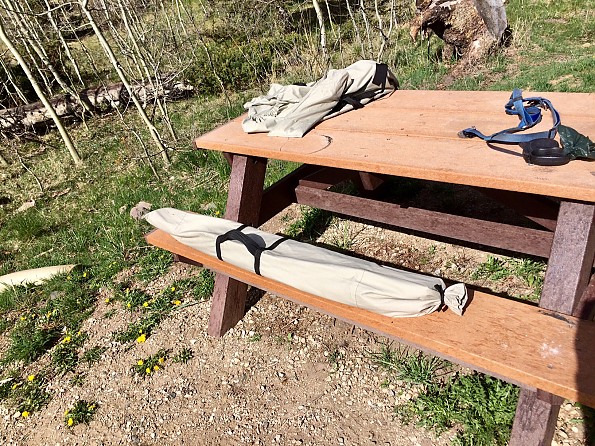 Ease of Use: For all its weight and durability, the tent is pretty simple to use. There are two doors—one on each side. The zippers are easy to use, but they aren't very quiet. Be prepared to wake up your friends and family when you have to go to the bathroom at two in the morning. The poles work the same way, every time. After one or two setups, the whole thing seems intuitive and you wonder why you had to look at the instruction manual the first time. Oh, and the tent includes all the poles you need to set it up, along with line for the awning.

Construction and Durability: I think the only things that would kill this tent would be mold or fire or a bear trying to find snacks. The canvas is heavy and the stitching seems great (although I don't really have an eye for that so you'll have to see it for yourself). The canvas is heavy, and I'm guessing that when the waterproofing starts to give out I can re-treat the canvas and get many more years use out of the tent.
The floor is a heavy rubbery material that has a bit of an odor to it at first, but the odor went away after the first time using it. It's comfortable to step on in bare feet. Nothing will slide around on it. Dogs won't tear it up with their claws. Everything about the tent is heavy. The fabric, the poles, and the stakes are heavy. It's a comforting feeling, especially with a pricey tent.
Conditions: I've had this tent for about four years. We've used it for overnighters and weeklong campouts, where it competes with my in-laws' RV for comfort and is definitely more convenient. It's seen sun and rain but no snow or extreme winds. The tent still looks new, but I do baby it.
Source: bought it new
Price Paid: $450

This is a great tent for car camping as it does weigh some. It's so easy to roll out and put up by one person even.
Pros
Water repellent
Lots of room. You can stand up and move around inside—room for a small table even.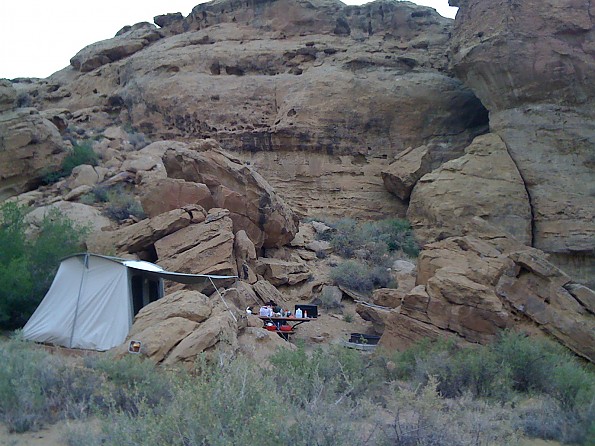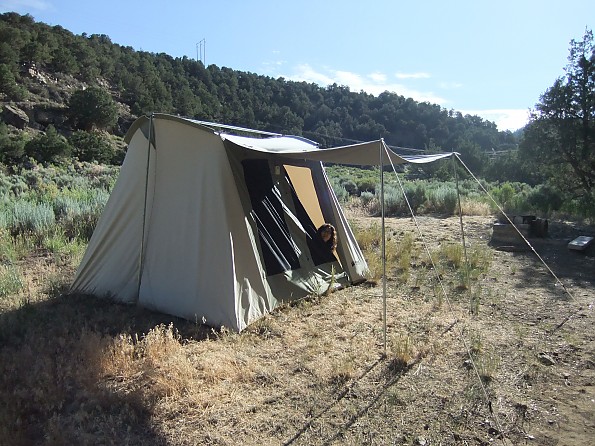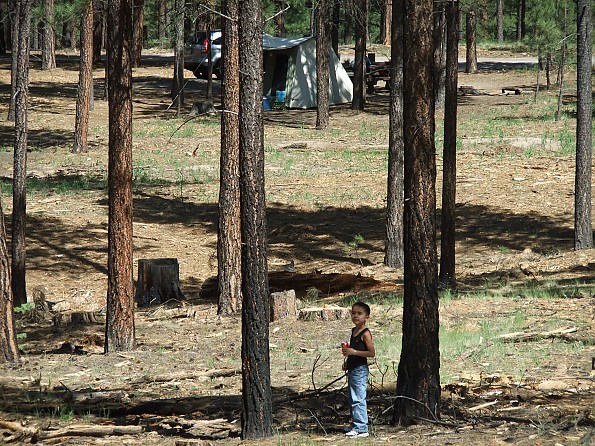 So with a zipper door on both sides you can get a lot of air flow even in HOT conditions. Has a very rugged plastic canvas floor and can zip tight and keep the critters and bugs out.
Had picked this up used as the guy received a new replacement, so the poles were really the only thing used. Would highly recommend this tent for short or long term camping. It's like the Cadillac of Tents. Have had it since 2010, so eight years now and still Luv it.
Will add some pics on revision coming.
Experience
Have other smaller, cheaper tents, but there is no comparison.
Source: bought it used
Price Paid: $350

My wife, son, and I went on a month long camping trip across the country in 2008. We wanted a large-ish, quality tent that was easy to set up. This tent fit the bill.
It is EXTREMELY easy to set up, VERY good quality, and roomy as all get out. Just follow the directions on pre-use, and care, as well as get a tarp to go underneath it, and you will be one happy camper.
We were hoping for torrential downpours, so that we could see how well it stood up, but that didn't happen, however other reviewers had that experience with great results. Just google the reviews and you'll see.
Get it!!! It is WELL WORTH YOUR MONEY!!!
Design: four season flex-bow, not free standing
Sleeps: 6+
Ease of Setup: EXTREMELY EASY
Weight: 50-75 lbs?
Price Paid: $429

If you are looking for a premium rugged tent that will stand up to the elements, this is it.
What I like: 1) Very rugged. Withstands fierce winds. 2) Easy to set up. After the stakes are in it goes up in a few minutes. 3) Comfortable. High ceilings even in the corners. Breathable canvas eliminates mugginess. 4) Openness—with the single wall design, open the large windows and look outdoors. That's what we are there for right. Really well made. I highly recommend it.
The cons: Yes, it's heavy duty, and yes, it's heavy.
Thank you, Kodiak Canvas.
Design: All season, Flex-bow. Not Freestanding.
Sleeps: 6+
Ease of Setup: About as easy as it gets
Weight: 65 lbs
Price Paid: $429

Your Review
You May Like
Specs
Price
MSRP: $569.99
Historic Range: $569.95-$669.95
Reviewers Paid: $350.00-$600.00

Recently on Trailspace