Komperdell Carbon Ultralite Compact

Looking for trekking poles with carbon fiber weight and aluminum strength? Look no further! New for 2013, the Komperdell Carbon Ultralite Compact Trekking Poles are perfect for those who are looking for ultralight, yet very stable all-terrain poles. I expect to see many other companies attempt to emulate this great design in the near future. These poles are full featured, adjustable, ultralight trekking poles made from aircraft carbon fiber. They are comprised of four segments which are attached by a rope in the middle of each pole. When extended, they are adjustable in length from 105 cm to 125 cm. When folded, they are a very compact 16 inches. They also have removable snow baskets and tips for an optional decreased weight.
Pros
Very adjustable
Full featured (removable snow baskets and tips, adjustable length, collapsible)
Very lightweight (6.1 oz each without baskets or tips, 6.6 with baskets and tips)
Very stable
Fold up small (16 inches)
Cons
The knob for the index finger/middle finger grip is not defined enough
Snow baskets are difficult to remove
Adjustable strap is too long and can get in the way
No shocks
Short grips (see the Grips section)
Initial thoughts:
I was very excited to be testing a new pair of Komperdell poles. I already have a pair of Black Diamond Distance poles that are also collapsible and ultralight, but they are not adjustable and they do not have snow baskets. The Komperdell Carbon Ultralite Compact poles do have these features, so I was very interested to try them. Adding these features makes them the ultimate trekking poles as far as I am concerned. I also should add that I had initial concerns about the strength of these poles. I know my carbon fiber tent poles are very delicate, so I was skeptical that these might be as well. Not the case at all! They are very strong. The body of the pole reminds me of a stiff shaft graphite golf club.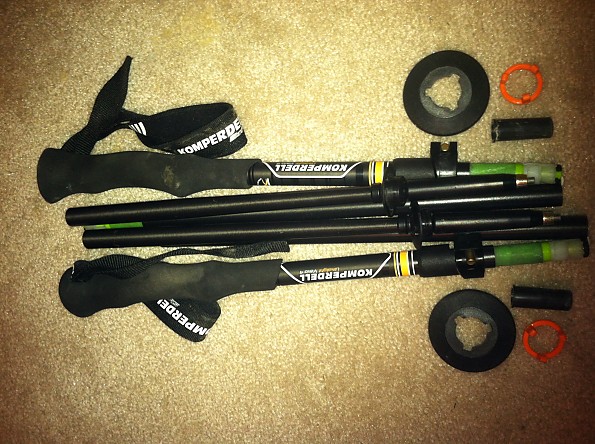 About the tester:
I am a 29-year-old, 5'4" female. I mostly do day hikes and overnight hikes in the Southern Appalachians.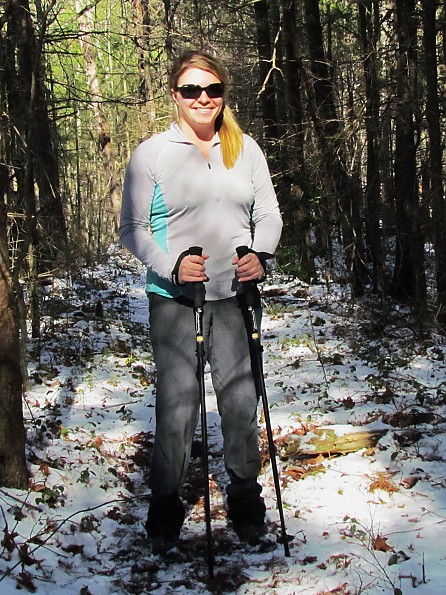 Testing Data:
The poles were used on multiple trips: 3 miles to Peachtree Rock in Columbia, SC; 6 miles to Little Pinnacle Mountain in Jones Gap State Park, SC; 4 miles on the Rainbow Falls Trail in Jones Gap State Park, SC; 4 miles on the Foothills Trail to Raven Cliff Falls in SC; 10 miles on the Foothills Trail in SC to Pinnacle Mountain from Sassafras Mountain; 3 miles along the Chattooga River Trail, SC; 16 miles from Hot Springs, NC to Rich Mountain via the Appalachian Trail and back.
On all of the S.C. trails, conditions were really very normal trail conditions: dirt or gravel with a little mud sporadically, but no snow or ice.
On the A.T., I finally got to really put the poles to the test. In fact, I was rather rough on them! I used them on pavement, dirt, grass, gravel, light mud, major mud, ice, snow (1" to 5"), sand, and slick rocks. I also took them off trail in some rough brush. They held up very well in all of these conditions. The Power Locks did not pop open in the rough brush. Since I knew that they were made of carbon, I decided to put them through very rough testing procedures to make sure that I could accurately convey the strength of the poles to the readers.
I encountered both fresh snow and packed snow. The baskets performed better in the packed snow. They did sink some in the fresh snow. I also took a pretty serious tumble in some extremely slick mud. During this tumble, I put all of my body weight on them in an effort to stop (but was unsuccessful), then slammed them to the ground when my body hit the mud. I was impressed that there were no dents in the poles after this very rough impact.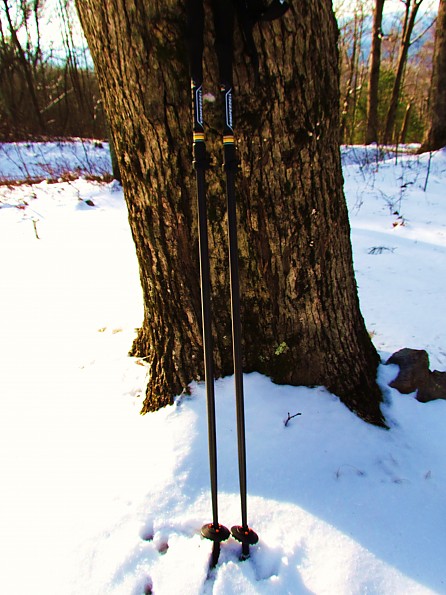 Komperdell Carbon Ultralite Compact on the A.T. in N.C.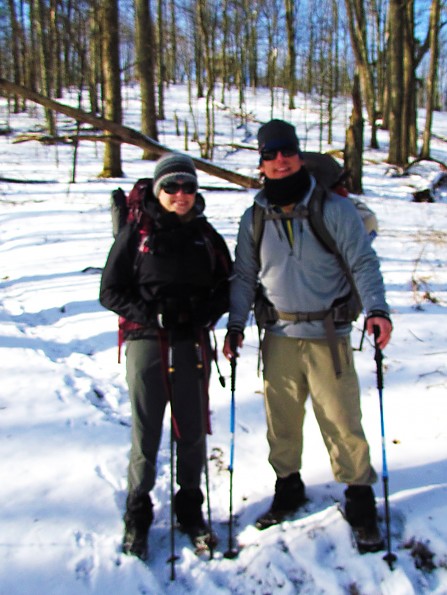 My husband and I are both using Komperdells.
Detailed description of the poles:
Body:
The Carbon Ultralite Compact poles are made of four segments of hollow aircraft carbon tubing that includes a thin stretchy rope in the middle to hold them together. Each segment must be twisted until it stops to prevent it from opening and failing. Since I am used to the quick deploying snap locks of the Black Diamond Z-Poles, I did forget to twist the locks a few times and noticed slipping immediately. This could be dangerous if not noticed very quickly.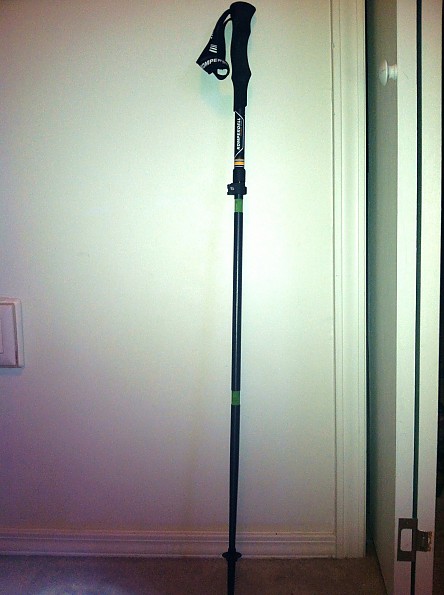 The two sections where you see green must be twisted to lock in place. The Power Lock II is just above the top twisting section.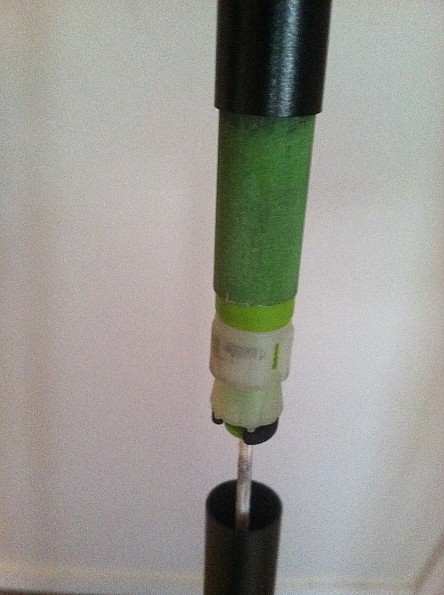 Closeup view of the interior structure of the poles
Grips:
The grips are very lightweight ergonomic foam. I feel that some may think the shortness of the grips would be a disadvantage, but they were well suited for me. I do think that they are comfortable, but I think that the comfort and grip would be greatly improved with a more defined knob for the index finger/middle finger rest. The bottom knob is appropriately sized.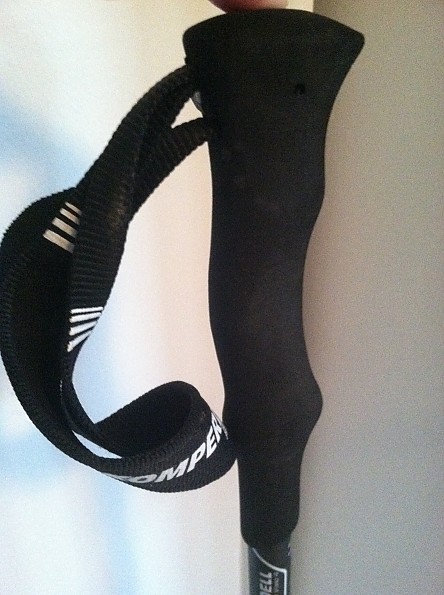 Closeup view of the grip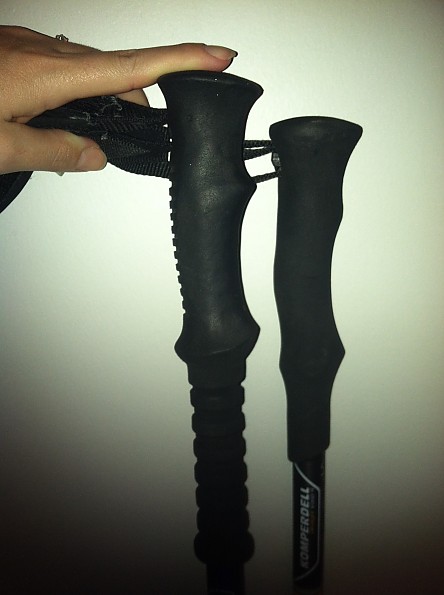 Contour Foam AS grip on left compared to Carbon Ultralite Compact on right
Handles/Straps:
The straps are adjustable for small, medium, or large hands. They were very comfortable to me. I have noticed that some handles on other Komperdell poles do have a piece of foam padding, which these lack. I am sure this is to cut weight. I honestly didn't notice it until I looked at other poles, so I guess this was a smart move to eliminate this to shave weight. I will say that the long piece that helps adjust the length of the straps is slightly annoying because it is too long and can get in the way.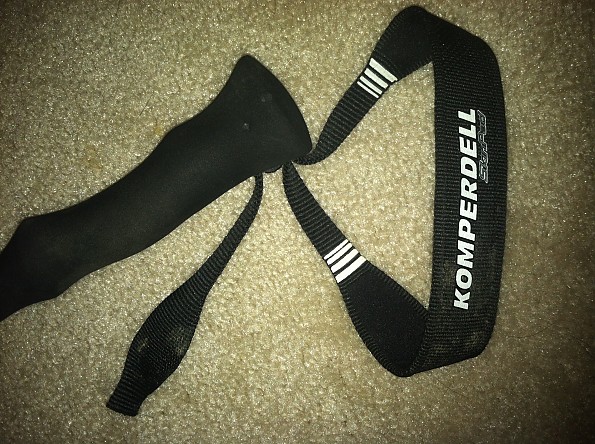 Power Lock II Adjusting System:
The length of the poles is adjustable, due to a sliding top tube and a "Power Lock" that has a display window that helps find the exact length desired. As mentioned earlier, I took the poles into thick brush and the Power Locks did not deploy on contact with branches and vines. The manufacturer claimed that the Power Locks are designed to open with ease when wearing gloves for quick adjustment in winter weather. From my testing, I found this to be true.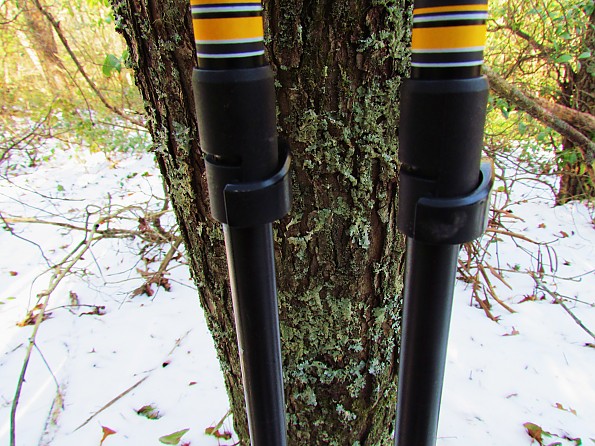 Power Lock II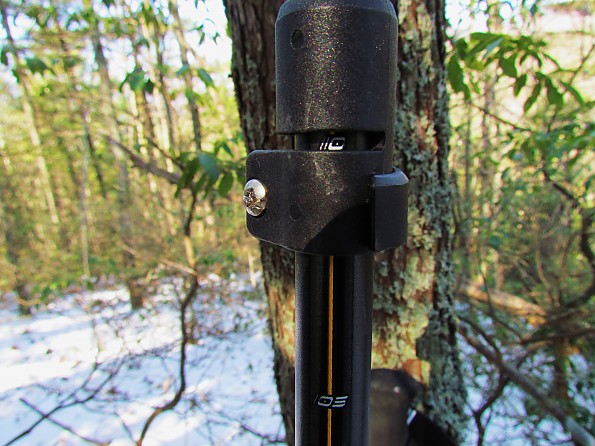 Display Window
Snow Baskets:
The removable snow baskets are probably my favorite feature of the poles. I love that I don't have to carry a heavy set of aluminum poles just because I may encounter some snow. I do think that they are a little bit undersized, but I am sure this is in order to reduce weight.
Another note of importance is that the snow baskets (when attached) are placed on a rotating ball. This allows them to adapt to the terrain/snow, but they do not fall down. My husband has a pair of Komperdell Contour Foam AS poles, and the snow baskets constantly fall down. This is very annoying to me, so I became very excited when I saw that they were attached to the rotating ball and would not be constantly falling. The only thing that I do not like about the snow baskets is that they are difficult to remove.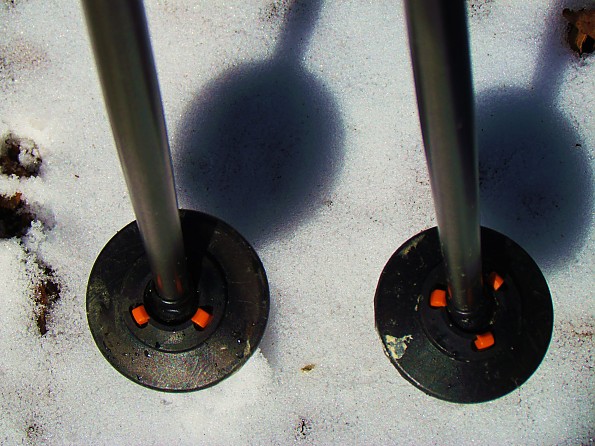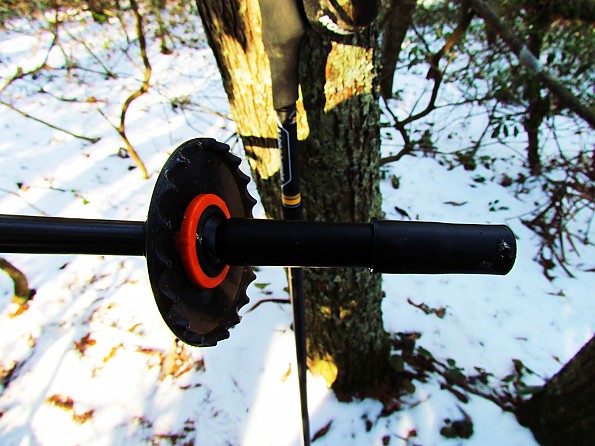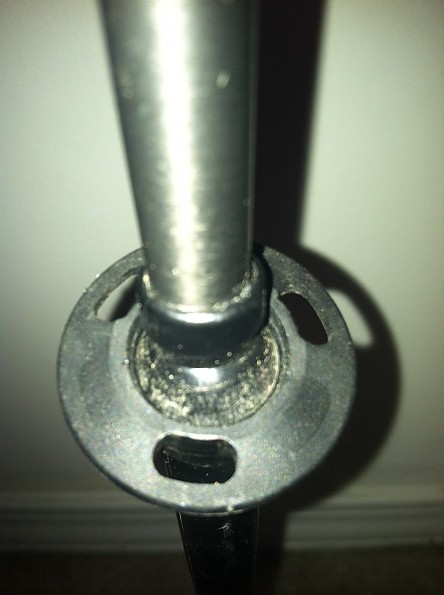 Poles without the snow baskets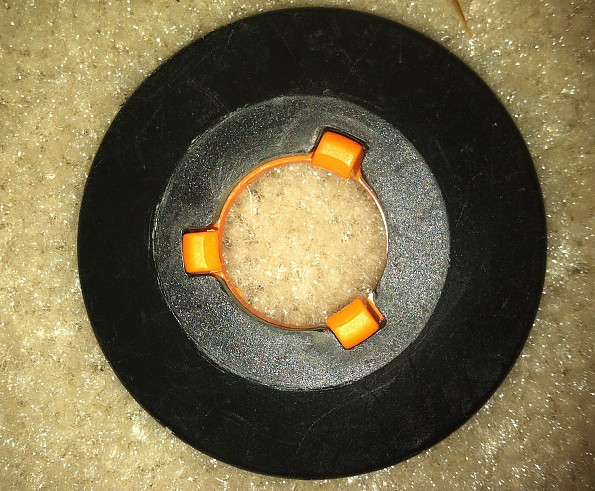 Tips:
The regular tips are made of carbide, but Komperdell provides a set of removable rubber tips as well. I tried very hard to get the removable tips stuck or lost, but was not successful. They stay on very well, yet are very easy to install and remove. I found that they grip very well.
Carbide Tip
Rubber Tip
Overall Evaluation:
I have really enjoyed testing these poles over the last two months. They are very comfortable, stable, and light. Komperdell really designed an excellent overall trekking pole here. They have every feature that I could possibly want in a trekking pole. I give them my approval and imagine that most anyone who uses them will as well. 
**Thank you, Komperdell and Trailspace, for letting me test out these awesome poles!
Source: received for testing via the Trailspace Review Corps (Sample provided by Komperdell for testing and review)

Poor design work. Unsafe.
When I spend almost $200 on a trekking pole, I would expect design flaws to be insignificant and non-existent. However, these poles provided me with nothing but aggravation. Every 10-15 minutes, I would have to stop and re-thread them together.
While trekking over the course of three days, this became a massive hassle and inconvenience. The physical motion of planting the pole on rocks over the course of time, allowed them to unscrew, and become loose, and if not attended to, they would have separated and could have caused significant injury. 
Source: bought it new
Price Paid: $200

Your Review
Where to Buy
Help support this site by making your next gear purchase through one of the links above. Click a link, buy what you need, and the seller will contribute a portion of the purchase price to support Trailspace's independent gear reviews.
You May Like
Specs
Price
MSRP: $239.95
Historic Range: $119.98-$249.95
Reviewers Paid: $200.00

Weight
169 g

Recently on Trailspace